Things Worth Talking About – October 2013
The month of October has been really fun and productive so far. I've been busy working on a few updates to the blog (coming soon!). There is so much to look forward to with the holidays coming up. Here are a few things I wanted to share with you this month.

The Great Food Blogger Cookie Swap
Lindsay from Love and Olive Oil and Julie from The Little Kitchen are hosting The Great Food Blogger Cookie Swap again this year. I am really excited to participate and share delicious cookies with fellow bloggers. I'm working on a fun cookie recipe that everyone will enjoy. I will share the recipe and all the details about the other cookies I receive here on the blog. To sign up and read more details go here. You have until November 4th to sign up.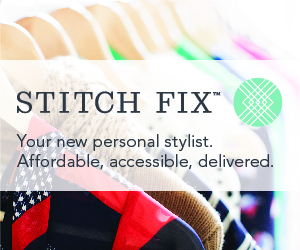 MY LATEST VIDEOS
Stitch Fix
If you didn't read my post last week about my first "fix" from Stitch Fix, but are interested in the service, then you must read my review to see what I received and read my thoughts on the service. I love what I received the first month and can't wait to see what future months bring for fun new clothes and accessories.
image from here
Martha Stewart v. Bloggers
By now you might have read about the comments that Martha Stewart made last week about bloggers. If you haven't heard, you can read all about it here.
My first response to Martha's comments was "who cares?" I'm not a professional blogger and I haven't been blogging for as long as most bloggers, but I have been reading blogs for a long time. I read other blogs because I love the story, the food, the pictures, and the people. I don't read the blog because the blogger in an expert in a certain field. I read the blog because everyone has different ideas and experiences.
Bloggers are credible to their audience. Your audience is what is important and your audience is the one who cares. Martha Stewart has probably never read 99.9% of the blogs out there, so why care? I blog for myself and my readers. One of the things I said to myself when I first started blogging, and something I continually remind myself, is that my blog is about "me" and the food that I love. I'm not aspiring to be someone else. I blog for myself and my readers, because blogging is something I love. I'm not aspiring to be Martha Stewart, or any other big name industry "expert". I am aspiring to just be me.
Bloggers are some of the most professional people that I know. They are highly dedicated, mostly self-taught individuals. I understand why some bloggers are upset with Martha's comments, and I really hope that she truly appreciates bloggers, as some bloggers believe. After all, I'm not going to stop using her recipes or buying her products.
Sugar Paper  Polka Dot Journal $16
Target Polka Dot Notebook by Greenroom $3.99
I've been lusting over the Sugar Paper Pink Polka dot journal for the past few months. I always like to have a small notebook in my purse because I am constantly writing reminders, taking notes and drafting blog posts. I love that it is bright and fun. But since I use a lot of notebook paper I wasn't really willing to spend $16 for each journal. Fortunately, while shopping at Target one day I ran across the Pink Polka Dot Greenroom notebooks that are a close knockoff of the more expensive version. These were only $3.99 each and available in store. I bought one pink with gold polka dots and one gold stripe notebook. In addition, I found a large 2 inch binder to match. I love finding fun and inexpensive items at Target.
Disclaimer: This is not a sponsored post. I'm sharing these things because I think they are worth talking about. This post does contain referral links for new Stitch Fix sign-ups that gives me a small credit towards my next box.