Key Lime Coconut Ice Cream Float
Key Lime Coconut Ice Cream Floats are made with homemade toasted coconut ice cream and homemade key lime sparkling beverage! Share one with a friend and enjoy a delicious summer treat!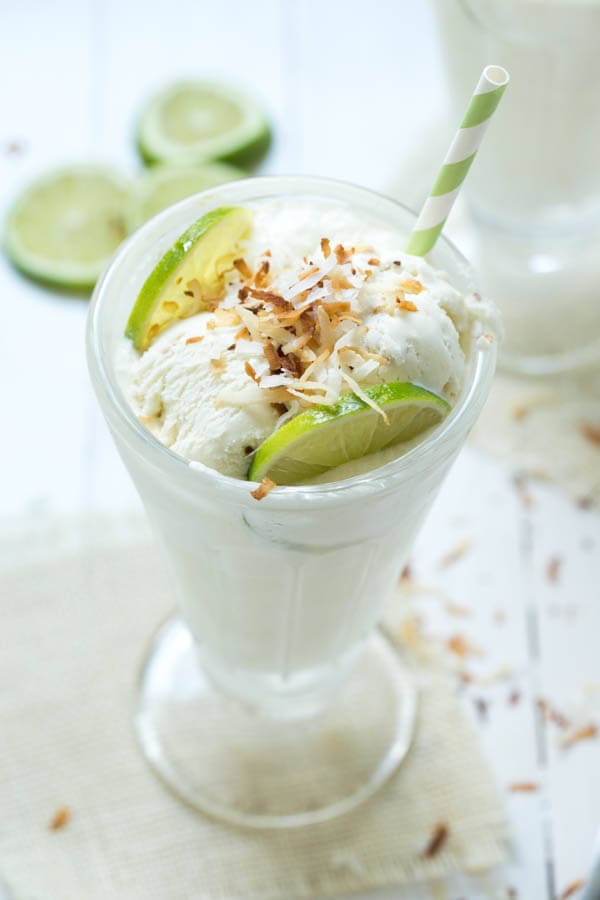 When I was growing up my sister and I visited my grandmother often during summer vacation. She would let us make whatever we wanted for breakfast, lunch and dessert. Some days we went out into her garden and picked fresh tomatoes, cucumbers, rhubarb and more. We always made something fresh and delicious. As a treat, she often let us make homemade ice cream floats with any flavor combination we wanted. To this day, ice cream floats remind me of summer vacation at my grandmother's house. This summer, I decided to combine a few of my favorite flavors to create a key lime coconut ice cream float.
MY LATEST VIDEOS
I loved developing this recipe. It includes two of my favorite flavors – key lime and coconut. I also used my KitchenAid Ice Cream Maker Attachment and KitchenAid Sparkling Beverage Maker powered by SodaStream. I don't drink a lot of soda but I love to make fresh sparkling beverages, especially during the summer. A glass of sparkling water with a squeeze of fresh lime juice is the best refreshing drink.
I never anticipated how much I would love my sparkling beverage maker. It is incredibly easy to use and you have homemade soda water in a short time. The first week I had the beverage maker, I made pomegranate spritzers, sparkling lemonade and more. The sparkling beverage maker is also the perfect excuse to make homemade ice cream floats!
This key lime coconut ice cream float comes together in a few easy steps. Make the ice cream and sparkling beverage then just prepare the floats in a glass, top with toasted coconut and enjoy!
Yields about 4 ice cream floats
Key Lime Coconut Ice Cream Float
Ingredients
For the ice cream:

1 1/2 cups heavy cream
1 (15 ounce) can full fat coconut milk
1/2 cup sugar
1/4 cup shredded coconut, toasted

For the key lime sparkling beverage:

12 ounces sparkling water*
1/3 cup freshly squeezed key lime or lime juice
1/3 cup sugar
shredded coconut, toasted, for serving
Instructions
To make the ice cream, in a medium saucepan, bring cream, coconut milk and sugar to a boil. Reduce heat and simmer for 10 minutes, stirring occasionally. Remove from heat and chill thoroughly in fridge.
Once chilled, freeze in ice cream maker according to manufacturer's instructions. Fold in toasted coconut. Transfer to a freezer safe container and freeze until ready to serve.
To make the key lime sparkling beverage, in a small saucepan set over medium-low heat, add lime juice and sugar. Bring to a boil then reduce heat to low and simmer uncovered for 15 minutes or until reduced by about half. Allow mixture to cool completely then add to sparkling water.
To prepare the floats, add 2 to 3 scoops of ice cream to a large glass. Top with sparkling beverage and extra coconut, as desired. Enjoy!
Notes
*You can purchase the sparkling water premade or make your own at home with your KitchenAid sparkling beverage maker.
https://www.spoonfulofflavor.com/2015/07/29/key-lime-coconut-ice-cream-float/
Source: Spoonful of Flavor
I created this post in partnership with KitchenAid. Thank you for helping support brands that I love!