Chocolate Drizzled Mango Yogurt Pops
Chocolate Drizzled Mango Yogurt Pops are a sweet, frozen treat to cool off with on a hot summer day! Made with healthy ingredients they're perfect for a snack, dessert or even breakfast!
Hi friends! Danae from Recipe Runner back with my monthly guest post. Today it's all about mangos! Mangos are one of those fruits that I always have high hopes for, but am often disappointed in. There's no middle ground in their flavor. They're either juicy and sweet or sour and chalky tasting…more often than not I end up with the later. Lately though I've been having really good luck picking out the juicy, sweet ones. Since I was on a roll and they were on sale, 3 for a dollar, I decided to put them to good use and make these Chocolate Drizzled Mango Yogurt Pops!
If you've ever had a dried mango dipped in dark chocolate you know it's an awesome flavor combination. Sweet from the fruit, with a little bitterness from the dark chocolate, it's the perfect balance. In my opinion most fruit dipped in dark chocolate is pretty darn tasty! Since the flavors work so well in that form I knew it had to be just as good drizzled all over these mango yogurt pops.
MY LATEST VIDEOS
Even with the dark chocolate drizzle these mango yogurt pops are healthy enough to be breakfast, snack or dessert. They're sort of like a smoothie in popsicle form. Chunks of fresh or frozen mango, plain Greek yogurt, milk, honey, vanilla extract and of course dark chocolate, are all you need to make these tasty pops.
All of the ingredients minus the chocolate are puréed in the blender until smooth then poured into popsicle molds. I saved about 1/3 cup of the chopped mango chunks to swirl into the pops because I like to have a little texture in my food. Once the mango yogurt pops are frozen release them from the molds, lay them onto a baking sheet and drizzle with melted dark chocolate. Stick them back in the freezer for a few minutes to harden. That's all there is to it! A healthy, sweet, frozen treat, perfect for a hot summer day!
Yields 8-10 yogurt pops
Chocolate Drizzled Mango Yogurt Pops
10 minPrep Time
4 hr, 10 Total Time
Ingredients
2 1/3 cups peeled and diced mango
10 ounces plain non-fat or 2% Greek yogurt
3/4 cup milk of choice
2 tablespoons honey
3/4 teaspoon vanilla bean paste or extract
3 ounces good quality dark chocolate, melted
Instructions
In a blender or food processor purée 2 cups of the diced mango, yogurt, milk, honey and vanilla until smooth.
Pour the mixture into popsicle molds.
Swirl the remaining 1/3 cup of diced mango into each popsicle mold using a wooden skewer or knife.
Insert the popsicle stick and freeze for at least 4 hours or overnight.
Remove the frozen popsicles from the molds and place them on a baking sheet.
Drizzle with the melted dark chocolate then place them back in the freezer to harden.
Store the finished popsicles in a single layer in a freezer bag or other airtight container.
https://www.spoonfulofflavor.com/2016/07/20/chocolate-drizzled-mango-yogurt-pops/
More Popsicle Recipes
Chocolate Dipped Toasted Coconut Yogurt Pops
Chocolate, Peanut Butter, Banana Yogurt Pops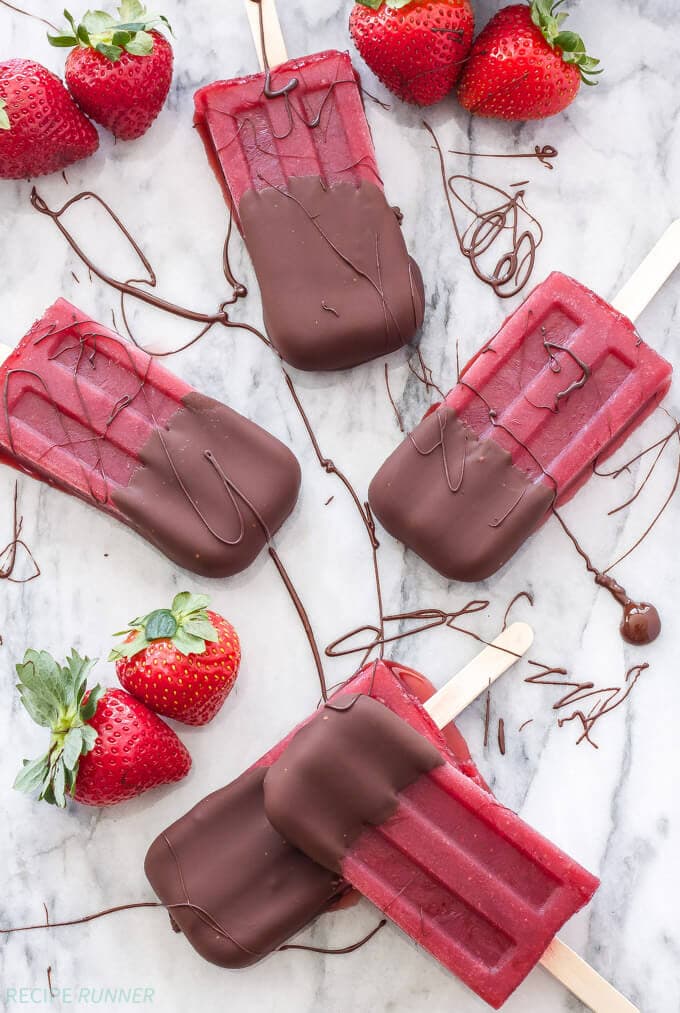 Chocolate Dipped Strawberry Red Wine Popsicles
Connect with Danae: