Cheesy Zucchini Quinoa Egg Muffins
Skip the drive-thru egg muffins and make these healthy, freezer friendly, Cheesy Zucchini Quinoa Egg Muffins! Full of protein and carbs they're the perfect way to start the day!
Hi Everyone, Danae from Recipe Runner. Today I'm back and I'm sharing a breakfast recipe that's not only easy to make, but you can freeze them so you have something on hand for busy mornings or when you don't want to cook. Cheesy Zucchini Quinoa Egg Muffins, I'm basically obsessed with them right now!
I typically make myself an omelet every morning during the week. However, when the weekend rolls around, I get a little…a lot more lazy. I can't even be bothered to scramble an egg after my long run, but obviously I need to do some serious calorie replacement. These Cheesy Zucchini Quinoa Egg Muffins are the solution to my laziness issues and they are a delicious solution at that!
MY LATEST VIDEOS
I love the pop of texture and the added protein and carbs that the quinoa gives the egg muffins. It acts a bit like a thickener in the muffin, making them a little sturdier and better able to hold their shape unlike a frittata. They do shrink some when they come out of the oven, but they won't look like pancakes.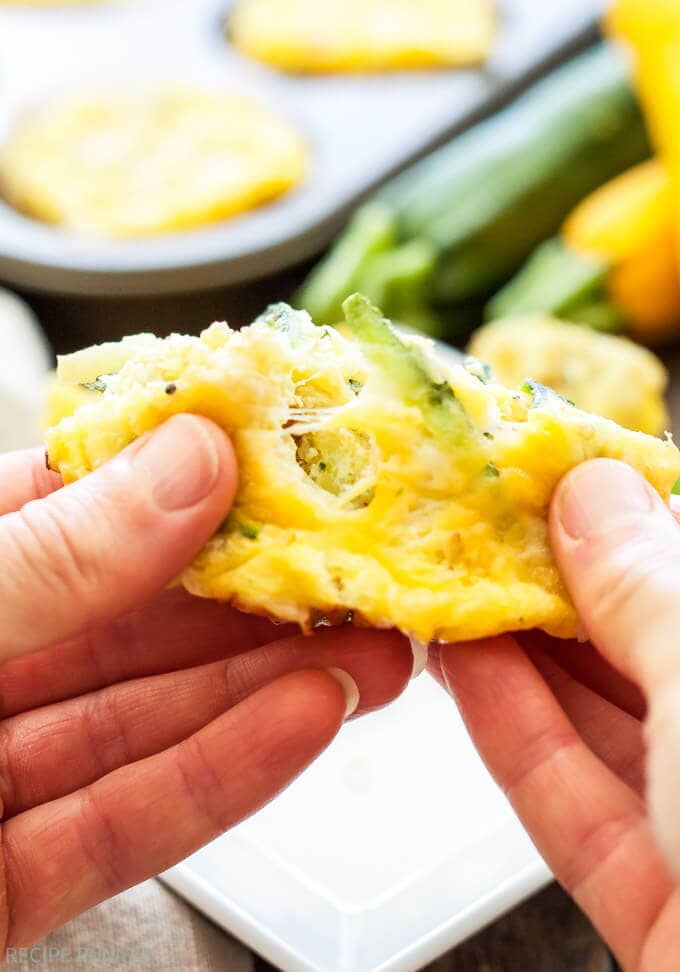 I chose to use zucchini in these quinoa egg muffins because I have a garden exploding with it right now. It's also a vegetable that is readily available year-round. Kids don't seem to mind shredded zucchini in most dishes because it doesn't really have a flavor. While I didn't have a kid to test the muffins out on, my bet is that since there is a good amount of cheese in them, they'll probably like them. For an adult I would probably suggest having two for breakfast, kids might only need one. These Cheesy Zucchini Quinoa Muffins are an easy, healthy and freezer friendly breakfast or snack you can feel good about eating….unlike that greasy Egg McMuffin from the drive-thru down the street. Have an egg-celent day!
Yields 10 muffins
Cheesy Zucchini Quinoa Egg Muffins
15 minPrep Time
20 minCook Time
35 minTotal Time
Ingredients
4 eggs
2 egg whites
1/4 cup milk
1/2 of a yellow onion, sautéed until softened
1 cup cooked quinoa
1 cup shredded zucchini, excess liquid squeezed out
Hot sauce to taste, I used about 1 teaspoon
Kosher salt and black pepper to taste
1/2 cup shredded sharp cheddar cheese
1/2 cup shredded Monterey Jack cheese
Instructions
Preheat oven to 375 degrees and line a standard muffin tin with parchment liners or silicone liners.
In a small skillet sauté the onion until it has softened, about 2-3 minutes.
In a mixing bowl whisk together the eggs, milk, salt, pepper and hot sauce until combined.
Whisk in the zucchini, quinoa, onion and 3/4 cup of the shredded cheese.
Pour the mixture evenly into each muffin cup and top them with the remaining 1/4 cup of shredded cheese.
Bake on the middle rack of the oven for 18-20 minutes or until the eggs are set.
Remove from the oven and serve.
If you plan to freeze the muffins, cool them completely then wrap individually in plastic wrap and store in an airtight container or freezer bag.
7.8.1.2
454
https://www.spoonfulofflavor.com/2016/08/10/cheesy-zucchini-quinoa-egg-muffins/
More Eggs for Breakfast!
Egg, Green Chile and Cheese Breakfast Tacos
Open-Faced Egg, Avocado and Hash Brown Breakfast Sandwiches
Connect with Danae: