Learn how to make easy baked apple cider donuts with this homemade recipe made in less than 20 minutes! These donuts are made with fresh apple cider and taste delicious.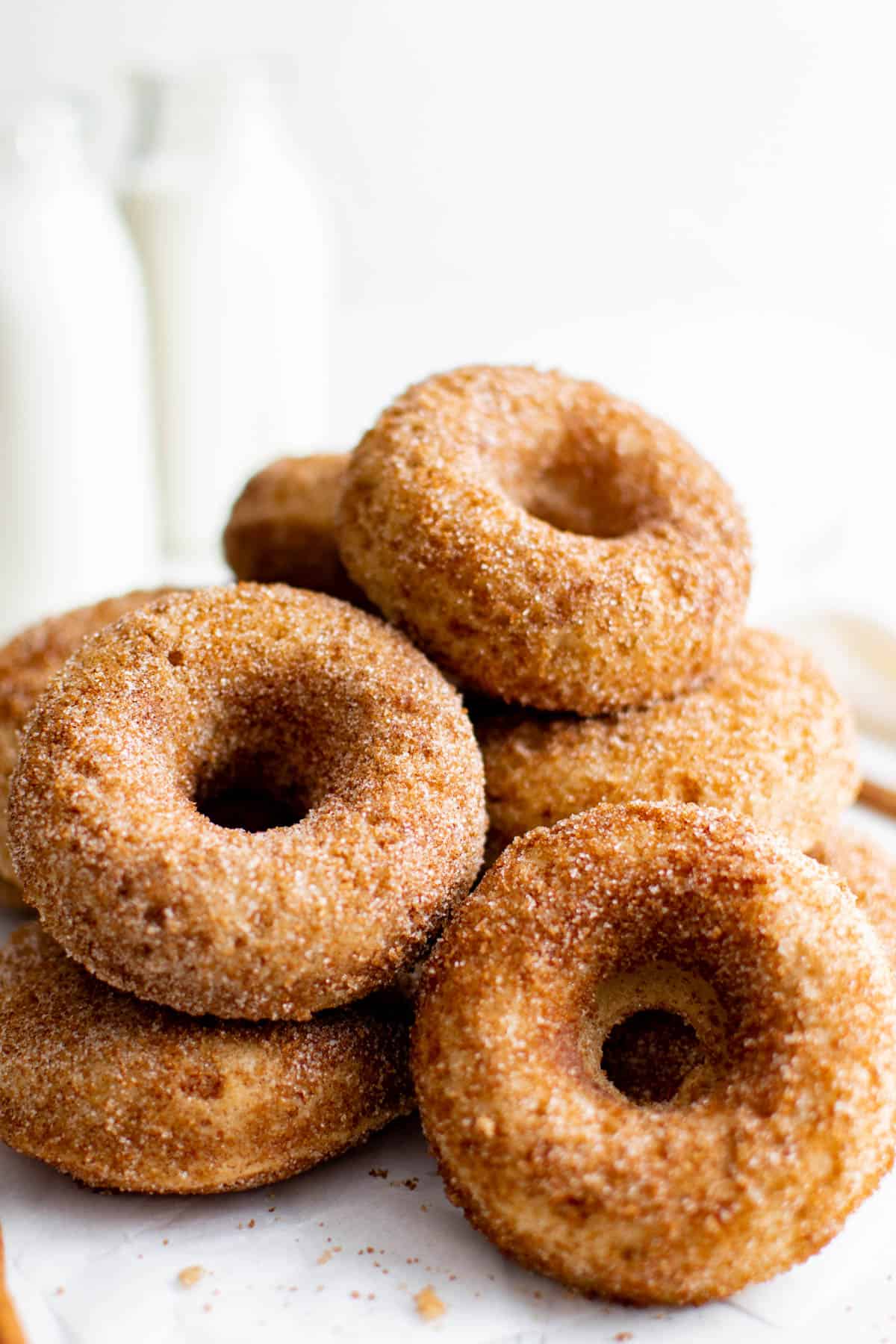 During September, we start craving everything made with apples – apple pie, apple cider and of course, donuts. Bake these little cider donuts in the oven and then in cinnamon sugar. No yeast is needed. Make them in less than 20 minutes to create an easy fall treat worth making any day. Grab a glass of apple cider and enjoy this soft and sweet treat!
These delicious donuts are a great way to enjoy the taste of fall in donut form!
Why You'll Love This Recipe
These apple cider doughnuts are baked not fried.
You will have a baked treat in less than 20 minutes.
They are light and fluffy.
These donuts taste just like old fashioned apple cider donuts.
They are infused with delicious apple cider.
Ingredient Notes
Spices: Use a mix of cinnamon and nutmeg for the perfect amount of fall flavor.
Apple Cider: Fresh apple cider is best. Do not use apple cider vinegar as it is NOT the same thing as apple cider.
Baking Tools
Donut Pan: You will need a 12 hole donut pan. You can also use two donut pans that make six donuts each.
Pastry Bag: This is not necessary, but it helps for piping the donuts into the donut pan.
Mixing Bowl: You will need one mixing bowl to combine all of the ingredients.
Steps to Make Apple Cider Donuts
Combine the dry ingredients in a large bowl.
Add the wet ingredients and mix until well blended.
Spray a donut pan with cooking spray. We use two of these small donut pans. Use a pastry bag or a ziploc bag with the end snipped off to fill each donut cup about 3/4 full with the batter.
Bake for 10 minutes.
Mix together sugar, brown sugar and cinnamon a shallow bowl. Brush each donut with melted butter and then toss in the cinnamon sugar mixture.
Expert Tips
Cinnamon Sugar Topping: The topping helps create that authentic apple cider donut consistency and flavor. You can skip it to cut back on sugar, but the donuts will not taste the same.
Use a pastry bag to pipe the donuts to ensure the pan is filled evenly. If you don't have a pastry bag, you can use a zipped-top bag with the corner cut off.
Make sure to use a donut pan for baked doughnuts. A muffin pan will not work the same.
FAQs
What are they called apple cider donuts?
They are made with apple cider, cinnamon and a few other ingredients. They are frequently sold at cider mills in New England.
Can apple cider donuts be frozen?
Yes, you can freeze cider donuts. We recommend freezing them before coating them in the cinnamon sugar. Store in a sealed container or bag in the freezer for up to 3 months. When you're ready to eat, thaw, cover with a damp paper towel and heat in the microwave for 30 seconds. Brush with melted butter and then coat in cinnamon sugar.
How long do cider donuts last?
Store the baked donuts in an airtight container for up to 2 days at room temperature. You can also store in the refrigerator for up to 6 days.
These baked apple cider donuts are the perfect fall treat. They only require one bowl and are relatively quick and easy. Baking them yields light and fluffy donuts. We love serving them with a cup of cold apple cider or a cup of hot coffee.
Other Apple Recipes
Apple season is a great time to enjoy your favorite apple recipes. Try these cider donuts and leave us a review below!
Baked Apple Cider Donuts
Yield: 12 donuts
Try these warm homemade apple cider donuts are a great fall treat in less than 20 minutes.
Ingredients
For the donuts:
2 cups all-purpose flour
¾ cup granulated sugar
2 teaspoons baking powder
½ teaspoon ground cinnamon
pinch of nutmeg
1 teaspoon salt
½ cup apple cider
¼ cup milk
2 eggs, beaten
1 teaspoon vanilla extract
1 tablespoon unsalted butter, melted
Cinnamon-sugar topping:
¼ cup sugar
¼ cup brown sugar
1 tablespoon cinnamon
2 tablespoons unsalted butter, melted
Instructions
To make the donuts:
Preheat the oven to 325 degrees. Spray donut pan with cooking spray.

Combine flour, sugar, baking powder, cinnamon, nutmeg and salt in a large bowl. Add cider, milk, eggs, vanilla and melted butter. Mix until well blended.

Fill each donut cup about ¾ full (I use a pastry bag with the end snipped to do it neatly.) Bake for 10 minutes until donuts spring back when touched. Allow to cool slightly before removing from pan.
To make the cinnamon-sugar topping:
Mix together sugar, brown sugar and cinnamon in a shallow bowl until well combined. Brush each donut with melted butter then toss in cinnamon-sugar mixture until evenly coated.
Notes
STORAGE
These donuts are best fresh, but you can store them in an airtight container on the counter for up to 2 days. 
These donuts can be frozen, but we recommend freezing prior to coating them in the cinnamon sugar. 
Nutrition
Serving: 0g, Calories: 204kcal, Carbohydrates: 39g, Protein: 3g, Fat: 3g, Saturated Fat: 2g, Cholesterol: 35mg, Sodium: 234mg, Potassium: 122mg, Fiber: 0g, Sugar: 22g, Vitamin A: 135IU, Vitamin C: 0.1mg, Calcium: 52mg, Iron: 1.2mg
If you try this recipe, don't forget to leave a review below or share a photo and tag @spoonfulofflavor on Instagram.
This recipe was originally published in 2013 and was updated in 2019 and again in October 2021 with new notes and tips.