This easy recipe for Banana Coconut Muffins is a fun twist on classic banana muffins. These muffins include coconut and other crunchy ingredients for the perfect breakfast, snack or dessert! They are easy to prep in one bowl in 15 minutes.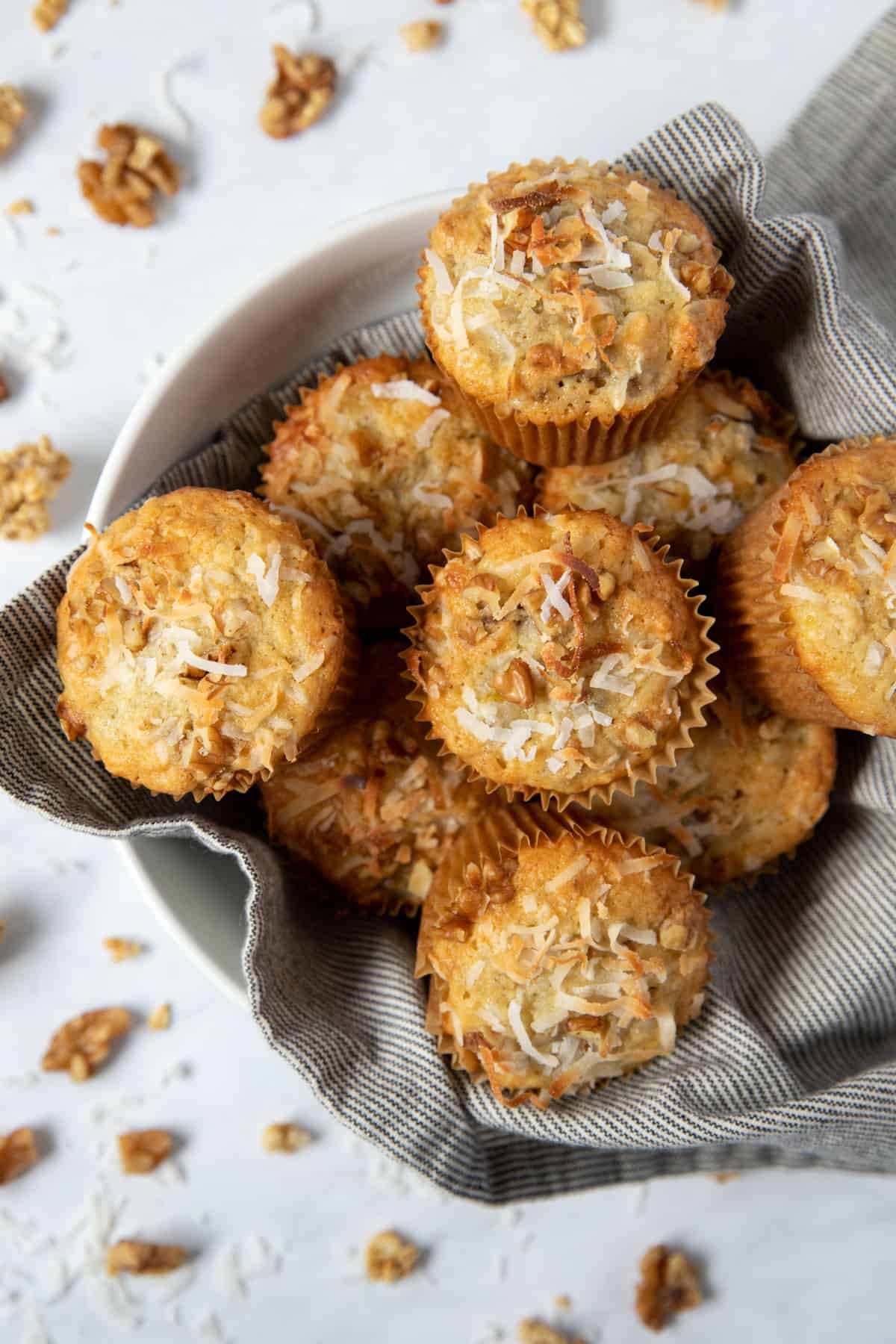 These delicious banana coconut muffins are the perfect way to start your day. Unlike traditional banana muffins, this unique twist contains a mix of shredded coconut, granola, and chopped nuts right into the batter for a delicious texture and sweet taste.
Not only is the coconut my unique twist on these muffins, but I also add a mix of overripe and ripened bananas in this recipe. They are incredibly versatile making the perfect breakfast, snack, or dessert for any time of the day!
You can even make a batch of these banana and coconut muffins and freeze them later.
Prep the muffins in one bowl in 15 minutes before baking.
What People are Saying About This Recipe
"I've been making these banana coconut muffins for years and they're a favorite around here. Through the years I've played around with the recipe and it's always been good. This week I'm going to add 1/2 cup of hemp seed hearts instead of the walnuts. Can't wait!!" – Lisa
"This is one of my favorite recipes to make!! It's really simple and the muffins are so good every time!! I've made them several times with different add ins (blueberries, cranberries & white chocolate, peaches, etc.) and they always turn out great!" – Dara
"Excellent! So much goodness. Easy to follow recipe, amazing flavor. I had dark chocolate coconut on hand and it was perfection. I visit your page quite often and am always pleased with your recipes." – Amber
Ingredients You'll Need
All-Purpose Flour – The main dry ingredient, all-purpose flour brings the muffin batter together. You can substitute with a gluten free 1-1 all purpose flour to make them gluten free. You can also substitute half of the all purpose flour for whole wheat flour, if desired.
Sugar – Sweetens the muffins along with the natural sweetness of bananas.
Baking Powder & Baking Soda – Helps the muffins rise and become fluffy.
Kosher Salt – Balances the flavors in the muffins.
Unsalted Butter – Gives the muffins a buttery flavor and helps make them moist. You can substitute the butter for coconut oil. You can also replace half of the butter with applesauce.
Egg – Leavens the muffin and helps them set and hold together.
Milk – Thins out the muffins while adding a rich creaminess.
Vanilla Extract – Gives a light vanilla flavor throughout.
Mashed & Ripe Bananas – A combination of these two will give the muffins a moist texture and natural sweetness.
Diced Walnuts – Gives a crunchy nutty flavor to the inside.
Granola – Adds sweetness and crunch.
Shredded Coconut – This gives these muffins a sweet flavor and a great texture inside the muffin and sprinkled on top. You can use sweetened or unsweetened coconut. The sweetened coconut will create a sweeter flavor.
How To Make Banana Coconut Muffins
Prepare the oven & muffin pan. Preheat the oven to 350 Fahrenheit and line a muffin tin with paper liners.
Mix the dry ingredients. While the oven is preheating, mix the dry ingredients into a large bowl.
Combine the wet ingredients. Mix the melted and cooled butter along with the egg and milk and mashed overripe bananas until fully combined.
Mix the muffin batter. Combine the wet and dry ingredients together, then fold in the diced banana, granola, nuts and coconut flakes.
Assemble and bake. Divide the muffin batter evenly between the muffin liners and sprinkle coconut on top of each muffin. Bake until a toothpick inserted comes out clean, about 30 minutes. Transfer muffins to a wire rack to cool before serving.
You want to make sure that you don't overmix the batter as it will become tough. Also, do not turn your oven higher than 350 Fahrenheit to bake as they risk drying out faster.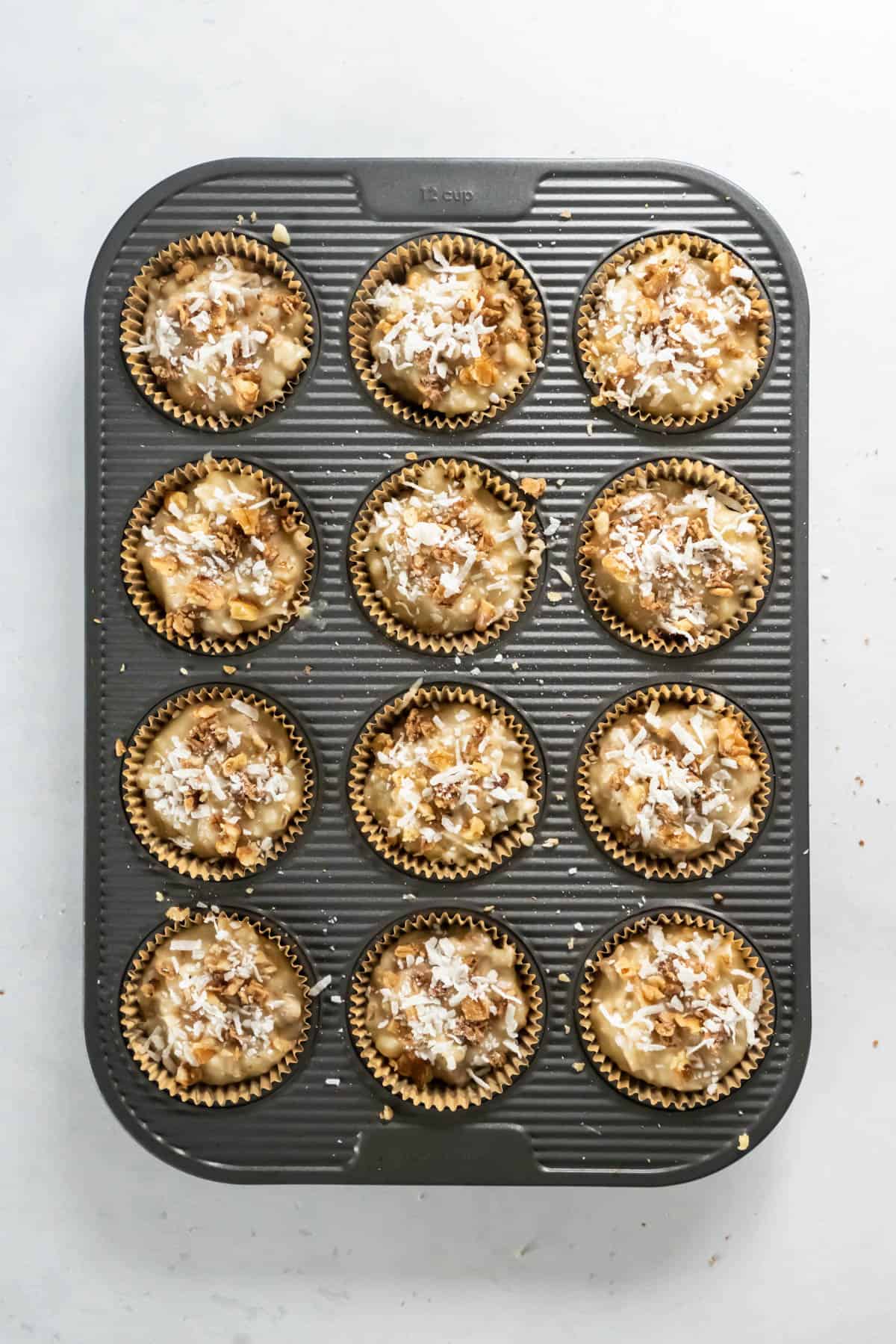 Expert Baking Tips
To make these coconut banana muffins nut-free, omit the nuts in the recipe. You can also or use another type of chopped nuts such as pecans or cashews if desired.
Gluten free – Make banana coconut muffins gluten free by using a 1:1 gluten free flour blend that contains xanthan gum to replace the all-purpose flour.
To make these dairy-free, substitute cow's milk or almond, soy or another plant-based alternative.
Use ripe bananas. Make sure you are choosing a banana that is browning and is a bit soft to the touch for the best results.
Bring milk and eggs to room temperature to yield the best results in texture.
Do not overfill the muffin cups as you don't want them to spill over while baking. Fill ⅔ full.
Variations
Fall flavors – Add warming spices like cinnamon, nutmeg, or pumpkin pie spice.
Citrus flavor – Fold in the zest of one lemon or orange for a pop of fresh citrus flavor.
Blueberry muffins – Stir in some blueberries to make a blueberry banana coconut muffin.
Add chocolate chips – You can add 1/2 cup of chocolate chips or use chocolate chips instead of one of the other mix-ins.
Omit the coconut – You can omit the coconut if desired, although the coconut adds the best texture and flavor and is a classic ingredient in these muffins.
Make banana coconut bread. Turn these muffins into a loaf of delicious banana coconut bread by pouring mixture into a greased loaf pan and baking for 45-60 minutes or until baked through.
Make banana coconut mini muffins by adding the batter to a mini muffin tin before baking. You may need to adjust the bake time down slightly since the muffins are smaller.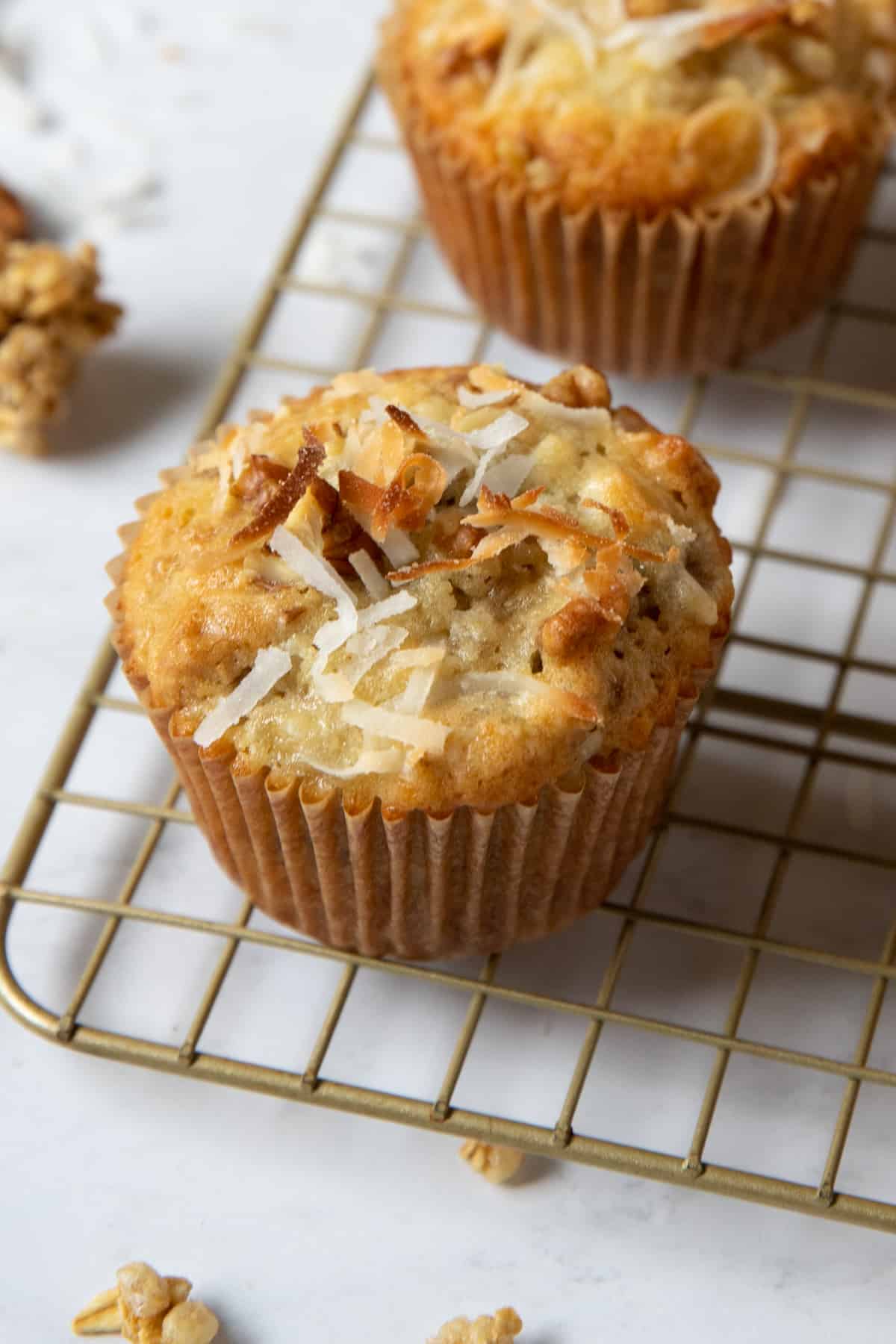 If you love these banana crunch muffins, then you will also love Chocolate Chip Banana Bread and Banana Bars – two other fun ways to use up ripe bananas!
Did you make these banana coconut muffins? Leave a recipe rating and review below!
Banana Coconut Muffins
Yield: 12 muffins
These banana and coconut muffins are made with walnuts, granola and shredded coconut.
Ingredients
1 1/2 cups all-purpose flour
1 cup sugar
1 teaspoon baking powder
1/2 teaspoon baking soda
1/4 teaspoon kosher salt
4 ounces unsalted butter, melted and cooled (1 stick)
1 egg
1/4 cup +2 tablespoons milk
1 teaspoon vanilla extract
1/2 cup mashed ripe bananas
1/2 cup diced ripe bananas
1/2 cup diced walnuts
1/2 cup granola
1/2 cup sweetened shredded coconut, + extra for topping
Instructions
Preheat oven to 350 degrees. Line a 12-cup muffin tin with paper liners.

In the bowl of an electric mixer fitted with the paddle attachment, combine flour, sugar, baking powder, baking soda, and salt. Add the melted butter and blend. Add the egg, milk, vanilla and mashed bananas to the flour-and-butter mixture and mix well. Fold the diced bananas, walnuts, granola and coconut into the batter.

Spoon the batter into the muffin cups, filling each ¾ full. Top with extra coconut, if desired. Bake 24-26 minutes, or until a toothpick inserted into the center of muffin comes out clean. Allow to cool in the pan for 10 minutes, then transfer to a wire rack to cool completely.
Notes
Storing: Store banana muffins in plastic wrap, tin foil, or a container to prevent them from drying out. You can also place the banana bread in the refrigerator for up to one week.  Freezing: Freeze cooled muffins by wrapping each muffin in plastic wrap, then adding to a freezer-safe bag or container for up to 3 months. Thaw on the counter before serving.   This recipe is barely adapted from The Barefoot Contessa Cookbook by Ina Garten
Nutrition
Serving: 1muffin, Calories: 278kcal, Carbohydrates: 38.2g, Protein: 4g, Fat: 13.5g, Cholesterol: 36.6mg, Sodium: 163.7mg, Potassium: 119.9mg, Fiber: 2g, Sugar: 20.5g
If you try this recipe, don't forget to leave a review below or share a photo and tag @spoonfulofflavor on Instagram.
More Muffin Recipes
This recipe was originally published in 2013. It was updated with new photos and tips in October 2021.