Berry Baby Shower Recipes
Are you planning a baby shower? Try these berry baby shower recipes including Strawberry Layer Cake, Strawberry Funfetti Cake Mix Cookies, Strawberry Balsamic Crostini with Whipped Ricotta and more!
One of my favorite things about this crazy world of blogging is the friendships that I built along the way. I've met some of the most hardworking and talented women from across the country who have become great friends. With the anticipated arrival of my first child this summer, some of my nearest and dearest friends in the blogging community hosted a virtual baby shower to celebrate. I was surprised and amazed at the time, dedication and creativity that they put into creating these incredible recipes featuring my favorite food (berries!), and also incorporated fun elements from my little girl's "little adventurer" nursery. Scroll down for an assortment of berry baby shower recipes that will make your next celebration even better!
MY LATEST VIDEOS

Lindsay from Life Love and Sugar is the queen of amazing cakes. I am so honored that she created the most fun, vibrant and flavorful cake to celebrate my little girl. Everything from the colors to the sprinkles and elephant is impressive and fit for a baby shower. Best of all, she perfected the recipe using fresh strawberry puree to create a cake that tastes just as good as it looks!
Julianne from Beyond Frosting loves sweets as much as I do. She took a break from promoting her new cookbook (a MUST buy!) to create these strawberry cookies bursting with colorful sprinkles. These cookies would be great for any baby shower but they work especially well if you are hosting a baby sprinkle.
Strawberry Funfetti Cake Mix Cookies
Yet another master of all things sweets, Zainab from Blahnik Baker always knows how to impress. She combined two of my favorite flavors, raspberry and coconut, to create this stunning cake that makes a great addition to any special event. You won't be able to resist the whipped cream frosting!
Coconut Raspberry Cake with Whipped Cream Frosting
Krista from Joyful Healthy Eats shared a savory dish that is the perfect addition to a celebration featuring all things berry! You could even layer the salmon over a fresh salad to create a healthy entree for any baby shower. This delectable meal is one that you will want to make again and again.
Spice Rubbed Cedar Plank Salmon with Strawberry Salsa
If you visit here often than you already know that Danae from Recipe Runner creates some of the best recipes that you will ever try. As a good friend, she also knows me too well and combined my love for strawberries and cheese into one bite-sized little appetizer.
Strawberry Balsamic Crostini with Whipped Ricotta
Justine from Cooking and Beer is someone that you always want at your special event. Not only does she create the most delectable recipes but she always knows the best beer pairings too. These strawberry ice cream sandwiches are a sweet treat that I want to snack on all summer and would be great for a berry delicious baby shower.
Strawberry Ice Cream Sandwiches
A baby shower isn't complete without macarons! Beth from bethcakes created Strawberry Rose Macarons. Macarons are one of my favorite treats but I'm often too intimidated to make them myself. Beth perfects the art of making macarons and adds a beautiful and elegant touch to the celebration of my little girl.
I don't think a dessert could be any more perfect than this Vegan Strawberry Shortcake. Alice from Hip Foodie Mom created a dessert that I have loved since childhood and even made it vegan. You won't be able to resist a slice of this cake with the coconut whipped cream!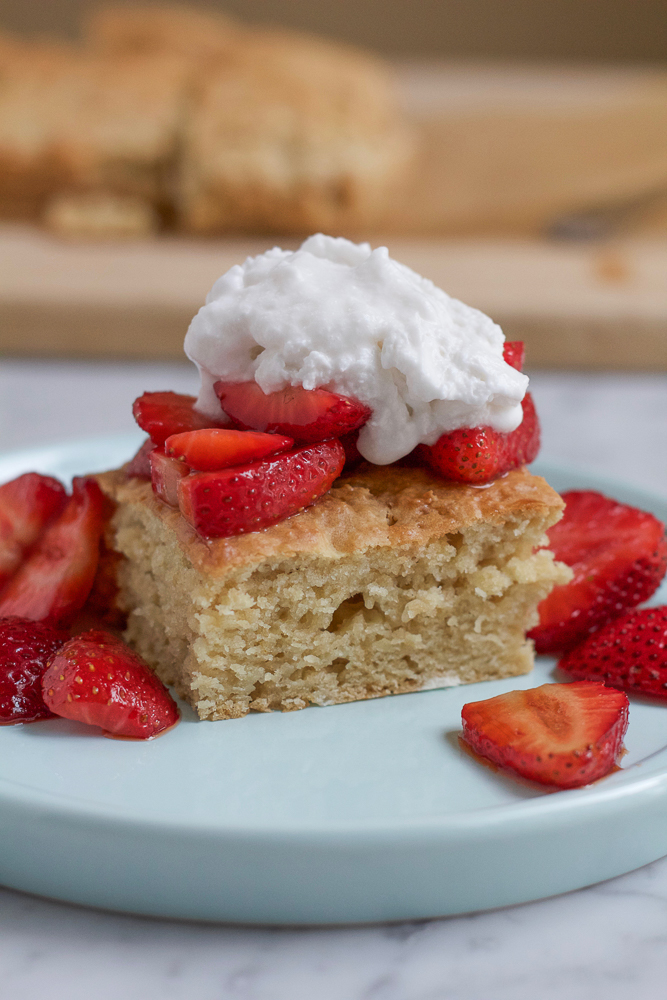 This post may contain affiliate links.