This easy Blueberry Breakfast Cake requires only 15 minutes of prep. It's light, fluffy and packed with fresh flavor. Serve it for breakfast, brunch or even dessert!
Who says you can't have cake for breakfast? This delicious blueberry breakfast cake is made with a few basic ingredients including fresh blueberries.
It's great during the summer when there is an abundance of fresh blueberries. But you can also make it in the winter with frozen blueberries. Either way, this recipe is fresh, easy and delicious.
Ingredients You Need
Blueberries: Fresh berries are ideal but frozen work too.
Lemon Zest: Adds fresh flavor.
Flour: Use regular or gluten free 1-to-1 All Purpose Flour.
Sugar: You can reduce the amount of sugar slightly, if desired.
Butter: Use unsalted butter.
Buttermilk: You can substitute 1/2 cup buttermilk with 1/2 cup whole or 2% milk plus 2 teaspoons freshly squeezed lemon juice.
Baking Powder
Egg
Vanilla
Kosher Salt
Expert Tips
If using frozen blueberries, make sure to rinse them in cool water till defrosted. Do not let the blueberries defrost on the counter. Dry them thoroughly between two pieces of paper towel before using in the recipe.
To prevent the blueberries from sinking in the middle, make sure you toss with the flour before adding to the batter.
The batter will be thick. Just spread it around so it fills the pan.
Serve with a dusting of confectioners sugar to make it even sweeter, if desired.
Storage for Leftovers
Store the cake on a covered cake plate at room temperature for up to 3 days. Do not store it in the refrigerator as it might dry out.
To freeze, let the cake cool completely. Cut the cake into individual slices and wrap each one in plastic wrap. Place in a zipped-top freezer safe bag to freeze for up to 1 month.
Allow the slices to defrost at room temperature before serving.
Blueberry Breakfast Cake is an easy yet impressive breakfast recipe. Make this year round for a delectable addition to breakfast and brunch.
Other Blueberry Breakfast Recipes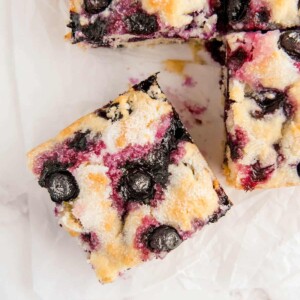 Easy Blueberry Breakfast Cake
Yield: 8 servings
This easy breakfast cake is made with fresh blueberries and lemons to create a tasty treat for kids and adults.
Ingredients
2 cups fresh blueberries
2 cups all-purpose flour
2 teaspoons baking powder
1 teaspoon kosher salt
½ cup unsalted butter, room temperature
2 teaspoons lemon zest
¾ cup + 2 tablespoons sugar
1 egg
1 teaspoons vanilla extract
½ cup buttermilk
Instructions
Preheat the oven to 350 degrees. Grease a 9-inch square baking dish with butter.

In a small bowl, toss the blueberries with ¼ cup of flour; set aside. Whisk together the remaining flour, baking powder and salt in a medium bowl and set aside.

In the bowl of an electric mixer fitted with the paddle attachment, cream the butter, lemon zest and ¾ cup plus one tablespoon of the sugar together until light and fluffy. Add the egg and vanilla and beat until combined.

Add the flour mixture to the batter a little at a time, alternating with the buttermilk. Fold in the blueberries.

Spread batter into greased baking dish and sprinkle batter with remaining tablespoon of sugar. Bake for 35-45 minutes, or until top is slightly golden brown and a toothpick inserted into the center comes out clean. Allow to cool for 10-15 minutes before serving.
Nutrition
Serving: 0g, Calories: 256kcal, Carbohydrates: 30g, Protein: 4g, Fat: 12g, Saturated Fat: 7g, Cholesterol: 52mg, Sodium: 317mg, Potassium: 190mg, Fiber: 1g, Sugar: 4g, Vitamin A: 430IU, Vitamin C: 4.2mg, Calcium: 74mg, Iron: 1.7mg
If you try this recipe, don't forget to leave a review below or share a photo and tag @spoonfulofflavor on Instagram.
This recipe was originally published in 2013. It was updated in January 2020 with new photos and tips.