Creamy Mushroom and Spinach Pasta is an easy vegetarian pasta dish. Hearty mushrooms and whole wheat pasta make it a filling main dish without any meat. Ready in less than 30 minutes!
Danae from Recipe Runner here and I have the perfect pasta dish for you. The recipe is a vegetarian one, but the mushrooms make it hearty enough so that you won't miss the meat. Instead of using boring white button mushrooms, I went with shiitakes. I love the texture of the shiitakes and the smoky, woody flavor they add to the pasta. If you can't find shiitakes I recommend using creminis or a blend of different varieties of mushrooms.
The creaminess in this pasta dish comes from half and half, which is lighter than heavy creamy but still creates the rich creamy flavor. Freshly grated Parmesan cheese ties all the flavors together while adding a wonderful saltiness.
This pasta is easy enough to make on a weeknight, but elegant enough to serve for a special dinner. Enjoy!
Why You'll Love This Recipe
Except the pasta, everything cooks in one pan to make clean up easier on busy weeknights.
You can choose whatever pasta you enjoy in this recipe.
This recipe is 100% vegetarian but is still hearty and satisfying due to the bold flavor and texture of the mushrooms.
All ingredients are simple and can be found in your local grocery store making it budget-friendly and easy for anyone to make.
This recipe can easily be adapted to fit a gluten-free lifestyle.
It can be made in large batches which are perfect for meal prep or to serve at a dinner gathering.
Ingredients You Need
Whole Wheat Pasta – You can use farfalle, rotini, fettuccine, spaghetti, or any pasta you enjoy in this recipe.
Extra Virgin Olive Oil – You'll need some olive oil to saute the garlic, shallots, and mushrooms to help cook down and release their flavors.
Shiitake or Cremini Mushrooms – Mushrooms are the star of this dish and add a hearty texture and flavor. I like using shiitake or cremini, but feel free to use a mix of your favorite mushrooms.
Shallots & Garlic – Infuses aromatic garlic and mild onion flavor throughout the pasta dish.
Baby Spinach – Gives the dish color and additional nutrition.
Salt & Pepper – Helps balance all the flavors in creamy mushroom pasta.
White Wine or Broth – Helps give this pasta dish a bold flavor when deglazing the pan.
Half & Half – Gives the pasta a creamy texture and light creamy sauce.
Parmesan Cheese – Adds a salty bite and a bold parmesan flavor.
Fresh Parsley – Used for garnish, parsley adds freshness and a pop of green color.
How to Make Mushroom Pasta with Spinach
Step 1. Cook the pasta.
Step 2. Saute the shallots, garlic, mushrooms, salt and pepper with olive oil.
Step 3: Add in the spinach and sauté until it wilts.
Step 4. Deglaze the pan by adding in the wine or broth.
Step 5. Remove from heat and stir in the pasta, half and half, parmesan cheese, and parsley until everything is combined.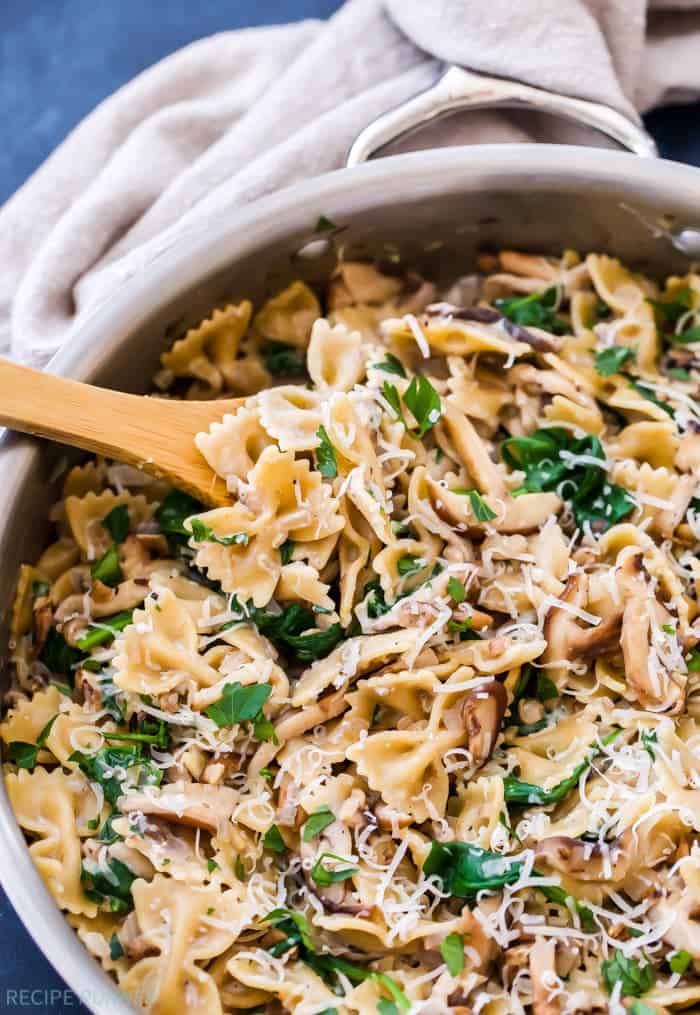 Expert Tips
Make sure your pasta is fully drained before adding to the pan to be mixed in with the sauce. Any excess water may keep the sauce from becoming creamy.
Different varieties of pasta absorb sauce in different ways, so you may need more or less cream and parmesan to create the desired amount of creamy sauce.
It's important not to crowd the pan when cooking your mushrooms, garlic, and shallots to keep them from steaming and becoming soggy. Make sure you're using a large pan or skillet that has enough room for everything to saute properly.
Variations
To make this mushroom and spinach pasta gluten free, use your favorite gluten free pasta variety. Be sure to check any labels on seasonings for gluten-containing ingredients.
Add even more nutrition by wilting down your favorite leafy greens such as kale, collard greens, or even beet greens.
If you can't find cremini or shiitake mushrooms feel free to use a variety of button mushrooms, white mushrooms, or portobello mushrooms which can easily be found at any grocery store.
For a great buttery flavor, saute the mushrooms, garlic, and shallots in butter or a mix of butter and olive oil.
FAQs
Can I use dried mushrooms in this recipe?
Yes! Just make sure they are fully hydrating according to the directions on the package before using.
What is alternative to half and half to make this recipe creamy?
If you can't use half and half to make the creamy sauce, try using sour cream, cream cheese or even plain coconut cream for a vegan pasta dish. You may have to add additional stock to create the perfect creamy sauce base and flavor. Note: these variations have not been tested in this recipe. 
Does this taste like Olive Garden creamy mushroom pasta?
We think it tastes better! In this recipe you'll make a creamy mushroom pasta from scratch using homemade ingredients that you can control making it a healthier version of this classic restaurant favorite. 
More Easy Pasta Dinners
Did you try this Mushroom and Spinach Pasta recipe? Leave a recipe rating and review below.
Creamy Mushroom and Spinach Pasta
Yield: 6 servings
An elegant vegetarian dish made with simple ingredients!
Ingredients
3/4 pound whole wheat farfalle or pasta of choice, use gluten-free to make this recipe gluten-free
2 teaspoons extra virgin olive oil
10 ounces sliced shiitake mushrooms or creminis
1/2 cup chopped shallots
2 cloves minced garlic
3 cups baby spinach
Kosher salt and fresh ground black pepper to taste
1/4 cup white wine or low sodium vegetable broth
1/2 cup half and half
1/2 cup shredded parmesan cheese
2 tablespoons chopped flat leaf parsley
Instructions
Cook the pasta according to package instructions.

Heat the olive oil in a large skillet over medium-high heat.

When the skillet is hot add in the shallots, garlic, mushrooms, salt and pepper and sauté until the mushrooms are tender, about 5 minutes.

Add in the spinach and sauté until it wilts, about 3 minutes.

Add in the wine and cook 2 minutes or until liquid evaporates, stirring occasionally.

Remove from the heat and stir in the pasta, half and half, parmesan cheese and parsley until everything is combined.

Taste for seasoning and top with more parsley before serving.
Notes
SUBSTITUTIONS
Mushrooms: You can substitute with any type of button mushrooms – baby bella are another great choice. 
Half and Half: You can substitute with heavy cream. 
STORAGE
Storing: Store this pasta in your fridge in an airtight container for 3-4 days. 
Freezing: Although the texture of the mushrooms will change a bit after thawing, this pasta can be frozen in a freezer-safe bag or airtight container for up to 3 months. Thaw in the fridge overnight before reheating and serving. 
Reheating: Pasta will continue absorbing sauces and flavors as it sits. This means the sauce may not be as creamy or thick when reheating. For best results, reheat in a skillet over medium heat while adding vegetable stock and/or cream to help bring the sauce back together until warmed through and desired texture is reached.
Nutrition
Calories: 298kcal, Carbohydrates: 48g, Protein: 13g, Fat: 6g, Saturated Fat: 3g, Cholesterol: 13mg, Sodium: 163mg, Potassium: 397mg, Fiber: 1g, Sugar: 1g, Vitamin A: 1655IU, Vitamin C: 6.5mg, Calcium: 161mg, Iron: 2.8mg
If you try this recipe, don't forget to leave a review below or share a photo and tag @spoonfulofflavor on Instagram.
This recipe was originally published by Danae at Recipe Runner in 2017. It was updated with new process photos, tips and variations in April 2021.