Learn everything you need to know about the Disney Dream Cruise including unique culinary experiences, delectable dining options, activities, ports, tips and more! This guide features my disney cruise reviews with our favorite things to eat, see and do.
This post originally published in April 2019. It was updated with relevant information in May 2021.
The Disney Dream cruise ship includes everything you love about Disney with a taste of the Caribbean sea. Immerse yourself in the full Disney experience with high quality dining options, culinary experiences, character greetings, island exploration and more.
Book a trip on a Disney cruise and experience first hand why we love it.
Service is top notch – exactly what you would expect from Disney.
Food is SO good! There is something for everyone – from high end dining to relaxing poolside meals. The pictures below are from our actual dining experiences. I promise you will be impressed.
The live performances each night are excellent and family friendly.
Disney is the only cruise line that sails to the beautiful island of Castaway Cay in the Bahamas.
With so many unique activities and experiences, you will want to book another trip.
Disney Dream Cruise Experience
This guide provides an overview of the dining, activities and things you should know about my Disney dream cruise to the Bahamas from Port Canaveral. Scroll through all of the photos and information below for the Disney cruise reviews or book your cruise at Disney Cruise Line.
Disney Dream Restaurants
Dining on the Disney Dream cruise ship is a unique experience. With a variety of dining options including everything from casual family dining to high-end adults-only dining, a Disney cruise offers dining options for everyone.
Animator's Palate
A unique feature of a Disney cruise is the rotational dining experience. Each night of your cruise, you rotate to a different restaurant for three different Disney experiences. Animator's Palate is one of the rotational dining rooms. Step inside a colorful restaurant and dine with some of your favorite Nemo characters that come to life on the walls. Kids especially love this dining room because Crush and other Nemo characters interact with guests throughout the meal. The entire meal is a performance!
Food in all of the dining rooms is very high quality. Try everything from roasted red snapper to filet of beef Wellington plus dessert and more. Kids will love that each dinner ends with their favorite Mickey ice cream bar!
Enchanted Garden
Transport yourself to the gardens of Versailles in the Enchanted Garden. This is our favorite of the rotational dining rooms. Throughout your dinner, the dining room transforms from day to night as the lights overhead change. The ambiance is light and fun and the food is exquisite.
The cuisine at Enchanted Garden matches the crisp and airy feel of the restaurant. The menu features market fresh ingredients in meals like slow-roasted prime rib, pan-seared sea bass, salmon and lobster ravioli. The sea bass was one of our favorite meals during the cruise. Fresh, flavorful and cooked to perfection!
Breakfast and lunch are also served in the Enchanted Garden.
Royal Palace
Royal Palace is inspired by all of your favorite Disney classics like Cinderella, Beauty and the Beast, Snow White and the Seven Dwarfs and Sleeping Beauty. The servers dress like Prince Charming and the ambiance is elegant and refined.
For dinner in the Royal Palace, guests enjoy world-class French cuisine including lobster, rack of lamb, beef tenderloin and garlic shrimp. Breakfast, lunch and dinner are served at the Royal Palace.
Palo
Even if you don't do anything else in this guide, we highly recommend that you book a brunch or dinner reservation at Palo. The restaurant is one of the adults-only dining rooms on the ship. Enjoy a modern Italian meal in a sophisticated and intimate atmosphere.
Palo is elegant, peaceful and suitable for all tastes. It's a truly unforgettable dining experience at sea. Everything from the table-side antipasto cart to the fresh pastas and delectable desserts will impress. We are still dreaming about the fresh lobster pappardelle and the chocolate soufflé.
The best thing about dining on the Disney Dream cruise ship is that you can eat as little or as much as you want. If you want to try both the chocolate soufflé and the amaretto soufflé, do it. You won't regret it!
Reservations are required at Palo and there is a $40 charge for dinner or brunch (as of 4/15/19), plus the cost of alcoholic beverages. Palo is an excellent deal for the quality and service. Plus, the dining room overlooks the ocean and creates an unforgettable experience.
In addition to dinner, a champagne brunch is offered at Palo. The brunch is available on sea days and select port days. The brunch features everything from signature pizzas to a fresh selection of cheese, breads, pastries, desserts and more. We highly recommend trying both dinner and brunch at Palo for two unique culinary experiences.
Remy
Remy is an intimate, adults-only French inspired restaurant aboard the Disney Dream and Disney Fantasy. With theming inspired by the Disney film Ratatouille and it's star Remy, the dining room is elegant, quiet and sophisticated. Superb French cuisine paired with a world class wine list and excellent service creates a lavish affair at sea. Guests may order from two tasting menus and include wine pairings or order a la carte from the menu.
The dinner experience at Remy is currently $125 per person (as of 4/15/19), plus the cost of wine and other alcoholic beverages. An optional wine pairing is offered for $105 per person. Brunch at Remy is currently $75 per person and includes one complimentary glass of Champagne. An optional Champagne pairing is offered at an additional $30 per person. Reservations are required for both experiences and a dress code is enforced.
Cabanas
If you want something more casual than any of the three mini dining areas, the Disney Dream offers plenty of casual family-friendly dining options.
Cabanas is a free-flow casual dining restaurant offering ocean views and delectable food options. For breakfast and lunch, the restaurant offers a buffet of 16 specialized food stations with everything from pizza and pasta to stir fry and sushi. For dinner, the restaurant transforms into a table-service casual dining experience. Walk in at your leisure during their hours and grab a casual meal. And the service is excellent in Cabanas too!
Additional casual dining options are found at Flo's Cafe, located on Deck 11 near the pool or via made-to-order room service.
Castaway Cay
The 4-night disney dream itinerary to the Bahamas currently includes one stop in Nassau, Bahamas and one stop on Disney's Castaway Cay. We visited Nassau before and always prefer to stay on the ship during the day we dock in Nassau. There are so many activities on the ship so we prefer to stay onboard and take advantage of the lighter crowds while the boat is docked in Nassau.
However, on Castaway Cay, we are the first people to debark the ship and the last ones back on. Castaway Cay is Disney's private island in the Bahamas. If you want to visit the island, you must book a Disney cruise. It's worth waking up early so you can spend your entire day on the island. White sand beaches and clear water await!
You don't need to bring towels as they are available when you debark the ship. Beach toys and other items are available for purchase in the Castaway Cay gift shops. Snorkel gear, floats and bikes are available for rent.
Castaway Cay also offers an adults-only beach, Serenity Bay. The beach is a gorgeous stretch of white sand with palm trees, lounge chairs and hammocks. It's a restful retreat from the family beaches with less crowds and ocean breezes. The photo at the top of this post is from Serenity Bay. So gorgeous!
In addition, there is an adults only dining area which serves the same food as the family dining area plus a few extra items for lunch. If you're looking for a quiet spot away from the crowds then visit Serenity Bay.
Cookie's BBQ
Cookie's BBQ is the main dining area on Castaway Cay. It offers a BBQ style buffet during lunch hours. Make sure to check the hours because once the bbq is closed, there are no other locations to grab food unless you head back to the ship. The bbq offers ribs, chicken, burgers, chips, salads, fruit, cookies, cookies, ice cream, soda and more.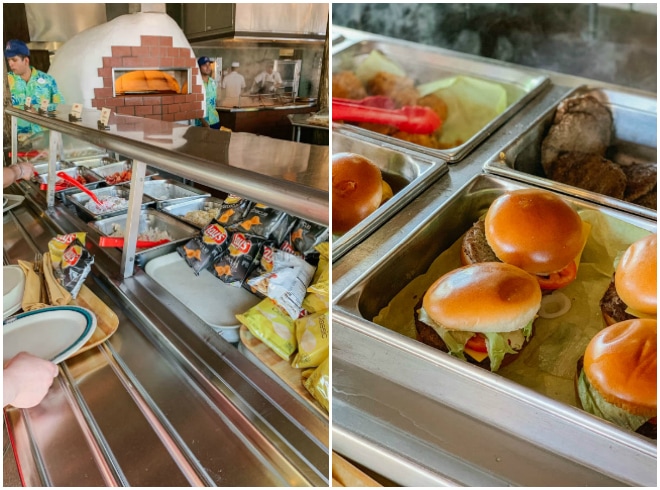 Heads Up Bar and Summertime Freeze
If you're looking for a place to grab a refreshing drink, visit Heads Up Bar and Summertime Freeze. You might even find Olaf or Sven! Non alcoholic and alcoholic drinks are available for purchase in an assortment of drink cups. Plus, the views from Heads Up Bar are some of the best on the island!
Castaway Cay Activities
One day isn't enough time to experience everything on Castaway Cay. The island offers everything from kayaking and biking to snorkeling and waterslides. We recommend that you don't book an excursion on your first visit to Castaway Cay. There are plenty of things to see and do on the island for all ages.
Snorkeling is one of our favorite things to do at Castaway Cay. You can simply walk in and swim to the snorkeling area from the beach. Visit Mickey and Minnie underwater and see various marine life such as fish and turtles. The water is calm and relatively shallow in most areas so it's great for the entire family.
Other Culinary Experiences
We are always looking for unique foodie experiences and the Disney Dream Cruise did not disappoint. The culinary experiences don't end at lunch and dinner. In fact, you can plan an entire cruise around the culinary experiences!
Chocolate and Liquor Tasting
Try the chocolate and liquor tasting and experience flavors from around the world. The sommelier will walk you through the different chocolates and suggest pairings to please your palate. The tasting requires reservations so be sure to book as soon as possible.
From Stem to Stern Wine Tasting
Learn more about wine and taste some of the best wines from around the world during the Stem to Stern Wine Tasting. A head sommelier will guide you through the tasting to recognize flavors, regions and winemaking process behind each glass of wine. The tasting is informative, fun and delicious! The tasting also requires reservations so be sure to book as soon as possible.
Vanellope's Sweets and Treats
There is no shortage of sweets on the Disney Dream. Vanellope's Sweets and Treats is everything you imagine in a sweet shop. It's packed with gelato, milkshakes, cupcakes, cookies, chocolates, candy and more. There is an additional cost for items at Vanellope's but we think they are very reasonably priced. Although there is endless free ice cream available on the pool deck, we still stop into Vanellope's every single day for something unique. Stop in and grab a sweet treat inspired by some of your favorite Disney movies and characters.
Meridian Lounge
Meridian Lounge is one of our favorite places on the ship to grab a drink. It's a relaxing retreat to enjoy beautiful ocean views before brunch or dinner at Remy or Palo. With an extensive cocktail list and a fun gin trolley to create unique gin cocktails, you will experience high quality handcrafted cocktails at sea.
Pink: Wine and Champagne Bar
Pink: Wine and Champagne Bar is another fun little hidden lounge on the Disney Dream. It's located in The District, an area of the ship with adult bars and lounges. It's swanky but relaxed, intimate and fun.
Cove Cafe
Another great place to escape the crowds is the Cove Cafe located near the adults-only pool. Grab a handcrafted coffee or tea drink and some fresh pastries each day. The coffee and tea are an additional cost, but the pastries are complementary. We love stopping in here during the early morning hours or in the afternoon before dinner. It's quiet, restful and the perfect place to escape from the excitement on the pool deck.
Senses Juice Bar
Stop by Senses Juice Bar if you're looking for a fresh fruit juice. The bar is located near the spa and fitness center. We like to stop in to grab a juice in the morning and then sit out on the pool deck to watch the ship dock in port.
Disney Cruise Activities
As you can see, there is no storage of culinary activities on the Disney cruise. But, that's not all! In addition to the culinary options, there are so many great activities for the entire family. Here is a highlight of a few of the other activities on the Disney Dream cruise.
Character Meet and Greets
Youth Clubs
Pools, Waterslides, Splash Pads and Aquaduck
Basketball court and mini golf
Shopping
Pirate Night with fireworks at sea (so fun!)
Live Performances
Spa and Salon
Disney Movies
Trivia, Bingo and Scavenger Hunts
Fitness studio with pilates and yoga classes, personal trainers or exercise equipment
Seminars to learn about Disney innovations and secrets behind entertaining
Royal Court Royal Tea Party
Bibbidi Bobbidi Boutique
While some of the activities are an additional cost, like the Royal Court Tea Party, they are well worth the experience. At the tea party, the child receives a princess doll, purse, jewelry and a few other items. You can interact with the Disney princesses and enjoy tasty little tea pastries and sandwiches.
Things to know about a disney cruise
Disney cruises depart from various ports. The Disney Dream cruise ship currently departs from Port Canaveral, but will start departing from Miami in June 2022. You will be able to sail from Port Canaveral on the newest Disney ship, the Disney Wish starting in 2022. Other Disney Cruise ships include the Disney Wonder, Disney Fantasy and Disney Magic. Trips vary in length from 3 nights+.
We recommend ages 2 and up.
While there are obviously a lot of children on a Disney Cruise, you will find many areas reserved exclusively for adults including an adults-only pool, bars, lounges, fitness center, spa and two restaurants – Palo and Remy! Plenty of locations to escape the crowds to find a peaceful retreat.
Use the Disney Cruise Line Navigator App. The app provides a full itinerary of all activities and events, hours for the dining locations, character meet and greets and more. Plus, you use the app to text or send messages to family and friends while on the ship.
There are a variety of staterooms on board the disney cruise, from inside staterooms to concierge level staterooms. We recommend booking a Verandah room.
Check out our guide featuring the best Disney Cruise Tips for everything you need to know before, during and after the cruise!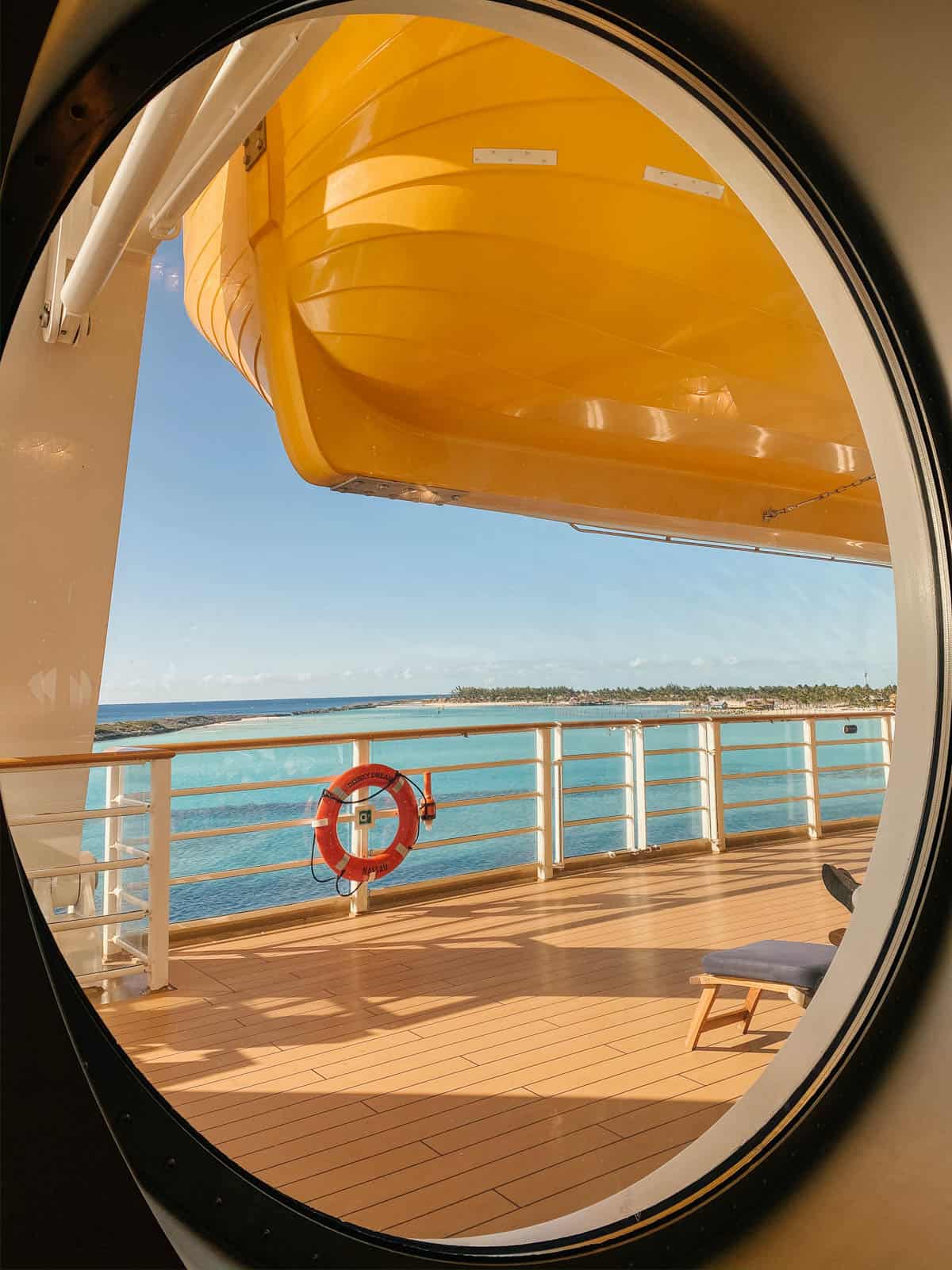 If you have any questions about the Disney Dream Cruise, don't hesitate to send us a message or leave a comment below. Visit Disney Cruise Line to book a trip and learn more. And if you book a trip, I want to hear from you. Let us know what you think about sailing with Mickey!
A huge thank you to Disney Cruise Line for hosting us on our original Disney Dream cruise! We have a few cruises under our belt now and are already looking forward to our next one on Disney's newest ship, the Disney Wish! As always, all opinions are my own.
This post was originally published in April 2019 and was updated with relevant information in May 2021.