Grilled shrimp is layered over quinoa, fresh veggies and olive oil red wine vinaigrette!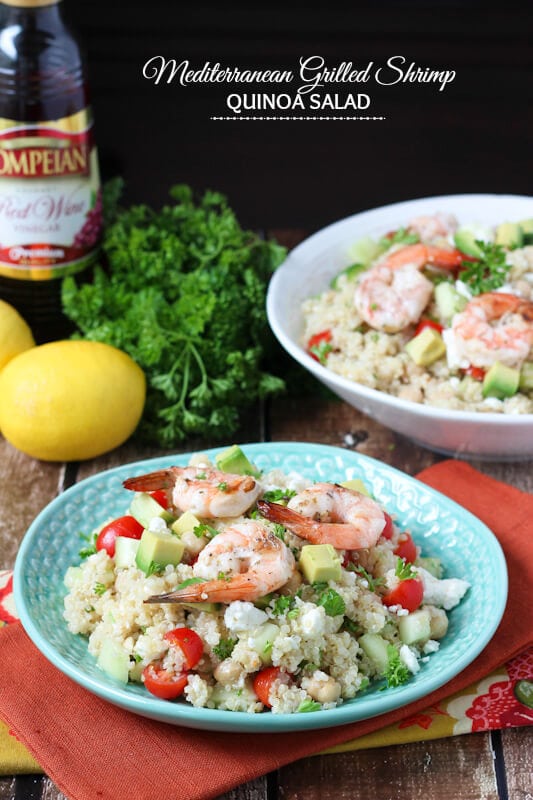 Quiona salads have become my go-to meal for lunch. They are quick, easy and full of fresh fruits and vegetables. You can make them as light or heavy as you want. I like adding a little protein, like shrimp or chicken too. Mediterranean Grilled Shrimp Quinoa Salad is full of fresh vegetables and is bursting with flavor. And now that the weather is warmer, it is perfect for grilling.
Mediterranean Grilled Shrimp Quinoa Salad
Grilled shrimp is layered over quinoa, fresh veggies and olive oil red wine vinaigrette! #DressingItUp with Pompeian red wine vinegar creates a refreshing salad everyone will love!
Ingredients
For the shrimp:
1/2 pound shrimp peeled and deveined
2 tablespoons olive oil
2 teaspoons oregano
2 teaspoons freshly squeezed lemon juice
1/2 clove garlic
pinch of salt
pinch of pepper
For the salad:
1 1/2 cups cooked quinoa
1 large cucumber peeled and diced
1 cup cherry tomatoes cut in half
1/3 cup chopped fresh parsley
1/2 cup feta cheese crumbled
1 15 ounce can garbanzo beans
1/2 cup extra virgin olive oil
1/4 cup Pompeian Red Wine Vinegar
1 lemon juiced
salt and pepper to taste
1 avocado peeled, seeded and diced, for garnish
Instructions
Combine all the ingredients for the shrimp in a large bowl and marinate in the fridge for 20 minutes. Heat grill to medium-high. Remove shrimp from marinade and cook until opaque and cooked through, about 2 to 3 minutes per side.

In a large bowl combine quinoa, cucumber, tomatoes, parsley, feta cheese, and garbanzo beans. In a small bowl, whisk together olive oil, red wine vinegar and lemon juice. Pour vinaigrette over salad and toss well to combine. Add salt and pepper, to taste. Layer shrimp over salad. Garnish with avocado and serve.
Notes
Source: Spoonful of Flavor
Nutrition Information
Calories:
599
, Fat:
47g
, Saturated Fat:
8g
, Cholesterol:
159mg
, Sodium:
668mg
, Potassium:
680mg
, Carbohydrates:
26g
, Fiber:
7g
, Sugar:
4g
, Protein:
19g
, Vitamin A:
825%
, Vitamin C:
40.2%
, Calcium:
237%
, Iron:
4.1%
*Nutritional information is an estimate. Please consult a doctor or nutritionist for the most accurate nutritional info.
Course: Main Course
Cuisine: American