This easy recipe for homemade Mocha Latte is our twist on the Starbucks version. It combines coffee with chocolate, milk, and heavy cream for a rich cafe mocha you can make right at home from scratch!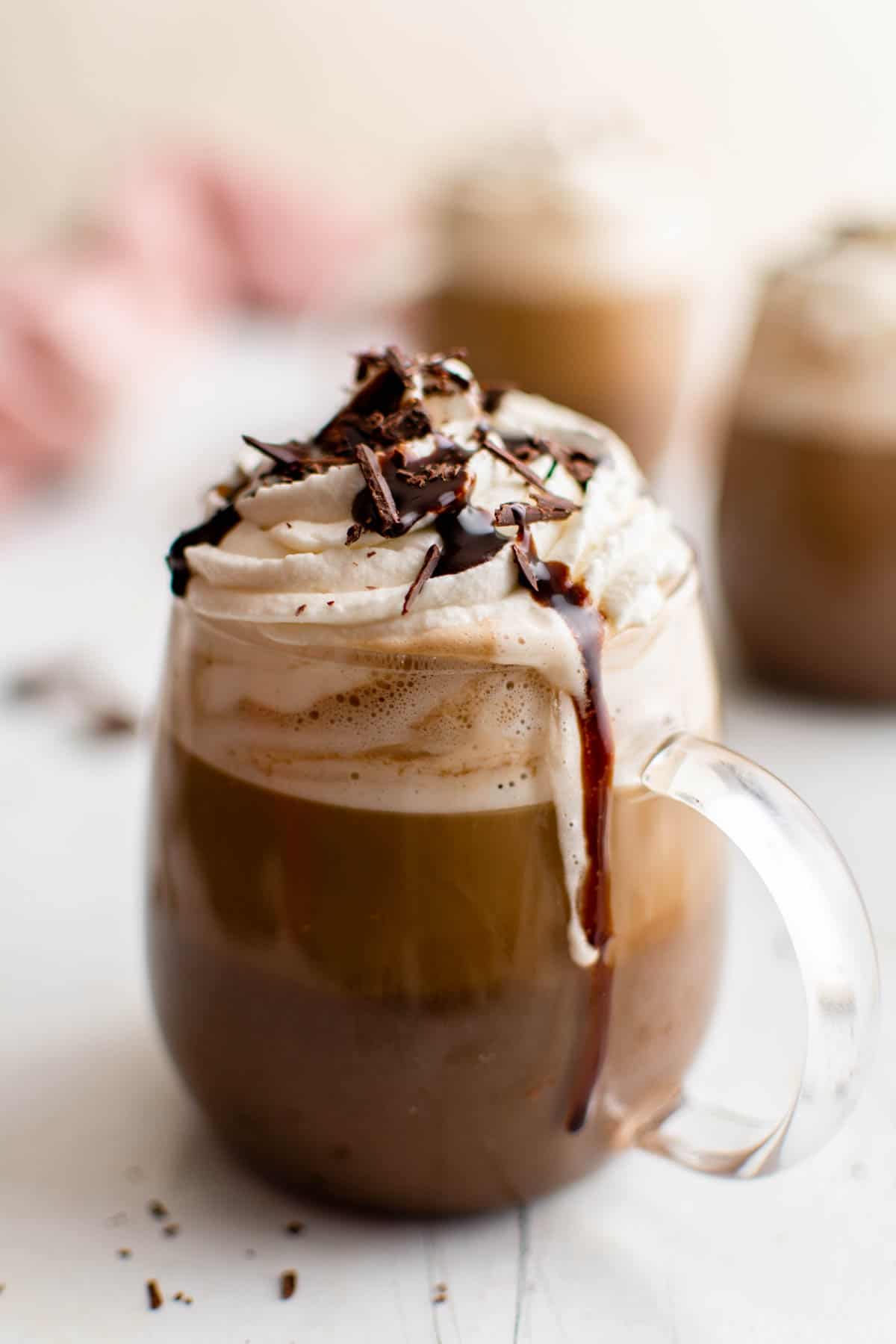 Who doesn't love a good Starbucks drink? Sometimes a decadent coffee drink is just what you need to slow down and take a break. A rich delectable mocha latte is the perfect warm drink.
Although Starbucks is great, the expense of the drinks adds up quickly. This homemade recipe shows you how to make a mocha latte from Starbucks right at home using real simple ingredients you can find anywhere.
A regular latte is made up of mostly milk with some espresso or even coffee. An easy mocha latte is made up of milk coffee, and chocolate adding a rich flavor. This particular drink is also called a cafe mocha at some places.
For this recipe, we use strongly brewed coffee and mix it with sugar and cocoa powder to form the base. It then gets mixed with frothy milk and topped with a homemade whipped cream for a truly decadent drink that is easy to make and even easier on the wallet!
Why You'll Love This Recipe
Making this Starbucks copycat at home is budget-friendly. 
The ingredients are simple and easy to find in any grocery store. 
No fancy espresso machine required.
Customize using your favorite coffee and add as little or as much sugar as you enjoy to your personal taste. Or adjust the amount of chocolate flavor.
Ingredients You'll Need
Strong Brewed Coffee – This gives the base of this drink its classic coffee flavor and caffeine. You can substitute with decaf coffee if desired.
White Sugar – A little but of sugar sweetens the coffee as well as the whipped cream topping. You can omit or reduce the sugar, if desired. You can also replace the sugar in the coffee with maple syrup.
Unsweetened Cocoa Powder – Cocoa powder is the best for a latte, however you can use hot chocolate mix in a pinch, if needed.
Vanilla Extract – Infuses this latte with vanilla flavor in the base of the drink as well as inside the whipped cream. 
Milk – Whole milk is best but you can use any type of your favorite milk – dairy or dairy-free milk. Almond milk, soy and coconut milk are all good choices.
Heavy Cream – Forms a whipped cream topping that floats on top and adds a layer of creamy decadence to this latte. 
To make a vegan mocha latte, use a plant based milk and whipped cream.
How To Make A Homemade Mocha Latte
Assemble the mocha coffee base: In a medium saucepan on a stove, add the coffee, sugar, cocoa powder, and vanilla extract. Whisk the ingredients together and heat over medium-high heat until it comes to a boil, then remove from heat. 
Froth the milk: Add the milk into a microwave-safe bowl, then microwave for 1 ½ minutes until warm. Add air into the milk to turn it into a foam by using a frother or immersion blender until tiny bubbles are formed and the milk doubles in size. 
Make the whipped cream: In a separate bowl, add the heavy cream and remaining vanilla. Whip with a whisk until it creates a whipped cream texture, then add the remaining sugar and continue to whip until stiff peaks are formed. 
Assemble the latte: Pour the sweetened coffee with chocolate into a mug, then add the hot milk. Top with the whipped cream and garnish with chocolate shavings or chocolate syrup and serve while hot. 
Expert Tips
Use a frother to froth the milk until foamy. We highly recommend buying an electric frother or a frother stick to make your milk nice and foamy quickly and efficiently.
Use high quality chocolate for the best tasting latte.
You can reduce the sugar or add more. Use as little or as much sugar as you enjoy to sweeten this chocolate coffee drink. 
You may want to sift your cocoa powder into the coffee mixture to avoid any lumps in the drink. Also make sure to stir the chocolate coffee mixture until smooth.
You can use a stand mixer to make the whipped cream easily using the whisk attachment instead of hand whisking. 
Use a pipping tip for the whipped cream. When topping the drink, you can add whipped cream to a piping bag or a large Ziploc bag with the end cut off with a Wilton 2M piping tip or Ateco 828 for a beautiful presentation.
Variations
To make a vegan mocha latte, use plant-based milk that froths up well such as coconut milk or barista blend almond or oat milk. 
Iced Mocha Latte: Let the coffee base cool and pour over ice for a refreshing iced cafe mocha. 
Add warming flavors such as cinnamon or pumpkin pie spice to the base to enjoy during the fall and winter months. 
Peppermint Mocha Latte: Add a drop of peppermint extract to the coffee for a festive peppermint mocha. Sprinkle crushed candy canes or peppermint on top of the whipped cream.
Use espresso for a stronger coffee flavor, and even more caffeine, replace the brewed coffee with shots of espresso. 
Chocolate syrup can be used instead of cocoa powder in the base of the coffee. Just make sure you account for the sweetness in the chocolate sauce by adjusting the sugar. 
FAQs
What is in a mocha latte at Starbucks?
The Starbucks version contains espresso, mocha sauce, steamed milk, then is topped with heavy whipping cream.
What is a cafe mocha?
Cafe mocha is another term to describe a mocha latte with the same ingredients. It can also be called a mochaccino.
Does a mocha latte have caffeine?
Yes, most mocha latte's contain caffeine however, if you make it at home you can use decaf coffee to cut down on the caffeine content.
Other Warm Drink Recipes
Did you make this mocha latte recipe? Leave a recipe rating and review below.
Mocha Latte (Starbucks Copycat)
Yield: 1
The homemade version of a classic favorite drink that comes together easily.
Ingredients
8 ounces strong coffee
2 to 3 tablespoons granulated sugar, divided
1 tablespoon unsweetened cocoa powder
1 teaspoon pure vanilla extract
4 ounces milk, (dairy or dairy free)
1/4 cup heavy cream, (or store bought whipped cream)
Instructions
Whisk together the coffee, 1-2 tablespoons of the sugar (depending on how sweet you like your coffee), cocoa powder and ½ teaspoon of the vanilla in a medium saucepan over medium high heat.

Continue whisking as it comes to a boil then remove it from the heat.

Heat the milk in a microwave safe bowl for 1 ½ minutes then use an immersion blender or battery frother and froth it until it starts to form little bubbles.

Whip the heavy cream and remaining vanilla in a medium bowl together until it starts to thicken then add the remaining tablespoon of sugar to the heavy cream and whip until stiff peaks form.

Optional: add the whipped cream to a piping bag or a large Ziploc bag with the end cut off with a Wilton2M piping tip.

Pour the coffee into a mug, pour in the milk then dollop on the heavy cream or pipe it into a swirl.

Garnish it with chocolate shavings and chocolate syrup if desired then serve. 
Notes
Storing: While this drink is best served immediately, you can store any leftovers in the fridge for 1-2 days. Reheat or serve over ice.  Freezing: You can freeze any extra coffee base without the milk mixed in ice cube trays. Use it to flavor iced coffee or to blend with frozen coffee drinks. 
Nutrition
Calories: 307kcal, Carbohydrates: 13g, Protein: 6g, Fat: 26g, Saturated Fat: 16g, Polyunsaturated Fat: 1g, Monounsaturated Fat: 8g, Cholesterol: 93mg, Sodium: 77mg, Potassium: 388mg, Fiber: 2g, Sugar: 8g, Vitamin A: 1058IU, Vitamin C: 1mg, Calcium: 178mg, Iron: 1mg
If you try this recipe, don't forget to leave a review below or share a photo and tag @spoonfulofflavor on Instagram.