This recipe for oven Roasted Parsnips makes a tasty vegetable side dish that is uniquely sweet and earthy. It's a weeknight side dish that uses simple ingredients and is made in 30 minutes or less!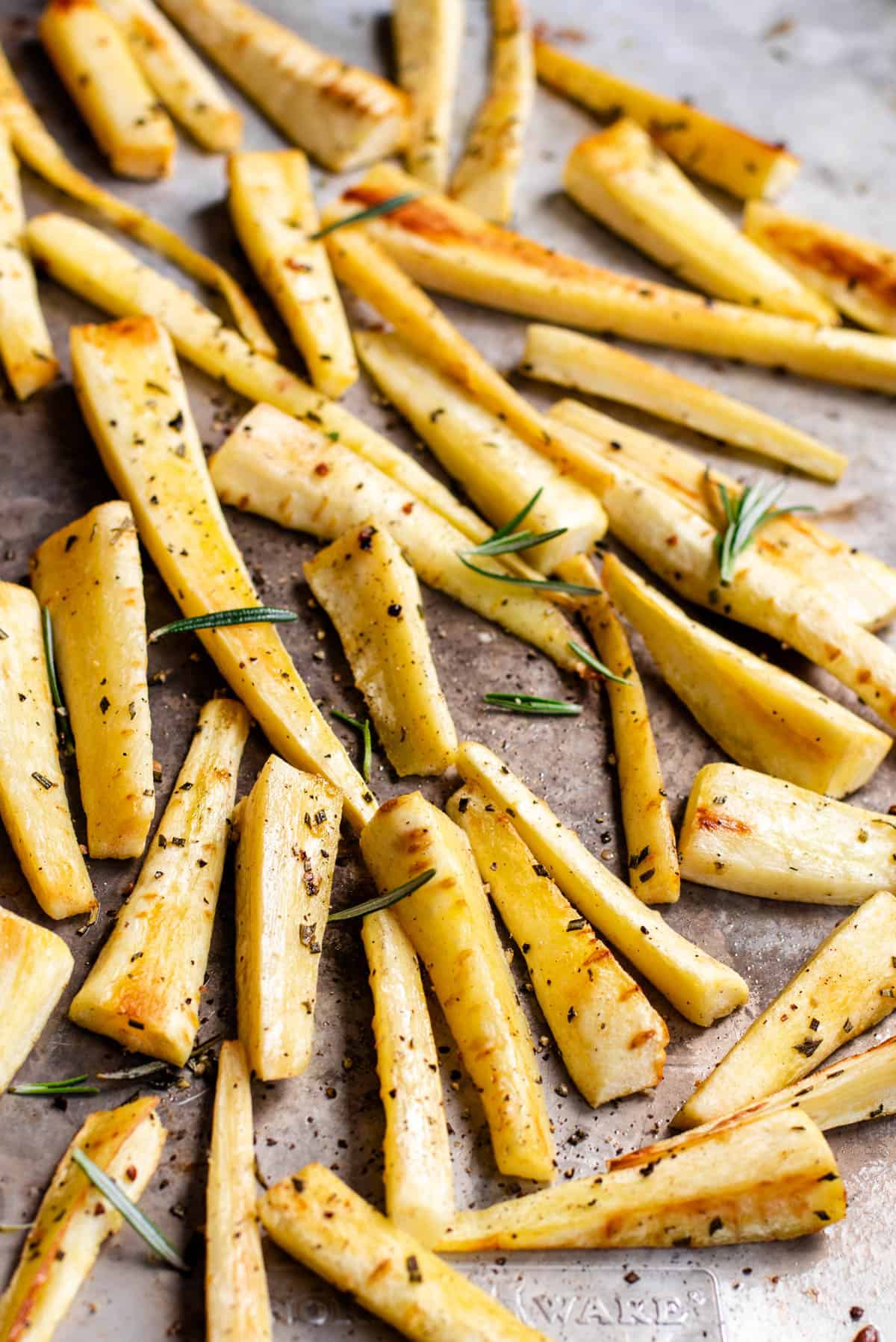 When you're looking to add even more variety of plants to your meals, simple roasted root veggies are a great choice. Don't overlook parsnips at the grocery store or farmers market. They are a versatile vegetable with the slight sweetness and texture of a carrot. You can season them with a few simple ingredients to enhance their mild and earthy flavor.
Roasting parsnips is the best way to cook them because they bring out even more of the natural sweetness and flavor making them a delicious option for both kids and adults. You can serve these roasted parsnips with your favorite proteins, grains and other vegetables. We love serving them with simple baked chicken thighs.
This recipe is naturally vegan and gluten free so it's sure to please everyone!
Why You'll Love Them
Parsnips are nutrient-dense with a slightly sweet earthy flavor.
You can change up the seasonings to fit any flavor you enjoy.
Roasted parsnips are a great side dish along with a hearty protein and salad.
This savory side dish takes 30 minutes or less to make.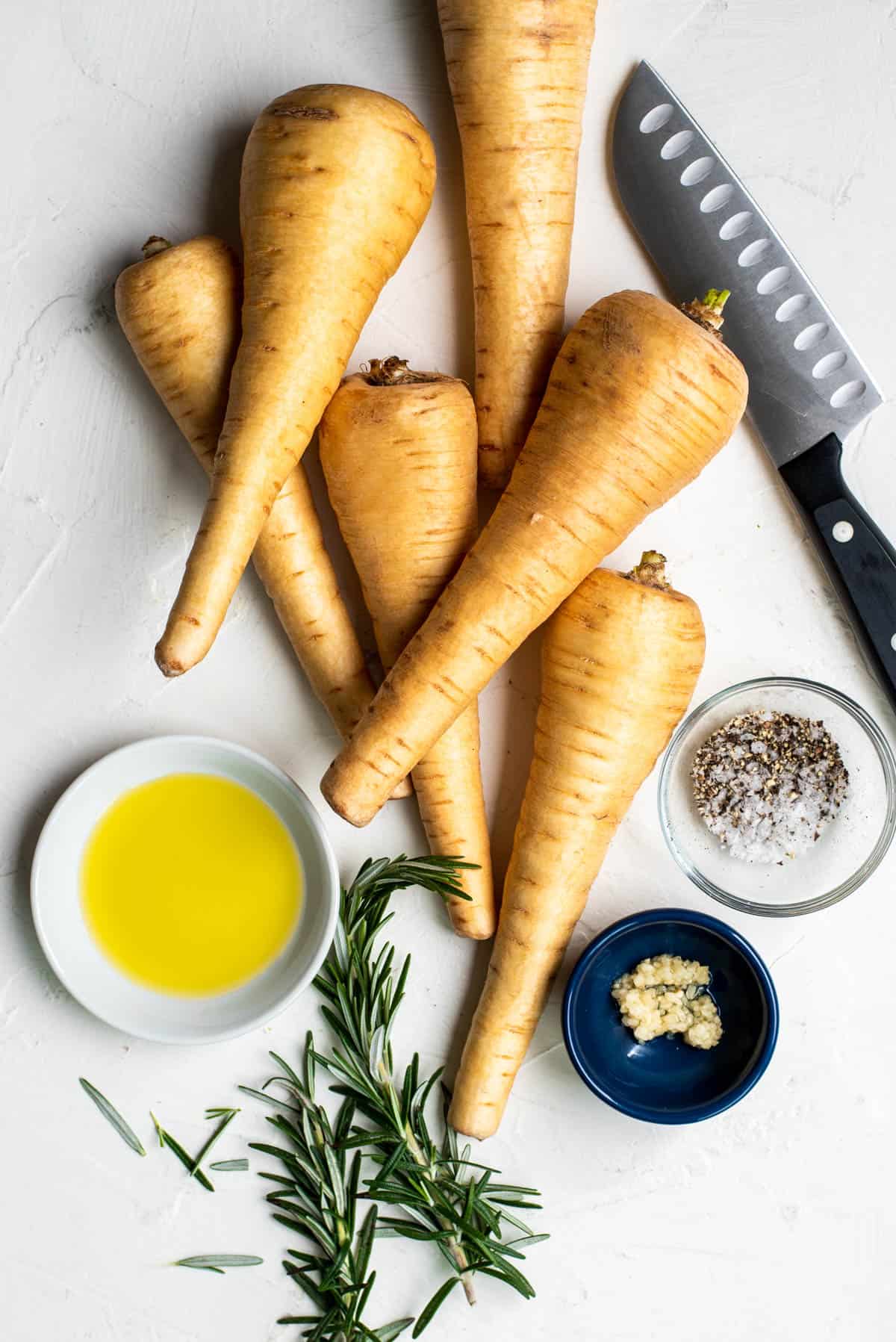 Ingredients You Need
Parsnips – You can find them in your local grocery store near the other root vegetables. They look exactly like a white carrot and need to be peeled like carrots.
Extra Virgin Olive Oil – Helps them roast properly. You can substitute with avocado oil.
Fresh Rosemary – Gives the dish a comforting herb flavor. Try oregano or Italian seasoning instead, if desired.
Garlic – Adds flavor to the roasted parsnips.
Kosher Salt & Freshly Ground Black Pepper – Balances the sweet and earthly flavors in parsnips.
How to Make Oven Roasted Parsnips
Roasted Parsnips comes together in three easy steps.
Prepare the parsnips. Peel the parsnips and cut them down the center, lengthwise. Cut each half into three to four pieces, about 1/2 inch to 1 inch wide and about 4 inches long. You can cut away the woody core, if desired.
Coat the parsnips. Spread the cut parsnips out on a rimmed baking sheet. Drizzle with olive oil and sprinkle the garlic, rosemary, salt and pepper on top. Toss to coat well.
Roast the parsnips in the oven at 425 degrees Fahrenheit until tender and golden, about 25 to 30 minutes. Stir them halfway through baking.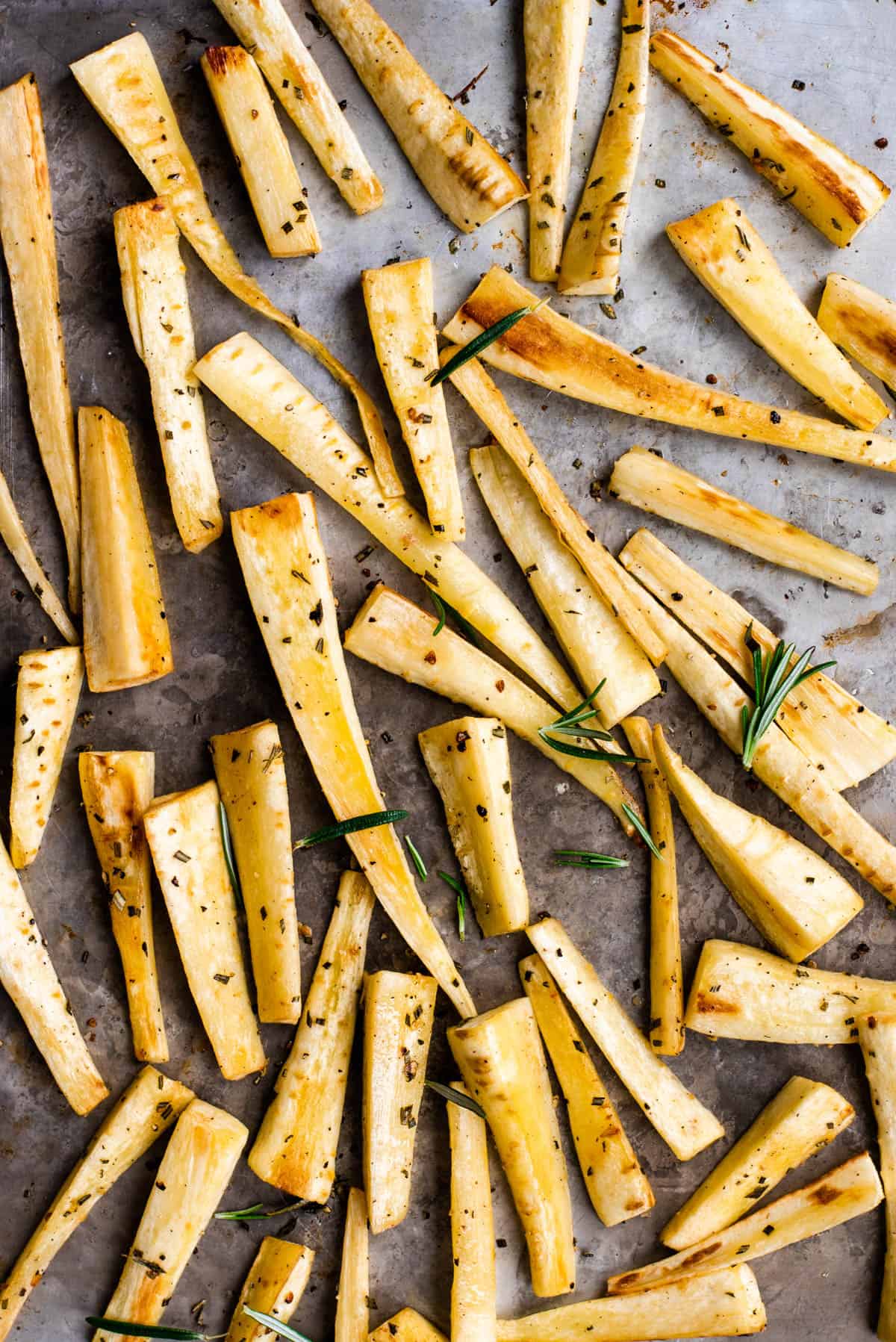 Recipe Tips
Cutting out the core. If your parsnips are on the bigger side, you can cut out the core if desired. Sometimes the core is thick and woody. However, roasting them at a high temperature will make it soft and tender.
Use small or medium sized parsnips as they have better flavor than the larger ones, which tend to be more fibrous and contain more water.
Cut the pieces into even sizes. This helps to ensure the roasted parsnips are evenly cooked.
Place them in a single layer. Make sure the parsnips are in a single layer on the sheet pan and have a bit of room in between them. If you layer them on top of each other, they may become soggy.
Save the peels or stems. Any leftover peels or stems can be saved to make flavorful vegetable stock.
Variations
Add curry powder for flavor. Toss the parsnips with your favorite dried curry seasoning for curried parsnips.
Add garlic butter. You can roast the parsnips and then add a garlic butter during the last few minutes of roasting for even more flavor. Melt butter with some garlic and drizzle over the roasted parsnips.
For sweeter flavor, toss the parsnips with some maple syrup and cinnamon before roasting.
Add a kick of heat by using a pinch of cayenne pepper or crushed red pepper flakes in the seasoning.
For a different shape, peel the parsnips and cut them into coin-shaped pieces.
If you have any leftover, you can also blend them up with other roasted vegetables to make a creamy vegetable soup.
FAQs
What do parsnips taste like?
The taste of a parsnip is a delicate cross between a mild carrot and an earthy vegetable. Their unique taste goes with many different flavors making this a versatile dish! 
Do I have to peel parsnips before roasting them? 
You don't need to peel the skin, but it is highly recommended as the peel may bitter from the rough exterior and all of the impurities from the soil. 
Do I need to boil parsnips before using them?
For this recipe, you do not need to boil them but it may be different if you were using them in a soup or stew. They get fork-tender at an oven temperature of 425F. 
Other Roasted Vegetables
Did you try these easy oven roasted parsnips? Leave a recipe rating and review below.
Oven Roasted Parsnips
Yield: 4
A easy roasted parsnip recipe made with a few simple seasonings.
Ingredients
1 1/2  pounds parsnips
2 tablespoons extra virgin olive oil
2 teaspoons chopped fresh rosemary
1 clove garlic, minced
Kosher salt and pepper
Instructions
Preheat oven to 425 degrees Fahrenheit.

Peel the parsnips. Cut parsnips down the center, lengthwise. Then cut each half into 3 to 4 pieces, about 1/2 inch to 1-inch wide and about 4 inches long. You can cut away the woody core, if desired.

On a rimmed baking sheet, toss parsnips with oil, rosemary and garlic, then season with salt and pepper.

Roast until tender and golden, about 25 to 30 minutes, stirring once halfway through. You should be able to easily pierce them with a fork.
Notes
Storing: Store in an airtight container or bag in the fridge for 4-5 days.  Freezing: Cooked and cooled roasted parsnips can be frozen by adding them to a baking sheet in a single layer, freezing them completely, then adding them to a freezer-safe bag. They will last 3 months. Thaw overnight in the fridge before reheating and serving. 
Nutrition
Calories: 191kcal, Carbohydrates: 31g, Protein: 2g, Fat: 8g, Saturated Fat: 1g, Polyunsaturated Fat: 1g, Monounsaturated Fat: 5g, Sodium: 17mg, Potassium: 641mg, Fiber: 8g, Sugar: 8g, Vitamin A: 2IU, Vitamin C: 29mg, Calcium: 63mg, Iron: 1mg
If you try this recipe, don't forget to leave a review below or share a photo and tag @spoonfulofflavor on Instagram.