These classic New Orleans Beignets are inspired by the Disney Parks recipe and are soft, pillowy, and dusted with sweet powdered sugar. Make homemade Princess and the Frog beignets from scratch using this easy recipe, and enjoy them with breakfast, brunch, or dessert with a warm mug of coffee!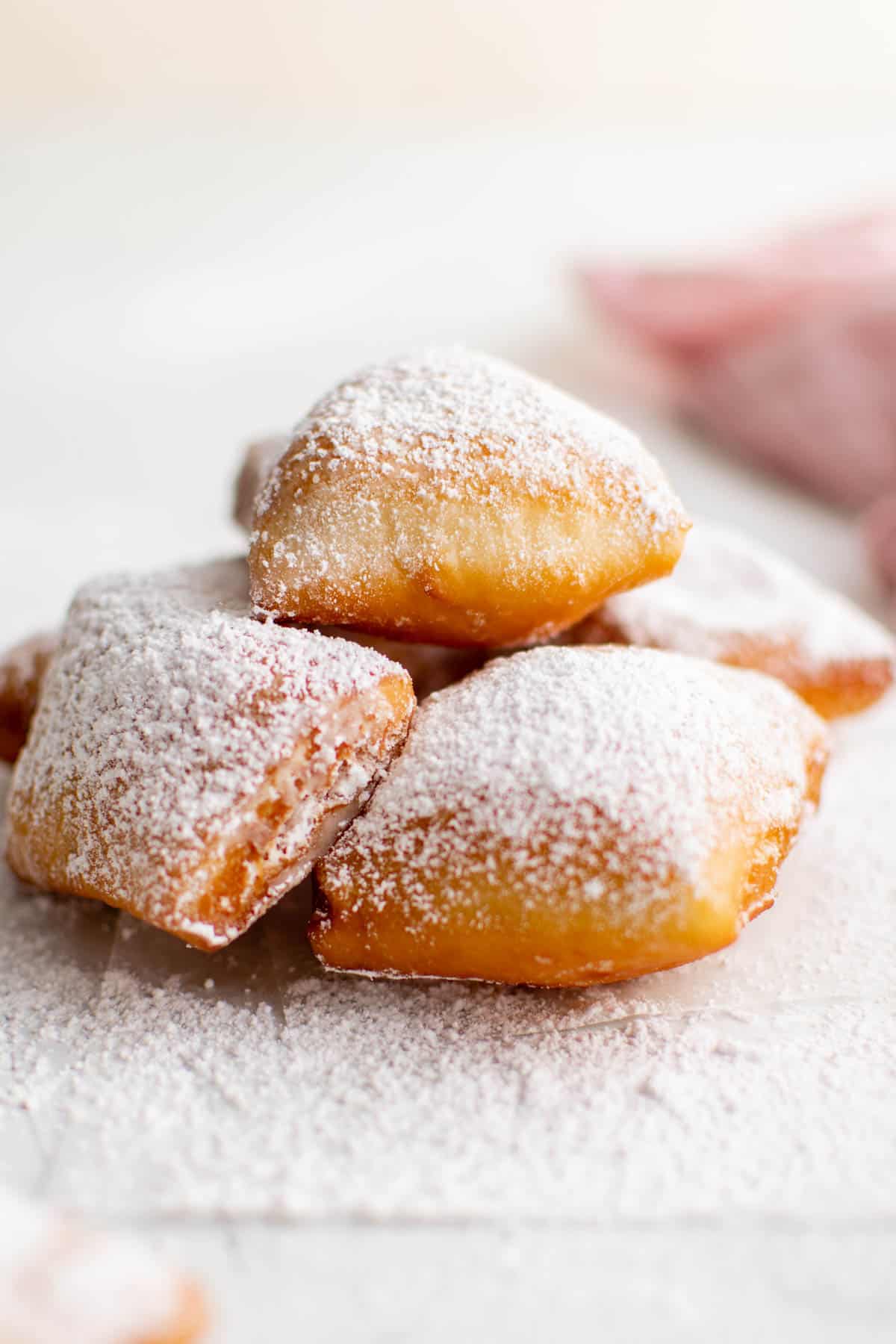 Beignets make a frequent appearance in Disney's Princess And The Frog and now you can make them at home.
Beignets are french doughnuts that originated in New Orleans. Serve these soft pillowy bites of goodness with a cup of hot coffee or tea.
Traditionally, beignets are fried in oil or fat and then dusted with confectioners' sugar. They are made from yeast dough or a quick batter. Serve them plain or with your favorite dipping sauce.
You can find them in various places all over New Orleans, especially the famous Café du Monde. You can also find them at various locations throughout Disney parks and resorts.
But if you can't make it to Disney or New Orleans, you can make these classic beignets at home just like princess Tiana. You probably already have all of the ingredients in your pantry!
Why You'll Love This Recipe
Make these famous princess and the frog beignets right at home using simple baking ingredients.
Serve these New Orleans beignets for breakfast, brunch or dessert.
Enjoy them plain or with a variety of different dipping sauces to change the flavor.
They're sweet, soft, and have a light crunchy dough on the outside.
Ingredients You Need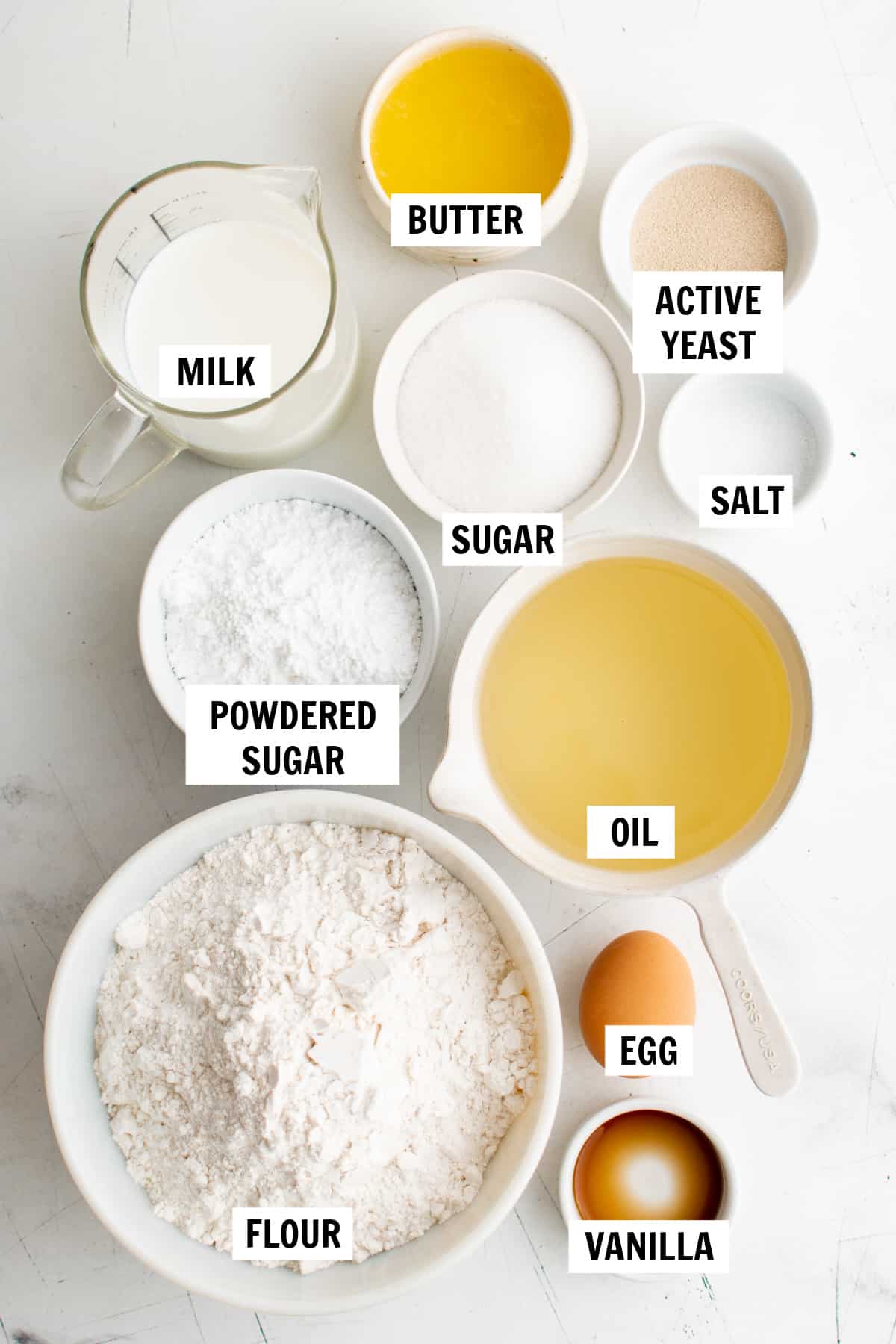 Milk – You'll need very warm milk to help activate the dry yeast and feed it. Milk also adds a wet texture to the batter while keeping it nice and creamy.
Granulated Sugar – Helps sweeten up the base of the doughnut dough while also feeding the yeast. Do not substitute with any other type of sugar.
Active Dry Yeast – Gives the beignets a light classic yeast taste along with it's fluffy texture on the inside.
Egg – Binds all of the ingredients together keeping them rich and moist.
Melted Unsalted Butter – You can substitute with salted butter, if needed.
Vanilla Extract – Gives the beignets a light vanilla flavor that pairs perfectly with test and sugar.
Salt – Balances out the sweetness in the doughnut.
All-Purpose Flour – If you want to make gluten free beignets, try to use a gluten free 1:1 baking flour.
Frying Oil – You can use vegetable oil or peanut oil to fry and fully cook the beignets.
Powdered Sugar – This classic topping adds a bit of sweetness to the top along with its classic dusted sugar look.
How to Make Homemade Beignets
These New Orleans beignets come together with a few basic steps. You need to prepare the dough and allow it to rest. Roll out the dough, cut it into squares and fry before dusting with powdered sugar.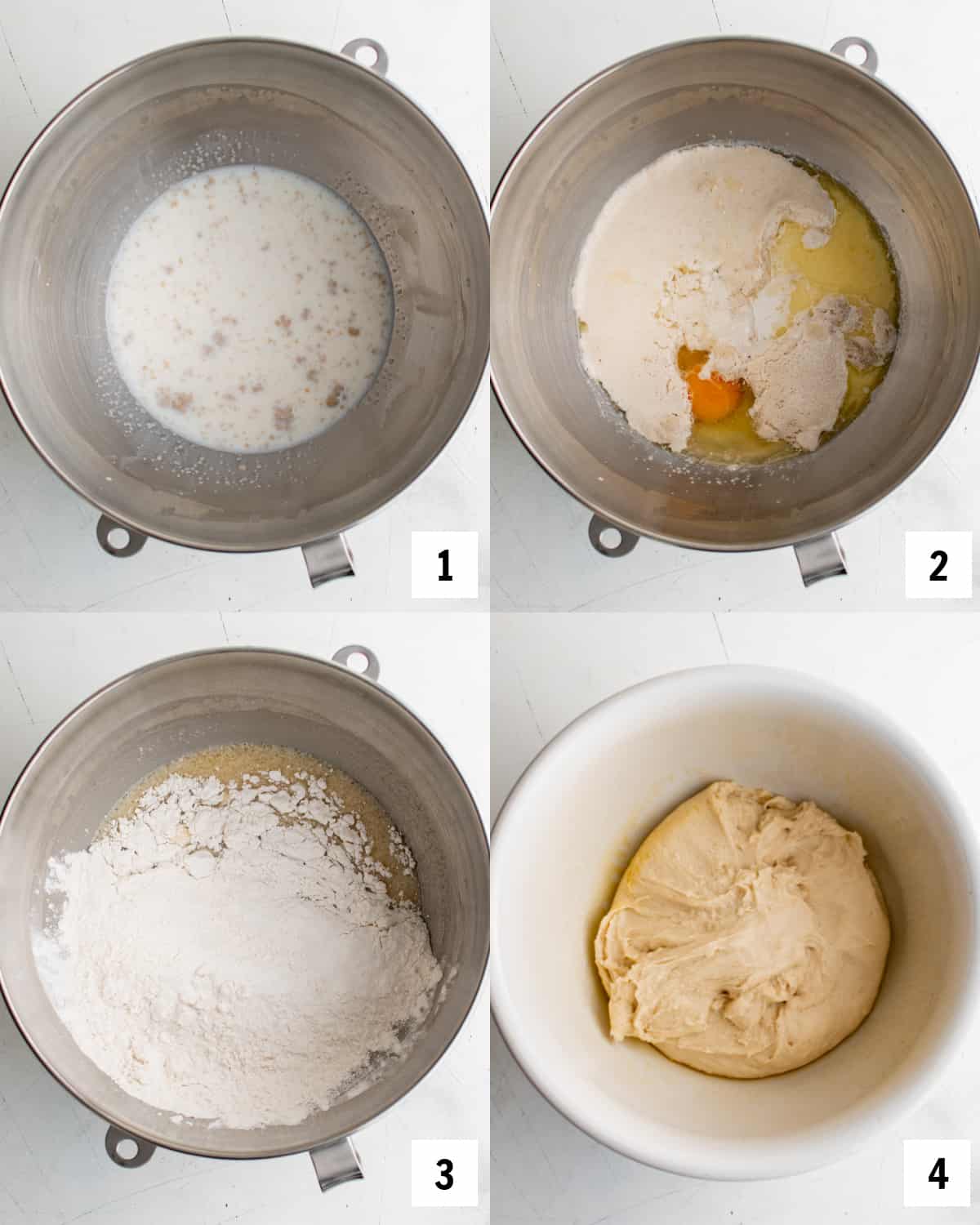 Activate the yeast: To the bowl of a stand mixer, add the warm milk, 2 tablespoons of sugar, and yeast. Let it sit for 5 minutes or until the yeast is activated and foamy. Then, stir in the rest of the sugar, egg, melted butter, vanilla, and salt.
Add the flour: Add the dough hook to your stand mixer, then slowly stir in the flour to the wet mixture until a soft dough forms.
Knead the dough: Use the dough hook to knead the dough for 4-5 minutes. If it does not pull away from the sides, proceed to add a few sprinkles of flour to the mixture. The dough should be elastic, smooth, and still sticky.
Let the dough rise: Cover the bowl with cling wrap and let it rise for at least 2 hours or refrigerate overnight to double in size.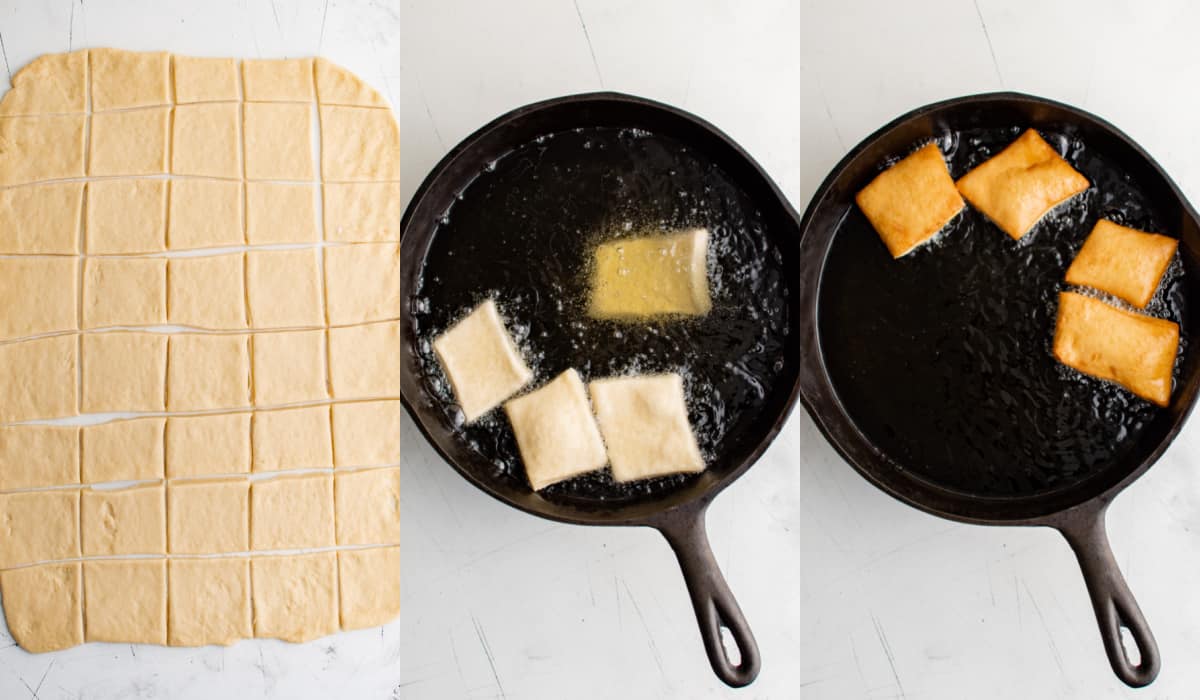 Heat the oil: When ready to fry, pour two inches of your preferred frying oil into a deep skillet or Dutch oven and heat until it becomes 350F. Use a cooking thermometer to check the temperature. Be very careful as the oil is very hot.
Shape the beignets: Add the dough to a lightly floured countertop removing any leftover bits with a rubber spatula. Lightly flour the surface of the dough then flour a rolling pin and roll the dough out into a rectangle that's about ½ inch thick. Use a greased pizza cutter or sharp knife to cut into 1-2 inch dough squares.
Fry the beignets: Add 4-5 squares of raw dough to the hot oil, then fry for 2-2.5 minutes flipping halfway. The beignets should be golden brown and puffed up. Add the finished beignets to a paper towel-lined plate to drain.
Garnish and serve: Cool for 5 minutes before dusting powdered sugar on top and serving warm. Enjoy!
This beignet recipe makes about 35 to 40 beignets, depending on how wide you cut them.
Expert Tips
Be sure to bring the ingredients to the correct temperature. Make sure your milk is hot, the butter is melted, and the egg is at room temperature. This ensures that the batter will mix smoothly and evenly.
The dough should be elastic and smooth but still sticky, you will be tempted to add more flour, but if you add too much, the beignets will be heavy and gummy.
Use a pizza cutter or sharp knife to avoid tearing the dough when cutting the beignets. To help with slicing, you can grease the pizza cutter or knife with oil
If you don't have a deep skillet, you can use a Dutch oven or large pot instead.
Don't overcrowd the pan when frying the beignets, otherwise, they will stick together and won't cook evenly. Cook them in small batches.
We call these Princess and the Frog beignets, but they are just classic beignets. If you're looking for the perfect beignet recipe, this one is it!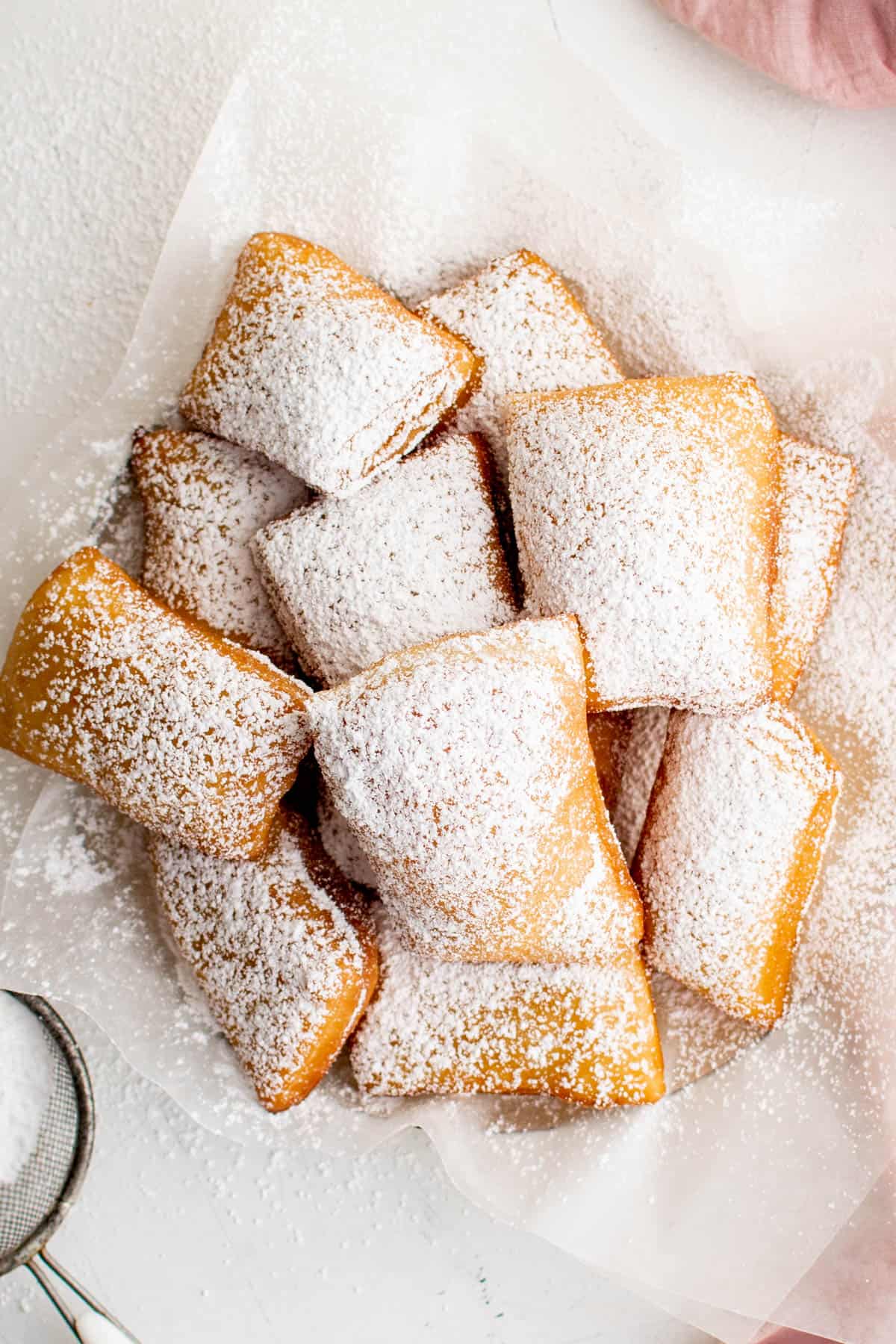 Serving Suggestions
Since homemade beignets have such a simple and delicious flavor, there are many ways you can change up your experience!
Serve them plain with powdered sugar.
Add a little bit of fresh fruit on top like raspberries, blueberries, or strawberries.
Dust them with homemade pumpkin pie spice for a warming fall flavor.
Try dipping them in chocolate sauce, caramel, or your favorite jam.
Pair homemade beignets with a cup of hot coffee or tea.
Add cinnamon to the top for a little extra flavor.
Try making beignet ice cream sandwiches by serving them with a scoop of ice cream!
FAQs
What is the difference between a donut and a beignet?
A donut is a fried doughnut-shaped pastry that is coated in a sugar or cinnamon-sugar mixture. Beignets are French pastries that are also fried and coated in powdered sugar. They are similar to donuts, but they are not shaped like a doughnut and do not have a hole in the center. Instead, beignets puff up with a pillowy center.
What do beignets taste like?
Beignets have a subtle flavor because they are made with simple ingredients. They are dusted with powdered sugar, which gives them a sweet flavor. Some people say they taste like doughnuts without the sugar coating.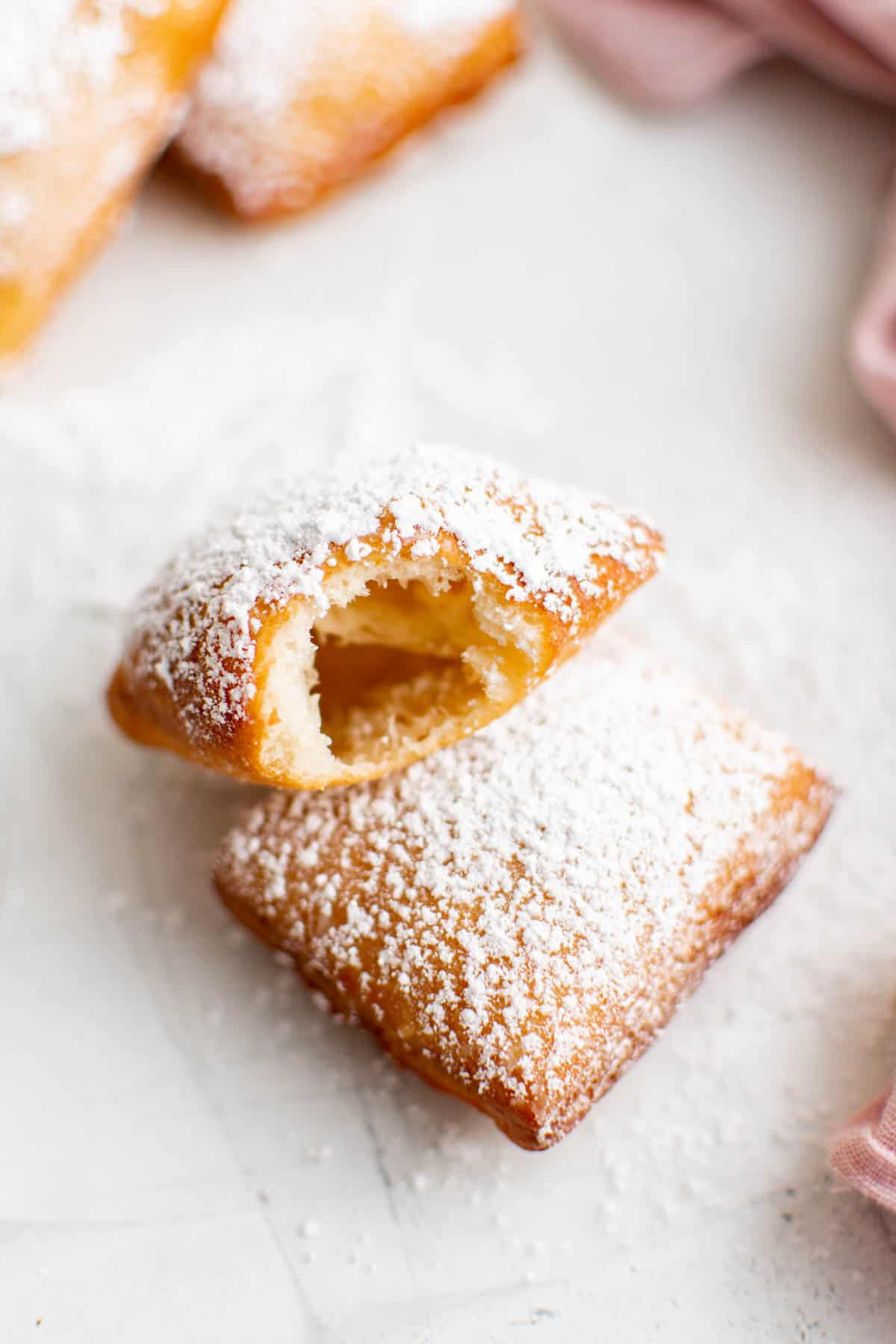 Other Disney Recipes
Did you make these Princess and the Frog Beignets? Leave a recipe rating and review below.
Princess and the Frog Beignets (Tiana's Beignets)
Yield: 35 beignets
This Disney inspired recipe creates light and fluffy beignets dusted with powdered sugar.
Ingredients
1 cup milk, very warm
1/2 cup granulated sugar, divided
2 1/2 teaspoons dry active yeast
1 large egg, at room temperature
4 tablespoons unsalted butter, melted
1 teaspoon pure vanilla extract
1/4 teaspoon salt
2 3/4 cups all purpose flour, (or up to 3 cups, as needed)
Vegetable or peanut oil for frying
Powdered sugar for serving
Instructions
In the bowl of a stand mixer or in a regular large bowl, whisk the milk, 2 tablespoons of the sugar and yeast together and let it sit for at least 5 minutes or until it has activated.

Once it has puffed up, stir in the remaining sugar, egg, butter, vanilla and salt.

Place the bowl onto your mixer then use a dough hook to gradually stir in the flour or use a spoon to stir to combine.

Then knead the dough for 3-4 minutes, adding one or two sprinkles of flour if the dough does not start to pull away from the sides. (Note: The dough should be elastic and smooth but still sticky, you will be tempted to add more flour, but if you add too much, the beignets will be heavy and gummy.)

Cover the bowl with cling wrap and let it rise for at least 2 hours or refrigerate overnight to double in size.

Heat 2 inches of oil in a deep-frying pan or Dutch oven over medium heat until it reaches 350 degrees Fahrenheit. Check the temperature with a cooking thermometer.

Lightly flour a countertop or cutting board then turn the dough out on top, using a rubber spatula to get any remaining sticky bits from the bowl.

Lightly flour the surface of the dough then flour a rolling pin and roll the dough out into a rectangle that's about ½-inch thick.

Use a pizza cutter to cut 1-2 inch squares in the dough then fry 4-5 squares at a time for 2-2 ½ minutes, flipping halfway through. The dough should puff up while cooking. If it doesn't, the oil isn't hot enough.

Let them drain off any excess oil on a paper towel lined plate then fry the remaining beignets.

Let them cool for 5 minutes before generously dusting with powdered sugar and serving immediately.
Notes
Note about nutritional information: The nutritional information may vary depending on the amount of oil that gets soaked up when cooking the beignets. The amounts are calculated assuming 1/4 cup of oil and 1/4 cup of powdered sugar is consumed for the entire recipe. Any variation from this will change the nutritional information. Storing: Beignets are best served immediately as they will start to get soggy as they sit. However, if you have leftovers, store them in an airtight container at room temperature for up to two days. Reheating: When you're ready to enjoy your beignets again, heat them in the oven at 350 degrees Fahrenheit until warmed throughout (about five minutes). Freezing: Beignets can be frozen for up to three months. Place them in a freezer-safe bag or container, and make sure to remove as much air as possible before sealing. When you're ready to enjoy, thaw overnight in the fridge and then reheat according to the instructions above.
Nutrition
Calories: 85kcal, Carbohydrates: 12g, Protein: 2g, Fat: 3g, Saturated Fat: 1g, Polyunsaturated Fat: 1g, Monounsaturated Fat: 1g, Trans Fat: 1g, Cholesterol: 10mg, Sodium: 22mg, Potassium: 32mg, Fiber: 1g, Sugar: 4g, Vitamin A: 59IU, Vitamin C: 1mg, Calcium: 12mg, Iron: 1mg
If you try this recipe, don't forget to leave a review below or share a photo and tag @spoonfulofflavor on Instagram.