This easy recipe for Roasted Broccoli and Cauliflower is simple to follow and results in tender and crispy roasted vegetables with lots of flavor! This healthy side dish is made with simple ingredients and comes together in just 20 minutes.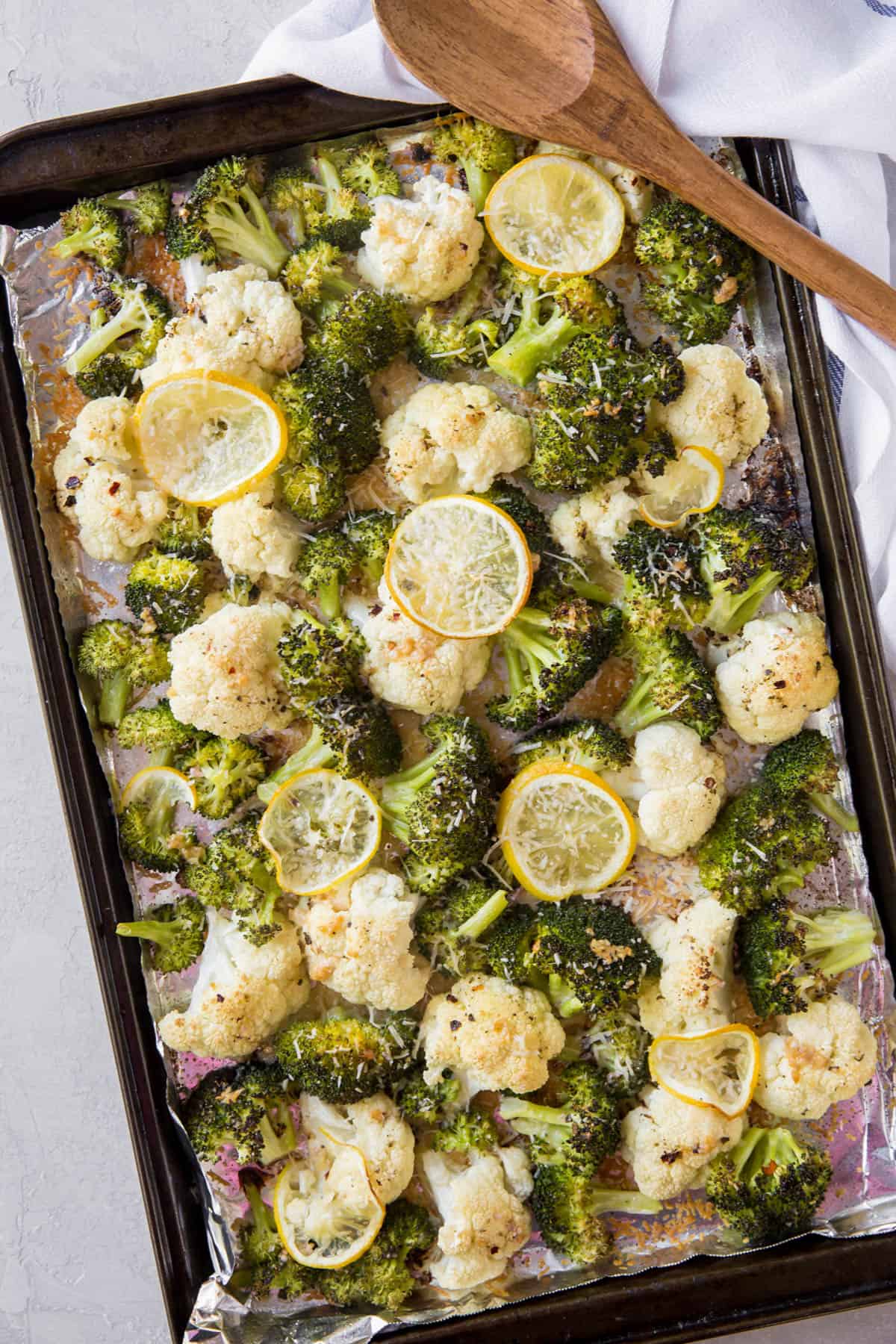 Baking cauliflower and broccoli in the oven is one of the best ways to enjoy vegetables. Roasting brings out their natural sweetness and flavor along with a crispy texture on the outside while staying tender on the inside.
This recipe using cauliflower florets along with broccoli to create a nutrient-dense side dish in 20 minutes on one sheet pan. Its perfect for meal plans too.
Serve crispy roasted broccoli and cauliflower with baked boneless chicken thighs, baked salmon patties, pan fried cod or grilled lobster tail. You can even combine the chicken thighs on the same pan with the vegetables to create a super simple and easy one pan dinner. The options are endless!
Why You'll Love This Recipe
Broccoli and cauliflower are high in nutrients making them a healthy option.
A great side dish to make when you're short on time – only 10 minutes of prep!
You can control and adjust the seasonings to fit your taste.
It's naturally gluten free and tastes great with a variety of dishes.
Ingredients You Need
Broccoli and Cauliflower Florets – Use a mixture of both or only one.
Extra Virgin Olive Oil – You can substitute with avocado oil, if desired.
Garlic – Use fresh garlic for the best flavor.
Italian Seasoning – Use a blend that contains Italian herbs like oregano, thyme and basil to give the vegetables a boost of flavor. If you can't find Italian seasoning, you can use a mixture of fresh herbs such as thyme, rosemary or parsley.
Other Spices – You will also need salt, pepper and red pepper flakes for more flavor.
Parmesan Cheese – You can substitute with different cheeses, such as cheddar, blue cheese or feta to add a salty bite.
Lemon – Use both fresh lemon slices and fresh lemon juice to add fresh citrus flavor. You can even sprinkle fresh lemon zest on top for more flavor.
Optional: Add crumbled bacon or chopped ham on top for extra protein and a smoky flavor. You can also add cherry tomatoes, chopped potatoes, carrots or halved brussels sprouts to the vegetables, if desired.
How to Make Roasted Broccoli and Cauliflower
Prepare for roasting: Preheat the oven to 425 degrees Fahrenheit and set out a large rimmed sheet pan. You can use parchment paper, but roasting directly on the pan (or on aluminum foil) will create the most crispy texture.
Prepare and season vegetables: Chop the vegetables and add them to a large bowl. In a separate bowl, stir together lemon juice, olive oil and seasonings. Pour into the bowl with the chopped vegetables and stir until the vegetables are fully coated.
Assemble on a sheet pan: Spread veggies out on a large baking sheet making sure they are in one layer. If using, add lemon slices and grated Parmesan cheese on top.
Roast the vegetables: Cook in the preheated oven for 15 to 20 minutes, until the vegetables are fork tender and begin to brown on the edges. Serve immediately.
If you want extra crispy vegetables, broil them for 1 to 2 minutes at the end of the cooking time.
Expert Tips
Cut the vegetables to roughly the same size. This ensures that they are all finished cooking at the same time.
Layer the vegetables in a thin layer on the sheet pan. No overlapping. This will prevent them from steaming which will make them crispy.
Use two smaller sheet pans instead of one large one, if needed. This helps to prevent overcrowding to ensure even roasting.
Looking for a vegan version? Omit the cheese and use a sprinkle of nutritional yeast instead.
FAQs
Can you roast broccoli and cauliflower together?
Yes, you can easily roast broccoli and cauliflower together on the sheet pan in the oven.
Does cauliflower take longer to cook than broccoli?
Both broccoli and cauliflower cook in about the same amount of time. The key is to make sure they are all roughly the same size so they cook evenly.
Can you roast broccoli and cauliflower from frozen?
Yes, you can, but it's best to use fresh whenever possible. Frozen vegetables tend to release more water which will make them less crispy.
Other Broccoli and Cauliflower Recipes
Did you make this Crispy Roasted and Broccoli Cauliflower recipe? Leave a recipe rating and review below.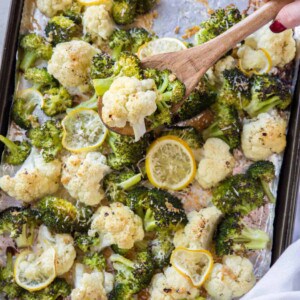 Crispy Roasted Broccoli and Cauliflower
Yield: 6 servings
This simple side dish tastes great with chicken, salmon and more!
Ingredients
1 head broccoli, cut into florets
1 head cauliflower, cut into florets
3 tablespoons extra virgin olive oil
1/2 teaspoon kosher salt
1/4 teaspoon ground black pepper
4 cloves garlic, minced
2 teaspoons Italian seasoning
1/2 teaspoon red pepper flakes
1 tablespoon freshly squeezed lemon juice
1 lemon, sliced
1/4 cup grated Parmesan cheese, (optional)
Instructions
Preheat the oven to 425 degrees F. Combine broccoli and cauliflower in a large bowl.

In a small bowl, stir together olive oil, salt and pepper, minced garlic, Italian seasoning, and lemon juice, Pour mixture over veggies and toss to coat well.

Spread veggies out on a large baking sheet making sure the veggies are in one layer and not overlapping or piled on each other. (You can add lemon slices here if you like for added lemon flavor and garnish). If using parmesan cheese, sprinkle over veggies now.

Cook in a preheated oven for 15 to 20 minutes, until veggies are fork-tender and begin to brown on the edges. Serve immediately.
Notes
Nutritional information does not include optional Parmesan cheese. Adding the parmesan cheese would alter the nutritional facts.
Storing: Leftovers can be stored in an airtight container in the refrigerator for up to four days. Vegetables can be reheated in the oven, on the stovetop, or in the microwave.
Freezing: These roasted veggies can be frozen by placing them in a freezer-safe bag or container and storing them for up to six months. When ready to eat, let them thaw completely in the fridge and reheat in the oven or microwave.
Nutrition
Calories: 114kcal, Carbohydrates: 11.3g, Protein: 4.5g, Fat: 7.5g, Saturated Fat: 1.1g, Polyunsaturated Fat: 1.2g, Monounsaturated Fat: 5g, Cholesterol: 0mg, Sodium: 216.7mg, Potassium: 613.3mg, Fiber: 5.2g, Sugar: 3.7g
If you try this recipe, don't forget to leave a review below or share a photo and tag @spoonfulofflavor on Instagram.