If you're looking for an easy roasted vegetable side dish, try this Roasted Turnips and Carrots recipe. These two nutrient-dense vegetables are roasted together on a sheet pan, making them the perfect pairing. Seasoned simply and roasted until tender, this side makes the perfect complement to any protein!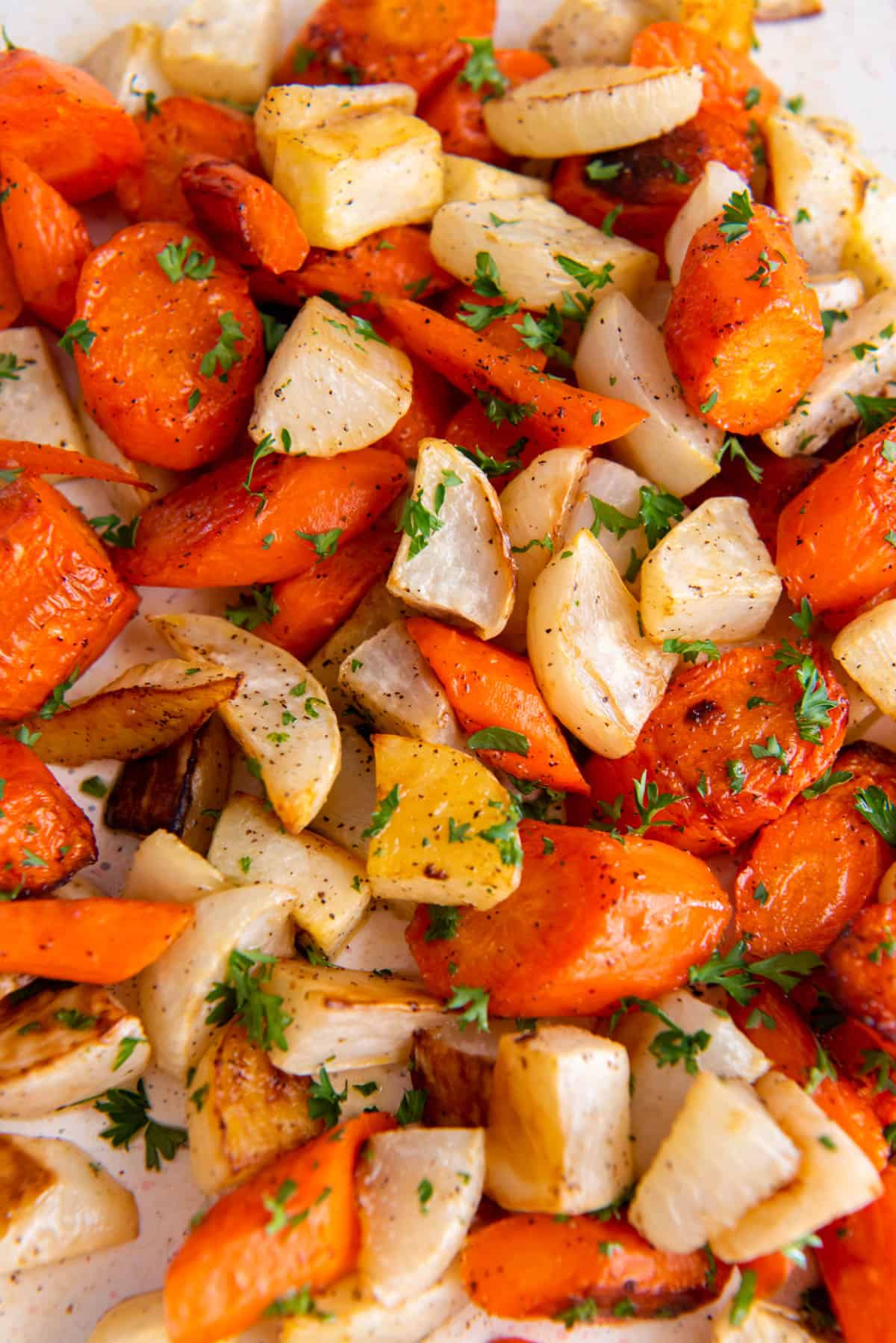 If you're trying to pack more vegetables into your meals, my favorite way to prepare them is roasting them on a sheet pan. Sheet pan vegetables are the perfect solution because all you need to do is toss them with seasonings and olive oil or avocado oil, and then roast until fork tender.
The combination of roasted turnips and roasted carrots is a match made in roasted vegetable heaven! Turnips have a slightly peppery taste that's quite similar to radishes, while carrots are mild and sweet. The two veggies enhance each other's flavor when roasted together on a sheet pan, making them the perfect vegetable side dish.
You can serve these roasted root vegetables with your favorite hearty proteins like baked boneless chicken thighs and baked salmon patties or a decadent grilled lobster tail. Or pair them with pan fried cod and a fresh garden salad for a well-rounded meal.
Why You'll Love This Recipe
This easy vegetable side dish is a great way to introduce someone to turnips.
It's a budget-friendly side dish option.
You can season the vegetables in many different ways to suit the flavor of your meal.
Roasting brings out a naturally sweet and spicy flavor in the vegetables.
Prep in less than 10 minutes!
Ingredients You Need
Turnips – This vegetable is a root vegetable with white flesh and purple skin. They're high in vitamin C and potassium and tastes like a cross between cabbage and radishes.
Carrots – These root vegetables are orange in color with an earthy vegetable flavor that's naturally sweet when roasted.
Extra Virgin Olive Oil – This is your preferred cooking fat to help roast the vegetables on the sheet pan to bring out their natural flavors.
Salt & Ground Black Pepper – These basic seasonings further enhance the flavor of the vegetables.
Finishes (Optional) – Once roasted, toss the vegetables in unsalted butter to add a rich buttery flavor. Sprinkle parsley or your favorite fresh herbs on top for a pop of green color and flavor.
How to Make Roasted Turnips and Carrots
Prepare for baking: Preheat oven to 400 degrees Fahrenheit and get out a large rimmed baking sheet pan. While the oven is preheating, use a vegetable peeler to peel turnips and carrots and then slice them into 1-inch pieces using a sharp knife.
Season the vegetables: Add the prepared root vegetables to the sheet pan. Drizzle with olive oil and toss well to make sure they are fully coated. Arrange them in a single layer on the baking sheet, then season with salt and pepper.
Bake: Add the sheet pan to the preheated oven and bake for 30-40 minutes or until the vegetables are fork-tender. Remove from the oven.
Season and serve: Add a pat of unsalted butter to the warm vegetables along with your favorite fresh herbs. Carefully toss to combine and serve with your favorite protein and sides.
The butter and fresh herbs in this vegetable recipe are optional.
Expert Tips
Peel the vegetables. Be sure to peel both the carrots and the turnips as the skins are tough and can taste bitter when roasted.
Choose medium-sized vegetables for this recipe, as they're easy to prepare quickly and make all roughly the same size. This helps to cook everything evenly.
To save time, you can use pre-cut carrots and turnips from the grocery store. Just be sure to read the ingredients list as some may contain added salt or sugar.
Use any herbs that you have on hand. Fresh thyme leaves, fresh rosemary, and parsley all work well.
Variations
Add a teaspoon of fresh lemon zest to the sheet pan vegetables before roasting for an added bright and citrusy flavor boost.
Add a kick of heat. Give this dish some spice by adding a teaspoon of crushed red pepper flakes or ground cayenne pepper to the vegetable mix before roasting.
Add some chopped bacon to the sheet pan vegetables before roasting for a salty and smoky flavor addition.
Add other chopped root vegetables to the mix including parsnips, rutabaga, beets, and sweet potatoes, and adjust the cooking time. Cook the vegetables until fork tender.
Add onions. Chop large pieces of red onion or yellow onion and roast with the other veggies.
Roasted turnips and roasted carrots taste great when served alongside a variety of dishes. They taste best served with roasted chicken or pork. You can also serve them with steak or over salads. The natural peppery flavor of the turnips pairs with with the sweet flavor of carrots to add delicious nutrients and flavor to any meal.
This dish also works great as a plated dish for Easter, Thanksgiving or Christmas holidays. Serve the turnips and carrots in a bowl garnished with fresh herbs.
Other Vegetable Side Dishes
Did you try these Roasted Turnips and Carrots? Leave a recipe rating and review below. Your feedback is always appreciated!
Roasted Turnips and Carrots
Yield: 4
An easy vegetable side dish made with a few basic ingredients!
Ingredients
1 pound turnips
1 pound carrots
2 tablespoons extra virgin olive oil
1 teaspoon sea salt, or more to taste
Freshly ground black pepper, to taste
1 tablespoon unsalted butter, softened or melted (optional)
1 tablespoon fresh parsley, minced (optional)
Instructions
Preheat the oven to 400 degrees Fahrenheit. While the oven heats, trim and peel the turnips and carrots, cutting them into 1-inch pieces.

Place the carrots and turnips on a baking sheet. Drizzle them with olive oil and toss to coat evenly. Spread them in an even layer on the baking sheet, then sprinkle them with salt and pepper to taste.

Roast for 30 to 40 minutes, until they are tender and browned. After removing the vegetables from the oven, carefully toss them with butter and minced parsley (or you favorite fresh herbs) before serving.
Notes
Nutritional information includes optional butter.  Storing: To store leftovers let the vegetable cool to room temperature, then transfer them to an airtight container. Store in the refrigerator for up to five days. Reheat using the microwave or in a skillet on the stove. Freezing: I do not recommend freezing this vegetable side dish as it will lose its texture and become mushy when defrosted as both vegetables have high water content. For best results, consume within 4-5 days.
Nutrition
Calories: 166kcal, Carbohydrates: 18g, Protein: 2g, Fat: 10g, Saturated Fat: 3g, Polyunsaturated Fat: 1g, Monounsaturated Fat: 6g, Trans Fat: 1g, Cholesterol: 8mg, Sodium: 737mg, Potassium: 586mg, Fiber: 5g, Sugar: 10g, Vitamin A: 19116IU, Vitamin C: 32mg, Calcium: 74mg, Iron: 1mg
If you try this recipe, don't forget to leave a review below or share a photo and tag @spoonfulofflavor on Instagram.