Thai Coconut Potsticker Soup
Thai Coconut Potsticker Soup combines your favorite Thai Coconut Curry flavors, tasty potstickers and the freshest ingredients!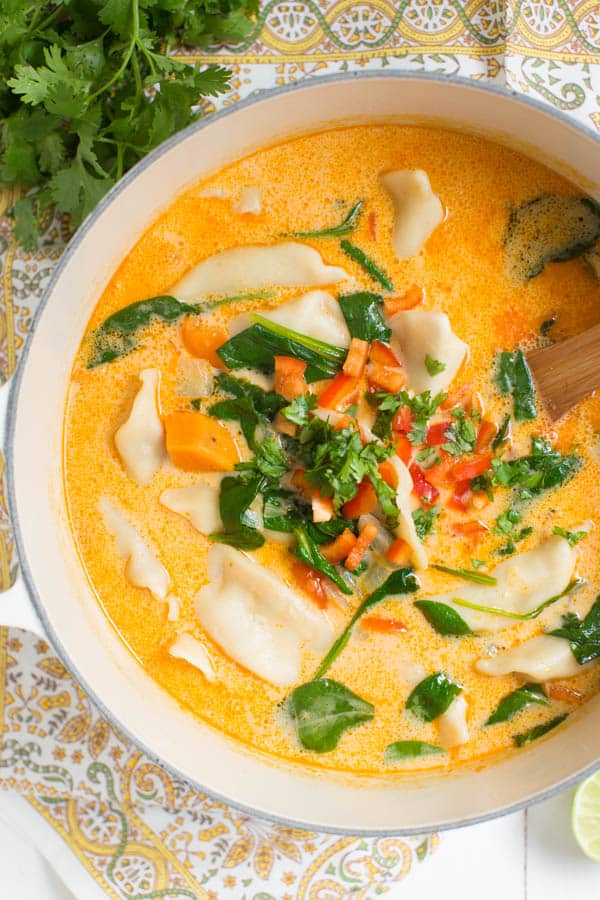 The start of the year is a great time to experiment with tasty new dishes. It's also a great time to start meal planning if you didn't before and expand your palate to new flavors and cuisines. To kick start the New Year, I'm adding an innovative spin to a meal that I really love. Thai Coconut Potsticker Soup combines Thai Coconut Curry flavors with Asian-style potstickers and creates a soup that is packed with healthier ingredients and fresh flavors.
For this recipe, I partnered with the National Frozen and Refrigerated Foods Association (NFRA) as part of the Cool Food Panel to bring you a fresh new meal that you can enjoy all year long.
I often enjoy potstickers as an appetizer or add them to a salad. I love that they are packed with a mixture of flavors and wholesome ingredients. The potstickers are made without preservatives or artificial flavors and colors. Both the Ling Ling Chicken and Vegetable Potstickers and Ling Ling Vegetable Potstickers are a great addition to this soup. Use the product locator to find the potstickers at your local grocery store. I prefer the taste of the Vegetable Potstickers with the Thai flavors, but you can experiment with your own combination of flavors.
Discover a variety of ingredients in the freezer aisle to add quality flavors to your meal. The frozen potstickers make cooking and prepping this soup so much easier. You simply add the potstickers to the soup and cook for 8 to 10 minutes. The entire meal comes together in less than 30 minutes. Thai Coconut Potsticker Soup is a simple and nutritious meal packed with the best flavors.
What are you waiting for? Experiment with new ingredients and flavors this year to create a meal that the entire family will love!
For more mealtime inspiration, visit EasyHomeMeals.com and follow on Facebook, Twitter,  Pinterest and Instagram too!
Thai Potsticker Soup
Thai Coconut Potsticker Soup combines your favorite Thai Coconut Curry flavors, tasty potstickers and the freshest ingredients!
Ingredients
2 tablespoons olive oil
2 cloves garlic minced
1 onion diced
1 red bell pepper diced
1 sweet potato scrubbed and chopped into bite sized chunks
2 tablespoon red curry paste
1 (14 ounce) can unsweetened coconut milk
4 cups vegetable stock
1 (13 ounce) package Ling Ling potstickers
2 heaping cups fresh spinach
Juice of 1 lime
fresh cilantro for garnish
Instructions
To make the soup, heat olive oil in a large stockpot or Dutch oven over medium- high heat. Add the garlic, onion, red bell pepper and sweet potato. Cook, stirring occasionally, until softened, about 3 to 4 minutes.

Stir in the curry paste and cook for an additional minute. Add the coconut milk and vegetable broth. Whisk to combine.

Bring the mixture to a boil, add the potstickers and reduce heat to a simmer. Cook, until slightly thickened, about 6 to 8 minutes. Add the spinach and lime juice and stir until the spinach is wilted.

Garnish with fresh cilantro and serve immediately.
Notes
You can store this soup in a sealed container in the refrigerator for up to 3 days. Reheat just prior to serving. Source: Spoonful of Flavor
Nutrition Information
Calories:
89
, Fat:
5g
, Sodium:
641mg
, Potassium:
141mg
, Carbohydrates:
10g
, Fiber:
1g
, Sugar:
4g
, Vitamin A:
4845%
, Vitamin C:
28%
, Calcium:
20%
, Iron:
0.4%
*Nutritional information is an estimate. Please consult a doctor or nutritionist for the most accurate nutritional info.
Course: Main Course, Soup
Cuisine: Thai
Keyword: potstickers, thai soup
This post was created in partnership with the National Frozen & Refrigerated Foods Association as part of the Cool Food Panel. As always, all opinions are my own.