A weekend guide to Longboat Key includes the best things to eat, see and do while visiting the barrier island on Florida's West Coast! Enjoy a stay at Zota Beach Resort, dine on delectable fare at Viento Kitchen and Bar, relax on powder soft beaches, tour Mote Marine Aquarium and more.
Exploring Florida is one of my favorite things to do! With endless coastline, fresh seasonal food and unique outdoor activities, there are options for everyone. On my most recent Florida adventure I ventured to Longboat Key near Sarasota, Florida. It is the perfect weekend getaway, winter escape or summer vacation destination. Located less than 30 minutes from the Sarasota airport or a 75 minute drive from the Tampa airport, Longboat Key is an easy escape for any time of the year. A weekend guide to Longboat Key, Florida includes the best things to eat, see and do on the barrier island on Florida's West Coast. Read below for my favorite highlights from the beautiful gulf coast island.
Where to Stay in Longboat Key, Florida
Zota Beach Resort is a beautiful and luxurious boutique resort situated along the powder soft beaches and turquoise waters of Longboat Key, Florida. The resort is centrally located on the island and is suited for everyone. Now that I often travel with my little one, I'm always looking for properties that are family-friendly while also offering the other high end amenities I enjoy when traveling. Zota Beach Resort offers beautiful accommodations, a beachfront location, delectable food options and relaxing amenities. In addition to the standard guest rooms, the resort offers 30 suites with a separate bedroom and living area.
The resort opened in July 2017 and includes a complete renovation of an existing property and the addition of a brand new 84-room tower. The rooms are lovely and comfortable. I want to take the bed home with me. The pillow top mattress was heavenly. While I loved everything about the property, the beds are definitely a highlight.
In addition to beach services and a poolside bar, the resort offers private poolside cabanas for relaxing. The cabanas are perfect for groups and families and offer a great place to relax, enjoy lunch or watch the game.
Zota Beach Resort also offers easy access to beach activities such as paddleboarding or kayaking and is located within a short drive to shopping, entertainment and restaurants.
Where to Dine in Longboat Key, Florida
The delectable dining options are another reason I chose to stay at Zota Beach Resort. Viento Kitchen and Bar is a lovely space located right on the property. The restaurant serves breakfast, lunch and dinner so we didn't even need to leave the resort. For short weekend getaways, I really love the ability to dine at the resort. Reserve a table on the outdoor patio to enjoy the fresh gulf breeze and beautiful sunset views. In addition to the main restaurant, Zota Beach Resort offers Cascades Poolside Bar for refreshing casual fare.
A few of my favorite dishes include the Greek Flatbread, Smoked Salmon and Roy's Hash for breakfast. I also really love the Maine Lobster Slider, Scallops and Lamb Chops for dinner. The menu balances delectable indulgences such as Key Lime Pie and gelato with lighter options such the Viento Parfait and Sunrise Bowl.
A weekend is never enough time to enjoy all of the best dining options. During my visit to Longboat Key, we were only able to get a taste of the many options available. In addition to Viento Kitchen and Bar at Zota Beach Resort, there are many other restaurants on Longboat Key and the surrounding area. We also visited Dry Dock Waterfront Grill for a lobster roll and fresh fish. The view of Sarasota Bay is incredible and shouldn't be missed. I can't wait to go back to Longboat Key to try many more of the dining options. If you have any suggestions for the best restaurants and foodie highlights, please leave a comment below so that I can check them out on my next visit.
What to do in Longboat Key, Florida
Escape land with an outdoor water adventure
Perhaps the best thing about visiting Longboat Key is the easy access to the best outdoor adventures. With turquoise water and calm surf, grab a paddleboard or kayak and explore the water. Enjoy a relaxing paddle and look for wildlife along the way. Manatees and dolphins are frequently spotted right off the beach on Longboat Key.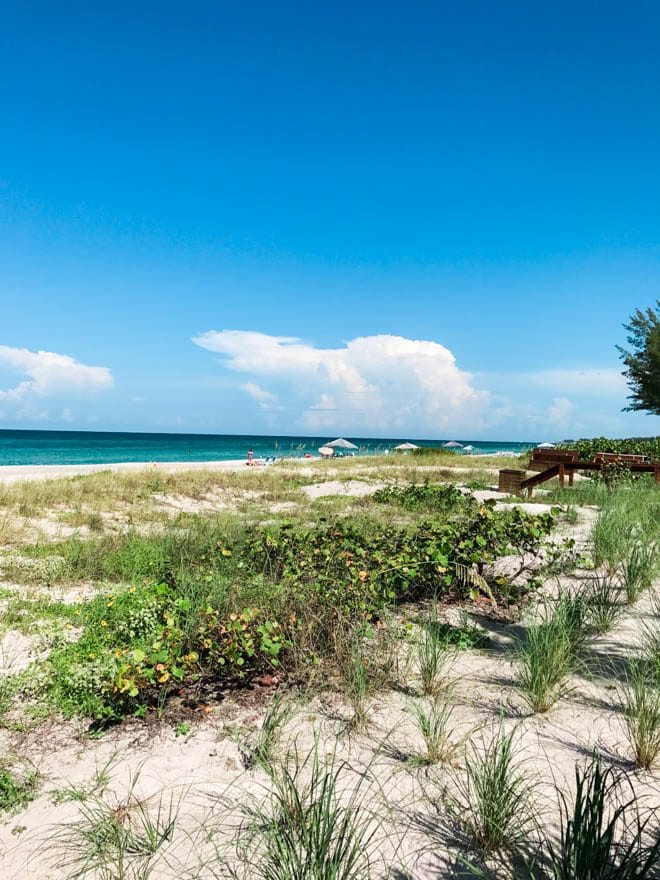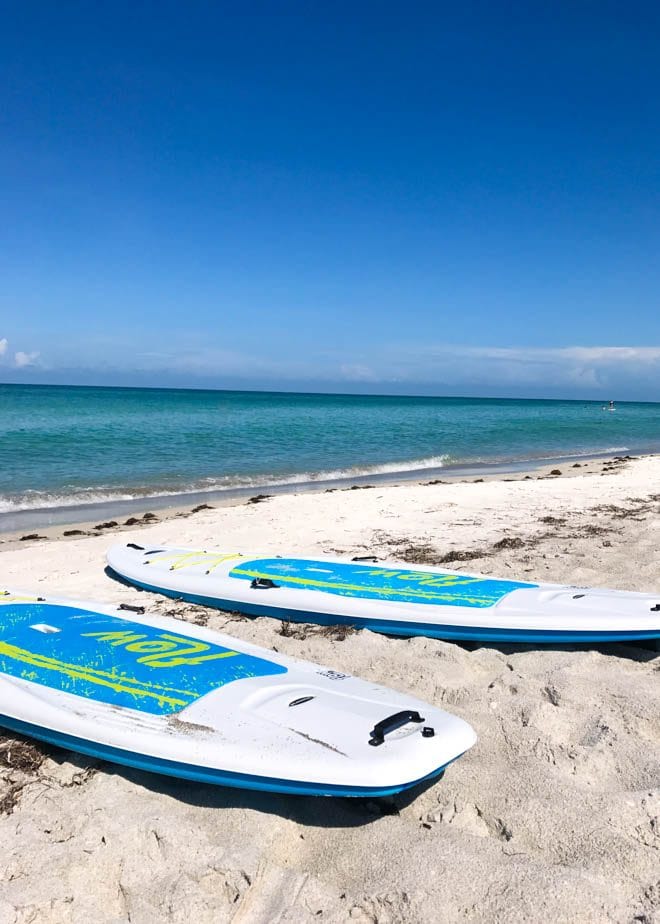 Spend the afternoon at The Ringling
The Ringling is always one of my favorite places to spend the afternoon. Wander through impressive art galleries, discover the rich and unique history of the American circus and admire the 36,000 square foot home of The Ringlings. Stroll the beautiful bay-front gardens and discover a unique piece of Florida history.
Walk within a mini tropical rainforest at Marie Selby Botanical Gardens
Marie Selby Botanical Gardens is a unique tropical oasis located on Sarasota Bay. Perhaps the most interesting part of the garden is the Children's Rainforest Garden which features a unique space for children to explore.
Venture under the sea at Mote Marine Laboratory and Aquarium
Mote Marine Laboratory and Aquarium is a fun retreat from the heat. The lab hosts various research programs and also offers the public the chance to explore the underwater world. Experience an up-close encounter with a variety of sea life and witness scientific research in viewable laboratories.
Enjoy a leisurely stroll at Bayfront Park
Bayfront Park is a hidden oasis in the middle of Longboat Key. Take a quiet leisurely walk along the walking path and enjoy the beautiful bay front views. Or bring your tennis racket and play a game on the first-come, first-served tennis courts. The park also includes a dog park, fishing piers, playground and kayak launch. The parking lot is located at 4052 Gulf of Mexico Drive.
Watch the sunset
The gulf coast of Florida is one of the best locations to watch the sun set. By visiting Longboat Key, you are almost guaranteed to view a beautiful sunset every single day of the year.
If you visit Longboat Key, don't forget to tag @SpoonfulFlavor and #SpoonfulTravel in your social media posts so that we can follow along. Or come back here and share your thoughts about the trip.
Zota Beach Resort and Visit Sarasota graciously hosted part of our stay. As always, all opinions are my own.