Omni Amelia Island Plantation Resort is the perfect getaway in Florida! Read all about the best culinary experiences, restaurants, activities and more in this Omni Amelia Island Florida Travel Guide.
Omni Amelia Island Plantation Resort is the perfect weekend getaway or weeklong vacation. The resort is located less than 35 minutes from Jacksonville International Airport and a short drive from many major cities in the southeast. It's the perfect place to unwind and relax. If the beautiful weather and luxury accommodations don't convince you to return, the incredible culinary experiences at the Omni Amelia Island Plantation Resort will make you want to visit again and again. Continue reading for the best culinary experiences, restaurants, activities and more.
Omni Amelia Island Plantation Resort
The Omni Resort on Amelia Island is located on three and half miles of wide, uncrowded beaches in Amelia Island Plantation. In addition to the beautiful natural setting, the resort offers luxury accommodations and amenities. We love the resort because it combines everything we look for in the perfect travel destination – exceptional food, luxury accommodations, outdoor activities and family-friendly amenities. It's fit for foodies, families and outdoor enthusiasts. It's a great place to recharge and relax or immerse yourself in unique experiences and adventures. No matter how many times you visit, there is always something new to explore.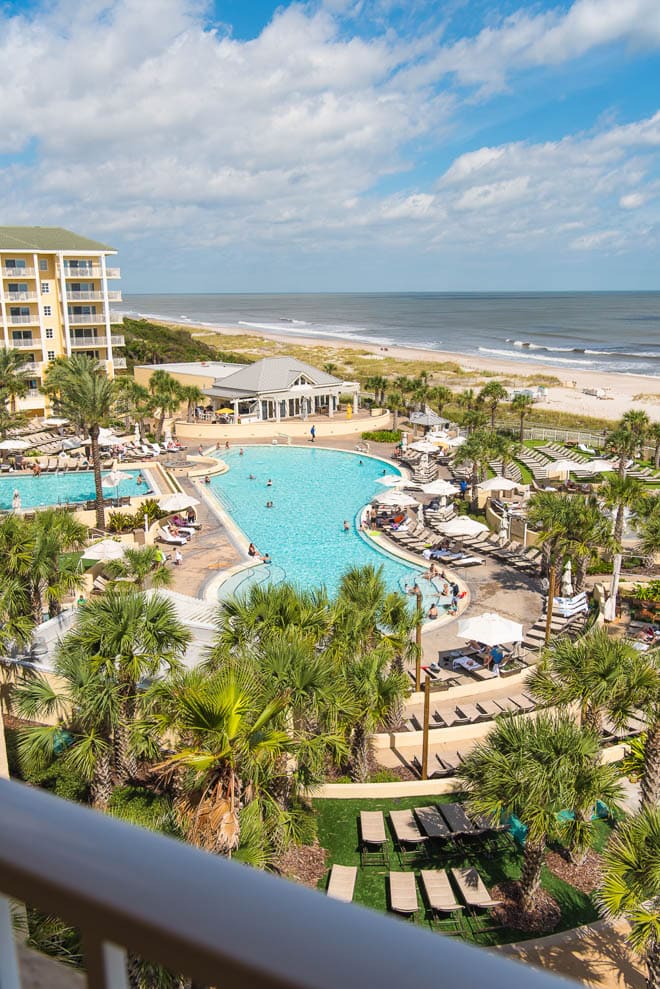 Omni Amelia Island Plantation Restaurants
Omni Amelia Island Plantation Resort features some of the best dining in Florida. With nine restaurants on property and intimate farm dinners, the resort offers everything from casual to fine dining. Try Bob's Steak House and Chop House or Verandah for a more upscale dining experience. Marsh View Bar & Grill, Natural Slice and Marche Burette are great choices for casual fare. Or relax during happy hour at Seaglass, Falcon's Nest or Oceanside. The culinary team at the Omni Amelia Island Resort strives to make every dining experience exceptional. When you experience any of the dining options, you can actually taste the effort and enthusiasm behind each dish.
With nine culinary dining options to choose from, you will never go hungry. I highly recommend any of the fresh Florida seafood dishes or any of their seasonal offerings. Make sure to grab a fresh homemade muffin or croissant at breakfast and share a delectable spread of desserts after dinner. Take home a jar of honey or the Chef's own hot sauce!
Season of Smoke Omni Originals Menu
The new and unique culinary offerings consistently set Omni Hotels & Resorts apart from other resorts. On my recent visit to the Omni Amelia Island Plantation Resort, they offered a Season of Smoke menu featuring creative twists on classic dishes using a variety of different smoking methods. The menu includes Caldero Duck Fat Fries, Pimento Cheese Parrilla Toast, Chorizo Stuffed Dates, Grilled Pineapple Margaritas and Brown Bag Doughnuts. All of the dishes are smoked using a unique method which adds a smoky flavor.
The different smoking methods include a wood-fired grill, a plancha grill, a caldron, burying ingredients in ashes and more. The smoking methods provide a subtle smoky flavor to create a unique and delicious culinary experience. Each dish on the Season of Smoke menu combines the freshest autumn ingredients with smoky flavor. The culinary team at Omni Amelia Island Resort goes above and beyond to create a unique culinary experience.
Breakfast at Omni Amelia Island Plantation Resort
One of the best things about dining at Omni Amelia Island Plantation Resort is the buffet breakfast. While visiting, I talked to many guests who said that they come back again and again for Miss Donnie's omelets and the selection of gourmet breakfast options. The resort sources local ingredients whenever possible. Thanks to the best sources ingredients, Omni chefs are able to create house-made jams, jellies, nut butters, honey and more. The breakfast buffet at Sunrise Cafe is a delectable spread that should not be missed.
What to Do at Omni Amelia Island Plantation Resort
The Sprouting Project
One of the reasons I love visiting Omni Amelia Island Plantation Resort is The Sprouting Project. Previous guests of the resort will tell you to add The Sprouting Project & Barrel Room Experience to your itinerary. The Sprouting Project features a unique epicurean experience with the opportunity to learn more about how the chef's prepare their own hot sauces, honey and barrel aged cocktails. Omni Amelia Island Resort Chefs grow their own produce, raise chickens for fresh eggs and harvest honey straight from the hive. It doesn't get any more local than that!
Make reservations for the Sprouting Project & Barrel Room Experience offered every Saturday from 2:30pm- 4:00 pm. The experience offers a unique behind-the-scenes culinary opportunity. Learn about the art of blending your own hot sauce, taste different varietals of honey and enjoy barrel aged cocktails. In addition, the resort hosts monthly Sprouting Project dinners. The chef dinners provide a unique farm to table experience in an intimate setting. Themes include everything from Cauliflower and Truffle to Coffee and Coconut. Check out the schedule of Sprouting Dinners and plan a visit soon.
The resort also offers special annual foodie events like Fish to Fork. Check their events calendar for up to date information.
Outdoor Activities at Omni Amelia Island Plantation Resort
Due to its location on Amelia Island and proximity to the Atlantic Ocean, the Omni hotel Amelia Island is the perfect place to explore the outdoors. Whether you enjoy lounging on the beach or paddle boarding through the marsh, you will find plenty of outdoor activities at the Omni Amelia Island Plantation Resort. Spend the morning kayaking on the intercoastal waterway, enjoy lunch poolside and then spend the afternoon on the beach or bike down more than seven miles of biking trails.
Miniature golf, outdoor chess and segway or bike rentals are located only a short walking distance from the rooms. Kids can also explore the Nature Center at Omni Amelia Island Resort and talk to Buddy the Macaw! The nature center has turtles, tortoises and fish on exhibit and offers kayaking and nature tours.
Spa at Omni Amelia Island Plantation Resort
A visit to the spa is always a must on any relaxing trip. The Spa at Omni Amelia Island Florida is one of the best in the area. Pamper yourself after a day at the beach with a relaxing facial or massage.
Amelia's Wheels and Other Activities
In addition to the unique culinary experiences offered at Omni hotel Amelia Island, the resort also offers additional activities such as golfing, tennis, family recreation, horseback riding and fishing charters. Stop by Amelia's Wheels to rent a bike or book a segway tour and explore the plantation. While exploring the property, make sure to stop in for an ice cream cone at Marche Burette Market and Deli!
One visit to the Omni Amelia Island Plantation Resort isn't nearly enough time to explore all of the delectable dining experiences, outdoor adventures and resort amenities. But, thanks to the ever expanding culinary offerings and unique experiences, the Omni Amelia Island Plantation Resort is a destination that I'm looking forward to visiting again and again.
Check out my other Amelia Island Travel Guide for more things to do on your next visit to Amelia Island.
If you visit Omni Amelia Island Plantation Resort, don't forget to tag @SpoonfulFlavor and #SpoonfulTravel in your social media posts so that we can follow along. Or come back here and share your thoughts about the trip.
This is a sponsored conversation written by me on behalf of Omni . The opinions and text are all mine.