Are you planning a trip with your small children to St. John, U.S. Virgin Islands? Read my guide for traveling with a baby or toddler to St. John, U.S. Virgin Islands including tips for flying with small children, packing and more!
St. John, U.S. Virgin Islands is my favorite place for a vacation. It combines the perfect amount of relaxation, adventure, luxury, delectable food and beautiful beaches. After bringing my little one along on my third trip to St. John, I'm sharing my tips for traveling with a baby or toddler. St. John, U.S. Virgin Islands is the perfect place to travel with kids. With family friendly accommodations, dining, and activities, it offers unique experiences for everyone. Continue reading below for my full guide to traveling with a baby or toddler to St. John U.S. Virgin Islands.
Check out my full guide to planning a trip to St John.
(1) Rent a villa on St. John
One thing I learned since traveling with a baby and now a walking toddler is that having extra space is a worthwhile luxury. My family loves renting a villa on St. John because we have all of the necessities of home, plenty of space to relax and gorgeous views. It's also very cost effective to rent a villa, especially if you are traveling with a large group. On all of our three visits to St. John, we booked with Destination St. John. The properties are beautiful and clean and the service is excellent. On our most recent visit, we rented Blue Papaya Villa. It's my favorite home on St. John so far. The view is gorgeous, the rooms are spacious and the location is perfect. Each bedroom is it's own mini oasis. One of the bedrooms has two extra beds for kids so it's perfect for a young family. There are many villa rental options available on the island so you won't have any trouble finding a property to fit your needs.
While many villas on St. John are family friendly, a few do not allow children. Check with your villa rental company to confirm.
(2) Pack light. Rent or buy when you get there.
Traveling with kids is a lot easier when you drive because you can bring many of your larger necessities from home. Traveling by plane is more limiting and you always need to plan ahead. Even for a small island, St. John has everything you need. I recommend packing the things that you can't live without. If that means bringing your favorite diapers or reef-safe sunscreen from home, then do it (I did). But don't bring more than you need. Read my list of island essentials below.
Island Baby is a baby rental company on the island of St. John. They have everything from cribs and highchairs to toys and beach shades. They will deliver and pick up from your villa so it's no hassle and no stress. We love them! We rented a full size crib, highchair, toys and beach shade. Both of the local grocery stores carry other baby and toddler basics such as diapers, diaper cream, formula and food. We always travel with our own car seat, but Island Baby has them too.
We rented this Shade Shack from Island Baby and loved it so much we bought one when we returned home to use on our frequent beach adventures. It's easy to carry and clean so it's really no hassle. Although St. John has a lot of shade on many of the beaches, it gave the baby extra sun protection and the perfect place to nap.
(3) Family Friendly Dining
St. John, U.S. Virgin Islands offers many options for casual family friendly dining. All of the restaurants we visited have standard highchairs available. When in doubt, just call the restaurant and ask. Our little one loved La Tapa, Banana Deck and many more. Early dinners work best when traveling with little ones. Read my full guide for Where to Eat on St. John for all of my dining recommendations.
(4) Don't over plan
I'm a natural overplanner. One of the things I love about St. John is that you don't have to plan a lengthy itinerary. Especially if you travel during the off season, you rarely need restaurant reservations and can find plenty of available activities at the last minute. With over two dozen beaches on the island, there is an option for any day of the week. Our trips are much more enjoyable when we just go with the flow of our little one. Our little one either napped on the beach under the ShadeShack or napped in our villa so we were able to keep with her usual nap routine.
(5) St. John Island Essentials for Baby and Toddler
Sunscreen – make sure you use one that is reef safe!
Hat – iPlay SPF 50 Hat is our favorite.
Long sleeve swimsuit or rash guard – a must! You can find a bunch on Amazon. We love this one!
Portable Sunshade or Beach Tent – We rented the ShadeShack and then purchased it when we returned home because we loved it so much.
Car seat – Renting a jeep is a necessity on St. John if you plan to explore the island so having a car seat is also a necessity. Because of the travel, we always pack our own carseat. We have an inexpensive but lightweight quality carseat that we bring with us when we travel.
Beach toys – You can either rent these from Island Baby or purchase them from one of the local beach shops. Many of the villas will have toys you can use too, but it's hit or miss.
Crib  – Rent from Island Baby.
Diapers, Formula, Food – All of these items can be purchased at any of the larger St. John grocery stores or bring as many as you will need for your visit.
Snacks – We packed a few favorites and then purchased more on the island.
(6) Tips for traveling on a plane with a baby
Here are my top three tips for traveling by plane with a baby:
Travel during nap and bed times – A few parents told me this tip but I was skeptical. It's true! Our little one slept on every flight except the one that wasn't during nap time.
Bring items to keep them busy – We love sticky notes, small empty boxes, snacks and small toys that won't roll around.
Pack efficiently – This follows my previous recommendation of not overpacking. Only take what you need on the plane. I carry a backpack with the essentials, diapers, wipes, snacks, small toys and a change of clothes. It makes going through security and traveling through the airport with a little one much easier.
Don't miss my other St. John Travel Guides:
Unique Experiences on St. John
Best Free Activities in St. John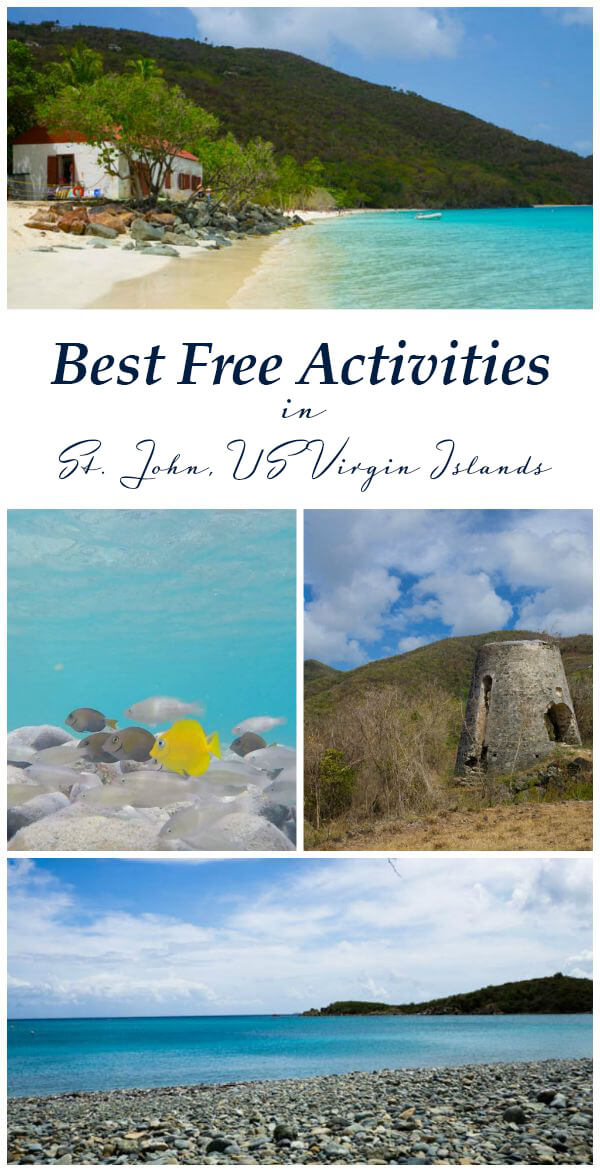 What are your tips for traveling with a baby or toddler to St. John, U.S. Virgin Islands or any other destination? 
I researched, planned and paid for all of our travel to St. John, U.S. Virgin Islands. The brands and businesses featured in this post are ones that I love and want to share with you. If you have any additional questions about visiting St. John, U.S. Virgin Islands, send me an email at ashley[at]spoonfulofflavor.com!

This post contains affiliate links.