St. John is a beautiful island with endless things to see, eat and do. Best of all, there are many free activities including beaches, snorkeling, hiking, and more!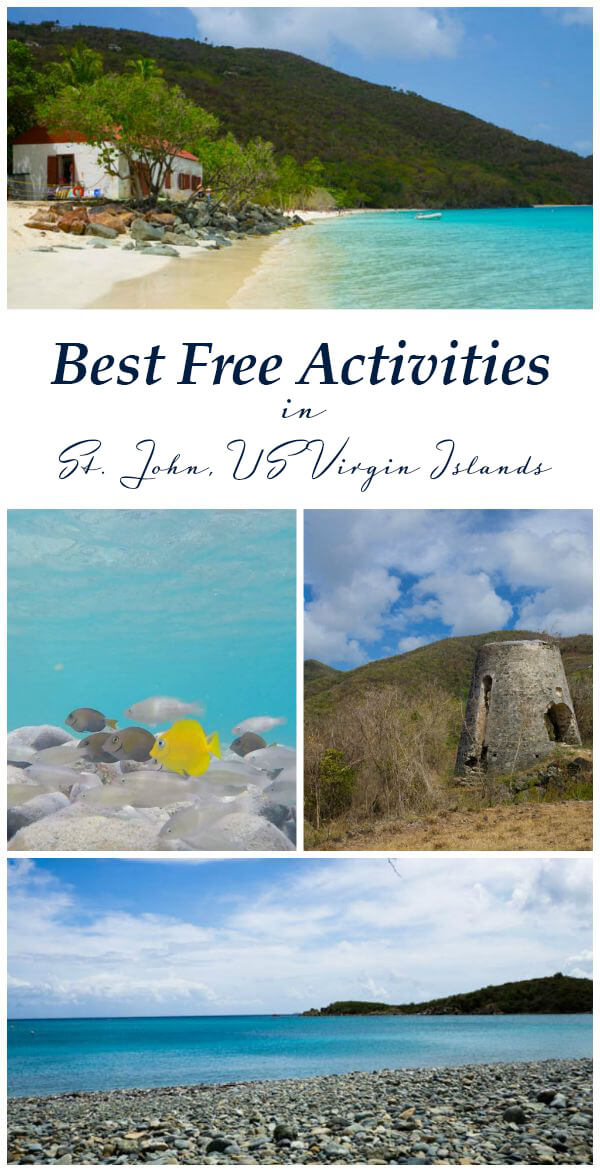 Some of the best things to do in St. John, USVI are also free! Yes, you do have to pay for travel costs to get to the island and accommodations while visiting, but once you are there you can enjoy many of the endless free activities. I've include five of the best free activities in St John USVI featuring some of the best beaches, snorkel spots and hiking trails.
Two of the best sources of information for St. John travel are St. John Feet, Fins and Four Wheel Drive and St. John Off the Beaten Path. I use both books on any trip to the island because they offer unique and interesting facts about the island in addition to fun self-guided tours.
Another great resource in the Virgin Islands National Park visitor center. You can pick up a map, speak with a ranger and gather free information about the island.
(1) Beaches
Did you know that almost all of St. John's beaches are free and open to the public? A beautiful beach with soft sand and you don't even have to pay to park! With over thirty beaches on the island, you will have a difficult time deciding what beach to visit first. Trunk Bay is the only National Park beach on the island where you actually have to pay a nominal entrance fee. Despite the fee, the park is well worth a visit. If you really don't want to spend any money on beaches, than visit one of the many other beautiful and quiet beaches. Maho Bay, Cinnamon Bay, and Great Lameshur Bay are a few of my favorite beaches.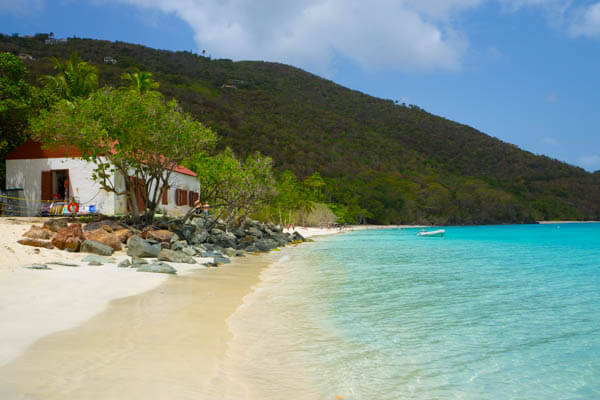 (2) Snorkeling
St. John, USVI is my favorite place to snorkel. I love it because every single snorkeling spot is unique and different. At one spot, like Great Lamsheur Bay you can snorkel in two feet deep water with blue tangs. Head to Maho Bay and you can snorkel with turtles. Or visit Waterlemon Cay and spot a nurse shark and big beautiful sea fans. I could spend every single day snorkeling at different locations in St. John. Pack your own snorkel or rent one for a nominal fee once you arrive on the island.
(3) Hiking
No matter where you go on the island there are plenty of hiking trails. You can hike to beaches, snorkel spots, and historical ruins. St. John has everything from full day hiking trails to short 15 to 20 minute trails. Make sure to stop by the National Park visitor center and pick up a trail map. I really love the Reef Bay Trail, Rams Head Trail and Francis Bay Trail. I also love the short trails at Caneel Bay where you can experience great views of St Thomas and many of the other islands. On my next visit, I plan to explore the Johnny Horn Trail and Cinnamon Bay Trail. Pack stable athletic shoes or comfortable hiking shoes and explore the island on foot.
(4) Historical Ruins
St. John is an island with rich cultural history. Historical sugar mill ruins, petroflyphs and windmill ruins are located throughout the island. Best of all, you can experience every single activity on this list all in the same day! Bring a lunch and hike the Reef Bay Trail to explore the petroglyphs and sugar mill ruins. Hike to the bottom and take a swim in the ocean to cool off before your hike back up the trail. If you don't like long hikes, try the very short Peach Hill trail to the windmill ruins. The top of the hill offers beautiful views of St. John and the surrounding islands. There is even a small trail off to the side that leads down to a private little beach. Visit the Virgin Islands National Park visitor center for more details about the historical ruins.
(5) Watch the sun set
If you read any of my other St. John travel guides then you know that I love the sunsets in St. John. They are free too! St. John sunsets are unlike any that I have seen before and should not be missed. A sunset is a great way to end a day spent exploring some of the best free activities on St. John!
Don't miss my other St. John travel guides!
Unique Experiences in St John, USVI