If you are planning a trip to Disney's Magic Kingdom, make sure you try a few of our favorite desserts and treats. These treats include everything from ice cream sundaes to waffle sandwiches and more.
No visit to Walt Disney World is complete without a visit to Disney's Magic Kingdom. This park has a royal aesthetic, so feel like royalty as you discover delicious treats throughout the park. Stop in each of the six different lands – Main Street, Adventureland, Liberty Square, Frontierland, Fantasyland and Tomorrowland – for unique treats and experiences.
Here are some of our favorite desserts at Magic Kingdom!
Best Desserts and Sweet Treats at Disney's Magic Kingdom
Nutella Waffle Sandwich
Make sure to grab the Nutella Waffle Sandwich first thing in the morning. It's currently only available until 11am. You can find this treat at Sleepy Hollow in Liberty Square, which is located next to Adventureland.
This decadent treat includes a fluffy waffle topped with nutella and some fresh fruit. YUM, right?! It's perfect for breakfast or snack and is a kid-friendly treat.
If you happen to miss the waffle during the morning hours, you can stop by Sleep Hollow after 11am for the savory Sweet and Spicy Chicken Waffle Sandwich.
Dole Whip
If you are craving something sweet and fruity, then you need to try the famous Pineapple Dole Whip. This pineapple flavored soft-serve treat melts in your mouth. It's the perfect item for a hot Florida day! You can also order this delicious treat with vanilla ice cream swirl. The classic dole whip is light and refreshing. It's also one of the healthier treats you can find in the park.
You can find the dole whip at Aloha Isle Refreshments, located in Adventureland. But, if you happen to miss the dole whip at the Magic Kingdom, you can find it at other locations throughout Walt Disney World, like Disney Springs or Disney's Polynesian Village Resort, or even make this homemade dole whip recipe at home.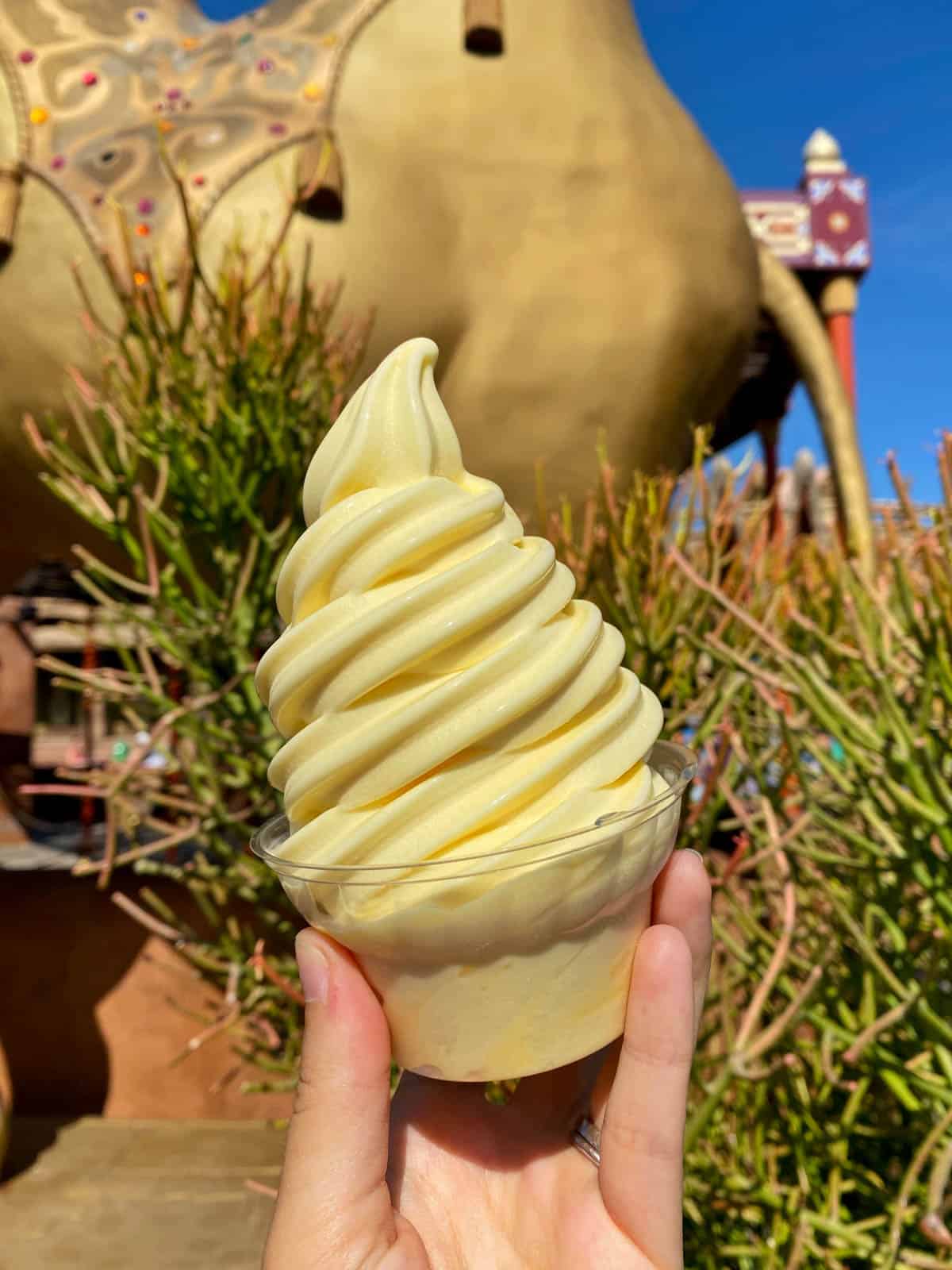 Cheshire Cat Tail
If you love chocolate croissants, then you will love this treat! The Cheshire Cat Tail is a puff pastry twisted with chocolate chips to create a fluffy chocolate croissant. It's drizzled with pink and purple icing to create the ultimate sweet treat.
You can typically find this treat at the Cheshire Cat Cafe, located near the entrance of Fantasyland and Tomorrowland. However, as of 6/11/2021, the Cheshire Cat Cafe is closed. In the meantime, you can find this sweet treat at The Lunching Pad in Tomorrowland.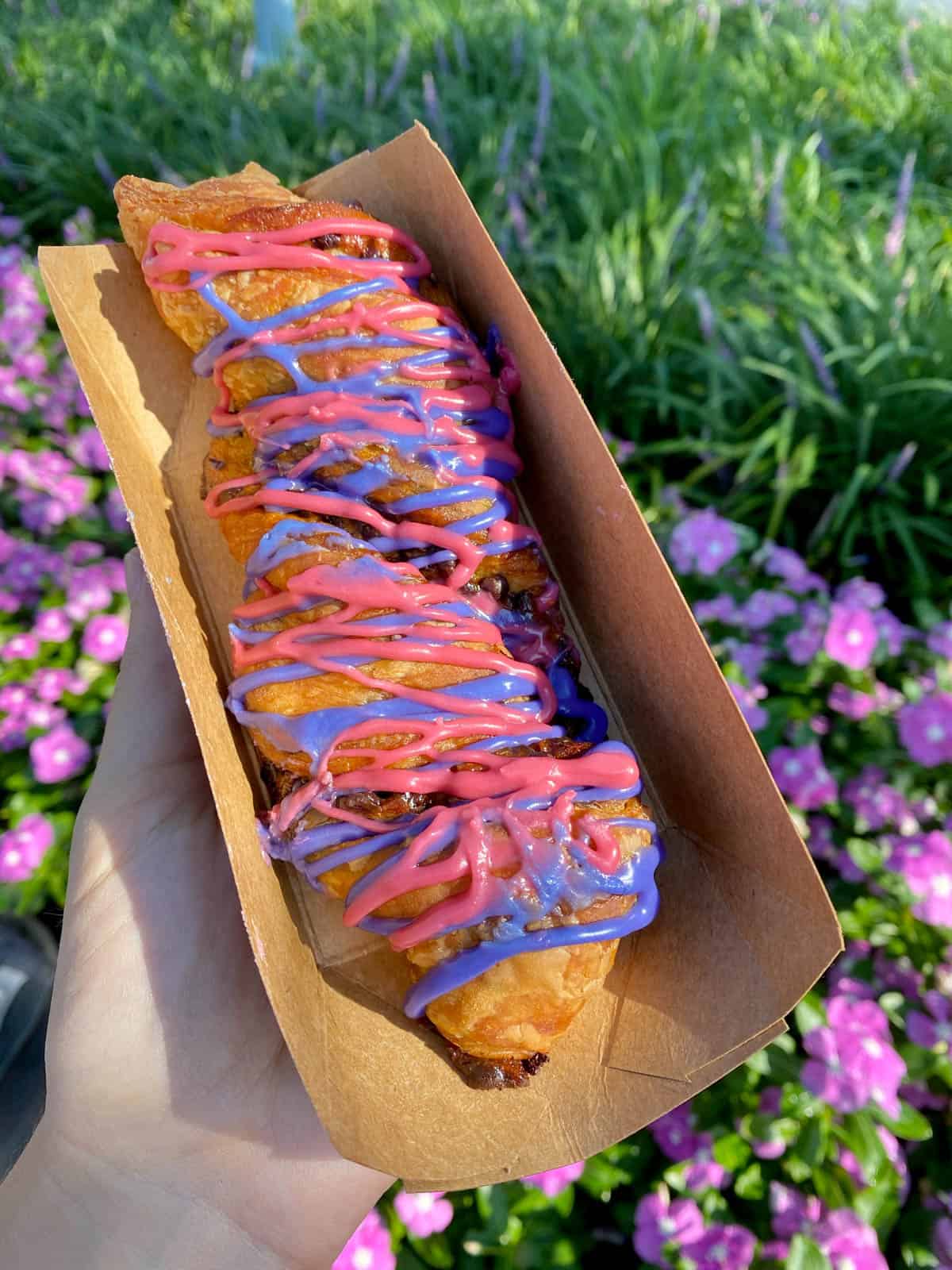 Mickey Rice Krispie Treat
Mickey's Rice Krispie treats are a classic Disney is a great treat to grab when you are on the go to another ride or show. Purchase them at a variety of shops throughout Magic Kingdom. Main Street Confectionary is the best place to find them, along with a variety of other desserts like cupcakes, fudge and cookies. Big Top Souvenirs is another great place to find them.
Ice Cream Sundae
You can find plenty of ice cream located at various locations throughout the park. The classic spot to grab a sundae is Plaza Ice Cream Parlor located on Main Street, USA. As of 6/11/2021, the Plaza Ice Cream Parlor is temporarily unavailable. As the park is going through it's reopening phase, keep a look out for this tasty snack stop once again.
Although Plaza Ice Cream Parlor is currently closed, you can find a delicious brownie sundae at the Auntie Gravity's Galactic Goodies located in Tomorrowland. This sundae includes vanilla ice cream, brownies, whipped cream and a strawberry sauce. The shop also offers milkshakes and smoothies. Stop in on a hot day for a cold treat. You will not be disappointed!
If you're in Fantasyland, you can grab yourself a hot fudge sundae or a strawberry sundae at Storybook Treats. This shop frequently offers limited availability speciality treats, so keep your eye out for something unique and fun.
Do not visit Disney's Magic Kingdom without enjoying a delicious ice cream sundae.
Mickey Ice Cream Bar
If you want to keep it simple but still satisfy your sweet tooth, choose the classic Mickey Ice Cream bar. Vanilla ice cream is coated in hardened chocolate and shaped like a Mickey head. It is the perfect dessert to enjoy any time!
You can find these Mickey Bars at many locations throughout the park. The best place to grab them is the ice cream and treat carts located on Main Street. The treat carts offer ice cream bars, popcorn and pretzels, so grab your favorite treats and enjoy Main Street.
LeFou's Brew
LeFou' Brew is a sweet refreshing speciality drink found at Gaston's Tavern in Fantasyland. It's made with frozen apple juice and a hint of toasted marshmallow. The beverage is topped off with passion fruit to make it extra refreshing. If you really want to feel like Gaston, ask for your LeFou Brew in a Souveneir Stein!
If you're full of sweets and are looking for something savory, try a few of the Best Savory Snacks at Disney's Magic Kingdom. Or if you're looking to explore the food and wine festival at Walt Disney World, check out our highlights from the Epcot International Food and Wine Festival.