Hi Everyone! It's Danae from Recipe Runner. Happy 2015! I know it's already the middle of the month, but the last time I had the chance to share a recipe with you here on Ashley's beautiful blog we were at the height of the holiday season. I'm sure many of you, myself included, have some nutrition goals in mind for the new year. One of mine is to incorporate a meatless meal into the mix once a week and these Sweet Potato and Black Bean Quinoa Bowls are helping me do that!
These vegetarian bowls have a lot of things going for them that make eating a meatless meal less of a struggle. The problem I have with a lot of vegetarian meals is that there isn't enough protein in them to keep me full for more than an hour. Sure I love salads, but if that's all I eat I guarantee I'll be raiding the fridge shortly after looking for something more to fill me up.
These Sweet Potato and Black Bean Quinoa Bowls are primarily made up of those three main ingredients and then seasoned with some southwest spices. The black beans and quinoa add a good amount of protein to the meatless meal which will help keep us full much longer than say a bowl of pasta. The sweet potato adds in a good amount of healthy carbs, not to mention they are loaded with vitamins. I seasoned both the sweet potato and quinoa with a combination of chili powder and cumin, and there is a generous amount of cilantro in the bowls because I seriously can't get enough of the stuff! After a lot of debate on how to prepare the sweet potato I decided to roast it in the oven. Roasting vegetables brings out such wonderful flavor and sweetness in them. I know it takes a little longer, but for this the timing was perfect since it took the same amount of time to cook the quinoa.
Since the bowls were looking a little one note in the color department and because they needed a little something cool and creamy to take the edge off the heat from the chili powder, I decided to top them with the most glorious cilantro cream drizzle. The base of the drizzle is plain Greek yogurt which I then flavored with cilantro, fresh lime juice, a pinch of garlic and chili powder, and a little agave nectar for sweetness. The drizzle is completely healthy, but you feel like you are getting something extra special! If adding a meatless meal or just a delicious healthy meal is part of your nutrition goals for this year, then I highly recommend you give these Sweet Potato and Black Bean Quinoa Bowls a try!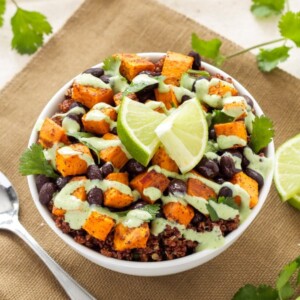 Sweet Potato and Black Bean Quinoa Bowls
Yield: 3 servings
A delicious, filling, meatless meal that will please everyone!
Ingredients
Roasted Sweet Potato:
1 large sweet potato, peel and diced
1 teaspoon extra virgin olive oil
1/2 teaspoon chili powder
1/4 teaspoon cumin
1/4 teaspoon kosher salt
Quinoa:
3/4 cup red quinoa
1 3/4 cups water
1/2 teaspoon kosher salt, divided
1/2 teaspoon chili powder
1/2 teaspoon cumin
1/4 teaspoon garlic powder
Juice of half a lime
2 tablespoon cilantro, chopped
Cilantro Cream Drizzle:
1/4 cup plain non fat Greek yogurt
1/4 cup cilantro, chopped
1/4 teaspoon agave nectar or honey
Juice of half a lime
Pinch of salt, garlic powder, and chili powder
Other Ingredients:
1 cup black beans, rinsed and drained
Cilantro for garnishing
Instructions
Roasted Sweet Potato:
Preheat oven to 425 degrees then line a baking sheet with foil and spray it with cooking spray.

Toss the diced sweet potato in the olive oil and spices and lay it out in an even layer on the prepared baking sheet. Roast the sweet potato for 12-15 minutes or until it is fork tender.
Quinoa:
Rinse and drain the red quinoa then put it in a medium sized sauce pan with the water and 1/4 teaspoon of kosher salt. Bring the quinoa to a boil, then cover it with a lid and lower the heat to medium low. Cook the quinoa for about 15 minutes, until all of the liquid is absorbed.

Remove quinoa from the heat and season with the remaining 1/4 teaspoon of kosher salt, chili powder, cumin, garlic powder, lime juice, and cilantro.
Cilantro Cream Drizzle:
In a blender add all of the ingredients and blend until smooth.
Assembling the Bowls:
In 2 or 3 serving bowls divide the quinoa mixture. Top the quinoa with the black beans and roasted sweet potato. Drizzle the cilantro cream on top with a spoon. Top with more cilantro if desired.
Nutrition
Serving: 0g, Calories: 300kcal, Carbohydrates: 52g, Protein: 14g, Fat: 5g, Saturated Fat: 1g, Cholesterol: 1mg, Sodium: 635mg, Potassium: 617mg, Fiber: 9g, Sugar: 3g, Vitamin A: 6453IU, Vitamin C: 1mg, Calcium: 75mg, Iron: 4mg
If you try this recipe, don't forget to leave a review below or share a photo and tag @spoonfulofflavor on Instagram.
More Meatless Meals:
Greek Pita Pizzas 
Easy Tomato Basil Pasta
Winter Kale and Wild Rice Salad 
Vegetarian Lasagna Soup
Connect with Danae: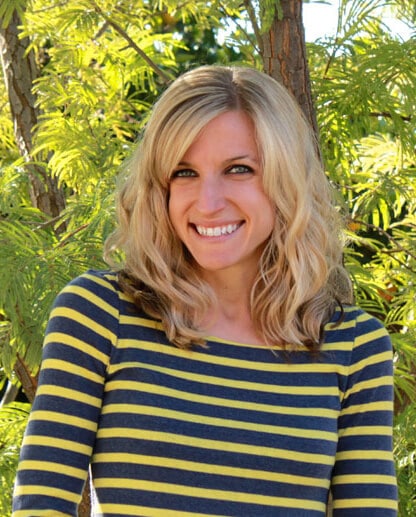 Blog | Facebook | Twitter | Instagram | Pinterest
This post may contain affiliate links.