Easy Chocolate Chip Banana Bread is a classic recipe that yields the best banana bread. And it's loaded with chocolate chips to make this bread extra special. This recipe requires only 15 minutes of prep!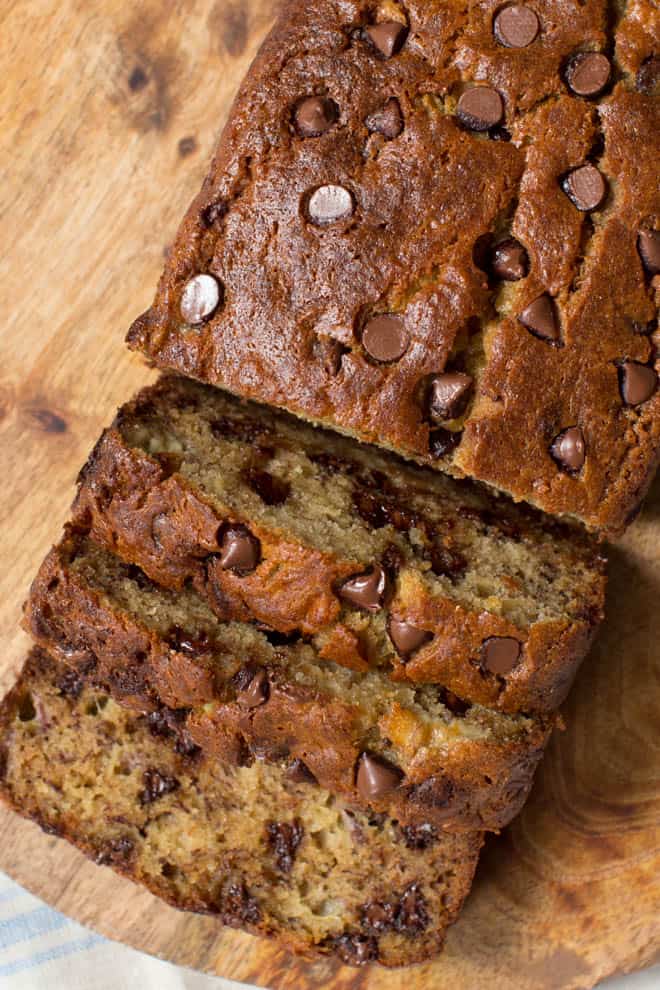 Banana bread is a classic bread that frequently makes an appearance in our house. Who doesn't love the small of fresh bread from the oven? It's a great choice for breakfast or snack. Add chocolate chips and you create a delectable sweet treat everyone loves. Mix together the ingredients in one bowl, bake and enjoy. It's that easy!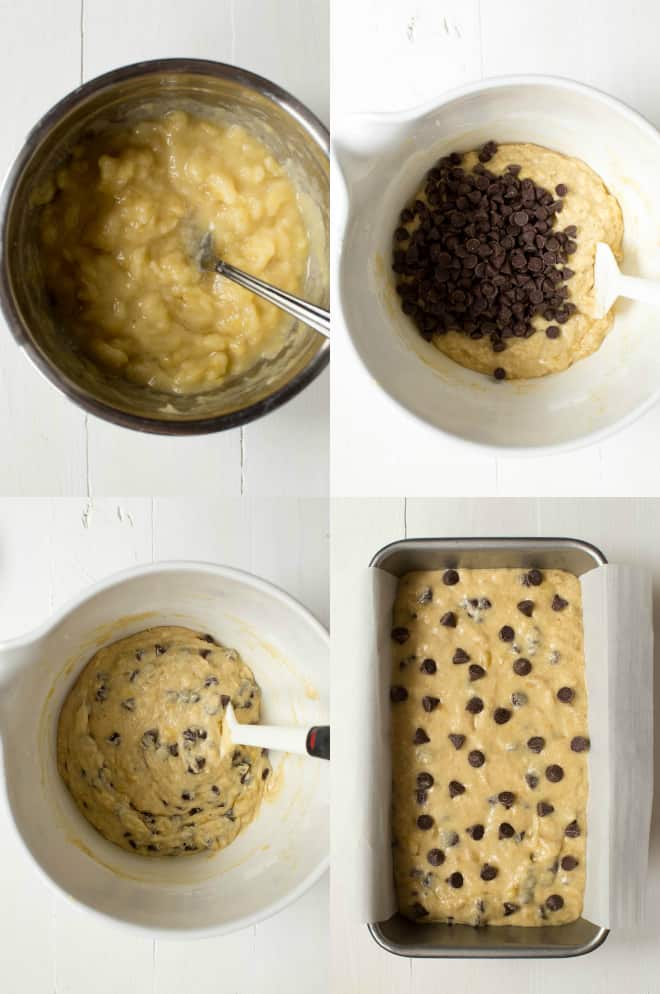 How to make easy chocolate chip banana bread
This recipes comes together easily. Be sure to follow the recipe as specified, including using both granulated sugar AND brown sugar. The brown sugar really enhances the flavor of the bread. Also ensure that your eggs are at room temperature and your butter is softened.
Step 1: Mash the bananas. Be sure to use overripe bananas. The bananas should be mostly brown to yield the best flavor. Mash until smooth. Do not leave chunks of bananas.
Step 2: Prepare the pan. Grease a 9×5 metal loaf pan and set aside. Use butter or a nonstick cooking spray to grease the sides.
Step 3: Make the batter. Cream together the butter and sugars. Then add the eggs, mashed bananas and vanilla. Stir in the flour, baking powder, baking soda and salt. Fold until just combined. Do not overmix the batter.
Step 4: Add the chocolate chips. Gently fold in 3/4 cup of the chocolate chips until combined. After pouring the batter into the loaf pan, sprinkle the remaining 1/4 chips on top.
Step 5: Bake at 350 degrees F for 50 to 60 minutes, or until the bread is set and a knife inserted into the center comes out clean.
Storing suggestions
Banana bread tastes best when store at room temperature on the counter. Cover it with plastic wrap and store on a plate. Or store it in an airtight container. It will keep for up to 4 days on the counter.
We do not recommend storing the bread in a refrigerator as the circulation of cool air removes moisture and can dry out the bread.
Freezing banana bread
Freeze the entire loaf or slices of fresh bread. To freeze the whole loaf, wrap the bread in one layer of plastic wrap, then one layer of foil. To freeze slices, wrap each slice individually in plastic wrap and then place in a freezer bag. Freeze the bread for up to 3 months.
Thaw the bread at room temperature before serving.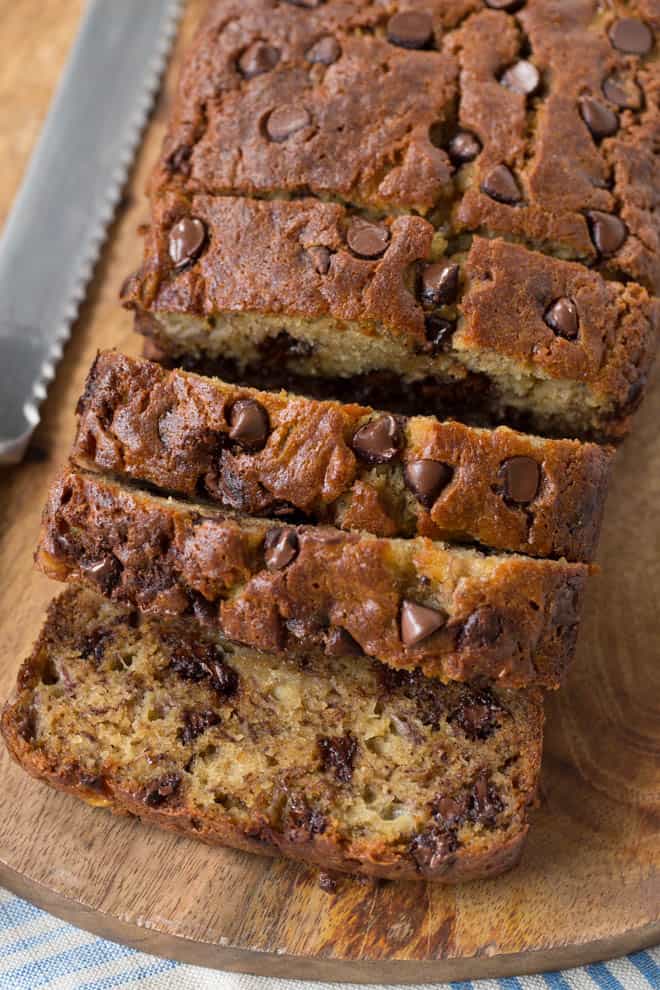 While this recipe is our favorite, we also love switching it up by adding fresh berries or by making banana bread into muffins. Don't throw overripe bananas in the trash, use them to make bread or muffins that everyone loves.
Other banana bread recipes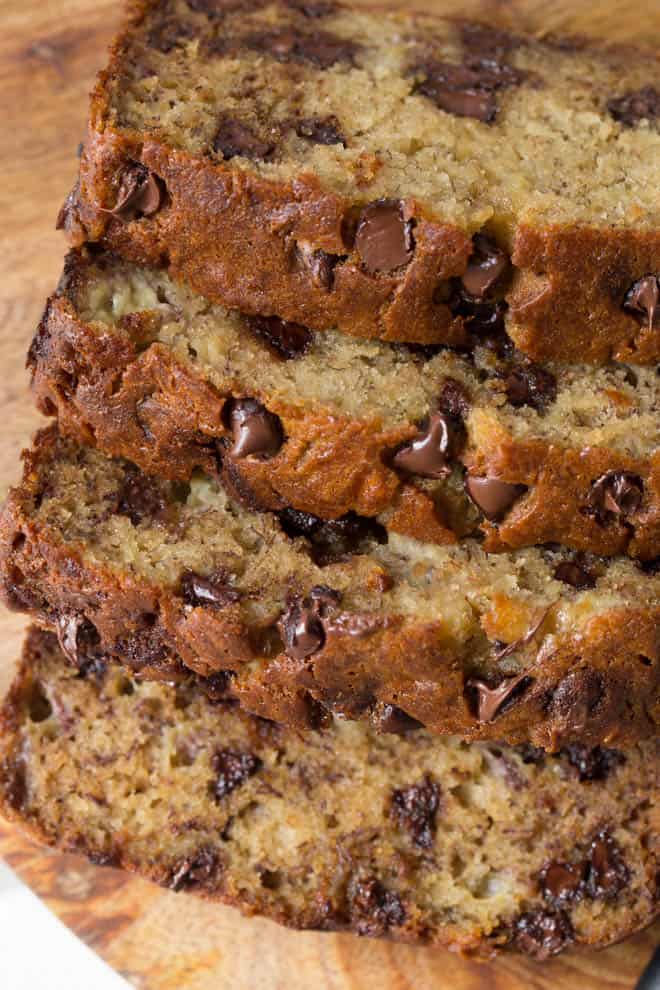 Once you try this recipe, you will want to make it again. The quick bread is always moist and delicious. It's easy to make and comes together with less than 15 minutes of prep time. Freeze an entire loaf or leftover slices and pull them out of the freezer whenever you're craving banana bread.
Try it and let us know what you think!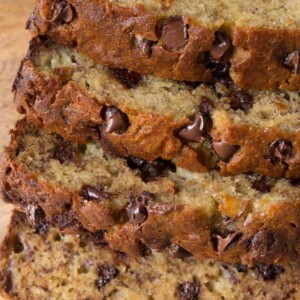 Easy Chocolate Chip Banana Bread
Yield: 12 servings
This popular recipe is packed with melty chocolate chips!
Ingredients
4 overripe bananas
1/2 cup unsalted butter, softened
1/4 cup granulated sugar
1/4 cup brown sugar
2 large eggs, room temperature
1 teaspoon pure vanilla extract
1 1/2 cups all purpose flour
1 teaspoon baking soda
1/2 teaspoon baking powder
1/2 teaspoon kosher salt
1 cup semi sweet chocolate chips
Instructions
Preheat oven to 350 degrees F. Grease a 9x5 metal loaf pan; set aside.

In a small bowl, mash the bananas; set aside.

In a large bowl, use a hand mixer to cream together butter and sugars for 2 to 3 minutes, until well combined and fluffy (you can also use a stand mixer.)

Add in the eggs, mashed banana and vanilla and mix well.

Sift the flour, baking soda, baking powder and salt into the wet ingredients, then fold in until just combined. Fold in 3/4 cup of the chocolate chips.

Pour the batter into the prepared loaf pan. Sprinkle the remaining chocolate chips on top. Bake for 50 to 60 minutes, or until the bread is set and a knife inserted into the center of the loaf comes out clean. Allow the bread to cool for at least 20 minutes before serving.
Notes
Store at room temperature covered with plastic wrap or sealed in an airtight container for up to 4 days. Or freeze for up to 3 months. To freeze, wrap in plastic wrap and store in a freezer safe bag.
You can omit the chocolate chips or substitute for walnuts, if desired. 
Nutrition
Calories: 258kcal, Carbohydrates: 29g, Protein: 4g, Fat: 14g, Saturated Fat: 8g, Cholesterol: 52mg, Sodium: 204mg, Potassium: 136mg, Fiber: 2g, Sugar: 14g, Vitamin A: 289IU, Calcium: 30mg, Iron: 2mg
If you try this recipe, don't forget to leave a review below or share a photo and tag @spoonfulofflavor on Instagram.