Banana Coconut Crunch Bread with Coconut Cream Icing is a simple quick bread that will add flavor to any morning! Made with shredded coconut, ripe bananas and walnuts!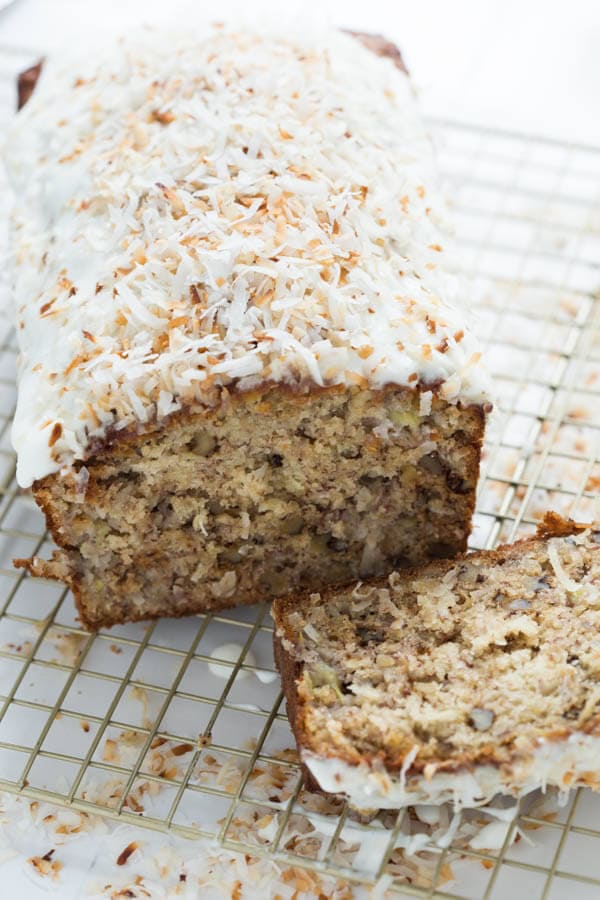 Fruit never lasts more than a few days in my house. In fact, if there is such a thing as eating too much fruit, then I am pretty sure I do. I love everything from pears and apples to kiwi, papaya and bananas. Overripe bananas are rarely available in my house. I only eat bananas raw if they are barely ripe. I like them to have a little green on them but never any brown spots.
If I'm craving banana bread, I usually buy a large bunch of bananas, place on note on them that says "do not eat" and then wait for them to ripen. Trust me, buying a bunch of bananas just to wait for them to ripen is worth it once you taste a slice of this banana coconut crunch bread. Top the loaf with coconut cream icing and toasted coconut flakes and you have a unique twist on a classic recipe.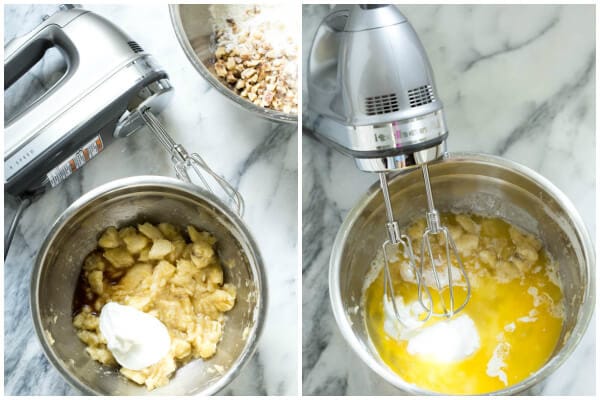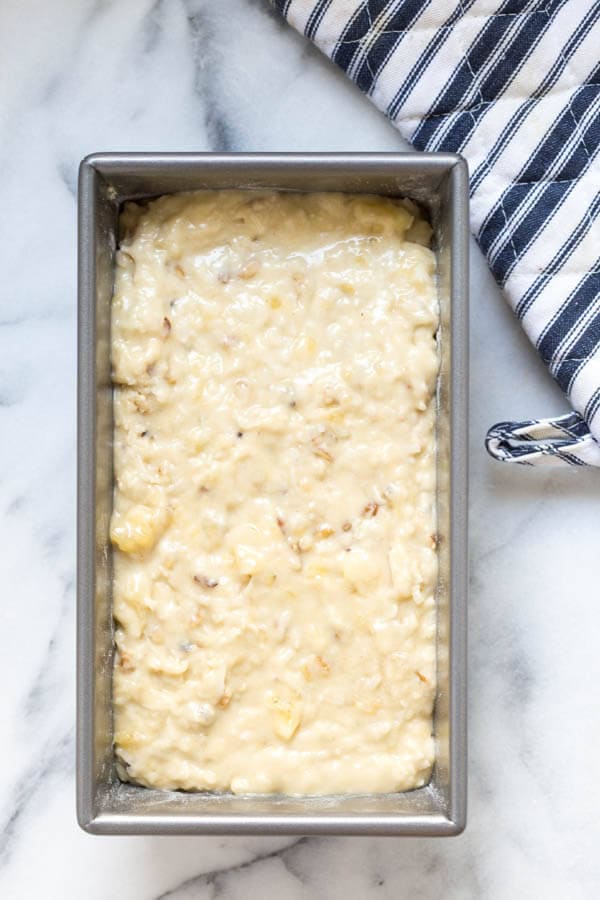 Ripe bananas, crunchy walnuts and sweetened coconut yield a banana bread that is flavorful, crunchy and delicious. Grab a hand mixer, a few bowls, a loaf pan and the simple ingredients. Make yourself a loaf of banana coconut crunch bread.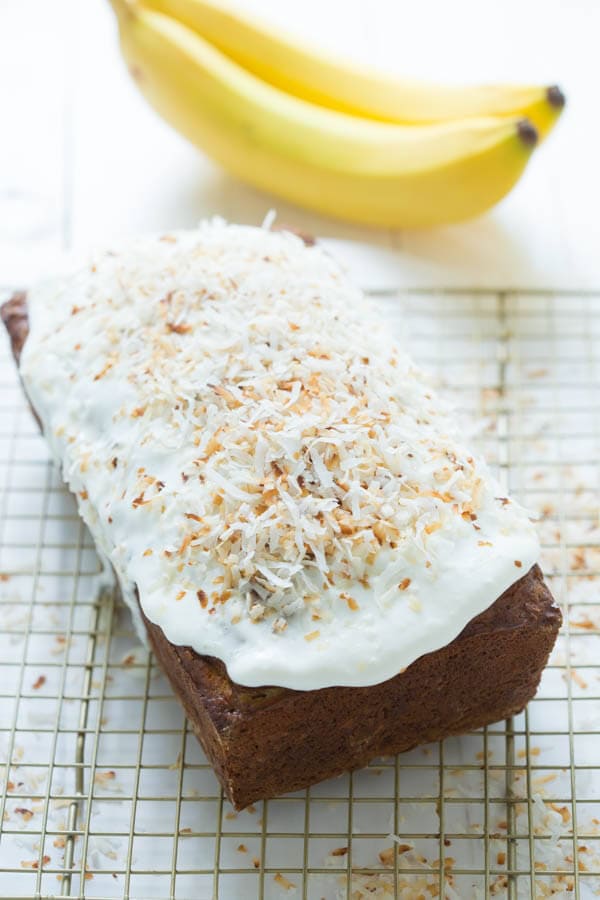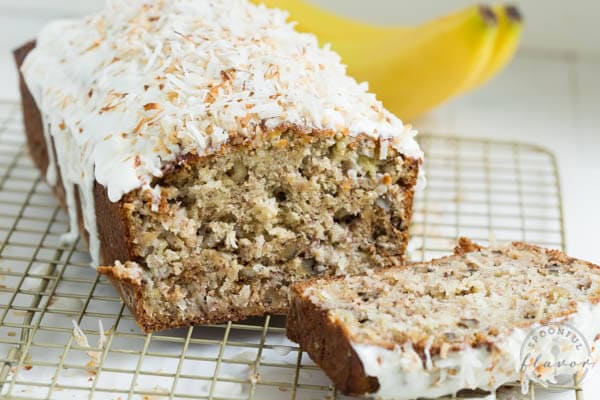 For this recipe, I used my KitchenAid 9-Speed Hand Mixer and KitchenAid Professional-Grade Nonstick 9×5″ Loaf Pan. The hand mixer is perfect for quick breads, frostings and more. It is easy to adjust the speeds, and with 9 different speeds you can do everything from gently mixing in chunky ingredients to whipping delicate ingredients like meringue at high speed. The mixer is easy to use and makes clean up easy. The KitchenAid loaf pan is a great addition to my kitchen because it cooks evenly and is easy to clean.
Banana Coconut Crunch Bread with Coconut Cream Icing
Banana Coconut Crunch Bread with Coconut Cream Icing is a simple quick bread that will add flavor to any morning! Made with shredded coconut, ripe bananas and walnuts!
Ingredients
For the bread:
2 cups all-purpose flour
3/4 cup granulated sugar
3/4 teaspoon baking soda
1/2 teaspoon kosher salt
1 cup chopped walnuts
3 ripe medium-sized bananas mashed
1/4 cup plain Greek yogurt
2 eggs lightly beaten
6 tablespoons unsalted butter melted and cooled
1 teaspoon pure vanilla extract
1 cup shredded coconut flakes sweetened or unsweetened
For the coconut cream icing:
5.4 ounce can coconut cream, chilled overnight (about 2/3 cup)
2 ounces cream cheese softened
1/4 teaspoon pure vanilla extract
1 tablespoon confectioners' sugar
1-2 tablespoons milk
3/4 cup shredded coconut flakes toasted
Instructions
Preheat oven to 350 degrees F. Butter and flour the bottom and sides of a 9 x 5 inch loaf pan; set aside.

In a large bowl, whisk together flour, sugar, baking soda, salt and walnuts; set aside.

Using a hand mixer on medium-low speed, mix together mashed bananas, yogurt, eggs, butter and vanilla in a medium bowl. Gently mix in shredded coconut. Fold banana mixture into dry ingredients until just combined. Transfer batter to prepared loaf pan.

Bake for 50 to 60 minutes or until a toothpick inserted into the center comes out clean and the top is golden brown. Cool in pan for 10 minutes then transfer to a wire rack to cool completely.
To make the coconut cream drizzle:
Remove the can of coconut cream from the fridge and flip the can over on the counter. Open the can and remove any liquid that settled on top of the cream. Scoop the thick coconut cream into a medium bowl. Add the cream cheese, vanilla and confectioners' sugar to the bowl. Using a hand mixer with a clean whisk attachment, whisk together ingredients on high speed until well combined. Slowly add milk, a teaspoon at a time and mix until desired consistency is reached (the mixture should be smooth and spreadable.) Pour or spread icing over the top of the bread, sprinkle with coconut flakes and serve immediately.
Nutrition Information
Calories:
5156
, Fat:
334g
, Saturated Fat:
205g
, Cholesterol:
574mg
, Sodium:
2403mg
, Potassium:
3702mg
, Carbohydrates:
500g
, Fiber:
53g
, Sugar:
221g
, Protein:
84g
, Vitamin A:
3560%
, Vitamin C:
39%
, Calcium:
426%
, Iron:
26.6%
*Nutritional information is an estimate. Please consult a doctor or nutritionist for the most accurate nutritional info.
Course: Dessert
Cuisine: American
This post contains affiliate links.