These No Bake Strawberry Pie Bites are the perfect way to have your summer fruit pie without turning on the oven!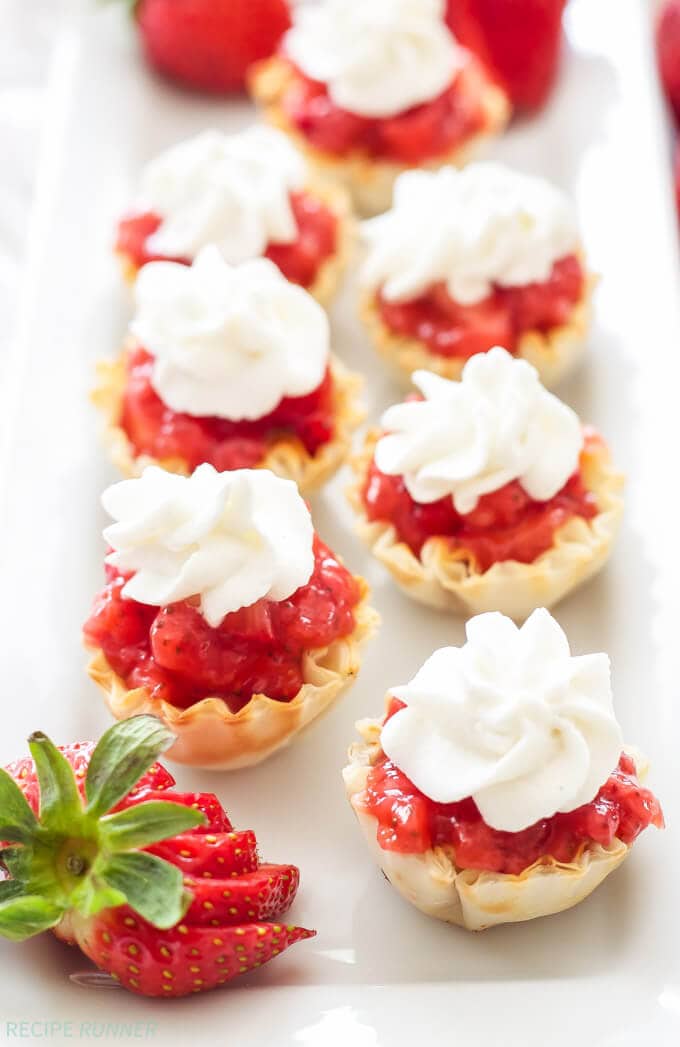 Anyone got a case of the Monday I don't want to be working blues? Yeah, me too. Hi friends, Danae from Recipe Runner here with my monthly guest post. Today I'm here to cure those Monday blues and I'm doing it with these No Bake Strawberry Pie Bites!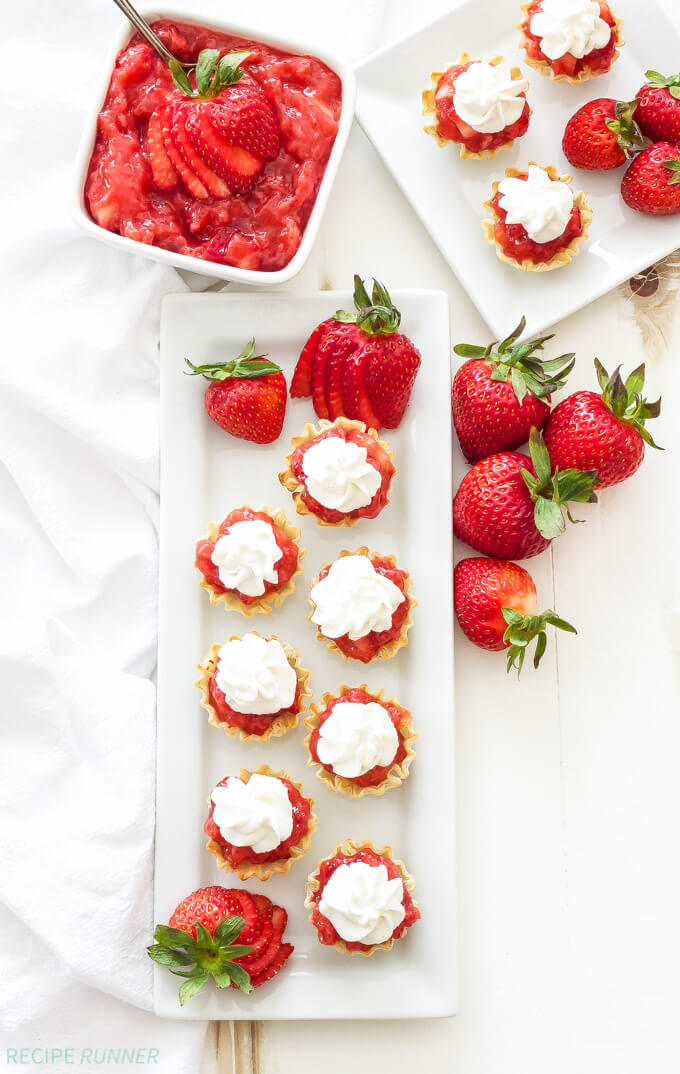 Some of the best kinds of pie are made with fruit that you can only get in the summer. Fresh peaches, blueberries, raspberries, blackberries and of course strawberries are some of my favorite fruit pie fillings, but the problem is no one wants to turn on the oven when it's bloody hot outside. Luckily I've come up with the perfect solution. Make the filling on the stovetop and spoon it into mini pre-baked phyllo shells! Genius I know.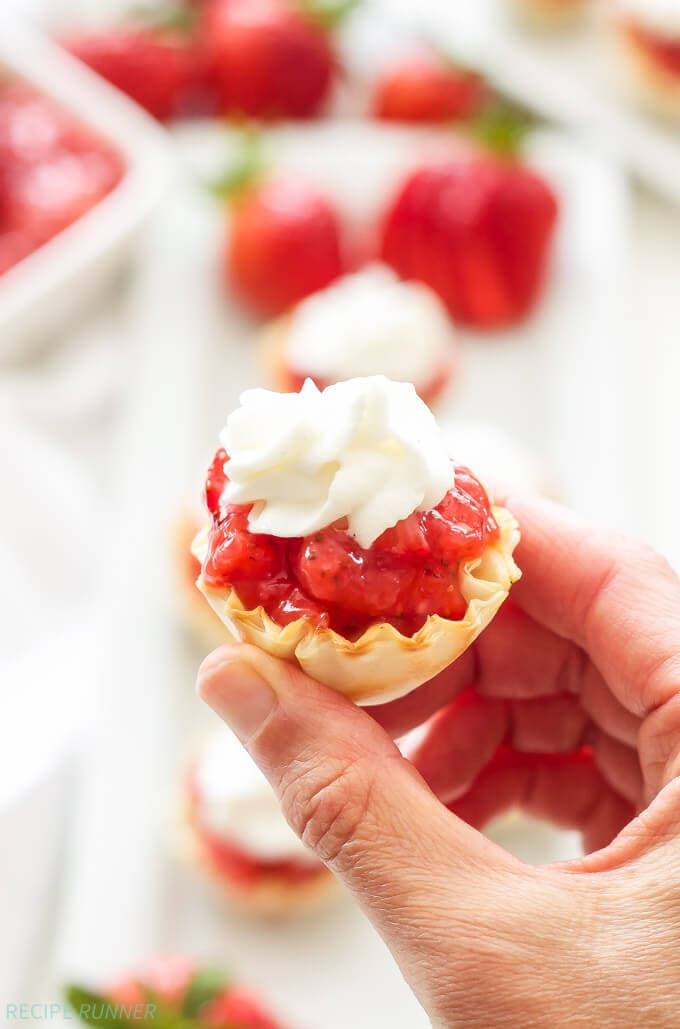 With the Fourth of July only a week away I'm sure many of you are planning the menu for your barbecues. Of course there must be anything and everything you can fit on your grill, side dishes and salads galore and then my favorite dessert! No matter how full I am after a barbecue I can always manage to find a little room for dessert. These No Bake Strawberry Pie Bites are perfect for serving because they are just the right size for satisfying your sweet tooth after a big meal.
Like I mentioned before the strawberry pie filling is cooked on the stove then chilled in the fridge. This of course means the whole dessert, minus assembling can be done a day or two in advance. The filling is made from fresh strawberries, none of that Jello or artificially sweetened stuff. I hate those strawberry pies at the store with that sickeningly sweet glaze covering them. After the filling is spooned into the mini phyllo shells, top it with a little whipped cream. I promise these strawberry pie bites will be gone in minutes…just ask my husband he ate 7 of them! Enjoy!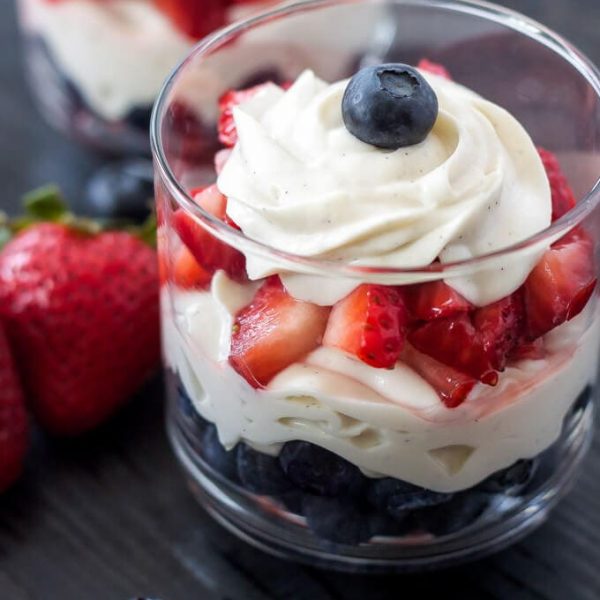 No Bake Strawberry Pie Bites
Yield: 30 strawberry pie bites
These No Bake Strawberry Pie Bites are the perfect way to have your summer fruit pie without turning on the oven!
Ingredients
1 1/2 pound fresh strawberries, about 4 cups, hulled and diced
Juice of half a lemon
1/3 cup water
1/3 cup granulated sugar
3 tablespoons cornstarch
Pinch of salt
1 teaspoon vanilla extract
1/2 teaspoon almond extract
1 or 2 boxes mini phyllo shells, 15 shells to a box
Whipped Cream
Instructions
In a medium sized saucepan add the diced strawberries reserving 1 cup.

Mash the berries with a potato masher until desired consistency is reached, mine was like lumpy jam.

Add in the lemon juice, water, sugar, cornstarch and salt.

Stir the mixture together until the cornstarch is completely incorporated.

Turn the stove on to medium heat, cooking and stirring the berry mixture until it thickens, about 8 minutes.

Remove the saucepan from the heat and stir in the extracts.

Cool the mixture completely, then cover and refrigerate until it is cold.

Once the mixture is cold stir in the remaining 1 cup of diced strawberries.

Just before serving fill each mini phyllo shell with a spoonful of the strawberry mixture and top with whipped cream.
Notes
The strawberry filling should make enough to fill about 30 of the mini phyllo shells. If you only want to make 15 the remaining filling should be good in the fridge for up to a week. The filling can be made a day or 2 ahead of time, but it is best to assemble these pie bites right before serving or the phyllo shells will become soggy.
Nutrition
Serving: 0g, Calories: 19kcal, Carbohydrates: 4g, Protein: 0g, Fat: 0g, Saturated Fat: 0g, Cholesterol: 0mg, Sodium: 0mg, Potassium: 34mg, Fiber: 0g, Sugar: 3g, Vitamin A: 5IU, Vitamin C: 13.4mg, Calcium: 4mg, Iron: 0.1mg
If you try this recipe, don't forget to leave a review below or share a photo and tag @spoonfulofflavor on Instagram.
More No Bake Desserts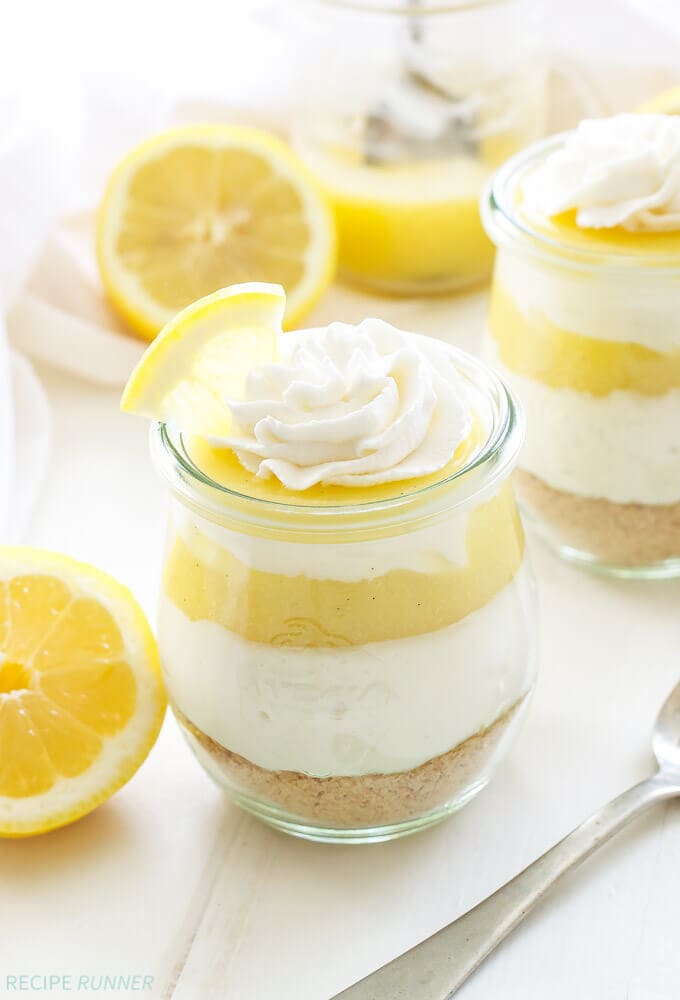 Lemon Curd and Vanilla Cheesecake Parfaits
Berry Vanilla Cheesecake Parfaits
Connect with Danae: