Strawberry Cheesecake Cupcakes & KitchenAid Giveaway
Vanilla cupcakes are stuffed with cream cheese filling and topped with strawberry buttercream and fresh strawberries to create Strawberry Cheesecake Cupcakes!
Strawberry Cheesecake Cupcakes combine everything that I love about strawberry cheesecake and cupcakes. They are made with fresh strawberries, creamy cheesecake filling, light and fluffy vanilla cupcakes, strawberry buttercream and graham cracker crust. As a strawberry lover, I love that these cupcakes are packed with fresh strawberry flavor. They are perfect for birthdays, dinner parties, bridal showers, baby showers and more. Best of all, they are pink!
MY LATEST VIDEOS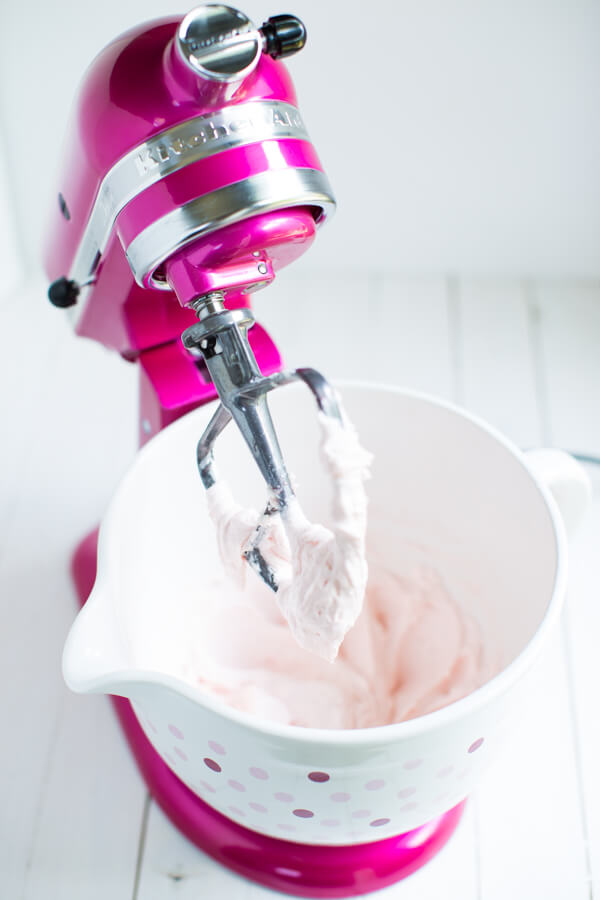 To make these cupcakes, I used my Raspberry Ice KitchenAid Artisan Design Series 5-Quart Tilt-Head Stand Mixer and Pink Polka Dot Ceramic Bowl. The bowl is one of the best investments you can make for your mixer. I love that I have a second bowl and the pink polka dots are fun too! Don't miss your chance to win the stand mixer and bowl! Scroll down to enter.
October is Breast Cancer Awareness Month. This October, KitchenAid will donate $1 to Susan G. Komen to help support the fight again breast cancer, up to $10,000, for every person who shares an original cupcake recipe on Twitter or Instagram with the hashtags #10000Cupcakes and #Donate. That's right, all you have to do is share your favorite cupcake recipe on social media to help support the fight against breast cancer. Learn how to participate at cookforthecure.kitchenaid.com/10000cupcakes.
Don't forget to share your favorite original cupcake recipe on Twitter or Instagram with the hashtags #10000Cupcakes and #Donate to support the fight against breast cancer. Go ahead, bake a batch of these pink cupcakes and help support Breast Cancer Awareness Month!
Yields about 24 standard size cupcakes
Strawberry Cheesecake Cupcakes
Ingredients
For the graham cracker crust:

1 ¼ cups graham cracker crumbs
1/3 cup sugar
5 tablespoons unsalted butter, melted

For the cupcakes:

2 1/2 cups sifted cake flour
1 tablespoon baking powder
1/2 teaspoon salt
1 cup milk, at room temperature
2 large egg whites, at room temperature
1 whole egg, at room temperature
1 teaspoon vanilla extract
1/4 teaspoon almond extract
1 1/2 cups sugar
8 tablespoons (1 stick) unsalted butter, at room temperature
1/2 cup heavy cream, cold

For the cheesecake filling:

1 (8 ounce) package cream cheese, at room temperature
¼ cup (4 tablespoons) unsalted butter, at room temperature
½ teaspoon vanilla extract
1 ¼ cups confectioners' sugar, sifted

For the strawberry buttercream frosting:

¾ cup (1.5 sticks) unsalted butter, at room temperature
3 cups confectioner's sugar, sifted*
1/2 cup fresh strawberries
1/2 teaspoon vanilla extract

For the strawberry topping:

1 cup diced strawberries
¼ cup graham cracker crumbs
Instructions
To make the cupcakes, preheat the oven to 350 degrees F. Line 2 muffin pans with cupcake liners.
To make the graham cracker crust, In a small mixing bowl, combine the graham cracker crumbs, sugar and melted butter; mix well with a fork. Drop about 1 tablespoon of the graham cracker mixture in the bottom of each cupcake liner and press down to line the bottom. (Note: I use the bottom of a dry measuring cup.) Bake for 5 minutes. Remove from the oven, and maintain the oven temperature.
To make the cupcakes, in a medium bowl combine the flour, baking powder and salt. In a glass measuring cup, whisk the milk, eggs, vanilla and almond extract.
In an electric mixer fitted with the paddle attachment, cream the butter and sugar on medium speed until pale and creamy, about 5 minutes. Alternate additions of the flour mixture and liquid mixture, beginning and ending with the flour mixture (3 dry additions, 2 wet), beating after each addition until incorporated. Continue mixing on medium speed for 2 minutes.
Chill a clean stainless mixer bowl in the freezer for 5 minutes. Return bowl to mixer fitted with the whisk attachment and then whisk the heavy cream on medium-high speed until soft peaks form (This is where a hand mixer comes in handy, or you can transfer the batter to a second bowl, wash the bowl and then whisk the cream in your stand mixer). Fold whipped cream into the cake batter.
Divide the batter evenly among cupcake liners (about 2/3 full) and bake until a toothpick comes out with only a few crumbs, about 16-18 minutes. Remove from pan and let cool on wire racks. Repeat with second muffin pan.
To make the filling, in the bowl of a stand mixer fitted with the paddle attachment beat the cream cheese and butter until creamy. Add the vanilla then gradually add the confectioners' sugar. Beat until well combined.
To make the strawberry frosting, puree the strawberries in a food processor. Strain the puree through a fine mesh sieve placed over a bowl to remove the seeds. In an electric mixer fitted with the paddle attachment, combine butter and half of the sugar. Beat on low speed until well blended. Add the other half of the sugar and two tablespoons of strawberry puree, mixing until combined. Increase speed to medium and add additional puree, a tablespoon at a time, until desired color and flavor is reached (I used all of the puree). Add vanilla and beat on high for about 30 seconds to lighten the frosting.
To assemble the cupcakes, remove a small amount of the center part of the cupcake using a cupcake corer or pairing knife. Divide the cheesecake filling evenly among the cupcakes, filling the hole in the middle of the cupcake. Pipe frosting around the edge of each cupcake, leaving a well for the strawberry topping. Divide strawberry topping among cupcakes and sprinkle with graham cracker crumbs. Enjoy!
7.8.1.2
236
https://www.spoonfulofflavor.com/2015/10/02/strawberry-cheesecake-cupcakes/
Source: Spoonful of Flavor with cake adapted from Sweetapolita.
I created this post in partnership with KitchenAid. Thank you for helping support brands that I love!