Strawberry cheesecake bars are silky smooth squares made with fresh strawberries and only seven easy to find ingredients. No baking required!
Valentine's Day is fast approaching and if cheesecake is your sweetheart's favorite dessert, then you have to try this recipe! Haley here from If You Give a Blonde a Kitchen and today I'm sharing my easy no bake recipe for strawberry cheesecake bars.
While I typically save my no bake dessert for the summer, I couldn't help but give this one a try for Valentine's Day. The pink cheesecake filling and red strawberries were too good to pass up!
Believe it or not, it is possible to make a cheesecake without baking it—just get rid of the eggs. Believe me, you won't miss them. These strawberry cheesecake bars are just as silky smooth and decadent.
And it makes cheesecake way less intimidating to bake. You don't have to worry about a water bath or the filling cracking in the oven. Instead, let the cheesecake set in the freezer!
Yep, it's that easy. This recipe calls for a couple rounds of freezing the bars. First, freeze the buttery graham cracker crust and then freeze again with the filling on top. This allows the layers to set and maintain a sturdy shape.
The most crucial step to pay attention to is making the strawberry juice. I simply microwaved a few strawberries and mashed them through a fine mesh strainer. This will separate the pulp and seeds from the juice.
Strawberry juice is all you need to get flavor and that beautiful pink color into the cheesecake filling!
If your Valentine is a fan of cheesecake, then these strawberry cheesecake bars are definitely worth making. The dessert will be a lovely surprise for your sweetheart!
Strawberry Cheesecake Bars
Yield: 16 bars
Strawberry cheesecake bars are silky smooth squares made with fresh strawberries and only seven easy to find ingredients. No baking required!

Ingredients
For the graham cracker crust:
10 graham cracker sheets, finely crushed
¼ cup powdered sugar
1/8 teaspoon kosher salt
1/2 cup unsalted butter, (1 stick)
For the strawberry cheesecake:
8 medium-sized strawberries
16 ounces  cream cheese, softened
1 cup powdered sugar
1 teaspoon vanilla extract
Additional strawberries for garnish, optional
Instructions
To make the graham cracker crust:
Line a 9x9-inch baking pan with parchment paper. Spray with nonstick cooking spray and set aside.

In a large bowl, combine graham crackers, ¼ cup powdered sugar, salt, and melted butter. Stir until the mixture is combined.

Transfer the graham cracker mixture into prepared baking dish. Press the mixture down using the bottom of a measuring cup or glass to create an even layer. Freeze for 15 minutes.
To make the strawberry cheesecake:
Cut strawberries into quarters and place in a microwave safe bowl. Microwave strawberries for 30 seconds until warm. Mash the warm strawberries with a fork for about 30 seconds.

Transfer the strawberry mash to a fine mesh strainer. Place the strainer over a bowl and using the back of a spoon or rubber spatula, press the strawberries into the strainer allowing the juice to drip into the bowl below. This will make 3 to 4 tablespoons of strawberry juice. Set aside juice and discard strawberry pulp/seeds.

In the bowl of a stand mixer (or using a hand mixer), mix cream cheese, 1 cup powdered sugar, and vanilla on medium speed until smooth. Add strawberry juice and mix just until combined.

Spread the cream cheese mixture evenly on top of the chilled graham cracker crust. Freeze for two hours.

Transfer the frozen cheesecake onto a cutting board. Using a sharp knife, cut 2-inch-wide strips vertically then horizontally, creating cheesecake squares.

Garnish with a strawberry slice if desired. Strawberry cheesecake bars are best served chilled.*
Notes
Store cheesecake bars in the fridge for up to five days and serve chilled. Bars can also be stored in the freezer for up to 10 days.
Nutrition
Calories: 224kcal, Carbohydrates: 17g, Protein: 2g, Fat: 16g, Saturated Fat: 9g, Cholesterol: 46mg, Sodium: 199mg, Potassium: 63mg, Fiber: 0g, Sugar: 12g, Vitamin A: 560IU, Vitamin C: 3.5mg, Calcium: 37mg, Iron: 0.5mg
If you try this recipe, don't forget to leave a review below or share a photo and tag @spoonfulofflavor on Instagram.
More recipes from If You Give a Blonde a Kitchen
Chocolate Covered Strawberry Cheesecake Bites
No Bake Pumpkin Cheesecake Bars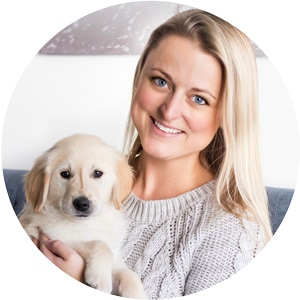 Connect with Haley:
Blog | Facebook | Pinterest | Instagram | Twitter | YouTube