Classic Carrot Layer Cake with Cream Cheese Frosting
Classic Carrot Layer Cake with Cream Cheese Frosting is moist, flavorful and garnished with chopped pecans. This recipe is a must for Easter or any spring celebration!
Who else loves carrot cake? I do! Haley here from If You Give a Blonde a Kitchen and today I'm sharing my recipe for classic carrot layer cake with cream cheese frosting.
MY LATEST VIDEOS
Carrot cake has always been one of my favorite desserts. It has all the best baking spices (cinnamon, nutmeg, etc.) that not-so-secretly disguise the vegetable inside this cake.
And carrot cake is almost always covered in rich cream cheese frosting. There is no shortage of flavor here!
With such an abundance of flavor, this cake deserves to have the best consistency. I use a food processor not only to shred the carrots, but also to blend the sugars, eggs and oil together. It makes the sugar more fine to absorb the other ingredients and create a delicately moist cake.
I don't there is a better compliment to carrot cake than a perfect cream cheese frosting. This frosting has the perfect balance of cream cheese flavor and sweetness from confectioners' sugar. The recipe calls for only a teaspoon of vanilla extract so not to overpower the cream cheese taste.
I highly recommend frosting a crumb coat around the outside of the cake. It's a thin layer of frosting that goes on before the final, thicker layer of frosting. It will catch crumbs so they don't show up in the beautiful outer frosting layer!
I like making carrot cake for Easter. It's perfect with all the bunny themes around the holiday. What's your favorite occasion to make carrot cake?
Classic Carrot Layer Cake with Cream Cheese Frosting
Yield: 16 servings
Prep Time: 20
Cook Time: 40
Total Time: 3 hours
Classic Carrot Layer Cake with Cream Cheese Frosting is moist, flavorful and garnished with chopped pecans. This recipe is a must for Easter or any spring celebration!
Ingredients:
Carrot Cake
2 1/2 cups all-purpose flour
1 1/4 teaspoons baking powder
1 teaspoon baking soda
1 1/4 teaspoons ground cinnamon
1/2 teaspoon ground nutmeg
Pinch of ground cloves (optional)
1/2 teaspoon salt
1 pound (about 7) medium carrots; peeled, grated and patted dry
1 1/2 cups granulated sugar
1/2 cup packed light brown sugar
4 large eggs
1 1/2 cups canola or vegetable oil
Ingredients
2 cups (16 ounces) cream cheese, softened but still cool
12 tablespoons (1 1/2 sticks) unsalted butter, softened but still cool
1 teaspoons vanilla extract
2 1/2 cups confectioners' sugar, sifted
Chopped pecans for garnish (optional)
Directions:
For the Carrot Cake:
Adjust an oven rack to the middle position. Preheat oven to 350 degrees F. Grease two 9-inch round cake pans with butter. Dust with flour and set aside.
In a medium bowl, whisk together flour, baking powder, baking soda, cinnamon, nutmeg, cloves and salt. Set aside.
In a food processor fit with a metal blade, process granulated sugar, brown sugar and eggs until thoroughly combined, about 20 seconds. With the processor running, add the oil through the feed tube and blend until mixture is light in color, about another 20 seconds.
In a large bowl, combine the wet ingredients from the food processor, the flour mixture, and the grated carrots. Stir with a wooden spoon or rubber spatula until combined and no flour streaks remain.
Pour the batter into the two prepared cake pans (dividing the batter evenly). Bake at 350 degrees F for 35 to 40 minutes. Rotate pans halfway through the baking time. Cakes are done when a toothpick inserted in the center comes out clean. Let cakes cool completely in the pans set on a wire rack (about two hours).
For the Cream Cheese Frosting:
In the bowl of a hand mixer (or using a hand mixer), combine cream cheese, butter and vanilla until smooth, about 30 seconds. Scrape down the sides of the bowl with a rubber spatula as needed. With the mixer on low, add the confectioners' sugar and mix until smooth.
Run a butter knife around the edge of the cake pans. Invert the cakes onto a wire rack.
Place one cake on a cake stand and drop a large dollop of frosting in the center. Use an offset spatula to push the frosting toward the edges of the cake evenly. Place second cake on top of the frosted bottom cake.
Create the crumb coat*. Spread a thin layer of frosting over the top and sides of the cake. It's okay if you see the cake and crumbs at this step. Chill the cake for 10 to 15 minutes for the crumb coat to set.
Apply a second, thicker layer of frosting. Cut and serve the cake!
The crumb coat is a thin layer of frosting around the entire cake. It's the base before you put a thick second layer of frosting. The crumb coat will catch any crumbs so they won't appear in the final frosting layer.
Store carrot cake covered and in the refrigerator for up to 5 days.
More recipes from If You Give a Blonde a Kitchen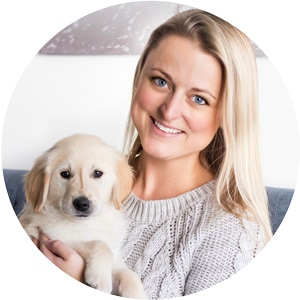 Connect with Haley:
Blog | Facebook | Pinterest | Instagram | Twitter | YouTube