Light and airy, with hints of vanilla and almond, this Classic Angel Food Cake with strawberries and whipped cream is the perfect summer dessert!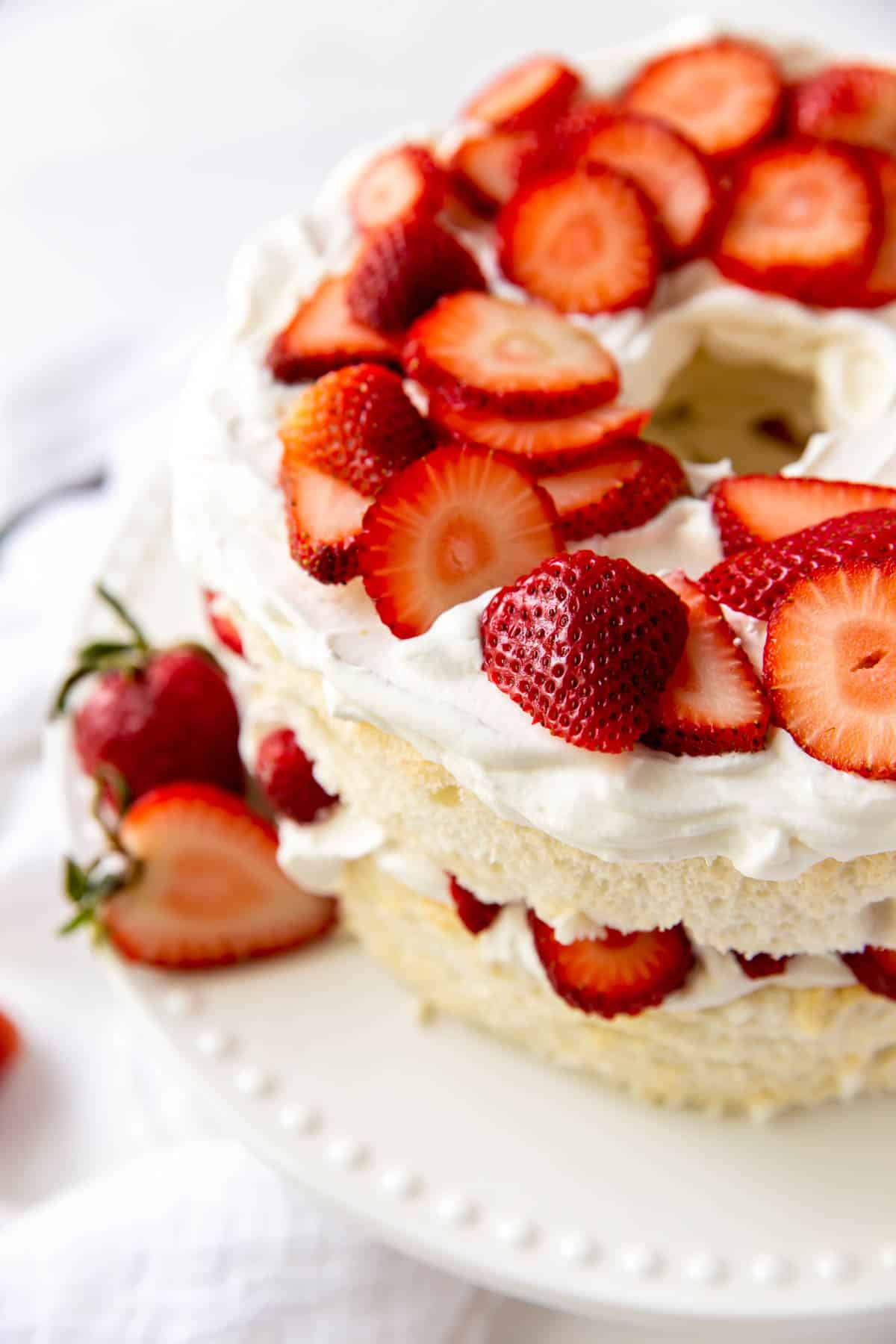 While I love rich, decadent desserts like cheesecakes and pies, sometimes what I really crave is something to satisfy my sweet tooth without being TOO indulgent. A dessert that's light and doesn't leave me in a food coma for the rest of the night.
Classic Angel Food Cake is that dessert. Light and airy, it's a low-fat cake made with just a few simple ingredients. The subtle flavor with hints of vanilla and almond is just sweet enough and pairs perfectly with fresh berries and whipped cream.
I decided to take the classic cake a step further and create a cake with layers of whipped cream and strawberry in the middle and on top. The end result is pure bliss, with fluffy cake, fresh strawberries and whipped cream in every bite.
The process for making the cake is actually quite simple. You just need to pay attention to the details and avoid taking shortcuts. The hands-on time is about 20 minutes but the end result is worth every minute of it! If you've been too intimidated to make this cake before, I highly encourage you to get it a try with this recipe.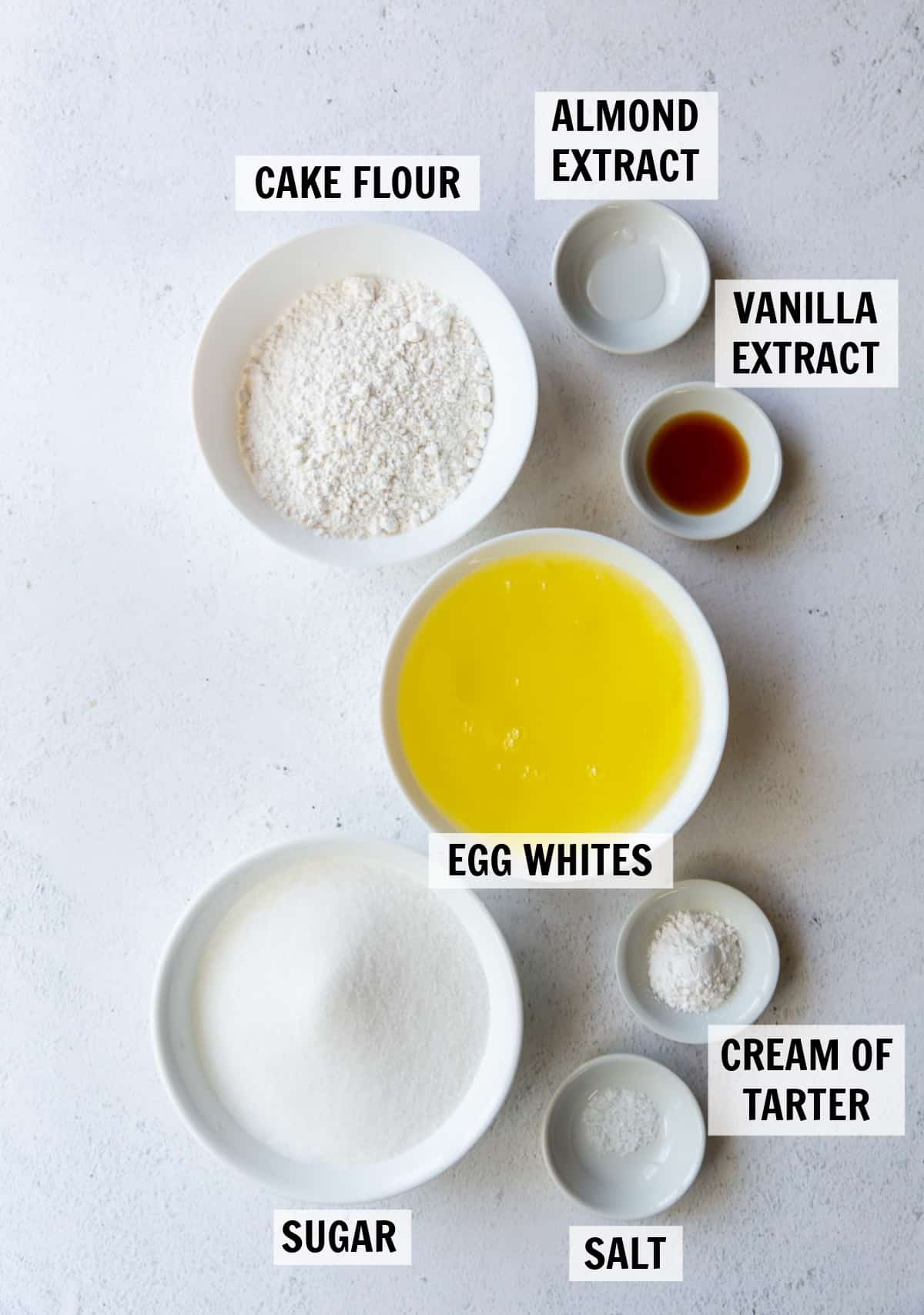 What You'll Need
This cake is made with just a handful of ingredients, with a few differences from most other cakes. Most notably, no egg yolks are used.
Cake flour – Do not substitute all-purpose baking flour, as cake flour is low protein and helps create a tender cake.
Granulated sugar – Provides all the sweetness to the cake.
Egg whites – Fresh and room temperature. Do not use egg whites from a carton.
Cream of tartar – Stabilizes the egg whites and prevents the cake from collapsing.
Salt – Just a pinch for flavor.
Vanilla extract – Adds the vanilla flavor.
Almond extract – Just a bit of almond flavor to balance the vanilla.
Whipped cream – Use real whipped cream, homemade if you can. Coolwhip doesn't do the cake justice.
Fresh strawberries – Sliced strawberries make this the perfect summer dessert.
Angel Food Cake Pan: You will need one 9 or 10 inch tube pan. Do not use a regular bundt pan as it makes it hard to remove the cake. You need a tube pan that has straight sides and edges.
How to Make Angel Food Cake
Making this cake is not difficult but it is imperative to pay attention to the details. Though some of the directions may seem oddly specific or a little repetitive but I promise you, if you follow the exact instructions below, you will end up with the best angel food cake you've ever tasted!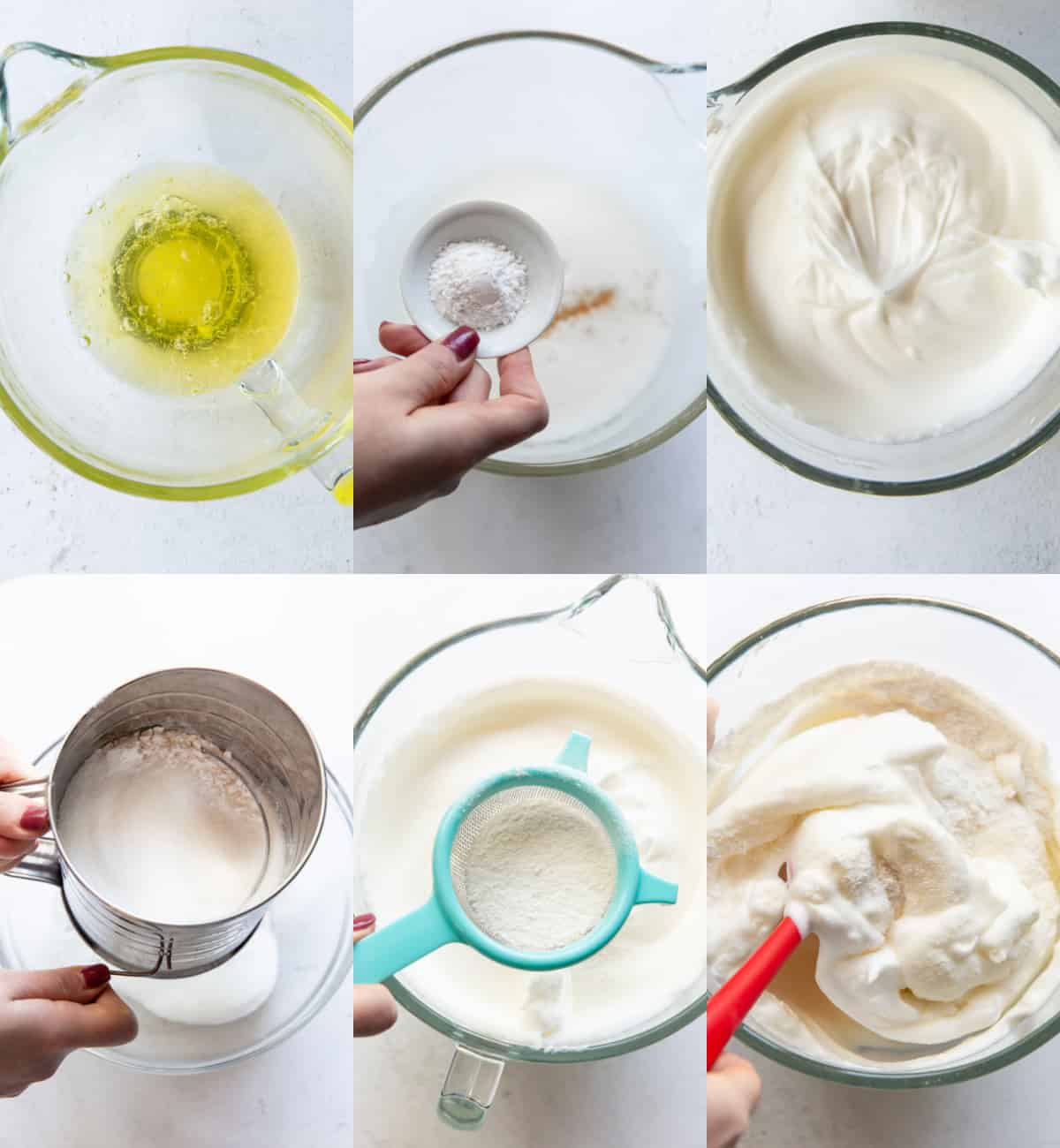 Prepare the oven. Preheat the oven to 325 degrees Fahrenheit and move the rack to the lower middle position. A higher position may cause the cake to burn.
Beat the wet ingredients. Beat the egg whites until foamy, then add the cream of tartar, vanilla extract and almond extract. You want soft peaks to form, which should take approximately 5 minutes.
Sift the dry ingredients. Sift the flour, sugar and salt together. Repeat five times.
Combine the wet and dry ingredients. Slowly sift the flour mixture into the egg whites, 1/3 of the mixture at a time. Fold gently and do not overmix, to avoid deflating.
Bake and cool. Pour the batter into an ungreased tube pan. Bake 40-45 minutes. Cool upside down for at least 2 hours, then remove from pan.
Slice and serve. Slice the cake horizontally in half. Spread whipped cream and strawberries in the middle, then add the top layer and top with more whipped cream and strawberries.
Tips for Success
While simple to make, there are several things to keep in mind. Some of these tips may seem obvious but each of them is important to make the best cake.
Don't grease or oil the pan. Unlike other baked goods, you do not want to grease the pan before adding in the batter. The cake needs to stick to the edges of the pan to expand and rise.
Be sure to cool upside down. Otherwise, the cake will collapse in on itself. More air is able to reach it this way as well.
Use a serrated knife. Due to the light texture, a regular knife may squish the cake as you slice it. Using a serrated knife will allow for a clean cut.
Be sure to use ONLY egg whites. Separate your egg whites and yolks in a separate bowl. I do not recommend cracking them directly into the bowl you'll be beating them in, as it's imperative to not allow any egg yolks into the pan.
Do NOT use a bundt pan. Angel food cake needs to be baked in a tube pan, with flat and straight edges. A bundt pan will likely result in difficulty removing the cake from the pan and you'll ruin your beautiful cake masterpiece.
Egg whites do not need to be in stiff peaks. Egg whites should be whipped into soft peaks, not stiff peaks. A soft peak will meld back down after a few seconds. Stiff peaks won't expand in the oven and will change the texture of the cake.
If you prefer cupcakes, try these Angel Food Cupcakes with Strawberry Filling.
Serving Suggestions
My preferred way to serve angel food cake is with a layer of strawberries and homemade whipped cream in the center, as described in this recipe. I think it makes both the flavor and presentation better as a layered cake, with whipped cream and strawberries in the center and on the top.
You can also serve it as a large or mini Strawberry Shortcake Trifle.
In addition to strawberries, other types of berries also make a good accompaniment and I've seen others dust the top with a light layer of confectioner's sugar too.
No matter how you serve it, allow the cake to cool completely before adding the whipped cream.
How to Store Leftovers
How to store this cake depends on whether or not you've added the whipped cream and strawberries. If you're storing just the cake, it's best to leave it at room temperature and tightly wrapped in plastic wrap. It will stay fresh for up to two days.
If you've already added the whipped cream and berries, you need to store it in the fridge. Keep in mind it's best eaten within a day and the texture may change.
Can I Freeze This?
If you want to freeze angel food cake, do so before adding the whipped cream and berries. You can freeze either the entire cake or leftover slices.
Wrap the cake in plastic wrap and then aluminum foil. It will stay fresh in the freezer for up to 3 months. When you're ready to enjoy, just allow it to defrost on the counter.
More Cake Recipes:
Angel Food Cake with Strawberries & Cream
Yield: 12 slices
Light and airy, with hints of vanilla and almond, this cake is layered with strawberries and whipped cream.
Ingredients
1 cup cake flour
1 1/2 cups granulated sugar
12 fresh large egg whites, room temperature
1 1/2 teaspoons cream of tartar
1/4 teaspoon salt
1 teaspoon vanilla extract
1/2 teaspoon almond extract
Whipped cream, for serving
Fresh strawberries, sliced, for serving
Instructions
Preheat oven to 325 degrees F. Adjust rack to the lower middle position.

Beat egg whites until foamy. Add cream of tartar, vanilla extract, and almond extract. Beat on high 5-6 minutes, until soft peaks form.

Sift together flour, sugar, and salt. Repeat five times.

Sift the flour mixture into the egg whites ⅓ at a time, folding gently to combine and to avoid deflating. Pour and spread batter into a clean, ungreased 9- or 10-inch tube pan.

Invert cake, and allow it to cool in the pan for at least 2 hours. When thoroughly cooled, remove the pan.

Slice cake horizontally in half and spread whipped cream in the middle. Scatter sliced strawberries, then replace the top layer. Top with more whipped cream and strawberries.
Notes
STORAGE You can store just the cake at room temperature for up to 2 days. If you add fresh cream or berries, store the cake in the fridge and eat within one day. 
Nutrition
Calories: 137kcal, Carbohydrates: 33g, Protein: 1g, Fat: 1g, Saturated Fat: 1g, Sodium: 49mg, Potassium: 74mg, Fiber: 1g, Sugar: 25g, Vitamin A: 1IU, Calcium: 2mg, Iron: 1mg
If you try this recipe, don't forget to leave a review below or share a photo and tag @spoonfulofflavor on Instagram.