No Bake Cookies and Cream Cheesecake
No bake cookies and cream cheesecake is an easy dessert to make from scratch. The cheesecake filling and crust is packed with chocolate cookie crumbs!
What to do when it's too hot to turn on the oven… make no-bake cookies and cream cheesecake! Haley here from If You Give a Blonde a Kitchen and today I'm sharing a recipe for, you guessed it, cookies and cream cheesecake.
MY LATEST VIDEOS
I realized halfway through making this recipe that I made a similar dessert this time last year on Spoonful of Flavor (no-bake chocolate cookie cheesecake parfait). I don't know if it's the time of year or my intense liking for cookies that makes me crave this genre of dessert.
Regardless, no-bake cookies and cream cheesecake is where it's at.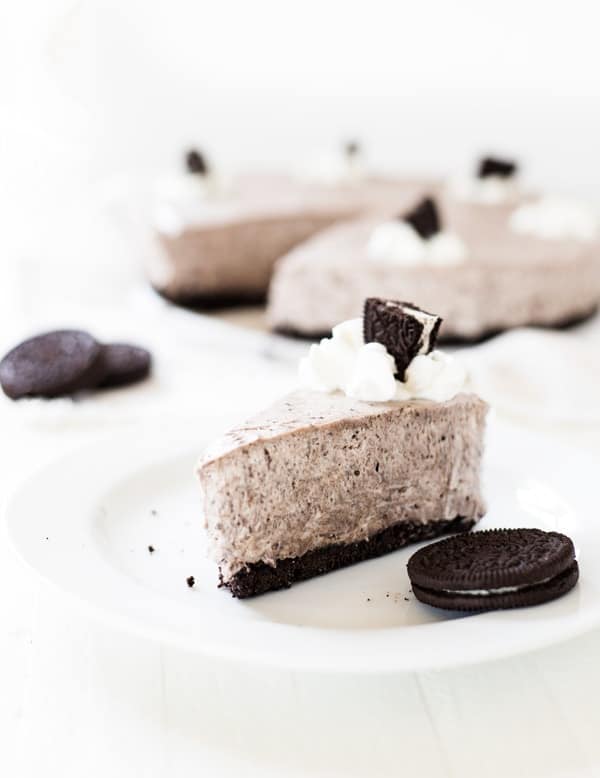 This cake recipe is loaded with chocolate cookie flavor. Let's start with the crust. Crush 24 chocolate sandwich cookies into small pieces and mix with melted butter. This mixture creates a thick, sturdy crust for the cheesecake to sit on.
I chose to use a springform pan for this recipe because it creates nice, clean edges and the slices serve easily. Something about pie dishes makes my cookie crust crumble along the edges!
Now for the filling, I used 15 crushed cookies, cream cheese, confectioners' sugar and heavy cream. I think the secret here is the heavy cream. It gets whipped up nice and good (about 5 minutes of mixing) so the cheesecake is thick and light.
I tossed around the idea of using chopped cookies (instead of crushed), but I concluded that the crushed would keep the cake in better shape and give consistent cookie flavor.
And boy is this cookie flavor good. I mean, the crust is irresistible on its own! It's thick, chocolatey and crumbles in your mouth with each bite.
The filling has a pillow-like consistency, which is a nice counterpart to the crust. With such mouthwatering flavor, there is no doubt in my mind that one slice will satisfy your sweet tooth.
And all without turning on the oven!
Give this no bake cookies and cream cheesecake recipe a try this summer and you will certainly not regret it!
No Bake Cookies and Cream Cheesecake
No bake cookies and cream cheesecake is an easy dessert to make from scratch. The cheesecake filling and crust is packed with chocolate cookie crumbs!
Ingredients
For the crust
24  chocolate sandwich cookies
4  tablespoons  unsalted butter, melted (57 grams)
For the cheesecake
15  chocolate sandwich cookies
2 cups cream cheese, room temperature¹ (16 ounces)
1  cup  powdered sugar (120 grams)
1  teaspoon  vanilla extract
2  cups  heavy whipping cream (480 ml)
Garnish (optional)
Whipped cream
2 chocolate sandwich cookies cut into quarters
Instructions
To make the cookie crust, line the bottom of a 9-inch springform pan² with parchment paper. Set aside.

Add 24 chocolate cookie sandwiches to a food processor and process until you have fine crumbs, about 45 seconds.³ Add the melted butter and process for 10 more seconds until are of the crumbs are moistened.

Transfer the mixture into the prepared pan, and firmly press it down into one even layer. Place pan in the refrigerator to chill and make the cheesecake filling.

To make the cheesecake filling, process 15 more chocolate cookie sandwiches and set aside.

Using a stand mixer fitted with the whisk attachment, beat the cream cheese until smooth, about 1 minute. Add in the powdered sugar and vanilla extract and mix until well combined, about 1 more minute.

Turn the mixer to low speed and slowly pour in the heavy whipping cream. Increase to medium speed and continue beating until the mixture is thick and hold soft peaks on the beaters when they are lifted (about 3 to 5 minutes).

Using a rubber spatula, gently fold the cookie crumbs into the mixture until just combined.

Remove the springform pan from the refrigerator and transfer the cheesecake filling onto the crust. Using an offset spatula (or knife) spread the filling around into one even layer.

Cover the top of the pan with plastic wrap and transfer back to the refrigerator to chill for at least 4 hours or ideally overnight.

Remove the no-bake cheesecake from the pan, garnish with whipped cream and cookies if desired and serve cold.
Notes
It's important to use room temperature cream cheese as this will create a smoother cheesecake without any lumps.
I highly recommend a springform pan as it makes the cake easier to slice and serve. However, if you don't have a springform pan, use a pie plate and cut the filling ingredients in half. The crust recipe will remain the same as you will press some of the crust up the sides of the pan.
If you have a small food processor, process the cookies in batches and transfer the crumbs to a bowl. Stir in the butter by hand.
Nutrition Information
Calories:
585
, Fat:
45.1g
, Saturated Fat:
24.5g
, Polyunsaturated Fat:
2.8g
, Monounsaturated Fat:
13.6g
, Cholesterol:
127mg
, Sodium:
329mg
, Potassium:
169mg
, Carbohydrates:
42g
, Fiber:
1.3g
, Sugar:
29.7g
, Protein:
5.7g
, Vitamin A:
30.4%
, Vitamin C:
0.5%
, Calcium:
8.2%
, Iron:
12.9%
*Nutritional information is an estimate. Please consult a doctor or nutritionist for the most accurate nutritional info.
Course: Dessert
Cuisine: American
Keyword: cookies and cream cheesecake
IF YOU TRY THIS RECIPE, DON'T FORGET TO SHARE A PHOTO AND TAG @SPOONFULFLAVOR ON INSTAGRAM.
If you like no bake cookies and cream cheesecake, try these recipes from If You Give a Blonde a Kitchen…
No Bake Cheesecake Bites
Mini Icebox Cakes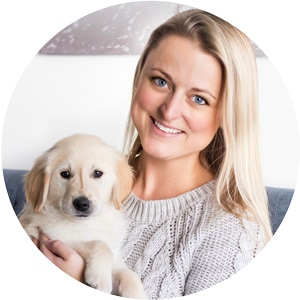 Connect with Haley:
Blog | Facebook | Pinterest | Instagram | Twitter | YouTube