Learn how to make this homemade pumpkin pie from scratch with a homemade pie crust and pumpkin filling. It's a classic pie that you will love!
Holiday baking is in full force! Haley here from If You Give a Blonde a Kitchen and today I'm sharing a must for your Thanksgiving table—pie from scratch.
What would Thanksgiving be without a little pie? This recipe makes a rich, spiced pumpkin filling with a buttery, flaky homemade crust. Use our homemade Pumpkin Pie Spice to make this easy recipe from scratch that is packed with flavor.
When it comes to pies, Pecan Pie is definitely my favorite, but this pumpkin pie gives pecan a run for its money. The pie filling is rich and flavorful thanks to eggs, heavy cream and a variety of baking spices.
What is pumpkin pie made of?
It's made with simple ingredients including pie crust, pumpkin puree, brown sugar, sugar, cinnamon, ginger, nutmeg, cloves, whipping cream, vanilla, cornstarch and eggs.
How to Make Pumpkin Pie
Follow a few simple steps to create a homemade pie worth sharing.
First, prepare the homemade dough using a few ingredients – flour, sugar, salt, butter and water.
Next, make the filling with pumpkin, brown sugar, sugar, salt and spices. Heat these ingredients in a pan on the stove. Remove from the heat and whisk in cold cream and vanilla extract, then add the eggs, one at a time, until incorporated. Add cornstarch and whisk.
Pour the filling into the pie crust. Bake and then place in the refrigerator to cool completely. It's that easy!
What does pumpkin pie taste like?
It tastes like a thick pumpkin pudding with fall spices like cinnamon, nutmeg, ginger and cloves. It's usually light, creamy and includes your favorite fall flavors.
Tips for making this pie from scratch
Avoid droplets of water on a pie by adding a bit of cornstarch in the mix and removing the pie from the oven when the center is still a little jiggly. It also helps to cool the pie completely at room temperature before placing in the refrigerator.
Always make the crust from scratch. Homemade pie crust is easy and yield the best flavor!
Store the pie in the refrigerator for up to 3 days.
Thanksgiving Dessert Recipes:
This is the best recipe and we know that you're going to love it. Try it for Thanksgiving or any time you're craving homemade pie.
Pumpkin Pie
Use this recipe to make a delicious homemade pie with a crust made from scratch!
Ingredients
For the Homemade Pie Crust:
1 1/2 cups all-purpose flour
1 teaspoon sugar
1/2 teaspoon salt
1/2 cup unsalted butter, chilled cut into 1-inch pieces
3 tablespoons ice water
For the Pie Filling:
1 (15 oz) can pumpkin puree
2/3 cup brown sugar
1/3 cup granulated sugar
1/2 teaspoon salt
1 1/2 teaspoon ground cinnamon
1/2 teaspoon ground ginger
1/4 teaspoon ground nutmeg
1/8 teaspoon ground cloves
1 1/4 cup heavy whipping cream, cold
1 teaspoon pure vanilla extract
3 large eggs
2 teaspoons cornstarch
Instructions
To make the pie crust:
In a food processor, combine flour, sugar, salt and chilled butter pieces. Pulse the mixture just until the butter is processed into pea-sized pieces—about 15 seconds. Do not over-process.¹

One tablespoon at a time, sprinkle ice water through food chute and process just until dough begins to come together (I used exactly 3 tablespoons, but if necessary add more ice water). Small butter pieces should still be visible in dough.

Remove dough from bowl and form into a disc about one inch thick. Wrap in plastic wrap and place in refrigerator for at least 30 minutes before rolling.

Preheat oven to 400° F. Grease pie pan lightly with butter to hold pastry in place.

Sprinkle workspace and rolling pin lightly with flour. Roll dough from center outward into a 13-inch diameter.

Transfer the pie dough to pie plate and gently press the dough to the inside of pan and up the sides. Trim dough to about 1 inch beyond edge of pan. Turn edge of pastry under and press with thumb and pointer finger to crimp around the edge forming a pattern.

Place a piece of parchment paper on pie dough and fill with pie weights or beans. Bake for 15 minutes, then remove the weights and parchment.
To make the pie:
While the crust is baking, prepare the filling. In a medium saucepan over medium heat, combine the pumpkin, brown sugar, sugar, salt and spices. Bring the mixture to a low simmer, cook for 5 minutes.²

Remove from the heat and whisk in the cold cream and vanilla extract. Add the eggs one at a time and beat by hand until incorporated—about 1 minute. Then sprinkle the cornstarch in and whisk till combined.

Pour filling into the warm pie crust, return to the oven and bake for 15 minutes at 400° F. Lower the temperature to 350° F and continue baking for 40 minutes or until the center jiggles slightly when moved.³

Remove pie from the oven and cool completely at room temperature, then place in the refrigerator to cool completely. Serve pie chilled or at room temperature with fresh whipped cream.
Notes
Alternatively, you may use a pastry blender to cut butter into the flour mixture.
Filling may brown slightly—that is okay!
During the last half of the baking time, the filling will expand and rise, it will fall as it cools and will become completely flat.
Nutrition Information
Calories:
454
, Fat:
27g
, Saturated Fat:
16g
, Cholesterol:
160mg
, Sodium:
342mg
, Potassium:
106mg
, Carbohydrates:
46g
, Sugar:
26g
, Protein:
6g
, Vitamin A:
1015%
, Vitamin C:
0.2%
, Calcium:
62%
, Iron:
1.6%
*Nutritional information is an estimate. Please consult a doctor or nutritionist for the most accurate nutritional info.
Course: Dessert
Cuisine: American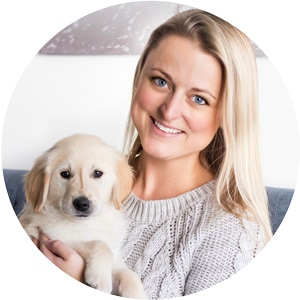 Connect with Haley:
Blog | Facebook | Pinterest | Instagram | Twitter | YouTube