This easy recipe for sheet pan Roasted Shrimp and Asparagus is made with a delicious herbed couscous for a well-balanced meal. It's one of the easiest dinners to make that's full of gourmet flavor. It can be on the table in 15 minutes or less!
Danae here from Recipe Runner and I couldn't be more excited to share this easy shrimp dinner with you. One of my favorite spring vegetables to cook with is asparagus. I love eating it anyway I can get it, but I especially love roasting it the way I did with lemon shrimp.
Serve the roasted shrimp and asparagus with a simple herbed couscous and dinner is only the table in 15 minutes!
This is one of those dinners that I could eat at least three nights a week. It takes almost no time to prep and only 10 minutes to cook, that's right, 10 minutes. One of the best things about shrimp is how quickly they cook. Once it hits the pan or the oven, it's ready to be eaten in about 5 minutes.
Why You'll Love This Recipe
It's a well-balanced meal. There's protein, carbs, and nutrition from asparagus making it a perfectly satisfying dinner option.
It cooks FAST. Not only is the prep time next to nothing, but the cooking time is also only 10 minutes! There are not many dinners out there that can boast those facts.
Less cleanup. The only thing that you'll need to clean up is the sheet pan and the pot you used to make couscous which saves you a ton of time.
It's versatile. Swap out the shrimp for chicken, beef, or tofu for a high protein meal to suit your tastes.
Ingredients You'll Need
Roasted Shrimp:
Peeled & Deveined Shrimp – Fresh is best here, go with a medium to large-sized shrimp for best results.
Olive Oil – Helps the shrimp cook and stay tender on the inside.
Lemon Zest – Adds a bright pop of flavor and acidity that pairs well with shrimp.
Spices – You'll need salt, pepper, and red pepper flakes to flavor the shrimp well.
Roasted Asparagus:
Fresh Asparagus – Find fresh asparagus, clean, and trim the woody stems off before cooking.
Olive Oil – Makes sure the asparagus is coated properly so it cooks evenly.
Spices – A mix of chili flake, salt, and pepper are the perfect combination of flavors to season the asparagus.
Herbed Couscous:
Uncooked Couscous – This grain is similar to small pieces of round pasta and makes the perfect side dish. 
Salt & Pepper – Gives a simple flavor to the couscous. 
Lemon Zest – Adds a touch of bright flavor.
Chopped Parsley – Adds green flavor and a fresh garden taste. 
Toasted Pine Nuts – This optional garnish adds a salty crunch that pairs well with the dish. 
How To Make Sheet Pan Shrimp & Asparagus
Prepare the couscous. Bring a small saucepan of water to a boil and add the couscous. Cook until tender, then remove and toss in the seasonings, lemon zest, and toasted pine nuts if using. Set aside. 
Prepare the asparagus and shrimp. Preheat the oven to 400F. Clean and trim the ends of asparagus and toss with seasonings and olive oil right on the sheet pan gently with your hands. Toss the shrimp with the seasonings and oil in a bowl until fully coated and set aside. 
Bake sheet pan shrimp dinner. Bake the asparagus for 4-6 minutes on the sheet pan, then remove from the oven. Push the asparagus to one side, then add the uncooked shrimp to the other side. Return sheet pan to the oven and bake for 5-6 minutes or until the shrimp is cooked through. 
Remove and serve. Remove sheet pan from the oven and squeeze fresh lemon juice over the shrimp and asparagus. Serve on a bed of cooked couscous while hot. 
Recipe Tips
Use medium thickness asparagus. Very thin asparagus may cook too quickly and become dried out. 
Layer all ingredients in a single layer. When baking, make sure that everything is in a single layer to keep from steaming. 
Adjust cook time, if needed. The amount of roasting time depends on how hot your oven is and the size of your shrimp and asparagus. This means it may take a few minutes more or less to cook. 
Variations
Don't like shrimp? Try replacing the shrimp with diced chicken, beef or tofu! You may need more or less cook time depending on the meat and the size. Use a kitchen thermometer to ensure proper cooking temperature. 
Change up the veggies. Instead of asparagus, you can use broccoli, zucchini, cauliflower, or even bell peppers and onions in this dish.
Vary the grains. Couscous is an excellent light addition to this meal, but you can also use brown or white rice, quinoa, or farro to replace it.
FAQs
How do I know when shrimp is finished cooking?
When shrimp is cooked through, it will be pink and opaque. Shrimp cook very quickly!
What if I can only find really thin asparagus?
Cook the asparagus for about 3 minutes before removing and adding the shrimp. The reduction in cooking time will help the asparagus to not dry out or become mushy.
Can I use frozen shrimp?
You can, but I highly recommend thawing them out first before cooking with the asparagus as the shrimp will release water that will make the rest of the dish not roast properly.
The roasted shrimp pairs together perfectly with the asparagus and couscous. The lemon zest and juice in the recipe add freshness and flavor. It doesn't get any easier than this refreshing dinner in 20 minutes.
Try this recipe tonight and let us know what you think by leaving a review below!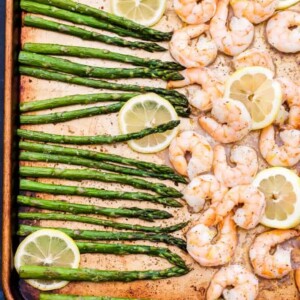 Roasted Shrimp and Asparagus with Herbed Couscous
Yield: 4 servings
This roasted shrimp and asparagus recipe is served with herbed couscous for an easy dinner in 15 minutes!
Ingredients
Shrimp:
1 1/2 pounds large peeled and deveined shrimp
2 teaspoons olive oil
1 teaspoon lemon zest
pinch of red pepper flakes
kosher salt and fresh ground black pepper to taste
Asparagus:
1 pound asparagus, ends trimmed
2 teaspoons olive oil
pinch of red pepper flakes
kosher salt and fresh ground black pepper to taste
Herbed Couscous:
1 cup uncooked couscous
1 1/2 cups water
1/2 teaspoon kosher salt
Fresh ground black pepper to taste
1 tablespoon chopped fresh flat leaf parsley
1 teaspoon lemon zest
1 1/2 tablespoons toasted pine nuts, optional
Instructions
Herbed Couscous:
In a small saucepan bring the water to a boil.

Once boiling add in the salt and couscous and stir together.

Remove from the heat and cover with a lid.

Let the couscous steam for 5 minutes then add in the lemon zest, parsley and black pepper and fluff with a fork.
Shrimp and Asparagus:
Preheat oven to 400 degrees

Line a rimmed baking sheet with foil and spray with cooking oil.

In a large bowl toss together all of the ingredients for the shrimp until coated and set aside.

Place the asparagus on the prepared baking sheet and drizzle with 2 teaspoons of olive oil, red pepper flakes and salt and pepper to taste. Toss together until coated.

Roast the asparagus in a single layer for 4-6 minutes depending on the size.

Remove from the oven and push the asparagus to one side of the baking sheet.

Dump the shrimp onto the baking sheet and arrange into a single layer.

Roast the shrimp and asparagus for another 5-6 minutes or until the shrimp are opaque and pink.

Remove from the oven and squeeze fresh lemon juice over everything.

Serve on top of the herbed couscous.
Notes
Storing Leftovers:
Leftover shrimp and asparagus should be stored in a separate container and will last in the fridge for 2-3 days. Any leftover cooked couscous will last 4-5 days in an airtight container in the fridge. 
Freezing:
We do not recommend freezing this dish as it will not hold up well.
Recipe created by Recipe Runner
Nutrition
Calories: 416kcal, Carbohydrates: 38g, Protein: 43g, Fat: 9g, Saturated Fat: 1g, Cholesterol: 428mg, Sodium: 1624mg, Potassium: 459mg, Fiber: 4g, Sugar: 2g, Vitamin A: 940IU, Vitamin C: 15.9mg, Calcium: 287mg, Iron: 6.8mg
If you try this recipe, don't forget to leave a review below or share a photo and tag @spoonfulofflavor on Instagram.
More Shrimp Dinner Recipes