Shrimp stir fry recipe with lemon and ginger is a simple and healthy meal made in less than 30 minutes! Combine your favorite stir fry vegetables and flavors to create this easy shrimp and broccoli stir fry recipe. 
Phew! The past few weeks were a little bit hectic but still so fun. Between travel, the holidays and New Year celebrations, there was a lot going on in our kitchen and home. But, having a plan helps me stay on track with my health and food goals. When I'm off track it's always because I didn't plan a meal or dinner for a busy night. Even during the hectic holiday season, we love making healthy easy meals packed with flavor. Shrimp stir fry with lemon and ginger combines my favorite stir fry vegetables with shrimp and my favorite stir fry flavors. Best of all, the entire meal cooks in less than 25 minutes. Serve it with our Instant Pot Brown Rice for a complete meal!
To make the best shrimp stir fry:
To make this shrimp stir fry recipe, whisk together the lemon juice, garlic, soy sauce, vinegar, ginger, lemon zest and sesame oil in a small bowl. Add the cornstarch and whisk until there are no lumps. In another bowl, season the shrimp with salt and pepper. Heat two teaspoons of the sesame oil in a large skillet or wok. Cook the peppers, onion, broccoli, snap peas and ginger until tender, about five minutes. Remove the vegetables from the skillet and keep warm. Add the remaining teaspoon of oil to the pan and cook the shrimp until opaque and no longer pink. Add the vegetables back to the skillet. Add the sauce and cook until warmed through, about one to two minutes.
Serve the shrimp stir fry with steamed rice or cooked cauliflower rice. Garnish with sesame seeds and scallions before serving.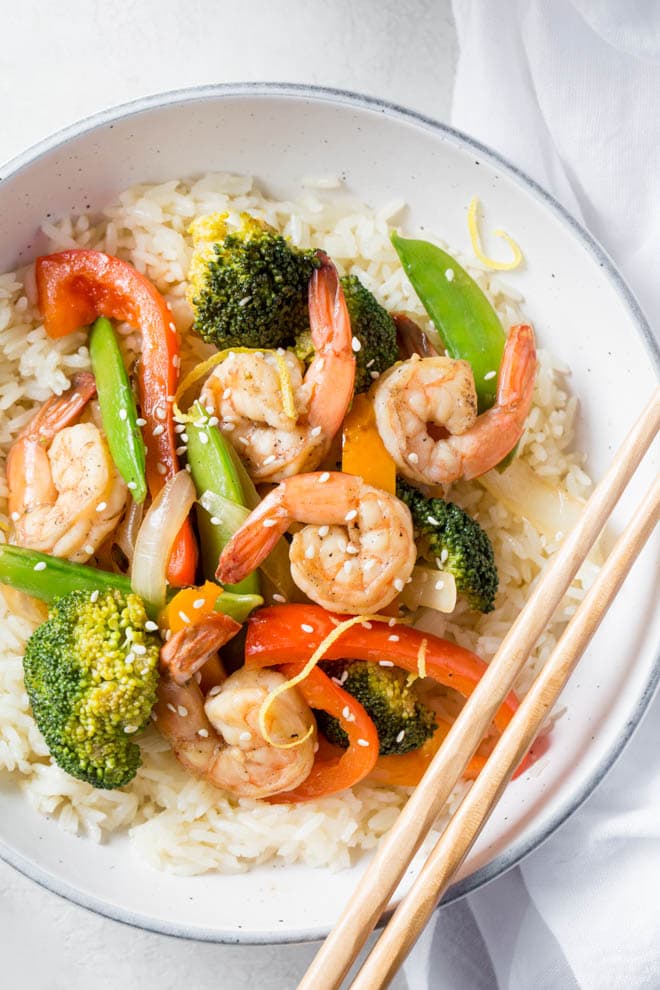 To make lemon stir fry sauce:
Adding fresh lemon is the best way to add flavor to stir fry sauce. A little bit of lemon goes a long way. This recipe calls for ¼ cup freshly squeezed lemon juice, but you can opt for three tablespoons if you want less lemon flavor. Season the dish with fresh lemon zest too, if desired.
Tips for making this shrimp and broccoli stir fry:
When using fresh ginger, you need to scrub the root then peel the ginger root with a potato peeler or spoon to remove the skin. Slice the root into about a ⅛ inch slice and dice each slice finely until you have the amount needed.
Soy sauce, garlic and other seasonings like sesame oil, ginger, rice vinegar or chili sauce are used in stir fry recipes. The thickening agent, like the cornstarch used in this recipe, is an important part of any stir fry recipe. The cornstarch provides consistency and thickens the sauce.
You can use frozen shrimp, but make sure they are thawed before cooking. When using fully cooked frozen shrimp, thaw them then add to the skillet for 1 minute at the end to heat the shrimp through. If the shrimp are raw and frozen, you'll need to cook them through until they are pink as instructed in the directions.
We love using peppers, broccoli, onion and snap peas in stir fry, but use any of your other favorite vegetables like mushrooms, asparagus, carrots and spinach, if desired.
To make it gluten free use Tamari sauce instead of soy.
Other easy stir fry recipes:
Skip takeout and try this simple shrimp stir fry recipe! It's loaded with healthy veggies and isn't as rich in sodium as takeout. Make it for dinner or try one of our other favorite stir fry recipes above!
Shrimp Stir Fry with Lemon and Ginger
Yield: 4 servings
Shrimp Stir Fry with Lemon and Ginger is a quick and easy meal that is perfect for any day of the week. It's packed with veggies and fresh lemon ginger flavor.
Ingredients
For the sauce:
1/2 cup vegetable broth
1/4 cup lemon juice
3 cloves garlic, minced
2 tablespoons low sodium soy sauce or tamari
1 tablespoon rice vinegar
1 tablespoon ginger,, grated
1 tablespoon lemon zest
1 teaspoon sesame oil
1 tablespoon cornstarch
For the stir fry:
1 pound large shrimp, peeled and deveined
salt and pepper
1 tablespoon sesame oil
1 red bell pepper,, sliced
1 yellow bell pepper,, sliced
1/2 onion,, sliced
1 cup broccoli florets
4 ounces sugar snap peas
2 teaspoons ginger,, minced
1/2 tablespoon sesame seeds
steamed white rice or cooked cauliflower rice,, for serving
scallions,, chopped
Instructions
In a small bowl, whisk together broth, lemon juice, garlic, soy sauce, vinegar, ginger, lemon zest, and sesame oil. Whisk in the cornstarch until there are no lumps. Set aside.

Season shrimp with salt and pepper. Set aside.

Heat 2 teaspoons sesame oil in a large skillet over medium-high heat. Cook and stir peppers, onion, broccoli, snap peas, and ginger until just tender, about 5 minutes. Remove vegetables from skillet and keep warm.

Heat remaining teaspoon sesame oil in skillet over medium-high heat. Cook shrimp until pink and no longer opaque, about 2 to3 minutes.

Return vegetables and sauce to skillet. Cook for 1 to 2 minutes until warmed through. Remove from heat and stir in sesame seeds. Serve over rice and garnish with scallions.
Nutrition
Calories: 226.3kcal, Carbohydrates: 13.2g, Protein: 25.7g, Fat: 7.9g, Saturated Fat: 1.2g, Polyunsaturated Fat: 3.2g, Monounsaturated Fat: 2.5g, Cholesterol: 172mg, Sodium: 520mg, Potassium: 485mg, Fiber: 2.2g, Sugar: 2.5g
If you try this recipe, don't forget to leave a review below or share a photo and tag @spoonfulofflavor on Instagram.
Kitchen tools needed to make this easy shrimp and broccoli stir fry:
Mixing Bowls are inexpensive and help make meal prep easier!
IF YOU TRY THIS RECIPE, DON'T FORGET TO SHARE A PHOTO AND TAG @SPOONFULFLAVOR ON INSTAGRAM.
This post contains affiliate links.