Mason Jar Fruit Salad with Strawberry Mint Dressing
Mason Jar Fruit Salad is made with the freshest flavors piled high in a mason jar and topped with strawberry mint dressing. Kids and adults will love this quick, easy and healthy treat!
Even as a child, I always chose fruit salad for dessert over anything else. Mason jar salads are fun, convenient and easy. They are a great option when you are on the go and make the perfect snack for road trips if you have a little cooler to keep them cool. For this Mason Jar Fruit Salad with Strawberry Mint Dressing, I combined a few of my favorite fruit flavors to create a refreshing summertime treat. Watermelon, pineapple, strawberries, mango and blueberries are piled on top of a layer of the homemade strawberry mint dressing.
The idea for the dressing came together using a few ingredients that I always have in my kitchen. Puree fresh strawberries in a food processor with lemon juice, fresh mint and honey. The result is a sweet refreshing dressing that complements the fruit salad. Pour a small amount of the dressing into the bottom of each mason jar then layer with fresh fruit. To serve, pour all of the contents of the jar into a bowl, mix briefly to combine and enjoy!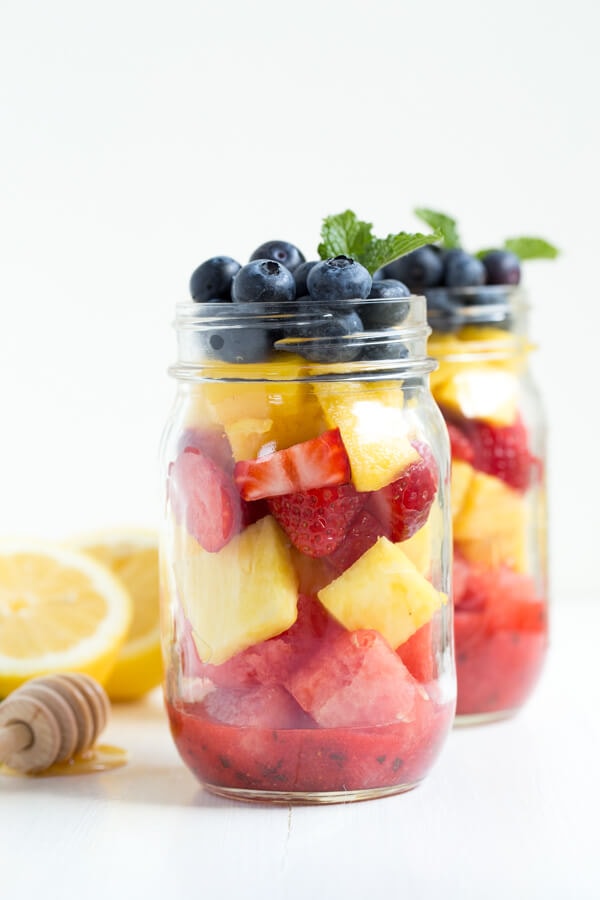 I make these mason jar salads in advance and then enjoy them throughout the week for lunch, snack or dessert. They are also a great option to serve at summer picnics, dinner parties or celebrations. While I love the combination of flavors in this recipe the best, feel free to use your favorite fruit. Cantaloupe and raspberries also work well. Kids and adults will love them!
Spoonful of Flavor
Yields 4 mason jar salads
Mason Jar Fruit Salad with Strawberry Mint Dressing
10 minPrep Time
10 minTotal Time
Ingredients
For the strawberry-mint dressing:

2 cups fresh strawberries
1/4 cup fresh mint
1/4 cup honey
2 tablespoons fresh lemon juice

For the fruit salad:

2 cups chopped watermelon
2 cups chopped pineapple
1 cup chopped strawberries
1 mango, chopped
1 cup blueberries
fresh mint, for garnish
Instructions
Add all of the ingredients for the dressing to a food processor. Pulse until well blended. Divide dressing between four standard sized mason jars. Layer the fruit in the mason jars, starting with the watermelon on the bottom, pineapple, strawberries and mango in the middle and the blueberries on top. Garnish with fresh mint, if desired. To serve, pour contents of jar into a bowl and mix to combine. You can also seal jar and store in the refrigerator for 2 to 3 days.
https://www.spoonfulofflavor.com/2016/05/02/mason-jar-fruit-salad-with-strawberry-mint-dressing/