Strawberry Pie is made with a few ingredients and is full of fresh strawberry flavor! Fresh sliced strawberries are layered over a graham cracker crust and topped with whipped cream!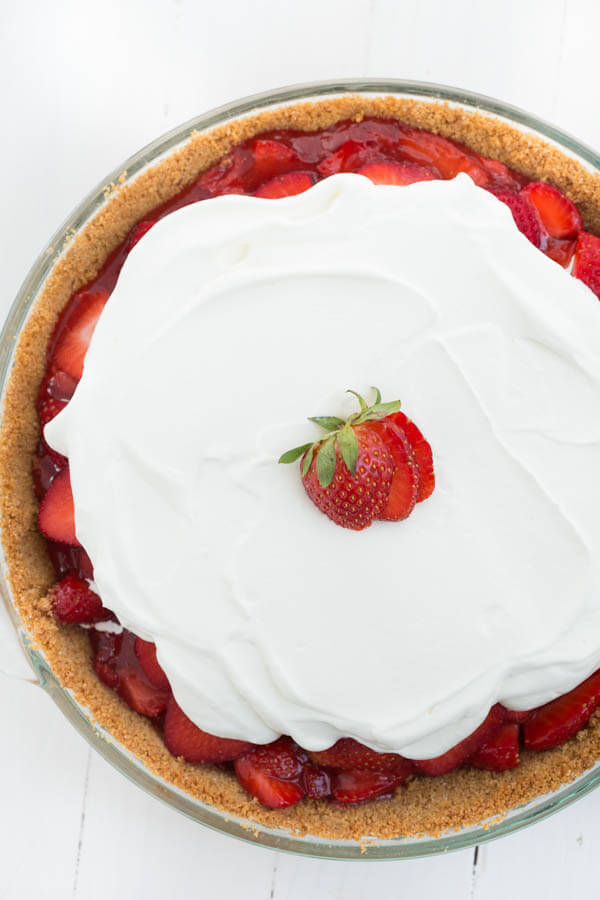 Happy Pi Day! Ok, technically Pi Day isn't until tomorrow, but I am sharing this recipe with you today so that you can celebrate tomorrow with this Strawberry Pie. Pi day is the one day where my two different worlds collide. You probably don't know this because I mostly talk about food here but I crunch numbers all day every day. I'm not just talking small numbers, I mean big numbers. Billions. And no, it's not my bank account numbers that I'm crunching. Sometimes it makes my brain hurt. When I need a little break from crunchy numbers, I bake or make delicious treats to share with you.
I'm a math geek at heart and I love numbers but I love pie even more. I'll find any excuse to make a pie so I grabbed some fresh strawberries, a few other simple ingredients and made this easy yet impressive strawberry pie.
MY LATEST VIDEOS
Because so much flavor is packed into one little berry, I wanted to keep this pie simple. I added a few tablespoons of strawberry preserves to enhance the flavor and thicken the filling. The whipped cream topping is the perfect addition. Even if you don't love pie, you will love this strawberry pie. Trust me.
Grab a slice and enjoy some pie. Don't forget to share a piece with your friends or family too!
Yields 1 9-inch pie
Strawberry Pie
Ingredients
For the crust:

12 graham crackers (2 1/2 x 5 inches)
3 tablespoons sugar
6 tablespoons unsalted butter, melted

For the filling:

2 quarts (about 5 cups) fresh strawberries, hulled and thinly sliced
2 tablespoons strawberry preserves
1/3 cup water
1/2 cup sugar
2 tablespoons cornstarch
1/4 teaspoon kosher salt
1 cup heavy cream
1 tablespoon confectioners' sugar
Instructions
Preheat oven to 350 degrees F. In a food processor, combine graham crackers and sugar. Pulse until finely ground. Add butter and pulse until crumbs are moistened. Press the mixture into the bottom and up the side of a 9-inch pie plate. Bake until crust is lightly browned, about 10 to 12 minutes. Transfer to a wire rack to cool completely.
While pie crust is cooling, in a medium saucepan combine 2 cups strawberries, strawberry preserves, water, sugar, cornstarch and salt. Bring to a boil; reduce heat to simmer. Using a fork or potato masher, gently mash strawberries. Cook, stirring frequently, until sauce thickens, about 4 to 5 minutes. Remove from heat and let cool slightly. Stir in remaining strawberries. Pour strawberry mixture over cooled pie crust. Refrigerate until set, at least 4 hours or overnight.
In the bowl of an electric mixer fitted with the whisk attachment, beat cream until soft peaks form. Add confectioners' sugar and beat until combined. Spread whipped cream over pie, garnish with a few additional berries. Serve immediately.
Notes
*You may use a ready made graham cracker pie crust instead of the homemade version in this recipe.
https://www.spoonfulofflavor.com/2015/03/13/strawberry-pie/
Source: adapted from Martha Stewart
While you are making the strawberry pie, you might as well make my favorite Blueberry Pie too! Eat more pie!

Try a few more pie recipes from my friends:
Caramel Apple Crumb Pie by Recipe Runner
Peach Raspberry Pie by Beyond Frosting
Caramel Turtle Pie by Life Love and Sugar
White Chocolate Cheesecake Pie by Blahnik Baker