Chocolate Dipped Strawberry Red Wine Popsicles
Strawberry and red wine popsicles dipped in dark chocolate are the perfect treat to cool off with on a hot day!
Hey there friends! Danae from Recipe Runner here again. I have to tell you I am so excited to share today's recipe with you. If you follow my blog you've probably noticed that I've been using quite a few berries in my recipes lately. I can't help myself, they are just so darn good right now and I have to take advantage of them while I can!
I know Ashley also has a bit of a berry obsession like I do, so I knew that this would be the perfect summer treat to share! Today I've made you Chocolate Dipped Strawberry Red Wine Popsicles. Yes, yes I did booze up the popsicles and add some delicious pinot noir to them!
MY LATEST VIDEOS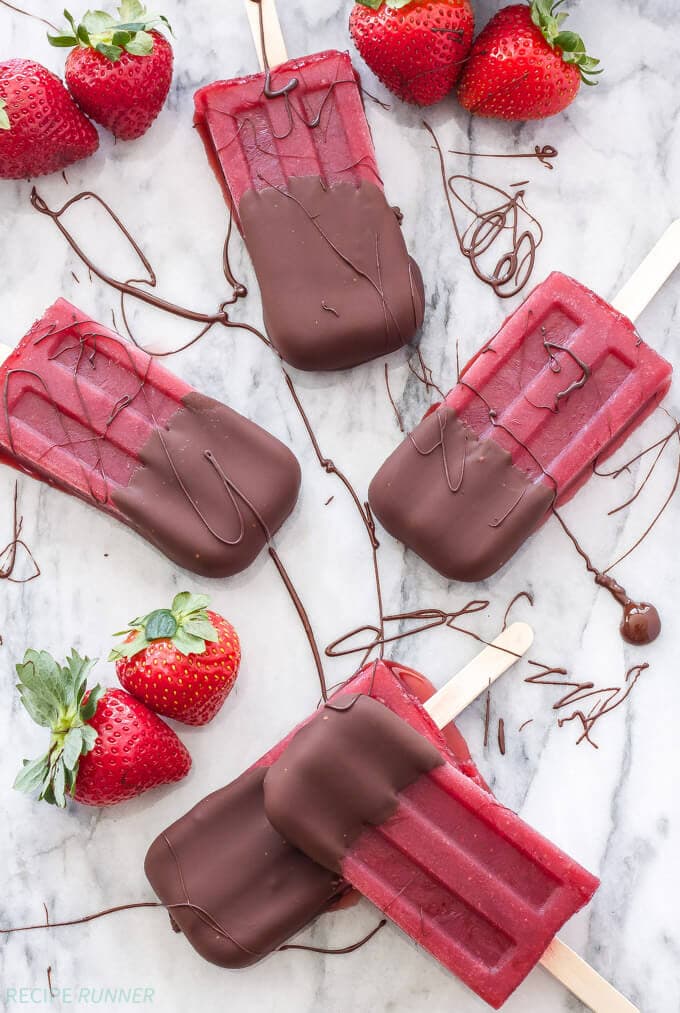 In case you didn't know wine and chocolate pair very well together. There is a local chocolate shop near my house that I frequent a bit too often that does wine and chocolate pairing classes. I haven't been to it yet, but it's on my list of things to do this summer. You know what else pairs really well with chocolate, strawberries of course! Now put those three things together and whoa! You've got yourself one heavenly popsicle! I've also decided that these popsicles are totally healthy. They have dark chocolate, red wine, and strawberries. They're practically bursting with antioxidants! I'll just keep telling myself that as I shove another one in my mouth on a hot summer afternoon.
So what do they taste like? Basically like the best chocolate covered, frozen, red wine infused strawberry you've ever eaten. Trust me friends this is a very, very good thing! These popsicles are perfect for serving for dessert after a summer barbecue or as a fun treat to share with the girls as you lay out by the pool soaking up the sun. Be sure to add these boozy chocolate dipped strawberry red wine popsicles to your list of cold refreshing treats to make this summer!
Chocolate Dipped Strawberry Red Wine Popsicles
Strawberry and red wine popsicles dipped in dark chocolate are the perfect treat to cool off with on a hot day!
Ingredients
16 ounces strawberries washed and hulled
1/2 cup simple syrup (1/2 cup sugar plus 1/2 cup water heated over medium heat until sugar dissolves)
1 cup red wine (I used pinot noir)
2 tablespoons balsamic vinegar
6 ounces good quality dark chocolate melted
1/2 teaspoon coconut oil melted
Instructions
Add all of the ingredients except the dark chocolate and coconut oil to a blender or food processor and puree until they are smooth.

Pour the mixture into popsicle molds and insert a popsicle stick.

Freeze for at least 4-6 hours or overnight.

In a microwave safe bowl, microwave the dark chocolate in 20 second intervals stirring each time until the chocolate is just melted, be careful not to burn it.

Stir the melted coconut oil into the melted chocolate.

Line a baking sheet with parchment or wax paper.

Remove the popsicles from the mold and dunk them in the melted chocolate.

Lay them on the parchment lined baking sheet.

Work quickly to avoid having them melt, then immediately place them back in the freezer to harden.

Store the finished popsicles in a single layer in a freezer bag or airtight container in the freezer.
Nutrition Information
Calories:
233
, Fat:
9g
, Saturated Fat:
5g
, Sodium:
19mg
, Potassium:
294mg
, Carbohydrates:
30g
, Fiber:
3g
, Sugar:
24g
, Protein:
2g
, Vitamin A:
0.3%
, Vitamin C:
40.4%
, Calcium:
3%
, Iron:
20.5%
*Nutritional information is an estimate. Please consult a doctor or nutritionist for the most accurate nutritional info.
Course: Dessert
Cuisine: American
Keyword: chocolate dipped strawberry, red wine popsicles
More Popsicle Recipes:
Raspberry Cheesecake Yogurt Popsicles
Connect with Danae: