Strawberry crumble bars are sweet, buttery and made with fresh strawberries. This dessert is perfect for spring and summer!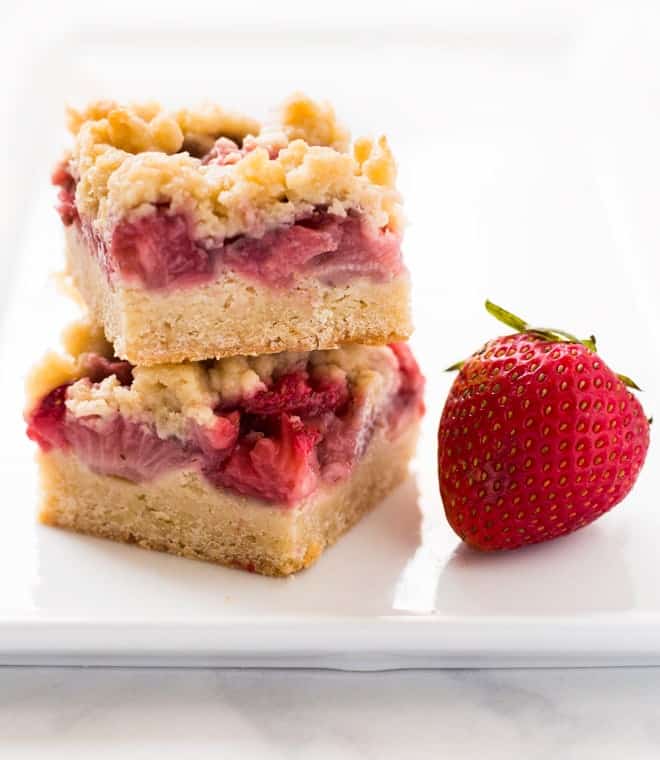 Happy (almost) Mother's Day! I'm Haley and I write the food blog If You Give a Blonde a Kitchen. I just couldn't let Mother's Day pass without sharing a dessert recipe with the Spoonful of Flavor readers! Today I'm sharing a recipe for strawberry crumble bars.
These bars are buttery, sweet and so easy to make. The base and crumble are made from the same mixture and the filling is freshly chopped strawberries.
I am so happy strawberries are in season right now! They are 100 times better when they are in season. I'll take a bright red, juicy strawberry over a spongy, dull strawberry any day. When I saw how perfect the berries looked in the store, I bought two pounds and headed home to start baking.
One of my favorite spring and summertime dessert is crumble bars. They are easy to make and I usually have all the ingredients at home. You can fill them with any flavor jam or fresh berries. So with my bundle from the grocery story, I chopped up some strawberries, sprinkled them with sugar and there was my filling for the crumble bars.
The filling isn't the only simple part of this recipe. The base and crumble on top is in fact the same mixture. After pressing two-thirds of the mixture into the bottom of the pan, I poured the strawberry mixture on top and then sprinkled the remaining crumb mixture.
All that's left to do is the baking.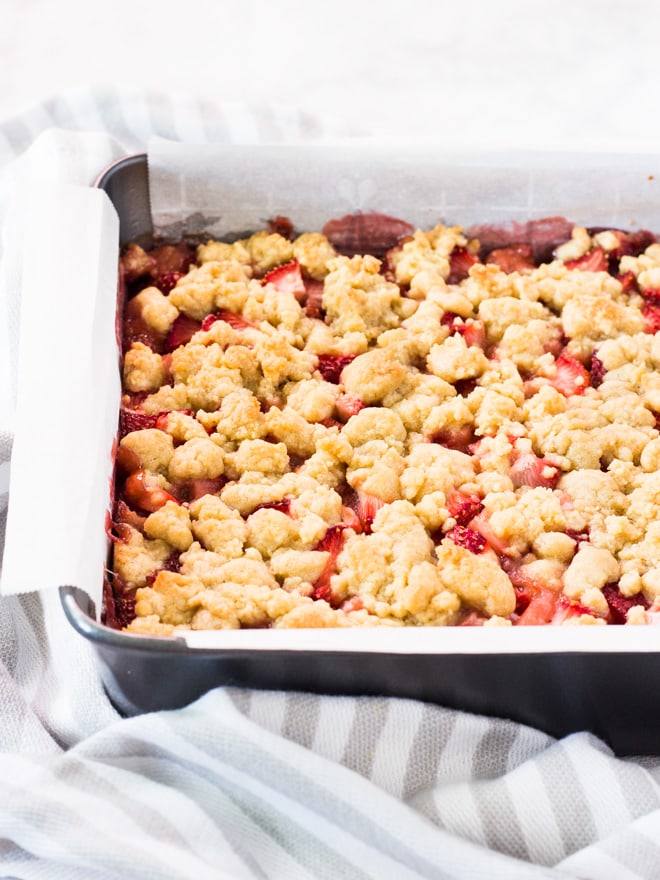 I can't even begin to explain the aromas that filled my house when these bars were baking. Sweet strawberries mixed with buttery shortbread scents is as close as I can get to describing it.
You will just have to bake these strawberry crumble bars to experience it yourself!
Whether you're looking to impress mom this Mother's Day or simply aching for a strawberry dessert (or both!), then these strawberry crumble bars will do the trick!
Strawberry Crumble Bars
Yield: 16 bars
Strawberry crumble bars are sweet, buttery and made with fresh strawberries. This dessert is perfect for spring and summer!
Ingredients
Strawberry Crumble Bars
2 cups  all-purpose flour
1/2 teaspoon baking powder
1/2 teaspoon salt
2/3 cup unsalted butter, cold and cubed (11 tablespoons)
2/3 cup packed light brown sugar
1 large egg
1 teaspoon pure vanilla extract
3 cups chopped strawberries
1/4 cup granulated sugar
1 tablespoon cornstarch
Instructions
Preheat oven to 350° F. Line a 9x9-inch baking pan with parchment paper and set aside.

In a large bowl, whisk together flour, baking powder and salt. Add the cold butter and use a pastry cutter to create a crumb-like mixture. Alternatively, the mixture can be combined in a food processor pulsing until pea-sized crumbs form, about 20 seconds.

In a separate large bowl, whisk together brown sugar, egg and vanilla until combined. Slowly add the flour mixture to the wet mixture and using a rubber spatula (or your hands!) combine ingredients into a crumbly mixture. Press 2/3 of the mixture into the bottom of prepared dish. Make sure it is compact so it creates a sturdy crust for the strawberries.

In a separate medium bowl, stir together chopped strawberries, sugar and cornstarch. Spoon strawberry mixture over crust. Top with remaining crumble mixture.

Bake for 40-45 minutes or until the crumble top is golden brown and the strawberry layer is bubbling at the edges. Remove from oven and allow to cool completely at room temperature. Cut bars into 1-1/2 inch squares and serve. Store in an airtight container in the refrigerator for up to five days.
Notes
Recipe created by Haley at If You Give a Blonde a Kitchen
Nutrition
Calories: 186kcal, Carbohydrates: 26g, Protein: 2g, Fat: 8g, Saturated Fat: 4g, Cholesterol: 30mg, Sodium: 147mg, Potassium: 88mg, Fiber: 0g, Sugar: 13g, Vitamin A: 255IU, Vitamin C: 15.8mg, Calcium: 23mg, Iron: 1mg
If you try this recipe, don't forget to leave a review below or share a photo and tag @spoonfulofflavor on Instagram.
Connect with Haley:
Blog | Facebook | Pinterest | Instagram | Twitter | YouTube