Blueberry crumble bars are made with juicy blueberries and a butter crumble topping. These easy blueberry bars are a delicious summer dessert!
Summer baking with fresh berries is the best! Haley here from If You Give a Blonde a Kitchen and I am so happy to share this blueberry recipe with you. Blueberries are my favorite fruit to eat. I love adding them to bread, salads and dessert, of course! I made these blueberry crumble bars and they are just as delicious as they look.
Served with a crumble oat topping, these bars are bursting with blueberries. Each bite is filled with fruity flavor and a butter crust. The crust layer is topped with a blueberry mixture which is then topped with the crumble topping. Bake the bars for about 40 minutes, let them cool and then enjoy. They are packed with the freshest flavor and are too good to resist!
Blueberry crumble bars tips
The crust and the crumble are the exact same mixture! It makes the bars super easy to make. Use flour, oats, brown sugar, cinnamon and cold butter to make the mixture.
Fresh berries are the best for this recipe.
Use cold butter so the crust stays sturdy enough to hold the blueberry filling. The butter also serves as a way to keep the crumble crumbly.
The blueberry filling starts oozing with juices when the bars bake. I used sugar to get the juices flowing, cornstarch to keep the filling together, and lemon juice and zest for extra flavor.
Resist the urge to cut the bars right away. Let them cool completely. If you cut them too early, they will be messy to eat. Sometimes I even refrigerate the bars if I'm making them on a hot day.
My favorite part of making blueberry crumble bars is when I see the filling bubbling. Not only does it make me want to take a bite right then and there, but it also means the bars are done baking!
If you have a good ice cream shop nearby, pick up a gallon of french vanilla ice cream. Serve a scoop with these blueberry bars and your tastebuds will be in heaven!
If you are looking for more blueberry recipes, try our favorite blueberry dessert recipes!
Blueberry dessert recipes
Try the blueberry crumble bars recipe and let us know what you think.
Blueberry Crumble Bars
Yield: 16 bars
Blueberry crumble bars are made with juicy blueberries and a butter crumble topping. It's a delicious summer dessert!
Ingredients
Crust & Crumble Topping
1 1/2 cups all-purpose flour
1 1/2 cups old fashioned rolled oats
3/4 cups light brown sugar
1/2 teaspoon cinnamon
1/2 teaspoon kosher salt
1 cup cold butter, ,cubed (2 sticks)
Blueberry Filling
1/2 cup granulated sugar
3 tablespoons cornstarch
2 1/2 cups blueberries
1 tablespoon lemon juice
1 teaspoon lemon zest
Instructions
Crust & Crumble Topping
Line a 9×9 pan with parchment paper and coat with nonstick spray. Set aside.

In a large bowl, whisk together flour, oars, brown sugar, cinnamon and salt. Add in the cold butter and using a pastry blender, cut the butter into the mixture until it resembles very coarse sand.

Divide the mixture in half and press half into the bottom of the prepared pan to form the crust. Set aside both the pan and bowl with remaining mixture.
Filling
In a large bowl, whisk together the granulated sugar and cornstarch. Add in the blueberries and coat in the sugar mixture. Add in the lemon juice and zest. Stir gently  to combine.

Spread the blueberries on top of the crust. Sprinkle remaining crust mixture evenly on top of the blueberries and press lightly.

Refrigerate the pan for 30 minutes.

Preheat the oven to 350° F. Bake for 35 to 40 minutes until the fruit starts to bubble. Remove from oven and cool completely before cutting.
Notes
Use cold butter.
Let the bars cool completely. You can even chill them in the fridge to help them maintain their shape. If you eat them too warm, they will be messy. 
Store bars in a sealed container for up to 4 days.
Source: If You Give a Blonde a Kitchen
Nutrition
Calories: 255kcal, Carbohydrates: 35g, Protein: 2g, Fat: 12g, Saturated Fat: 7g, Cholesterol: 30mg, Sodium: 177mg, Potassium: 74mg, Fiber: 1g, Sugar: 18g, Vitamin A: 365IU, Vitamin C: 2.8mg, Calcium: 19mg, Iron: 1mg
If you try this recipe, don't forget to leave a review below or share a photo and tag @spoonfulofflavor on Instagram.
More recipes from If You Give a Blonde a Kitchen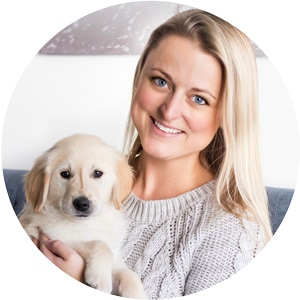 Connect with Haley:
Blog | Facebook | Pinterest | Instagram | Twitter | YouTube