This Strawberry Margarita is made with fresh strawberries and other simple ingredients, and it can be ready in just 10 minutes. It makes four servings so you can share with your friends. Whether you're celebrating Cinco de Mayo or just looking for something tasty to drink, this frozen strawberry margarita is sure to please.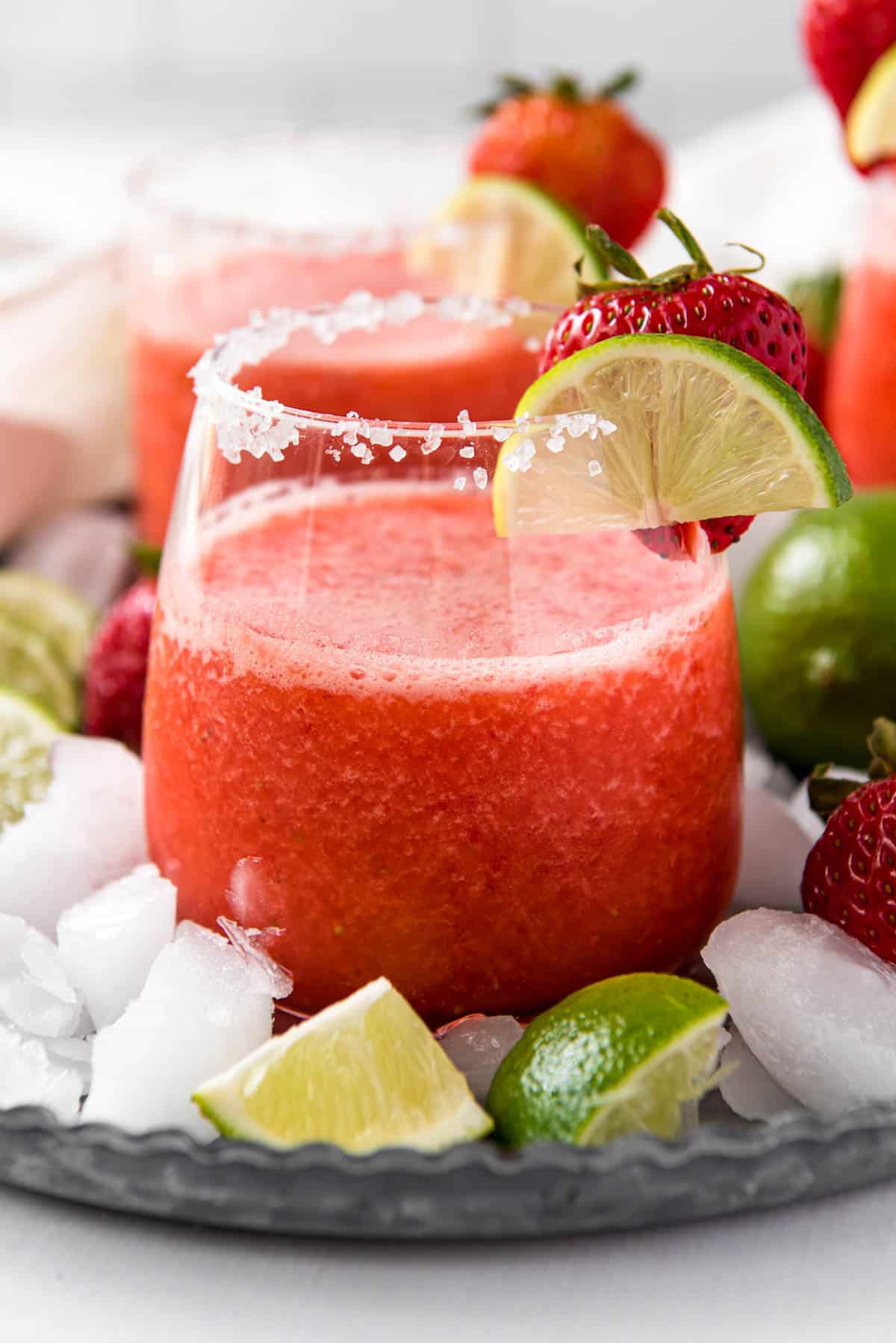 Strawberry margaritas are a classic summer drink. They are refreshing, flavorful, and easily adapted to fit your taste. The combination of fresh berries with citrus juice enhances the flavor of the berries making them cooling and refreshing.
All you'll need to do is make an easy lime simple syrup, then blend it together with strawberries, ice, orange juice, and your favorite tequila. Pour it into a glass with a sugared rim for the ultimate frozen summer cocktail.
Sip these poolside or enjoy them on the patio with friends. No matter where you are, these strawberry margaritas will make any day feel like a summer party.
If you love fruity cocktails, try a Guava Margarita or Watermelon Paloma. A classic Margarita is also a great choice!
Why You'll Love This Recipe
This homemade strawberry margarita recipe uses clean and simple ingredients without a sugary margarita mix.
The addition of citrus juice enhances the flavor and makes it even more cooling and refreshing.
Serve it at a summer gathering or whip up a batch when you need a cold drink with lots of natural fruity flavor.
Strawberry Margarita Ingredients
This recipe comes together easily with a few fresh ingredients. You can easily adapt the recipe to fit your taste or desired flavor profile.
Fresh Lime Juice – Use fresh limes for the best flavor.
Sugar or Agave – You can use granulated sugar or agave to sweeten this drink.
Orange Juice – Use freshly squeezed orange juice to add flavor. You can use another type of juice, such as grapefruit juice or pineapple juice for a different flavor.
Fresh Strawberries – You can substitute with frozen strawberries, if desired. If you use frozen strawberries, you can cut back on the amount of ice.
Tequila – This classic cocktail uses tequila as its main alcohol. Add a splash of lime cordial, triple sec, orange liqueurs or Grand Marnier for an extra boozy kick.
Ice Cubes – Necessary to create the frozen texture.
Coarse Salt or Sugar – An optional garnish, salt, or sugar is used on the rim to enhance the taste of the drink. You can use coconut sugar, brown sugar or cane sugar.
OPTIONAL: Add fresh mint leaves to add a refreshing minty flavor. Or for a spicy kick, add a pinch of cayenne pepper or a slice of fresh jalapeno to the blender. Also use a lime wedge or fresh strawberry for garnish.
How to Make a Frozen Strawberry Margarita
Gather ingredients for a margarita: Gather together fresh strawberries, limes, orange juice, sugar or agave, tequila, and ice.
Make a lime simple syrup: Dissolve the sugar in lime juice over medium heat until no sugar granules are present. Let it cool slightly.
Blend the margaritas: Combine lime mixture, orange juice, strawberries, tequila and 1 cup of ice in a blender. Process until smooth.
Garnish and serve margaritas: Pour the frozen margaritas into your favorite glasses. Coat the rim of the glass in lime juice and salt or sugar, if desired. Serve and enjoy!
Expert Tips
Cool the lime simple syrup before blending – Make sure the sweetened lime juice is cooled before blending in the drink as you don't want it to melt the ice.
Use a high-speed blender to make sure the margarita comes out nice and smooth.
Use more or less sweetener depending on how sweet you like your drink. There will be natural sweetness coming from the strawberries and orange juice.
For a super frozen drink, use frozen strawberries along with the ice.
Make a mocktail – To make a non alcoholic strawberry margarita, simply substitute the tequila with more orange juice.
FAQs
What is the difference between a strawberry daiquiri and a strawberry margarita?
A strawberry daiquiri is a rum-based drink while a margarita is tequila-based. Both have lime juice, sugar, and strawberries as their main ingredients.
What is the best tequila for strawberry margaritas?
The best tequila for margaritas is a silver or Blanco tequila. It's smooth and has a more neutral flavor that lets the other ingredients shine through.
Serving Suggestions
A fresh strawberry margarita tastes great with a variety of dishes. Sip one poolside on its own or enjoy for dinner with your favorite entree and sides.
Did you try this strawberry margarita recipe? Leave a recipe rating and review below.
Best Strawberry Margarita
Yield: 4 servings
A classic frozen margarita with fresh strawberries and a few simple ingredients!
Ingredients
1 cup freshly squeezed lime juice
3 tablespoons sugar, (or agave)
1/3 cup freshly squeezed orange juice
10 to 12 strawberries, sliced
6 ounces tequila
1-2 cups ice cubes
salt or coarse sugar for rimming glasses, optional
Instructions
Heat lime juice and sugar in a small saucepan over medium heat until the sugar is dissolved. Remove from heat and let cool.

Place lime mixture, orange juice, strawberries, tequila and 1 cup of ice in a blender. Blend on high until smooth. Add more ice and blend, as desired.

Dip rim of glasses into extra lime juice and then into salt or sugar, if desired.
Notes
This recipe can be adapted to suit your taste. Add more fruit, ice or sugar, to taste.
You can use agave instead of sugar, if desired. 
Storing:
Because this frozen margarita is prone to melting quickly, it's best consumed immediately.
Freezing:
You can freeze any extra margarita in ice cube trays overnight. Then pop out the cubes and store them in a freezer-safe bag or container. Blend them up with more orange juice when you're ready to use them.
Nutrition
Serving: 0g, Calories: 181kcal, Carbohydrates: 22g, Protein: 1g, Fat: 1g, Saturated Fat: 1g, Sodium: 5mg, Potassium: 158mg, Fiber: 1g, Sugar: 17g, Vitamin A: 72IU, Vitamin C: 46mg, Calcium: 13mg, Iron: 1mg
If you try this recipe, don't forget to leave a review below or share a photo and tag @spoonfulofflavor on Instagram.