This unique twist on the classic margarita features the tart and sweet flavor of guava, mixed with classic margarita ingredients like lime juice and tequila. Guava Margaritas are perfect for sipping poolside or at a summer BBQ.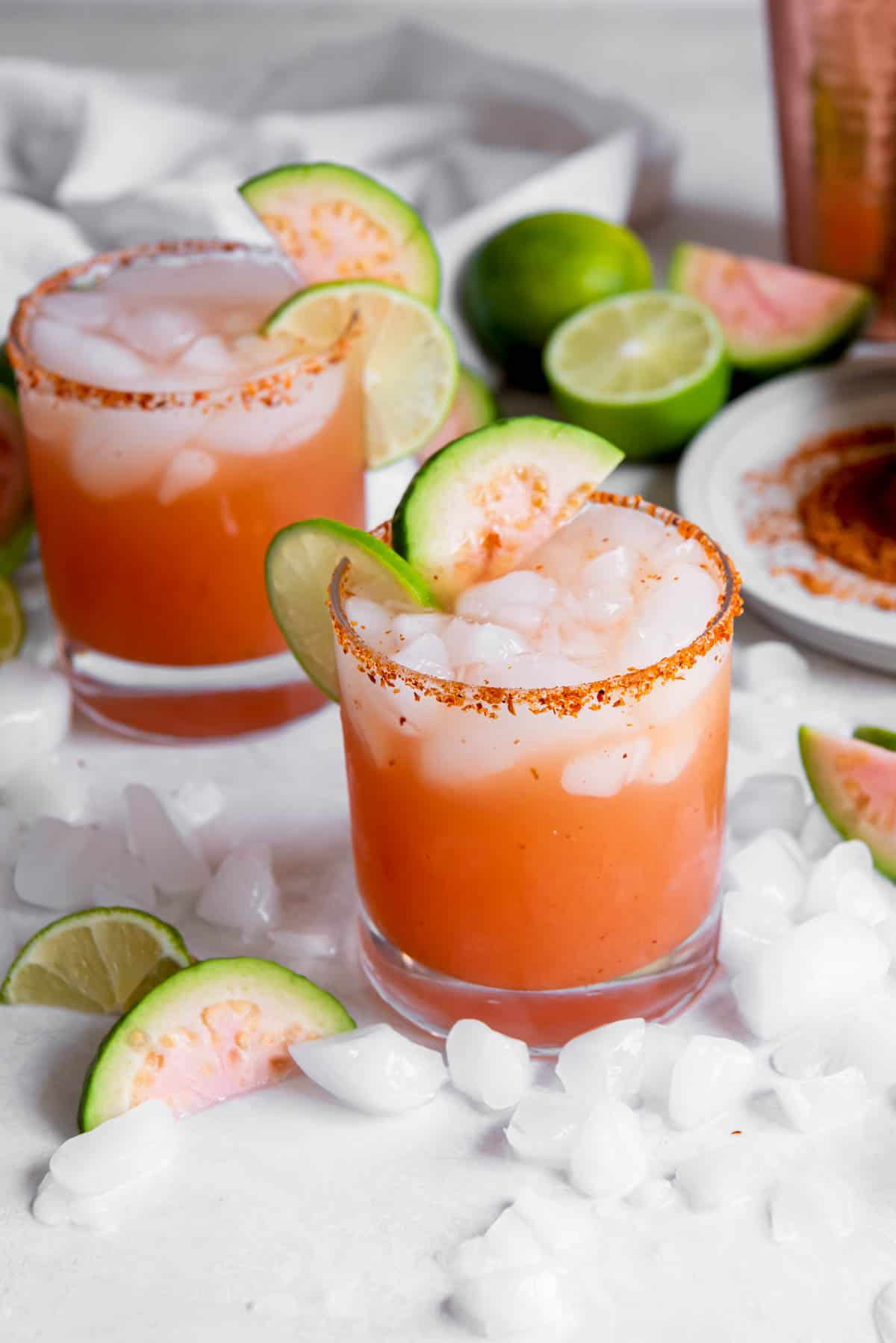 Summer is in full swing, and so are the summertime cocktails! We love making fun and fruity drinks out of our favorite tropical fruits like guava for this tasty guava margarita.
Guava is a tropical fruit that grows in warm climates. Guavas are rich in vitamins and minerals, and they have a unique tart and sweet flavor that makes them perfect for use in any margarita recipe.
To make your guava margarita, you'll mix guava nectar with classic margarita ingredients like tequila, lime juice, and orange liquor. Pour it over ice and serve with a sugar or salt seasoned rim for a drink that goes down smooth, especially in the summer!
Serve this tasty guavarita poolside, for a summer barbecue, or a Cinco de Mayo celebration.
Why You'll Love This Recipe
The tropical flavor of guava is a fun twist on a classic margarita!
This guava margarita recipe is easy to make and only requires a few ingredients.
You can use guava nectar or make your own using fresh fruit.
Great for a Cinco de Mayo celebration.
Ingredients You'll Need
This fun summer cocktail recipes comes together with a few basic guava margarita ingredients. You can even alter the color of the drink – from a coral pink color to yellow, depending on which type of guava nectar is used.
Tequila – A traditional ingredient found in margaritas, tequila adds the perfect flavor as the alcohol base. You can also swap for your favorite mezcal.
Guava Nectar – You can find guava nectar at most grocery stores, or you can make your own using fresh guavas and a blender. You will find pink guava nectar or yellow guava nectar. It's usually located near the juices or other international ingredients. The guava nectar gives this drink the guava flavor.
Lime Juice – The acidity of lime juice balances out the sweetness of the guava nectar in this recipe.
Agave Nectar – This natural sweetener adds a touch of sweetness to your guava margarita. Because it's a syrup, it also blends in easier with the liquid. You can also use simple syrup.
Orange Liqueur (Triple Sec) – A classic ingredient in margaritas, orange liqueur helps to round out the flavor by adding citrus notes to this guava cocktail.
Ice Cubes – This drink is best served over ice to add a refreshing and cooling element.
OPTIONAL: You can garnish the rim of the glasses with a simple coarse salt or use Tajin seasoning for even more flavor.
How to Make a Guava Margarita
Prepare the margarita glasses: Rub the rim of a margarita glass with a sliced wedge of lime to wet the inside and outside. Dip it in a plate of coarse salt, sugar, or Tajin making sure to coat the rim completely. Set aside.
Mix the cocktail: To a cocktail shaker, add the tequila, orange liquor, lime juice, and guava nectar. Add the lid and give it a good shake until all of the ingredients are well incorporated. Then, add ice to the shaker and shake or stir again to cool the drink.
Pour and serve: Add ice to the prepared margarita glasses, then strain the drink from the cocktail shaker into the glass. Garnish with a wedge of fresh guava or lime wedges and serve immediately.
To make a frozen guava margarita, blend up some ice cubes with all of the other ingredients in a blender until smooth. You may also be able to find frozen guava cubes in the freezer section of your local grocery store that you can use instead of guava nectar. It's the perfect drink for summer on a hot day!
Recipe Tips
Use fresh squeezed lime juice for this recipe. The bottled version will not produce the same flavor as fresh.
Make your own fresh guava nectar. If you can't find guava nectar, you can make your own by blending fresh guavas and straining them through a mesh sieve.
Make a spicy guava margarita – You can make the drink spicy by adding a few slices of jalapeño to your drink. Simply cut and stir in the slices of jalapeño for garnish.
Add ice to the glass last to prevent the margarita from getting watered down if the ice melts.
For best results, chill the glasses in the freezer for about 30 minutes before adding the margarita.
Make a pitcher of margaritas! To make enough margaritas to serve 6 or 8 people, simple multiple the ingredients by the number of servings and combine in a large pitcher.
FAQs
Are guava juice and guava nectar the same thing?
Yes, guava juice and guava nectar are very similar but not always the same. Guava nectar is made from the juice of guavas where nectar is a bit sweeter and may have some sugar added.
How do you make guava nectar from scratch?
If you want to make guava nectar from scratch, slice the fruit in half and scoop out the seeds. Add guava halves and water to a blender and blend until smooth. Strain the mixture through a cheesecloth or fine mesh strainer to remove any pulp.
Other Summer Cocktail Recipes
If you love fruity cocktails, then you are going to love some of our favorite summer cocktail recipes.
Did you try this easy Guava Margarita? Leave a recipe review and rating below.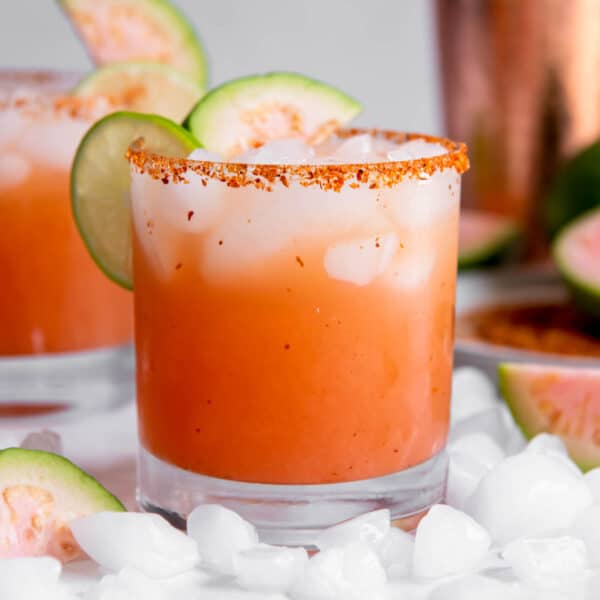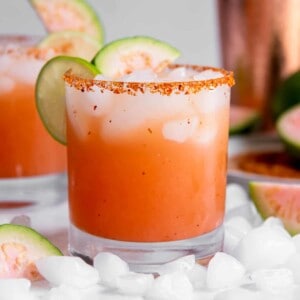 Guava Margarita
Yield: 1
This easy guava margarita cocktail comes together in 5 minutes or less with guava nectar, tequila and a few other basic ingredients.
Ingredients
2 ounces tequila, (or mezcal)
2 ounces guava nectar, (or 2 fresh guavas, pureed and strained)
3/4 ounces freshly squeezed lime juice
1/2 ounce agave nectar, (or simple syrup)
1/2 ounce orange liqueur, (triple sec)
Ice cubes
Coarse salt or tajin , for garnish on rim
Instructions
Rub the rim of a glass with a lime wedge, then dip in coarse salt or tajin; set aside.

Add the tequila, guava nectar, lime juice, agave, and triple sec to a cocktail shaker. Fill the shaker with ice cubes, seal and shake to chill.

Strain into the prepared glass filled with ice. Garnish with a wedge of guava or lime and serve.
Notes
Storing: This margarita is best served immediately as fresh juice tastes best right after it's freshly squeezed. However, you can mix the margarita ingredients and keep them in the refrigerator for up to 24 hours. Just give it a good shake before serving over ice. Freezing: You can freeze this margarita mix once shaken together into ice cube trays and freeze until solid. When ready to use, thaw in the fridge overnight or blend in a high-speed blender to make a frozen guava margarita.
Nutrition
Calories: 256kcal, Carbohydrates: 26g, Protein: 1g, Fat: 1g, Saturated Fat: 1g, Polyunsaturated Fat: 1g, Sodium: 7mg, Potassium: 52mg, Fiber: 1g, Sugar: 22g, Vitamin A: 30IU, Vitamin C: 20mg, Calcium: 10mg, Iron: 1mg
If you try this recipe, don't forget to leave a review below or share a photo and tag @spoonfulofflavor on Instagram.