Ready for a drink that will transport you to summertime bliss? This Peach Mimosa recipe requires only 5 minutes of prep! It's light, refreshing, and perfect for sipping on by the pool or at a brunch gathering with friends.
Mimosa is a cocktail made with bubbly champagne and orange juice. The most common ratio is one part orange juice to two parts champagne, but you can adjust it to your taste.
This peach mimosa recipe uses both peach nectar and orange juice. It's a bit sweeter and gives the drink a beautiful peach flavor. It's the perfect cocktail for peach season.
The best part about this cocktail is how easy it is to make. Simply stir the orange juice with the peach nectar. Portion out the champagne into flutes, then pour the juice mixture over the top. That's it!
These peach mimosas tastes like summer in a glass and I hope you enjoy it as much as we do. Cheers!
Why You'll Love This Recipe
This summer champagne cocktail is made with just 4 ingredients, including the garnish!
Peach mimosas are a light and refreshing summertime cocktail.
You can easily adjust the ratio of champagne to juice to your liking.
Easily make a few mimosas for friends or a pitcher for a crowd.
Ingredients You Need
These easy peach mimosas are a fun twist on a typical mimosa and require only 3 ingredients!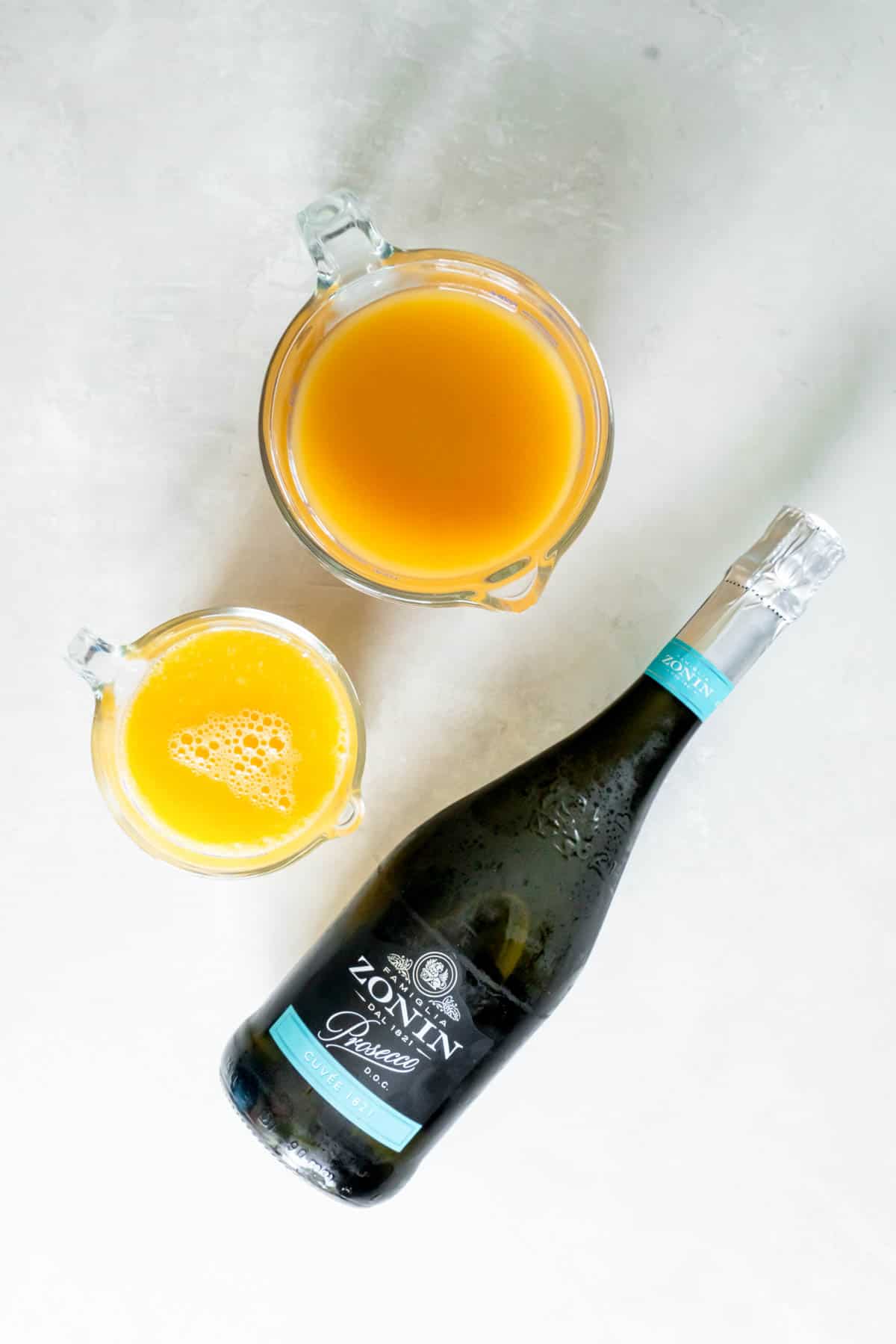 Champagne – Use your favorite champagne or prosecco for the base of this recipe. It adds flavor and a bubbly mouth feel that's super refreshing. You can also use Cava or another sparkling white wine.
Peach Nectar – You can purchase peach nectar at your local store. This is what gives the mimosa its distinct sweet peach flavor.
Orange Juice – A classic mimosa ingredient that pairs well with the peach nectar.
Peach Slices – Use as a garnish to give the cocktail a beautiful presentation. You can also garnish with fresh mint leaves.
You can also substitute the peach nectar for other fruit nectars including apricot, mango or cherry!
How to Make Peach Mimosas
Prepare the glasses – Line up your champagne flutes and pour chilled champagne or prosecco into each glass, filling it up halfway or to your desired amount.
Combine the fruit juice – In a pitcher, whisk or stir the peach nectar and orange juice together until fully combined.
Add the fruit juice to each glass – Continue to fill the rest of the champagne glasses with the desired amount of fruit juice.
Garnish and enjoy! You can garnish peach mimosas with fresh peach slices or fresh mint.
Recipe Tips
Choosing the alcohol: You can use champagne or prosecco for peach mimosas. The difference between them is that champagne is made in the Champagne region of France and has a slightly higher alcohol content. Prosecco is Italian and usually less expensive than champagne. It's also a little sweeter with floral notes. If you don't want to use champagne or prosecco, any other white sparkling wine will work.
Chill all of the ingredients: Before you assemble the drinks, make sure all of the ingredients are chilled beforehand. This will make for a much more enjoyable drink that is light and refreshing.
Adjust the ratio of ingredients: The standard mix for mimosa is one part orange juice to two parts champagne. However, you can adjust this to your liking! If you want a sweeter drink, add more peach nectar. If you want less sweet, cut back on the peach nectar or use more orange juice.
For an alcoholic version (mocktail), use sparkling water or club soda instead of champagne.
FAQs
What's the difference between a peach mimosa and a bellini?
A peach mimosa contains peach nectar, orange juice and champagne, while a peach bellini contains white peach puree, peach liqueur and prosecco. Both cocktails are light, refreshing and perfect for summer.
Is peach nectar the same as peach juice?
No, they are not the same. Peach nectar is made from peaches that have been pureed and strained. It's also sweetened with sugar or syrup. Peach juice is simply juice that comes from pressing peaches. It has more of a natural peach flavor and is not as sweet as nectar.
Other Brunch Cocktails
If you love fruity cocktail recipes, then you're going to love these Peach Mimosas. Serve these mimosas for Mother's Day or a summertime brunch. Try them and leave a recipe rating and review below!
Peach Mimosas
Yield: 6
These refreshing peach mimosas are the perfect summer drink!
Ingredients
1 bottle Champagne or Prosecco, chilled (750ml)
2 cups peach nectar
1 cup fresh orange juice
Fresh peach slices, for garnish
Instructions
Pour the desired amount of sparkling wine into the Champagne flutes, filling each glass about half full.

Pour the peach nectar and orange juice into a pitcher and stir to combine.

Top off the wine with your desired amount of peach-orange blend until the glass is full.

Serve garnished with fresh peach slices.
Notes
To make ahead: The peach and orange juice mixture can be made up to 24 hours in advance. Simply store it in a pitcher or jar in the fridge until you're ready to use it. Leftovers: Any leftover mimosas can be stored in the fridge for up to 48 hours. Simply cover the glasses with plastic wrap or transfer the mimosa into a sealed container. When you're ready to enjoy, give it a quick stir and garnish with peach slices before serving!
Nutrition
Calories: 120kcal, Carbohydrates: 15g, Protein: 0.5g, Fat: 1g, Saturated Fat: 0.04g, Polyunsaturated Fat: 0.02g, Monounsaturated Fat: 0.02g, Sodium: 18mg, Potassium: 217mg, Fiber: 0.2g, Sugar: 15g, Vitamin A: 297IU, Vitamin C: 21mg, Calcium: 21mg, Iron: 1mg
If you try this recipe, don't forget to leave a review below or share a photo and tag @spoonfulofflavor on Instagram.