Are you planning a visit to the Florida Keys? This Islamorada Florida Travel Guide includes our favorite things to see and do plus where to stay and Islamorada restaurants!
We absolutely love the Florida Keys! In addition to the great weather and beautiful water, there are endless activities for everyone. The Florida Keys is the type of place where you book a return visit before you even leave. It reminds you what a vacation is supposed to be – relaxing and fun!
After returning from a Florida Keys vacation, we created this guide to provide an overview of our favorite things to eat, see and do in Islamorada. The island of Islamorada is more centrally located than other islands in the keys which provides a great starting point for exploration. It also offers everything we love about the keys – the beach, water activities and plenty of fresh seafood!
How to Get to the Florida Keys
We recommend flying into either Miami or Key West airport. Rent a car and drive to Islamorada. This allows you to have a car to see the other islands in the Florida Keys during your visit. Of course, you can also drive down to the Florida Keys in your own car. We drive down from North Florida and the drive isn't bad at all.
The driving time is about 1 hour and 35 minutes from Miami International Airport. Or 1 hour and 40 minutes from Key West Airport.
Where to Stay on Islamorada
We love staying at a resort in the Florida Keys. Islamorada has a ban on short term vacation rentals, so you technically can't book a vacation rental, unless it's through one of the resorts. Many of the resorts are located on beautiful waterfront property and offer many activities included in the room rates.
Amara Cay Resort
Amara Cay Resort is located on the ocean side of Islamorada at Mile Marker 80. It has a sandy beach area with plenty of chairs and hammocks. A set of stairs leads into the water.
The property is relatively large but the hotel is small enough that it never feels busy. In fact, we were often the only people on the beach or in the pool, especially during the evening hours. It's the type of place where you will want to stay for the entire weekend and never leave the property.
Accommodations at Amara Cay are clean, beautiful and relaxing. Choose a room overlooking the pool /tiki bar area and you will also be able to see the ocean. It's a stunning property with fun little details throughout.
We immediately felt relaxed upon arrival.
Besides the beautiful waterfront location, one of the highlights of Amara Cay is the pool. It's one of the best pools in Islamorada, if not the best! The zero entry is great for little ones and the pool area overlooks the beautiful ocean. We spent time on the water every single morning and then relaxed by the pool in the afternoons and evenings.
Grab lunch at the Tiki Bar at Amara Cay. The outdoor seating offers stunning views of the ocean. Try the fish tacos and a cocktail! The menu offers plenty of options for kids and adults.
Amara Cay Resort also offers on-site non-motorized watersports like paddleboarding and kayaking. Exploring the water via paddleboard or kayak is our favorite thing to do each morning. We always spot pelicans, starfish and turtles. The paddleboards and kayaks are included in the resort fee and there are plenty available for guests to use.
The resort also offers bikes for use and some outdoor lawn activities. It's no surprise that many of the guests we met at Amara Cay stay on property all weekend. There are plenty of activities and delicious food to please everyone.
The resort also offers a free shuttle service to area restaurants. It's easy and convenient for when you stay on property but want to try one of the local restaurants.
Islamorada Restaurants
Of course my favorite thing about the Florida Keys is access to the freshest seafood. Below are a few options for restaurants in Islamorada. I'm sure there are a lot of other great ones but these are the restaurants we reviewed so far.
Morada Bay Beach Cafe
If you love beautiful views, do not miss Morada Bay Beach Cafe! The restaurant is located on a beautiful piece of property at mile marker 81.6. Tables and chairs are situated along a beautiful beach overlooking the water. While we highly recommend the outdoor dining, the restaurant does offer porch and indoor seating as well. It's a restaurant that should not be missed!
Morada Bay Cafe is a great place to view the sunset. The menu items are fresh, light and flavorful. Grab a drink and enjoy the view!
Ciao Hound Kitchen and Bar
Ciao Hound is one of the best restaurants in Islamorada, located at mile marker 84. It's both family friendly and great for date nights. The menu features Italian dishes and Tuscan flavors with seafood and steak, Italian-inspired cocktails and more. Service is great and they offer both indoor or outdoor seating.
Ciao Hound is located at the Postcard Inn and Resort so make sure to grab pre-dinner drinks and enjoy the view from Postcard Inn Tiki Bar. Sip on a rumrunner while you enjoy the beautiful ocean views.
Midway Cafe
Midway Cafe is one of my favorite spots in the Florida Keys. It's located at mile marker 80. We stumbled upon this place and are so glad that we stopped in. The little cafe is a great choice for breakfast. The restaurant offers counter service or to-go service. With everything from egg sandwiches and traditional breakfast plates to fresh smoothies and homemade pastries, you can't go wrong. Midway Cafe is a place that you could visit every day and try something different. Don't forget to take home a slice of key lime pie.
Square Grouper
We visited the Square Grouper for the first time in 2021, and it exceed all expectations. All of the food was delicious, the service was great and the view is beautiful. They have indoor and outdoor seating in addition to a bar area. When we arrived the tentative wait was over 70 minutes, yet we were seated in less than 10 minutes so don't let the wait deter you from visiting.
They offer plenty of menu options for everything, including kids. With fresh pasta, seafood, salads and more, you can't go wrong with this restaurant.
Other Islamorada Restaurants
While I haven't personally visited the restaurants below yet, I've heard great things about them. I'll report back after my next visit, but if you go, let me know!
Chef Michael's – higher end dining with great fresh seafood options
Pierre's Restaurant – this is fancier dining next to Morada Bay.
Kaiyo Grill and Sushi Bar – great sushi
Bob's Bunz – breakfast, pastries, key lime pie
Bad Boy Burrito – tacos, burritos
Things to Do in Islamorada
Day trip to Marathon or Key West
While there are plenty of activities to keep you busy in Islamorada, we love making the island a base point and travel throughout the keys. One of our favorite activities is taking a road trip from Islamorada to Marathon or Key West for the day. It's about 30 miles to Marathon or 80 miles to Key West from Amara Cay Resort. We make a few stops along the way.
Florida Keys Aquarium Encounters in Marathon
If you have children or love undersea life, the Florida Keys Aquarium Encounters is a great place to spend a few hours. Located in Marathon Florida at mile marker 53 (about 30 miles from Islamorada), the aquarium offers marine exhibits such as a coral reef tank, predator reef tank and touch tanks. Staff at the aquarium are knowledgable about the marine species and it's a great learning opportunity, especially for younger children. Make sure to pick up one of the local coupon books or guides to save a few dollars off per admission.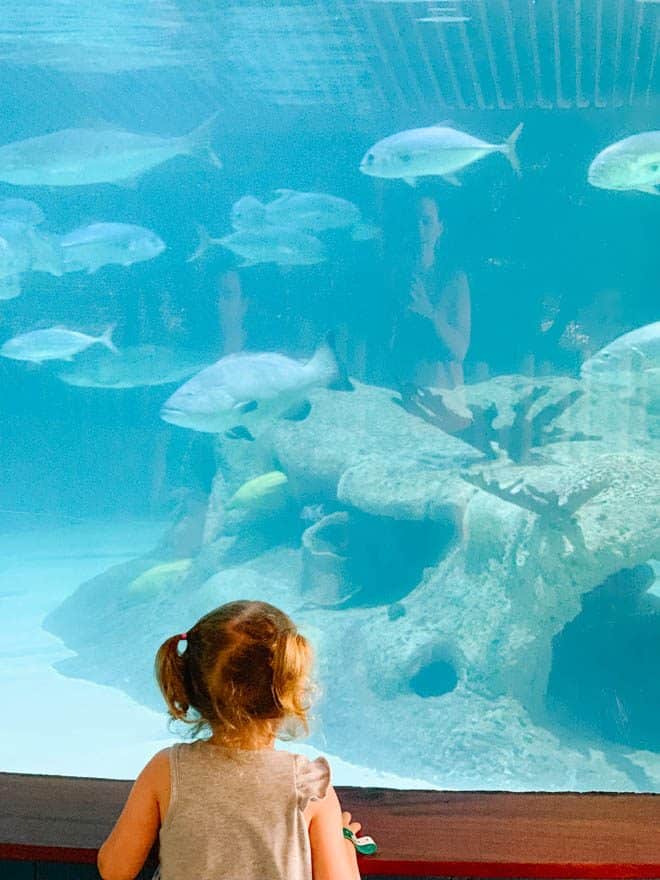 Key West deserves its own guide which we will publish at a later time. However, on a day road trip to Key West from Islamorada we usually choose one stop for lunch and one afternoon activity. We love driving down to mile marker 0, or the southernmost point in Florida.
Key West Butterfly and Nature Conservatory
The Key West Butterfly and Nature Conservatory is located near the southernmost point (about 80 miles from Islamorada). We usually just find street parking a few blocks away and walk to the conservatory. It's a beautiful walk and a must stop on any visit to Key West. The conservatory is the best butterfly exhibit we visited and we have visited at least a handful of butterfly houses. In addition to hundreds of beautiful butterflies and small birds, the conservatory also has flamingos. Kids and adults will love this beautiful space.
The conservatory also has a beautiful gift shop and is within walking distance to many restaurants. Discounts for admission are found online or in one of the local coupon books. We picked up a coupon book in one of the boxes right across the street and used it for $2 off each adult admission. Kids 3 years and under are free!
If you are driving down to Marathon or Key West, Sombrero Beach is also a great stop. It's probably the best true sandy beach in the keys. There are picnic pavilions and restrooms located at the park.
Robbies of Islamorada
When we were planning our visit to Islamorada Florida, we often saw recommendations for Robbies. At first we didn't understand the hype and weren't planning to visit. But, we decided to stop in one day and we are so glad that we did. My daughter loved feeding the Tarpon and visiting the ducks! Robbies Islamorada is quintessential Florida Keys. It's located on the bay side at mile marker 77.5.
Grab a bucket of fish and hand feed the huge tarpon. Or just watch everyone else do it! After feeding the tarpon, you can grab lunch at the restaurant or shop the open air market. You can also book fishing, snorkeling and water sports activities. Robbies of Islamorada is a great place to stop on a road trip through the Florida Keys.
Snorkeling, diving, boating and water sports
The Florida Keys are a great destination if you love water sports. With a 100 mile string of islands, you are likely to find something for everyone. We love kayaking, boating, paddleboarding, diving and snorkeling in the Florida Keys. Since snorkeling is one of our favorite activities, we love snorkeling Cheeca Rocks and Alligator Reef Light House.
While we haven't visited yet, I've heard Ligumvitae Key is a fun destination. It is a Florida State Park that is only accessible by boat. If you don't have your own boat, I recommend finding a boat tour operator who can bring you there.
John Pennekamp Coral Reef State Park
If you're looking for inexpensive easy access to snorkeling the reefs, John Pennekamp Coral Reef State Park on Key Largo is a great spot. The park is located at mile marker 102.5 in Key Largo. It's a drive from Islamorada Florida but they offer multiple daily snorkel tours for about $30 per person. In addition, they offer scuba tours, glass bottom boat tours and kayak and paddleboarding. It's a great one-stop destination for everyone in your family.
The state park is also the location where you can see Christ of the Abyss. You will also spot many varieties of fish and some corals. All of the underwater photos in this post were from snorkeling this area in John Pennekamp State Park.
Islamorada Florida Visitor Tips
Everything you need is located right on Islamorada.
A large Publix grocery store is centrally located on Islamorada. Stock up on snacks, drinks and items for the beach. With young children sometimes it's easier to grab a few quick things to eat for breakfast or lunch instead of a sit-down meal. We always try to make sure our resort has a fridge for easy storage.
There are very few large sandy beaches in the Florida Keys. Do not expect long white sandy beaches with emerald green water like you will find on much of the west coast of Florida. The Florida Keys are an outdoor destination with plenty of water activities and some small beaches but they are probably not the best place if you're looking for the typical long stretches of Florida beaches.
December through May is the peak season in Islamorada. We love traveling during the end of May or June as it's a little slower but the weather is still great (although hot). October and November are also great times to visit, but it's also the end of hurricane season and possibly a little cooler, so plan accordingly.
If you love beach travel, check out a few of our other favorite beach destinations.
Have you visited Islamorada or the Florida Keys? Share your favorite things to do in Islamorada, places to eat or tips in the comments below!
This post was originally published in July 2019. It was updated in July 2021 with more up to date information. Thank you to Amara Cay Resort for hosting part of our first trip to Islamorada 2019! As always, all opinions are my own.