Turkey Taco Quinoa Skillet
Ground turkey, quinoa, black beans, corn, tomatoes and Mexican spices all cooked together in just one skillet! This healthy and delicious Turkey Taco Quinoa Skillet dinner is sure to become your family's favorite weeknight dinner!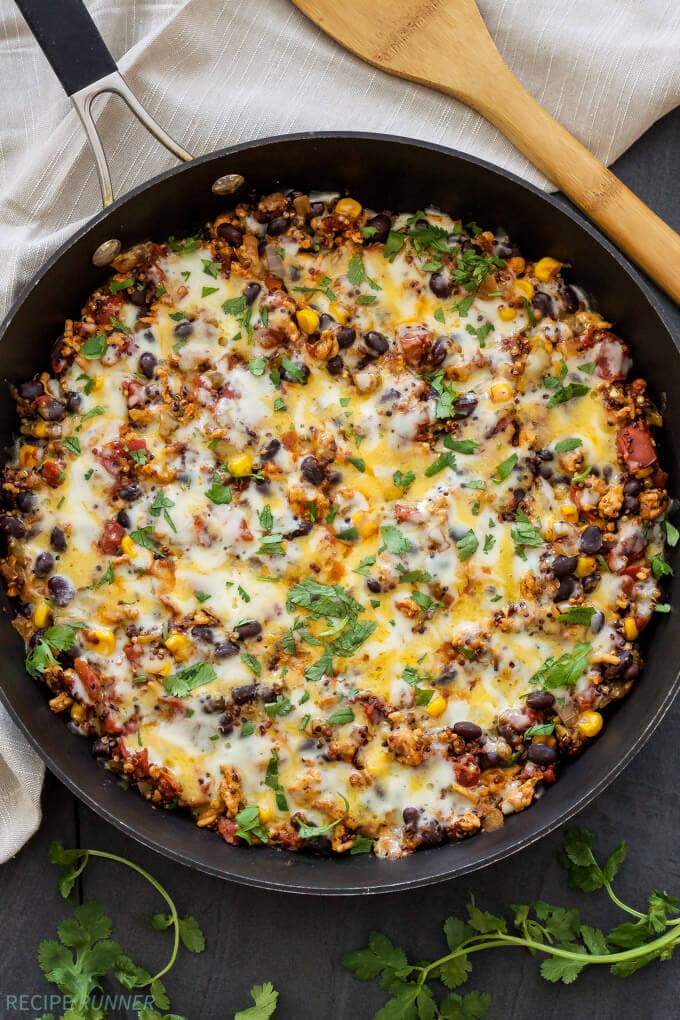 Hi everyone! Danae from Recipe Runner and I'm back with my first guest post for 2016. I hope you guys had a wonderful holiday season and that the New Year has started out great for you. While I love the holiday season it's nice to get back to my normal routine and eating habits. My body can only take so many cookies and chocolates before it starts to turn on me and let me know it's had enough. By the first week in January it had definitely had enough!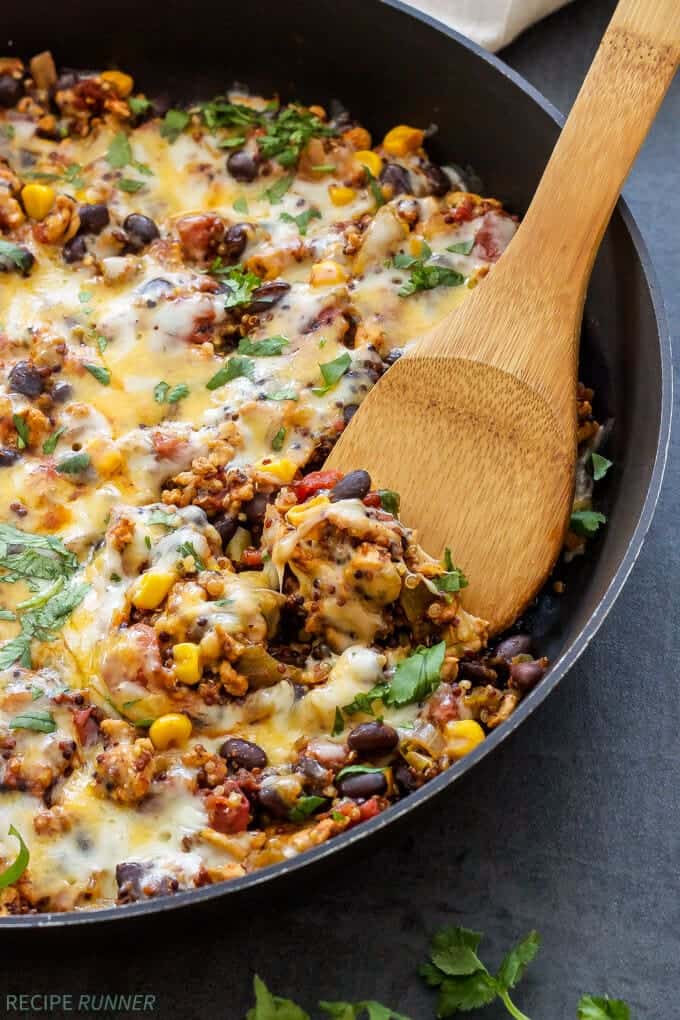 Just because it's January and many of us are trying to eat healthier doesn't mean that we have to eat food that tastes like cardboard or lettuce all day every day. It also doesn't have to use complicated expensive ingredients or take all day to prepare. Healthy eating can be delicious, colorful, full of flavor and easy to make. This Turkey Taco Quinoa Skillet is a perfect example of a flavorful, healthy, one pan meal that everyone in the family is sure to enjoy!
Skillet meals are one of my favorite things to make for a couple of reasons. I love that there are far less dishes to wash since washing dishes is one of my least favorite things to do along with emptying the dishwasher. I also love that there are so many options when it comes to making skillet/one pot dinners. You can make them with or without meat, pasta, rice and in this case quinoa, then it's just a mater of adding in your favorite spices and vegetables.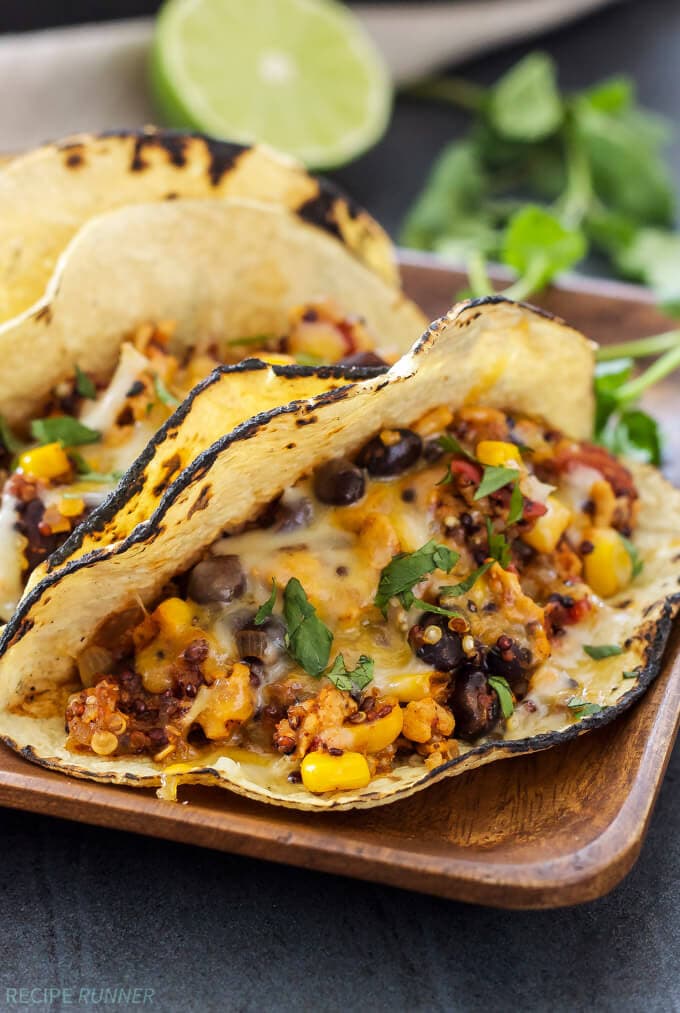 Since I love Mexican food and am always looks for ways to jazz it up and keep it healthier, this Turkey Taco Quinoa Skillet was a perfect option for me. Along with ground turkey and quinoa being in this skillet meal you'll also find a slew of Mexican spices, black beans, green chiles, corn, fire roasted tomatoes and of course it wouldn't be complete without some melted cheese on top! It can be served as is, in tortillas for tacos or on top of your favorite greens like a taco salad. The skillet meal comes together in about 30 to 40 minutes making it a great weeknight dinner choice. Enjoy!
Yields 6 servings
Turkey Taco Quinoa Skillet
10 minPrep Time
30 minCook Time
40 minTotal Time
Ingredients
1/2 pound lean ground turkey (I use 99% lean)
1/2 of a yellow onion, diced
2 cloves of garlic, minced
4 ounce can diced green chiles
2 teaspoons chili powder
1 teaspoon cumin
3/4 teaspoon kosher salt
Black pepper to taste
15 ounce can black beans, rinsed and drained
14.5 ounce can diced fire roasted tomatoes
1/2 cup frozen corn
1/4 cup jarred salsa
1/2 cup rinsed quinoa
1/2 cup water
1/2 cup shredded Monterey Jack cheese
1/2 cup shredded cheddar cheese
Cilantro for garnish (optional)
Instructions
Spray a large skillet generously with cooking spray and heat over medium-high heat.
When the skillet is hot add in the diced onion and cook for about 2 minutes until it starts to soften.
Add in the ground turkey and minced garlic and cook until the meat is almost cooked through, breaking it up into crumbles with a spoon as it cooks.
Stir in all the spices and the diced green chiles, cooking for another minute.
Add in the black beans, corn, fire roasted tomatoes, salsa and quinoa, stirring until everything is combined.
When the mixture starts to bubble add in the water, cover the skillet with a lid and lower the heat to medium-low.
Simmer for about 20-25 minutes or until the quinoa is cooked, it should still have a slight bite to it, but not be hard and crunchy.
Sprinkle the shredded cheese on top and cover with the lid cooking until the cheese is melted.
Serve as is, in tortillas for tacos, or on top of your favorite greens.
Notes
Leftovers may be frozen for a later use.
https://www.spoonfulofflavor.com/2016/01/20/turkey-taco-quinoa-skillet/
More Skillet and One Pot Meals
Skillet Meatballs in Marinara Sauce
One Pot Creamy Lemon Chicken Pasta with Baby Kale
Lightened Up Skillet Chicken Parmesan
Connect with Danae: