Triple Berry Almond Crisp is loaded with fresh berries and almond topping! Baked in mini skillets and served with yogurt for breakfast or a scoop of ice cream for dessert!
Summer is here! I feel like I was saying that long before the summer solstice arrived. But summer has always been and will always be my favorite season for so many reasons. When I was a child, it was all about chasing fireflies, running through the sprinkler and no school. Now summer just gives me a reason to enjoy all of the things that I love while also eating fresh, local and seasonal food. Today, I'm sharing the top things I love about summer and the recipe for Berry Almond Crisp. The crisp is perfect for breakfast, lunch or dessert. Serve it with yogurt for breakfast or a scoop of ice cream for dessert!
The top 10 things I love about summer:
(1) scent of suntan lotion
(2) outdoor dining
(3) long days
(4) popsicles
(5) backyard campfires
(6) s'mores
(7) vacation
(8) warm water
(9) spending all night watching Pitch Perfect YouTube video repeats
(10) berries
MY LATEST VIDEOS
While this list is in no particular order, #1 is definitely my absolute favorite thing about summer. The scent of suntan lotion reminds me about all of the other things I love about summer – the warm water, beach and vacations. I love that even after I wash a shirt that I've recently worn outside, it still has the slight scent of sunscreen for a few days. Scents evoke so many memories and some of the best memories are from summer.
And please tell me that I am not the only person who spends all night watching Pitch Perfect Youtube video repeats. I don't actually watch the entire movie, although I have multiple times, I just watch the YouTube videos. I think it is because signing is one of those talents I wish I had but definitely don't. So don't worry, you won't see any YouTube videos of me singing a capella any time soon.
Tell me, what do you love most about summer?
I bake this recipe in two mini skillets so you don't have to worry about sharing. Just combine your favorite berries, top with almond-oat topping and bake. Grab a spoon and dig in!
Ingredients
1/2 cup slivered almonds
1/2 cup old fashioned rolled oats
pinch of salt
4 tablespoons cold unsalted butter, cut into pieces
1 tablespoon honey
2 cups fresh berries (blackberries, raspberries, strawberries and/or blueberries)
Instructions
Preheat the oven to 375 degrees. In a food processor, combine the almonds and 2 tablespoons oats. Pulse until finely ground. Add the remaining oats, salt, butter, and honey and pulse until a chunky mixture forms.
Divide the two cups of berries among two mini cast iron skillets. Spoon the almond-oat topping over the top of the berries, dividing evenly among the two skillets. Bake for 15 to 20 minutes or until top is golden brown. Serve warm with a scoop of ice cream or allow to cool and serve with yogurt.
https://www.spoonfulofflavor.com/2014/06/25/berry-almond-crisp/
Source: Spoonful of Flavor
Love berries? Try these other berry recipes:
Triple Berry Lemon Cookie Cups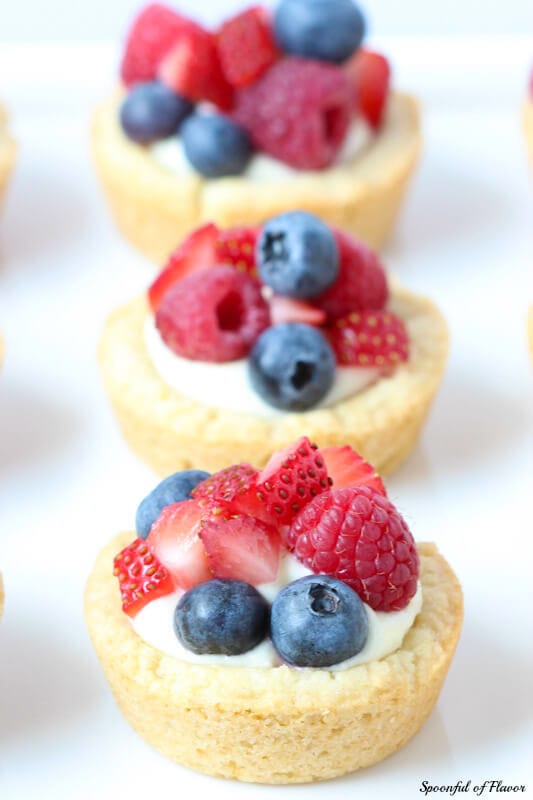 No-Bake Mini Cheesecakes with Raspberry Sauce