This easy method shows you how to make Homemade Citrus Extracts from scratch – lemon, orange and more! All you need is two simple ingredients to make bold and flavorful extract that is perfect to use in desserts, sorbets and even cocktails.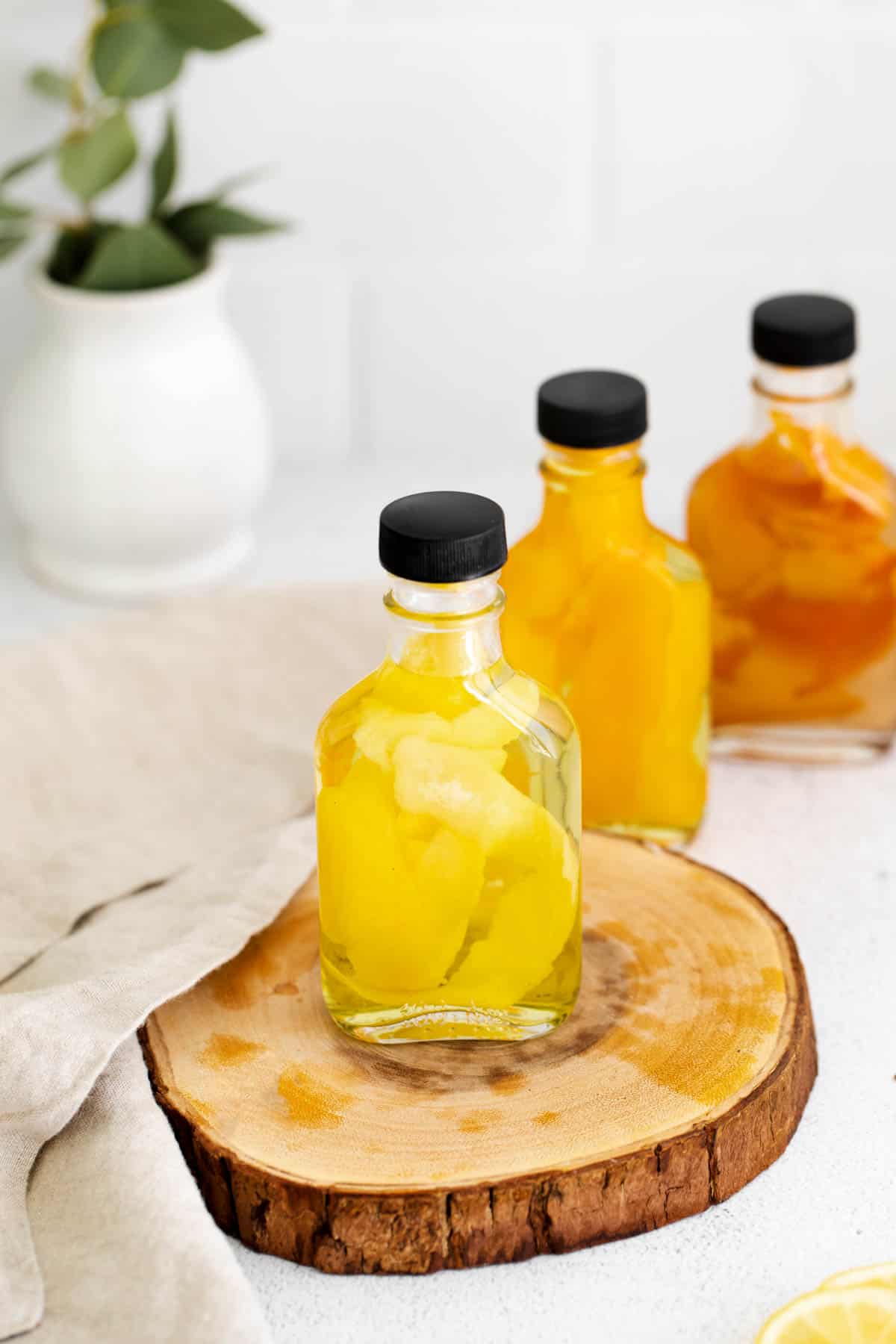 Have you ever made a recipe that needed an orange extract or lemon extract but you didn't have any? I've been there countless times and now instead of going out to the store and hoping they have the right one, I just make my own right at home! 
Why You'll Love This
It's Easy! All you'll need is 2 ingredients to make a flavorful extract you can use right at home.
They make great gifts. Need an inexpensive but valuable gift for a friend or teacher? These homemade extracts bottle up nicely.
Low Maintenance. Once you mix the two ingredients, you'll set it and forget it while the magic happens without any hands-on attention. 
A little goes a long way. This powerful extract packs lots of flavors and will last a long time. 
Homemade vs Store-bought Extracts
In most store-bought extracts, you can find a mix of alcohol, water, and "natural" flavor. This makes for a slightly watered-down version of the flavor that can sometimes taste artificial. When you make your own homemade extract, you can be sure that the flavor is solid because it comes from real fruit and is combined with alcohol to concentrate the flavor and bring it out in the best way. 
Nothing beats the flavor from fresh lemon peel extract or homemade orange extract!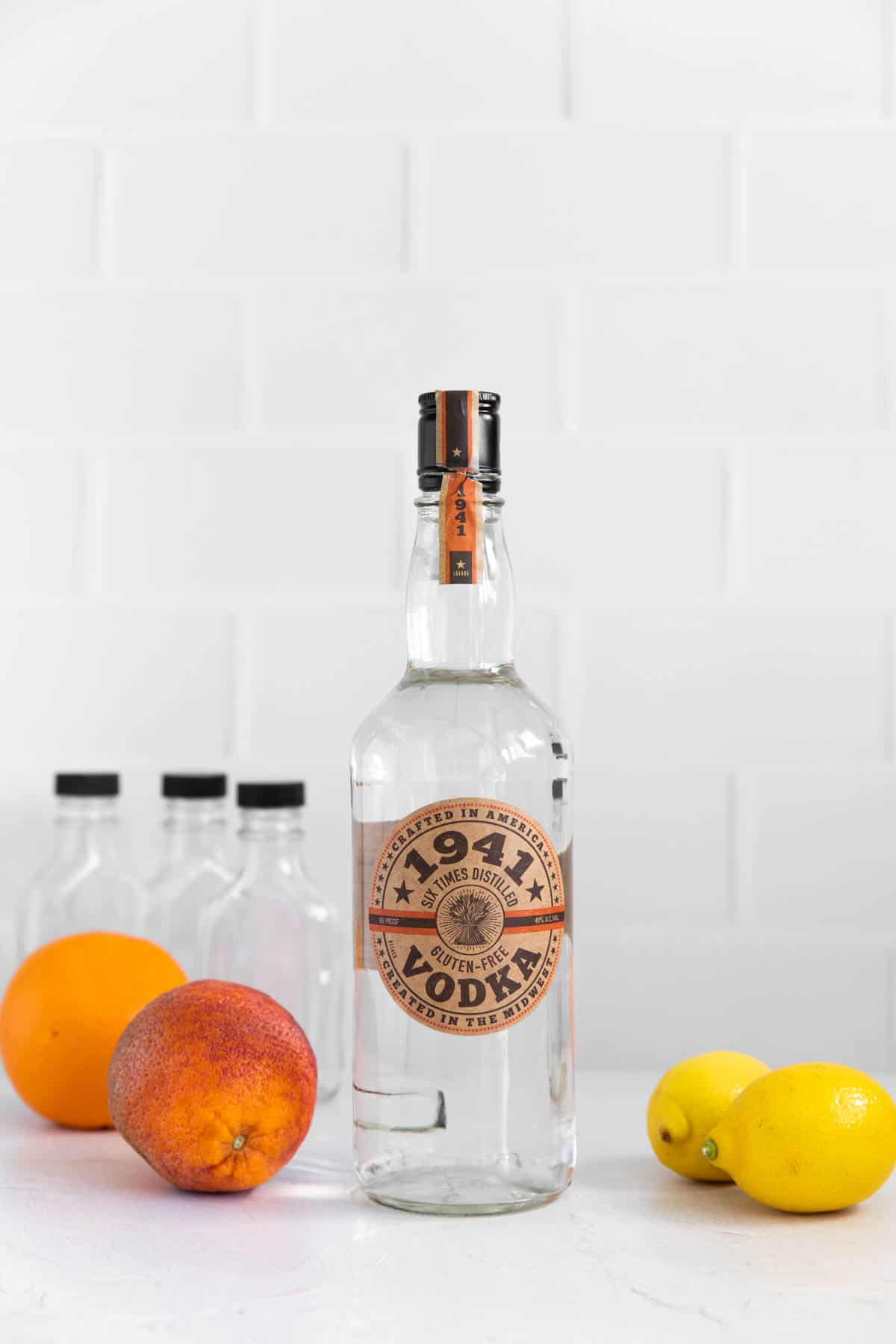 Ingredients You Need
Fresh Orange or Lemon Peels – The peel of the skin is where all the essential oils and flavors are that make this extract bold and refreshing. Use organic citrus for the best flavor. You can naval orange, blood orange, lemons and even limes to make homemade extract.
Vodka – The alcohol strip the oils from the peel over time flavoring the vodka with fresh citrus. You don't really need to worry about the taste of alcohol because you only use a small amount of extract in recipes.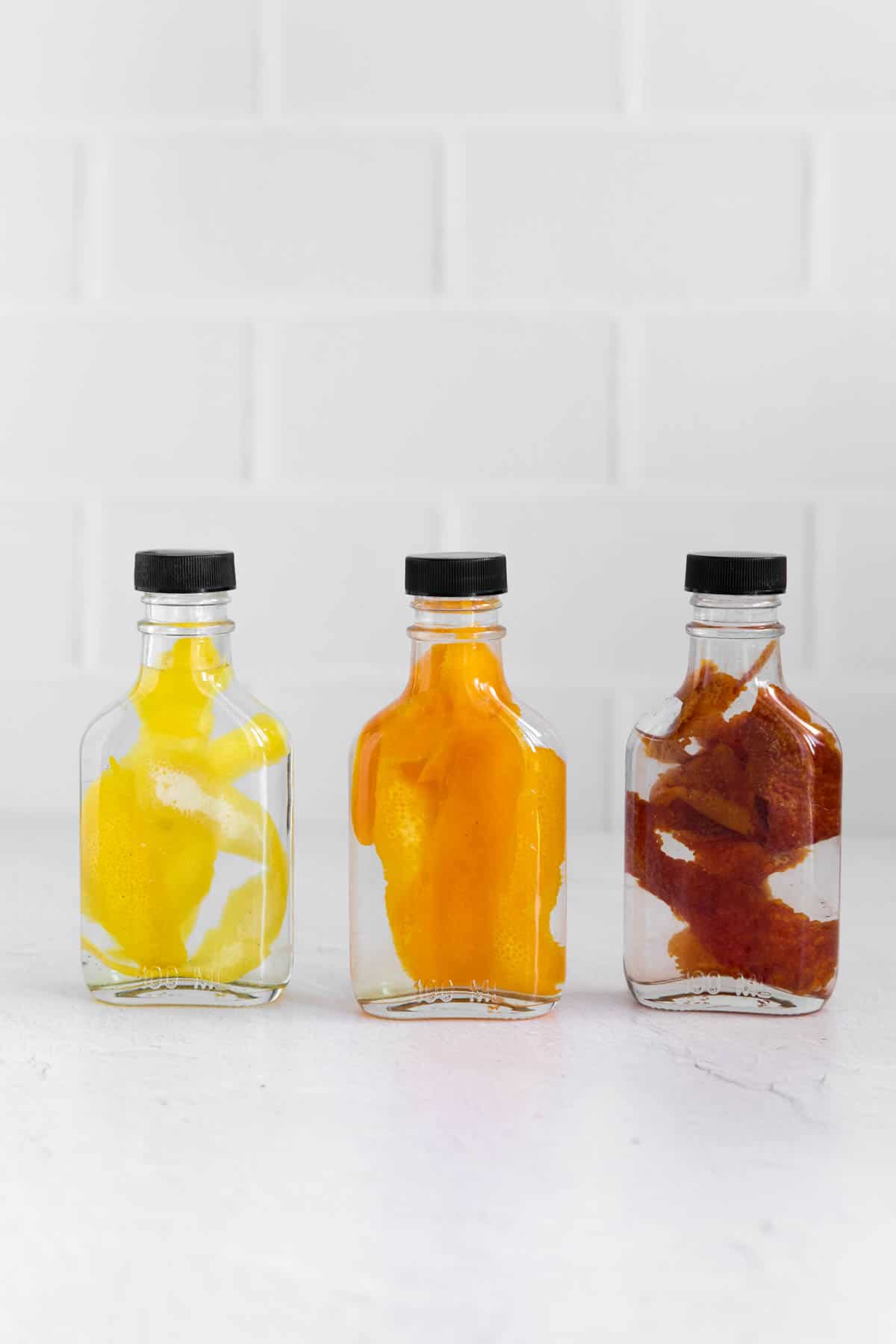 Steps to Make Homemade Citrus Extracts
Prepare the fruit. Wash off the fruits very well gently using a scrub brush to wipe away any dirt and impurities. Peel the skin off the fruit but try to only peel off the yellow or orange parts leaving as much of the pith as possible. 
Assemble the fruit extract. Place the citrus peels in a jar or airtight container and cover completely with clear vodka. Store at room temperature for one month or up to 6 weeks. 
Strain and use. Once the citrus flavor has broken down into the vodka, strain out the peels using a metal strainer then store in a glass jar with a lid or an airtight container for up to 6 months of use. 
Expert Tips
Use organic citrus. Since the extract will be made directly from the outer layer of the peel, you want to make sure there are as few impurities and chemicals as possible which is why choosing organic is best for extracts. 
Choosing the vodka. When it comes to figuring out which vodka is best in this recipe, you want to make sure it's a clear vodka you would enjoy in a cocktail. It doesn't need to be super high quality since only small amounts of extract are used at a time. A clean and smooth vodka is best. 
Use an airtight container. It's important that the extract is in a completely airtight container when it is developing its flavor. Any oxygen introduced can change the flavor or cause the oranges to get moldy. I use small glass jars made for extracts.
Change up the citrus! Feel free to use this method using your favorite citrus fruits including, lemon, lime, key limes, Meyer lemons, blood orange, grapefruit, or yuzu.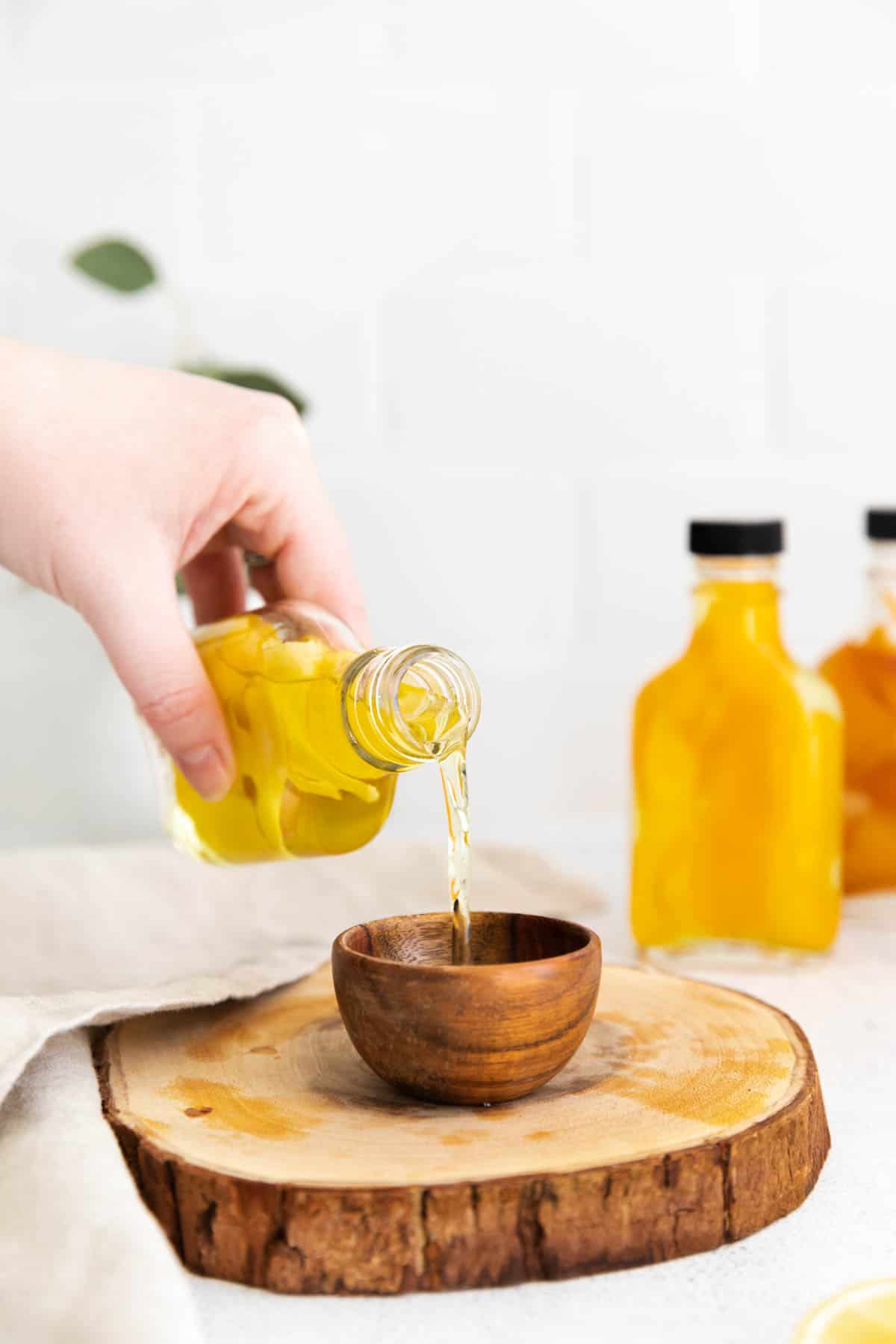 Now that you made the extract, there are a variety of ways to use it. Because the flavor is concentrated, a small amount of extract goes a long way. You can use it in many ways to add fresh lemon, orange or lime flavor to your favorite food and drinks.
How to Use Citrus Extract
Add it to the following for a fun citrus twist. I usually start with a teaspoon and adjust flavor as needed.
Compound butter
Buttercream icing
Orange martini
Cakes & Muffins
Margarita
Simple syrup
Chutney
Green vegetables
Cookies & shortbreads (like Lemon Shortbread Cookies)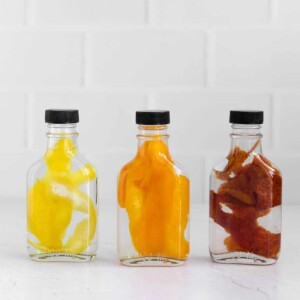 Homemade Citrus Extracts
Yield: 18 ounces
Make lemon, orange or lime citrus extracts at home with only two basic ingredients!
Ingredients
3 citrus fruits, (lemon, lime, orange or blood orange – organic is best)
2 cups vodka, (more or less depending on your container size)
Instructions
Wash the fruits well and then peel the top layer off each of them without getting too much of the pith (the bitter white part of the fruit.)

Place the peels in a jar and cover completely with vodka.

Store at room temperature for one month, then strain out the peels.

Store for up to 6 months at room temperature.
Notes
This recipe yields three (6 ounce) jars of citrus extract.  Storing: Once strained, the citrus extract can be stored at room temperature in the pantry for up to 6 months.  Freezing: Citrus extracts or homemade extracts are made with alcohol and will not freeze, therefore freezing is not recommended.
Nutrition
Serving: 1ounce, Calories: 62kcal, Sodium: 1mg, Potassium: 1mg, Iron: 1mg
If you try this recipe, don't forget to leave a review below or share a photo and tag @spoonfulofflavor on Instagram.