This delicious homemade Raffaello candy tastes just like Ferrero Raffaello! It comes together quickly and easily in your own kitchen in less than 15 minutes before chilling in the refrigerator.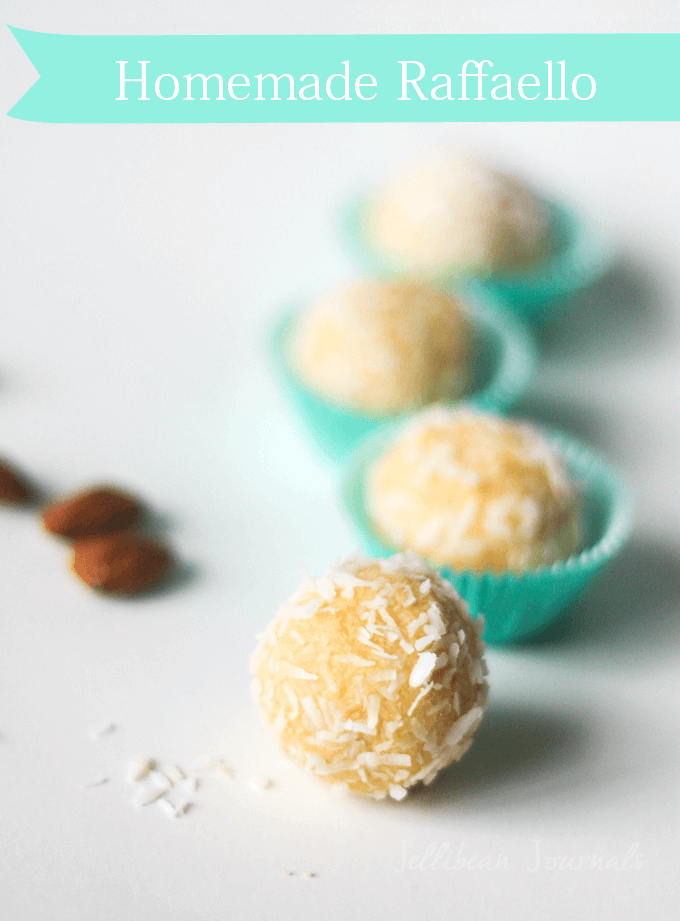 If I lived in Italy I'd weigh 20 tons and have at least 4 chins. Nutella, lasagna, and gelato. Need I say more? And this recipe is Italy's best coconut almond candies! Pour yourself a shot of steamy espresso, and let's make homemade Raffaello candy.
Hi there! I'm Jelli, from Jellibean Journals, and I'm going to teach you this simple and quick recipe for homemade Raffaello. And yes, I lived in Italy, but just for enough time to fall in love with everything Italian, including these crunchy coconut almond candies.
Who invented Raffaello?
Raffaello is a coconut almond confection that originated in Italy. The Italian manufacturer Ferrero first created this delicious candy to share with the world.
What is inside a Raffaello?
Raffaello candy consists of a round wafer made of milk, almonds, coconut and a few other simple ingredients.
Our homemade recipe for Raffaello candy includes sugar, butter, milk powder, shredded coconut, vanilla wafers, vanilla extract and almonds.
How to make Raffaello candy
Making homemade Raffaello is so easy, even your kids can make them! The entire process before chilling them takes only 15 minutes.  Here is the simple way to make this tasty candy.
Beat candy dough in your mixer.
Shape into balls and insert almonds in the center.
Roll in coconut.
See, pretty simple, right?
The easiest and fastest way to shape the candy is to use a small cookie scoop. Scoop a big ball of dough, pack it in tightly, press in an almond, and release the dough. Shape it a little in your hands to make a ball. Roll them in shredded coconut and you're done!
Tips for making homemade Raffaello candy
The most important tip when making Raffaello is to be willing to adjust. The dough can be a little dry from all the crisp vanilla wafer goodness that we're packing inside, so you have to shape the candy by gently squeezing it rather than rolling it in your hands to form balls. If the dough is just not shaping, mix in a little more butter and try again.
The final crunchy, creamy coconut results are so outrageously lush that you'll want to stuff your cheeks like chipmunks as you make these.  Now let's give Ferrero a good run for the money and make your own Raffaello!
These candies are great to package up and give as edible gifts during the holidays. They are the perfect gift to give alongside dark chocolate almond clusters!
Homemade Raffaello Candy
Yield: 20 candies
Delicious homemade Raffaello candy that tastes just like Ferrero Raffaello made quickly and easily in your own kitchen!
Ingredients
1/2 cup sugar
1/2 cup butter, at room temperature
1 cup dry milk powder
3/4 cup dried shredded coconut
1 cup crushed vanilla wafers, (sugar wafers with the cream in the middle, not the round thin cookies)
1 teaspoon vanilla or almond extract
1/4 cup roasted almonds
1/2 cup dried shredded coconut for rolling
Instructions
In a stand mixer beat together butter and sugar 2 minutes on medium speed.

Reduce speed to low and add milk powder, 3/4 cup coconut, vanilla wafers, and extract to combine. Refrigerate one hour or overnight.

Using a cookie scoop measure out dough balls and insert an almond into the center. Carefully remove the candy dough from the scoop and gently use your hands to shape the candy into balls. Roll each ball in coconut and serve.

Store in an airtight container refrigerated for up to 3 days.
Notes
Use the long sugar wafers with the cream in the middle. Do not use the Nilla wafers like you would for banana pudding for this recipe. 
Store these candies in an airtight container in the refrigerator for up to 3 days.
Recipe adapted from Mom's Dish.
Nutrition
Serving: 0g, Calories: 147kcal, Carbohydrates: 15g, Protein: 3g, Fat: 8g, Saturated Fat: 5g, Cholesterol: 13mg, Sodium: 111mg, Potassium: 150mg, Fiber: 0g, Sugar: 12g, Vitamin A: 280IU, Vitamin C: 0.4mg, Calcium: 87mg, Iron: 0.2mg
If you try this recipe, don't forget to leave a review below or share a photo and tag @spoonfulofflavor on Instagram.