If I lived in Italy I'd weigh 20 tons and have at least 4 chins. Nutella, lasagna, and gelato. Need I say more? Today we're going to make Italy's best coconut almond candies right at home. Pour yourself a shot of steamy espresso, and let's make homemade Raffaello candy.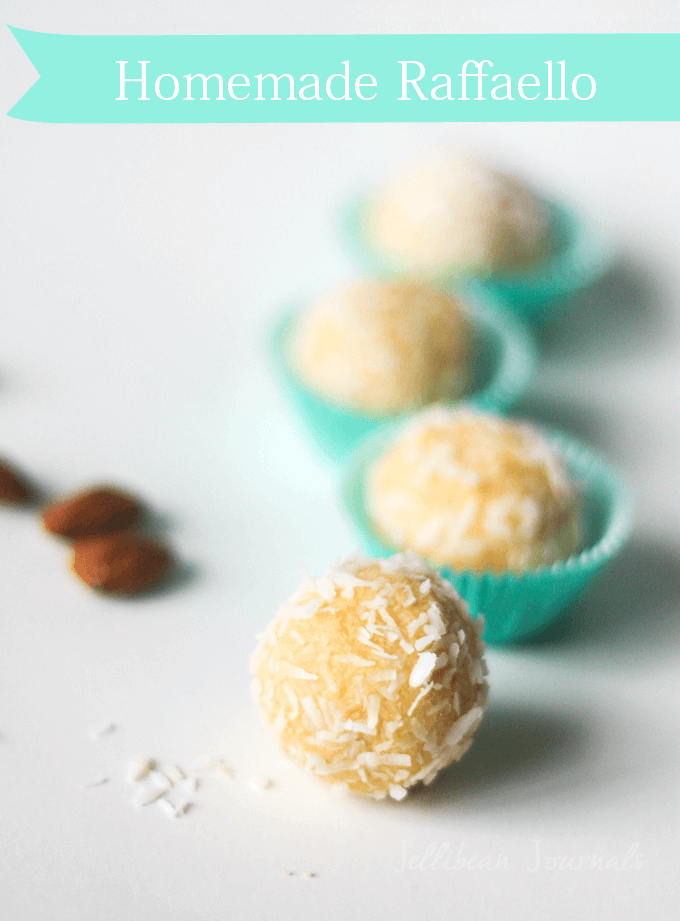 Hi there! I'm Jelli, filling in for Ashley today, to teach you how simple and quick it is to make homemade Raffaello. Most days you can catch me apron-clad and waist-deep in chocolate, belly-laughing with my husband, and racking my brain to translate my toddler's newest Spanglish phrases over at Jellibean Journals. And yes, I have lived in Italy, but just for enough time to fall in love with everything Italian, including these crunchy coconut almond candies.
Making homemade Raffaello is so easy you can invite your kids to participate in the production line.  Here's the short version.
Beat candy dough in your mixer.
Shape into balls and insert almonds.
Roll in coconut.
See, pretty simple, right?
The final crunchy, creamy coconutty results are so outrageously lush that you'll want to stuff your cheeks like chipmunks as you make these. I may be speaking from experience. In fact, I hesitated to add the yield for this recipe since I taste-tested so many candies that I almost lost count. Oops.
The most important tip I can give you when making Raffaello is to be willing to adjust. The dough can be a little dry from all the crisp vanilla wafer goodness that we're packing inside, so you have to shape the candy by gently squeezing it rather than rolling it in your hands to form balls. If the dough is just not shaping, mix in a little more butter and try again.
The easiest and fastest way I've found to shape the candy is to use a small cookie scoop. Scoop a big ball of dough, pack it in tightly, press in an almond, and release the dough. Shape it a little in your hands to make a ball. All you've gotta do now is roll them in coconut and finito!
Now let's give Ferrero a good run for the money and make our own Raffaello!
Homemade Raffaello Candy
Delicious homemade Raffaello candy that tastes just like Ferrero Raffaello made quickly and easily in your own kitchen.
Ingredients
1/2 cup sugar
1/2 cup butter at room temperature
1 cup dry milk powder
3/4 cup dried shredded coconut
1 cup crushed vanilla wafers
1 teaspoon vanilla or almond extract
1/4 cup roasted almonds
1/2 cup dried shredded coconut for rolling
Instructions
In a stand mixer beat together butter and sugar 2 minutes on medium speed.

Reduce speed to low and add milk powder, 3/4 cup coconut, vanilla wafers, and extract to combine. Refrigerate one hour or overnight.

Using a cookie scoop measure out dough balls and insert an almond into the center. Carefully remove the candy dough from the scoop and gently use your hands to shape the candy into balls. Roll each ball in coconut and serve.

Store in an airtight container refrigerated for up to 3 days.
Nutrition Information
Calories:
147
, Fat:
8g
, Saturated Fat:
5g
, Cholesterol:
13mg
, Sodium:
111mg
, Potassium:
150mg
, Carbohydrates:
15g
, Sugar:
12g
, Protein:
3g
, Vitamin A:
280%
, Vitamin C:
0.4%
, Calcium:
87%
, Iron:
0.2%
*Nutritional information is an estimate. Please consult a doctor or nutritionist for the most accurate nutritional info.
Course: Dessert
Cuisine: Italian
Keyword: raffaello candy
Jelli is a blogging veteran and avid baker who's been selling sweets to feed her chocolate addiction for 5+ years. When the polka dotted apron's hanging up, she's  a full-time mama to two tiny kidlets enjoying the crazy days of motherhood and pumping out brownie recipes from her thrice-dropped-barely-hanging-on laptop in sunny Costa Rica. Connect with her on Twitter.