Thank you to Naturipe Farms for sponsoring this post!
No-bake Strawberry Pistachio Cardamom Tart is made with a lemon coconut crust, cardamom pastry cream, fresh strawberries and pistachios! It is gluten free and dairy free too!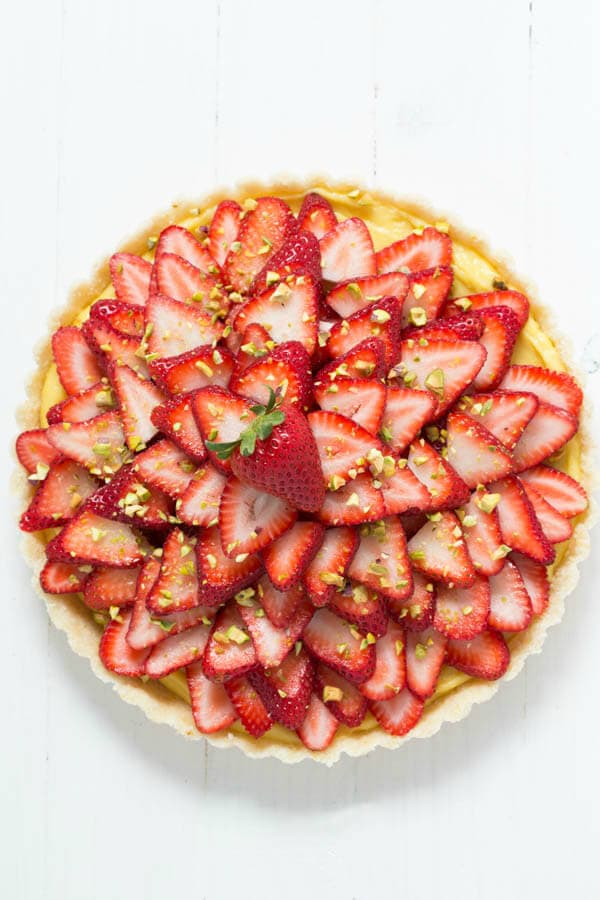 Last fall I had the opportunity to visit the Naturipe Farms strawberry fields near Salinas, California. Visiting the fields was a great way to learn more about berry growers and the benefits of growing berries. For a strawberry lover, it was a dream to walk the fields, learn about the growing practices and pick fresh berries. At home, I use the berries from the farms to create recipes like this Strawberry Pistachio Cardamom Tart that I am sharing with you today.
Naturipe Farms offers both conventional and organic strawberries that are grown in California, Florida and Mexico. The berries are available year round and can be found at your local grocery store. Peak berry season in the United States starts in May so you can expect an abundance of fresh and flavorful berries available at your local grocery store. When picking the berries, look for clean dry berries that are plump, firm and fully red.
I don't think this tart could get much better. It doesn't need to be baked, is gluten free, dairy free and topped with two whole pounds of fresh strawberries. I've been working on this recipe for a while and have created a beautiful tart packed with flavor. Lemon, coconut, almond, cardamom, vanilla, strawberries and pistachios create a well-balanced flavor that everyone will love.
The crust is gluten free and made with a few simple ingredients. It is no bake and is chilled in the fridge for serveral hours. The filling is a basic pastry cream recipe mixed with vanilla and cardamom. Layers of strawberries and finely chopped pistachios top it all off.
The best thing about this tart is the strawberries! I use two pounds of fresh strawberries sliced into 1/4 inch slices. Starting from the outside of the tart crust, I layer the slices in a circle around the edge on top of the pastry cream filling. Fill in the middle with extra pieces of strawberries to create a base to stack the additional layers of strawberry slices. I use the smaller pieces or ends to fill in empty space. Continue to stack the strawberry slices on top of one another, as desired. I don't really follow a particular pattern or shape, I just layer the strawberries on top of each other moving towards an inward pattern as I stack. The result is what you see in the pictures above.
No Bake Strawberry Pistachio Cardamom Tart
Yield: 1 tart
No-bake Strawberry Pistachio Cardamom Tart is made with a lemon coconut crust, cardamom pastry cream, fresh strawberries and pistachios! It is gluten free and dairy free too!
Ingredients
For the tart crust:
1 cup almond flour
2 cups unsweetened coconut flakes
2 tablespoons pure maple syrup
2 tablespoons coconut oil
1 tablespoon lemon juice
2 teaspoons pure vanilla extract
zest from one lemon
pinch of salt
For the pastry cream:
5 egg yolks
1/2 cup granulated sugar, divided
3 tablespoons cornstarch
1/2 teaspoon kosher salt
1 1/2 cups coconut milk, or dairy, nut, or soy milk
1/2 teaspoon pure vanilla extract
1/4 teaspoon ground cardamom
For the topping:
2 pounds strawberries, stems removed and sliced into 1/4 inch pieces
1/4 cup finely chopped pistachios
Instructions
Add all of the ingredients for the crust (almond flour through salt) to a food processor. Pulse until well blended and the mixture starts to clump. Transfer the mixture to a 9 inch round tart pan with removable bottom. Press the mixture into the bottom and up the sides of the pan, spreading it as evenly as possible. Chill the tart in the refrigerator for a minimum of 6 hours or overnight. Refrigerate until ready to serve.

In a medium heatproof bowl, add the yolks, 1/4 cup sugar, cornstarch and salt; whisk to blend.

In a small saucepan over medium heat, heat the milk and remaining 1/4 cup sugar until the mixture reaches a gentle boil. Slowly, pour the hot milk mixture into the bowl with the egg mixture, whisking constantly to combine. After all of the milk mixture is added to the egg mixture, transfer the mixture back to the saucepan and heat over medium heat. Cook until thickened, whisking constantly, about 2 to 3 minutes.

Strain the pastry cream through a mesh strainer set over a bowl, pressing it through the strainer with a rubber spatula. Add the vanilla extract and cardamom to the pastry cream and stir until combined. Cover bowl with plastic wrap pressed directly onto the surface of the cream and refrigerate until chilled. You can also place bowl in the freezer for 15 to 30 minutes to chill.

To assemble the tart, pour the pastry cream into the tart crust and spread evenly. Arrange the strawberry slices on top. Refrigerate until ready to serve. Carefully separate the side of the tart pan from the bottom. Sprinkle chopped pistachios over tart just prior to serving. Serve immediately.
Notes
*It is important to completely chill the tart shell. If the tart shell softens, return to fridge and chill.  
Nutrition
Serving: 0g, Calories: 4037kcal, Carbohydrates: 306g, Protein: 69g, Fat: 306g, Saturated Fat: 199g, Cholesterol: 976mg, Sodium: 1330mg, Potassium: 3560mg, Fiber: 60g, Sugar: 189g, Vitamin A: 1535IU, Vitamin C: 546.9mg, Calcium: 678mg, Iron: 28.4mg
If you try this recipe, don't forget to leave a review below or share a photo and tag @spoonfulofflavor on Instagram.
Source: Spoonful of Flavor
This post is sponsored by Naturipe Farms. As always, all opinions are my own.