This Quick Pickled Carrots recipe comes together with a few simple ingredients and only 5 minutes of hands-on prep. No canning or water bath needed!
Pickled carrots are one of my favorite additions to salads, bowls and more. They are a great way to use carrots hanging around in your fridge and they add a crunchy tangy flavor to meals.
With only five minutes of prep and one hour to rest, they will be ready in little time.
Because they are shredded, they are easy to scoop and add to meals like this Banh Mi Rice Bowl or Shrimp and Rice Bowl. Serve them over salads, sandwiches, tacos and more!
Why You'll Love This Recipe
Only 5 minutes of prep!
They are ready in under an hour.
They are slightly sweet with a crunchy texture.
Pickled carrots are a great way to add color and flavor to your meal.
Ingredients You Need
You will only need 4 ingredients and hot water to make these pickled carrots.
Carrots: You can pickle any kind of carrot. If you use rainbow carrots, keep in mind that the color may bleed to the other carrots.
Rice Vinegar: This recipe uses rice vinegar as it pairs well with carrots. However, you can substitute the rice vinegar for distilled white vinegar or apple cider vinegar. Keep in mind that the flavor will be different.
Sugar: This is necessary for the best-tasting pickles. The sugar balances the vinegar and salt and gives the pickled carrots the delicious flavor. Because most of the sugar stays in the brine, you won't be eating the full amount of sugar. We don't recommend reducing the amount of sugar in this recipe.
Sea Salt: Helps add the depth of flavor to the pickles.
Hot Water: Helps balance out the vinegar.
Equipment Needed
We love using the OXO Julienne Tool to shred the carrots. You can also use a food processor with a shredding blade. If you don't have a julienne tool, you can use a regular vegetable peeler and make carrot ribbons (long thin shaved pieces of carrot).
You will also need one 16-ounce mason jar.
How to Make Pickled Carrots
Quick pickled carrots require only one hour of marinating time before they are ready to eat. These carrots are not canned or processed to be shelf stable. They must be stored in the fridge and eaten within two weeks.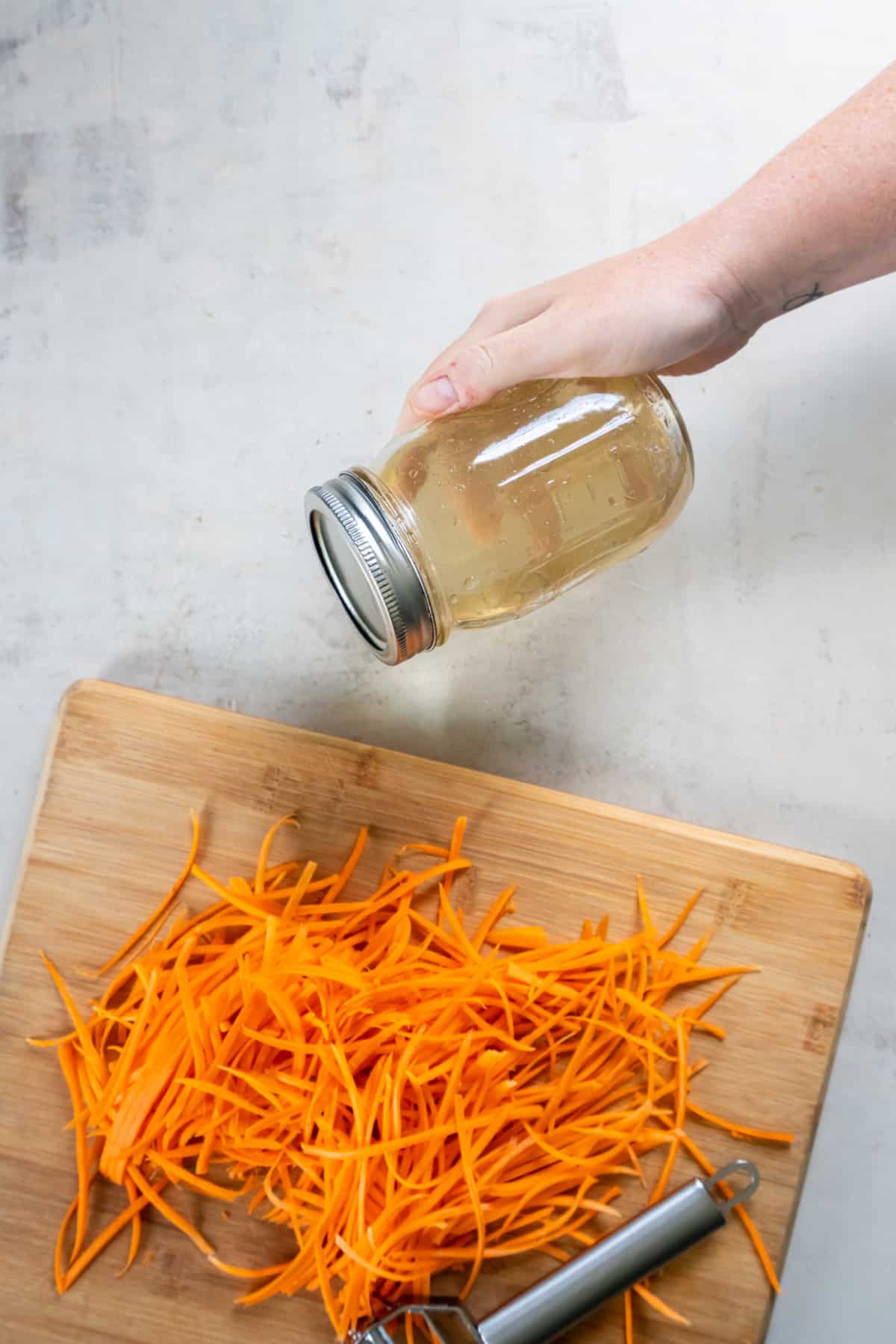 Make the brine – Combine the hot water, vinegar, sugar and salt in a large mason jar. Seal the jar and shake to combine.
Shred the carrots and add to the brine – Add the shredded carrots to the jar and allow to marinate for 1 hour or overnight. We recommend using a julienne tool to make the thin long shredded pieces of carrot. But you can also use a regular vegetable peeler to make carrot ribbons.
Recipe Tips
Use different vegetables: You can definitely use another type of vegetable for this recipe. Try radishes, red onions, cucumbers, asparagus or peppers with this recipe. Be sure to slice or cut into thin pieces.
Cut the carrots into a different shape: You can also make pickled carrot ribbons by using a regular vegetable peeler. Or cut into small thin pieces with a knife.
Add additional flavor: We love this recipe as-is, however if you are looking to try a variation on this recipe with additional flavor, try adding mustard seeds, coriander seeds or red pepper flakes.
Storage
Store pickled carrots in the sealed jar in the refrigerator for up to 2 weeks.
This quick pickles recipe is not made for canning or shelf storage. You must store them in the refrigerator and eat them within 2 weeks.
How to Use Pickled Carrots
There are so many ways to use pickled carrots. You can snack on them straight from the jar or add them to your favorite meals for additional flavor.
Sprinkle them over avocado toast.
Add them to your favorite salad or bowl.
Add them to sandwiches, burgers, spring rolls or tacos.
More Carrot Recipes
Did you make these Quick Pickled Carrots? Leave a recipe rating and review below!
Quick Pickled Carrots
Yield: 8
These sweet and tangy quick pickled carrots come together easily. Serve them over salads, sandwiches, tacos and more!
Ingredients
3-4 carrots, shredded
1/2 cup hot water
3/4 cup rice vinegar
3 tablespoons sugar
2 teaspoons salt
Instructions
Combine the water, vinegar, sugar and salt in a 16 ounce mason jar. Seal the jar and shake to combine.

Add the shredded carrots to the jar and allow to marinate 1 hour or overnight.
Notes
Depending on the size of your carrots, you may need 3 or 4 carrots. I generally use 4 average sized carrots for this recipe.  This recipe makes 1 large jar of pickled carrots and about 16 ounces. Each serving is about 2 ounces.  STORAGE: Store leftovers in the sealed mason jar for up to 2 weeks. These pickles are not meant for canning or shelf storage and much be eaten within the two weeks. 
Nutrition
Calories: 34kcal, Carbohydrates: 7g, Protein: 0.3g, Fat: 0.1g, Saturated Fat: 0.01g, Polyunsaturated Fat: 0.03g, Monounsaturated Fat: 0.004g, Sodium: 604mg, Potassium: 98mg, Fiber: 1g, Sugar: 6g, Vitamin A: 5095IU, Vitamin C: 2mg, Calcium: 12mg, Iron: 0.1mg
If you try this recipe, don't forget to leave a review below or share a photo and tag @spoonfulofflavor on Instagram.