Make dinner easy with one of these Easy Skillet Dinners with Greens! Pack greens like kale, spinach and arugula into your favorite easy weeknight dinners. Sneak healthy greens into every single meal. Make it easy with one of these chicken skillet dinners, vegetarian skillet dinners or pasta skillet dinners. 
Make dinner easy and delicious! Sneak fresh greens into dinner to create a nutrient-packed meal. Greens like spinach, kale, arugula and butter lettuce contain powerful antioxidants and vitamins. Enjoy a clean eating lifestyle and add greens to breakfast, lunch, dinner and snack recipes. We love easy skillet dinners and we rounded up a bunch of our favorite easy skillet dinner recipes with greens. The recipes include easy chicken dinners, vegetarian dinners, pasta dinners and more. Scroll down to find a few new recipes to try!
Easy Chicken Skillet Dinners with Greens
Thai Chicken Peanut Rice Skillet is a favorite all-time recipe! The entire meal cooks in one pot. Serve with the creamy peanut dressing for a flavorful kick you can't resist.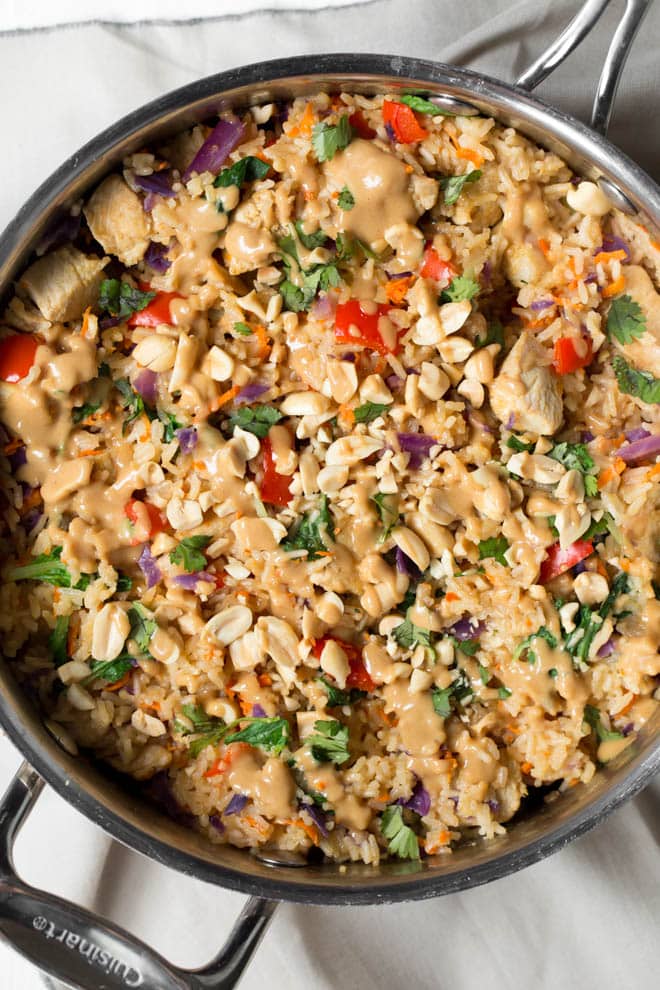 Creamy Chicken Skillet with Red Peppers and Greens is a simple low carb recipe made with fresh red bell peppers and greens. Use any of your favorite dark greens in this meal.
Chicken Spinach and Orzo Skillet combines chicken, spinach, orzo, tomatoes, and feta together to create a full meal in one skillet!
Mushroom, Spinach and Sun Dried Tomato Cheesy Chicken Skillet cooks in 30 minutes. It's a healthy gluten free meal for the entire family. Serve the chicken skillet with an easy side like Roasted Broccoli and Cauliflower with Lemon and Garlic.
Strawberry Balsamic Paleo Cauliflower Rice Ground Turkey Skillet is loaded with sweet and tangy summer flavors! It's a unique weeknight dinner and is also gluten, grain and dairy free.
One Pot Lemon Chicken Spinach Orzo Pasta includes the freshest flavors of the season like lemon, asparagus, Parmesan cheese and greens! It's a popular recipe and tastes great as leftovers.
Whole Roasted Chicken with Vegetables is a classic comforting meal. This complete dinner includes roasted chicken, fall flavors, butternut squash and spinach.
One Pot Chicken, Quinoa, Mushrooms and Spinach combines chicken, quinoa, mushrooms and spinach together for a healthy meal with minimal clean-up.
30 minute Tuscan Chicken Skillet includes fresh veggies and chicken piled into a skillet with a flavorful sauce. Serve it with bread to soak up the sauce!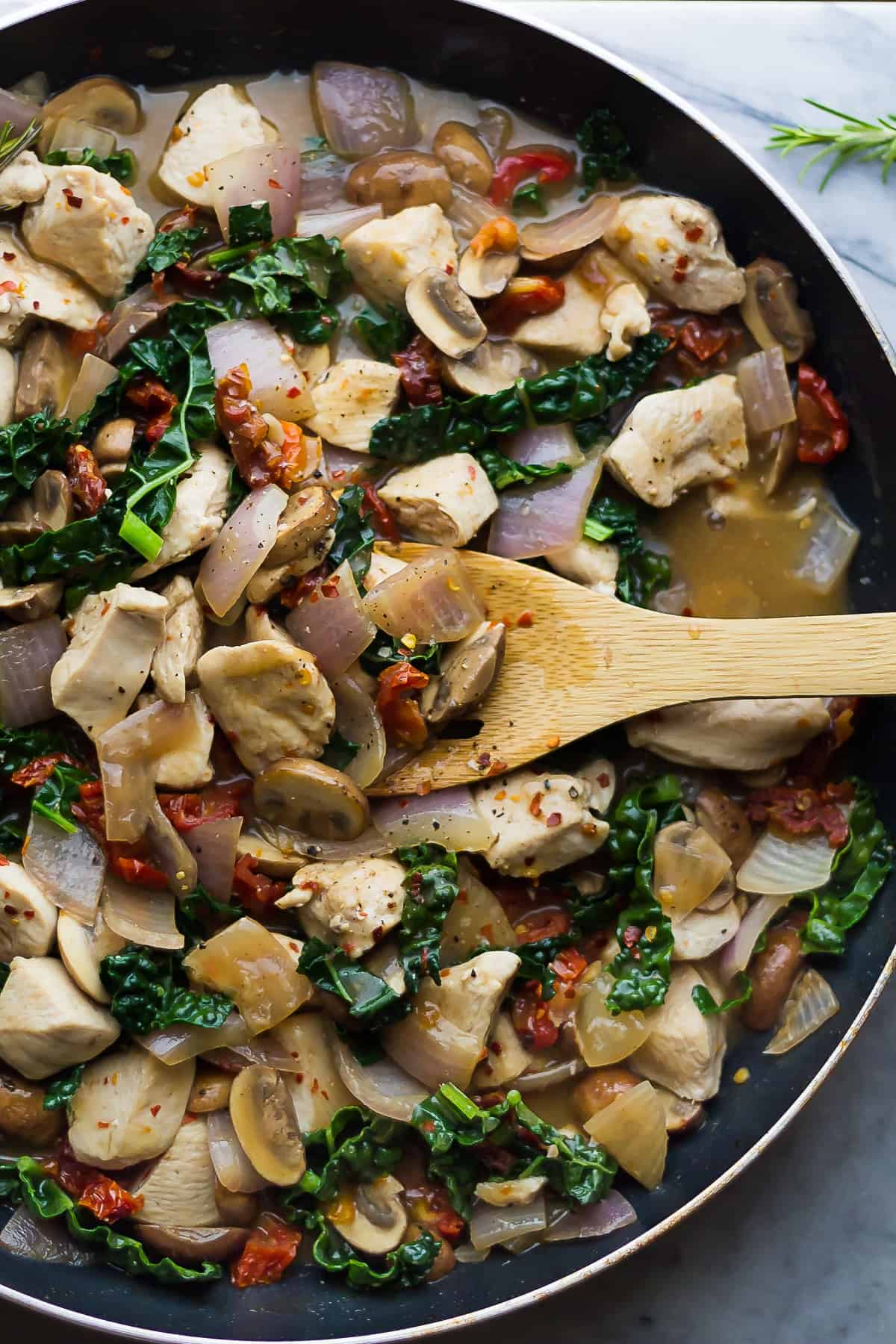 Easy Vegetarian Skillet Dinners with Greens
Skillet Spanikopita is a flavorful one pan meal. It's an easy twist on a classic Greek dish that the entire family will love!

Zucchini, Arugula and Feta Frittata combines zucchini, arugula, and feta with fresh herbs. It's a flavorful breakfast packed with health benefits! Save some to enjoy for leftovers throughout the week.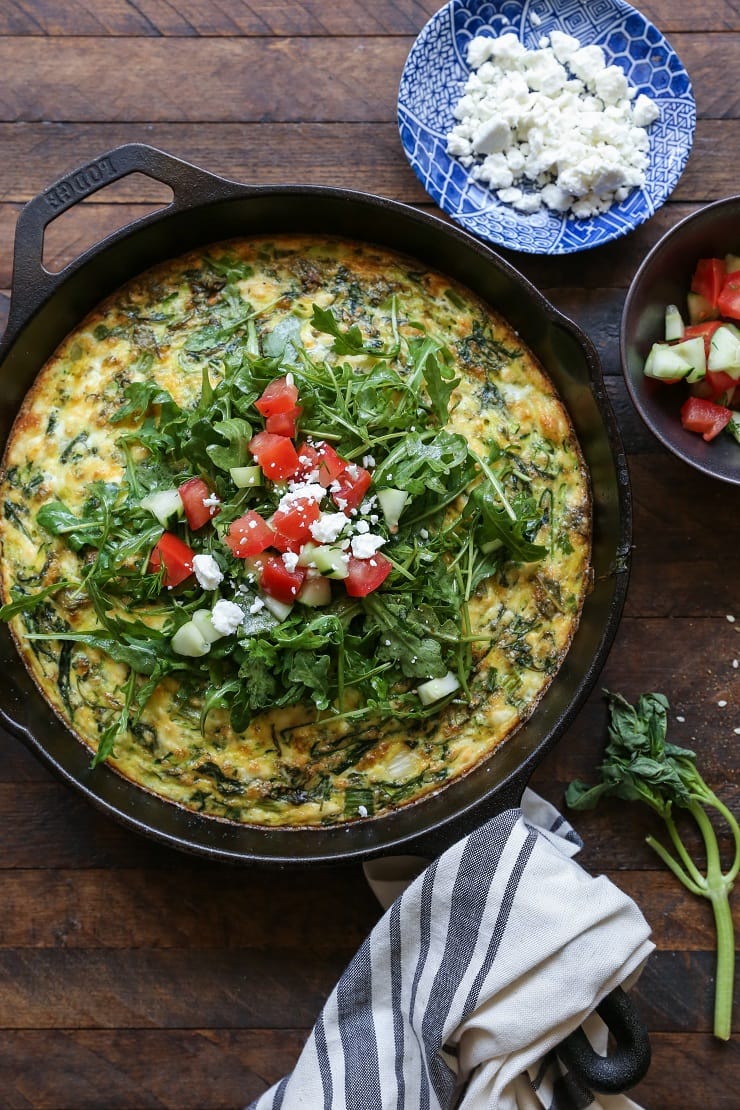 Easy Pasta Skillet Dinners with Greens
Creamy Mushroom and Spinach Pasta is an easy and elegant vegetarian pasta dish. Hearty mushrooms and whole wheat pasta make it a filling dinner without any meat.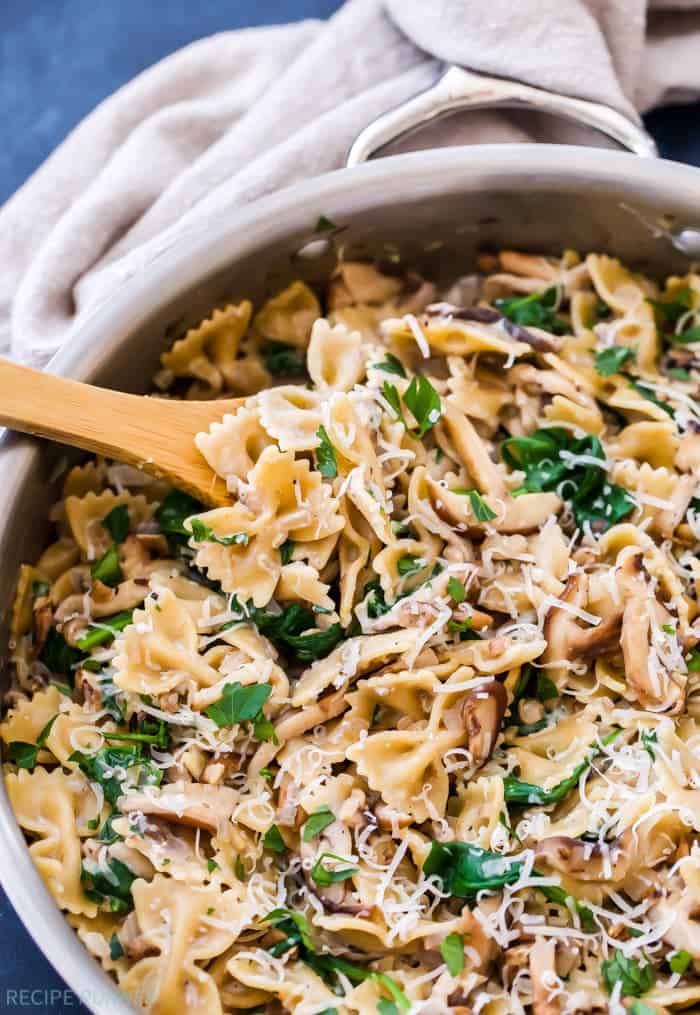 Smothered Pork Chops Recipe with Spinach Spaghetti is the perfect weeknight meal! Combine pan fried pork chops with onions, garlic, spinach, spaghetti and a creamy sauce to create this creamy pasta dish.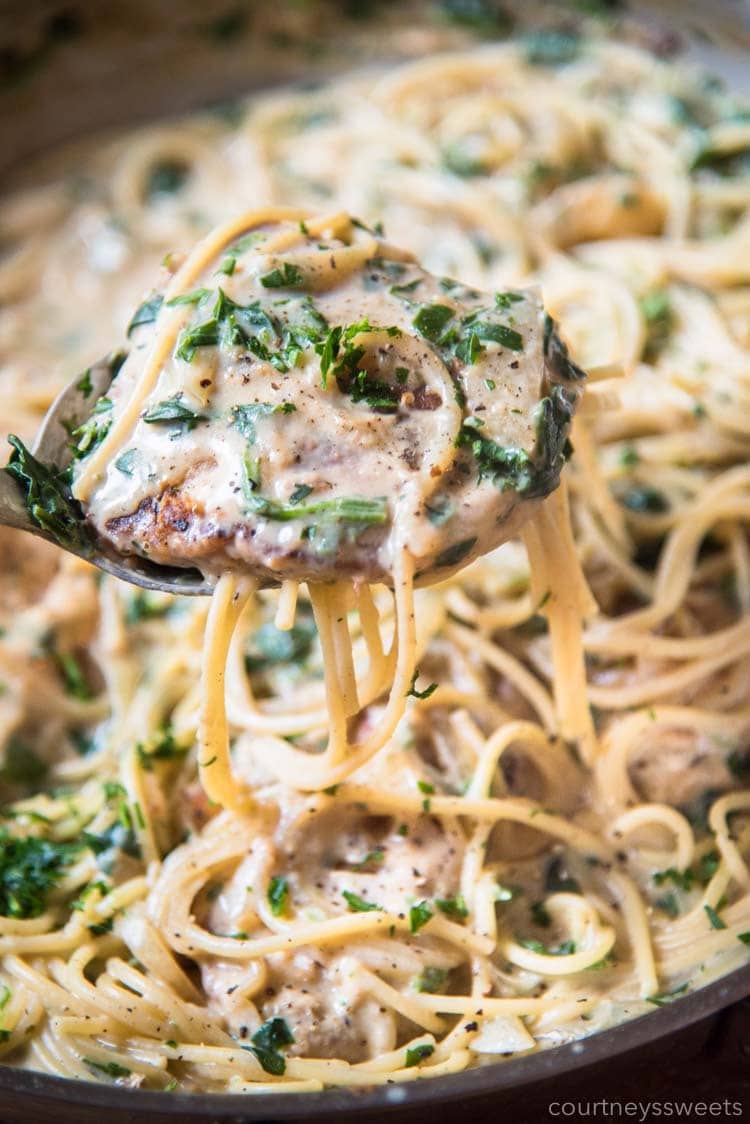 One Pot Kale Broccoli Chickpea Orecchiette Pasta mixes kale, broccoli, chickpeas, small orecchiette pasta and fresh parmesan cheese. The combination creates a protein packed vegetarian dinner recipe.


One Pot 30-minute Pasta e Fagioli is a hearty one pot pasta dish with pancetta, beans, kale and parmesan. It requires minimal prep and is always a family favorite.

Protein Packed Healthy Mac and Cheese is packed with protein, broccoli and spinach. It's perfect as a full meal and a sneaky way to eat more veggies.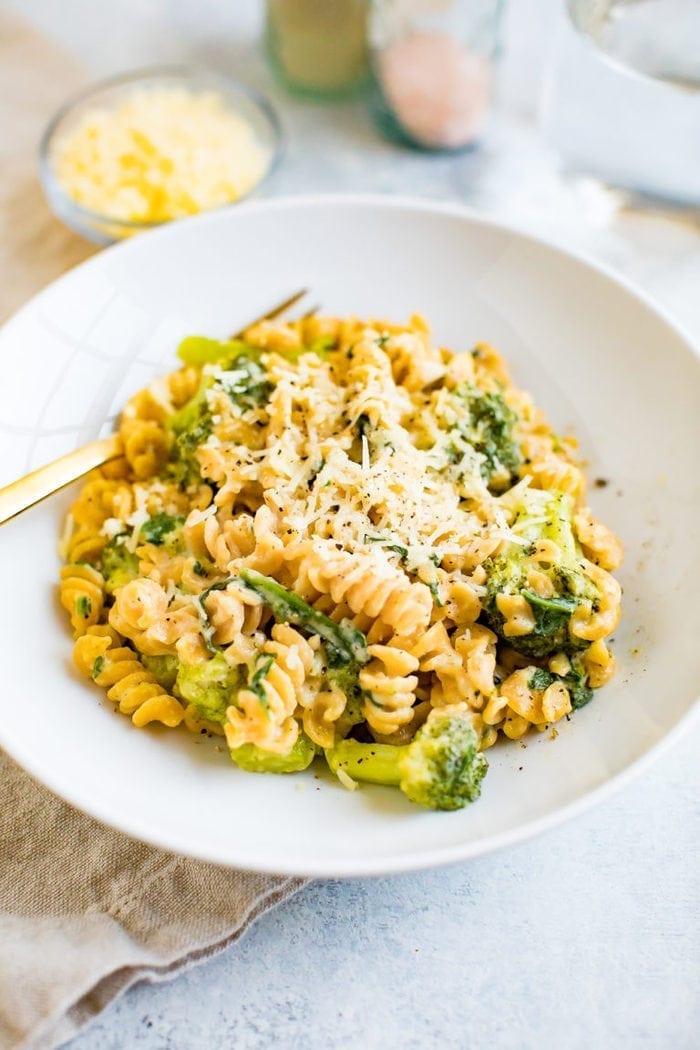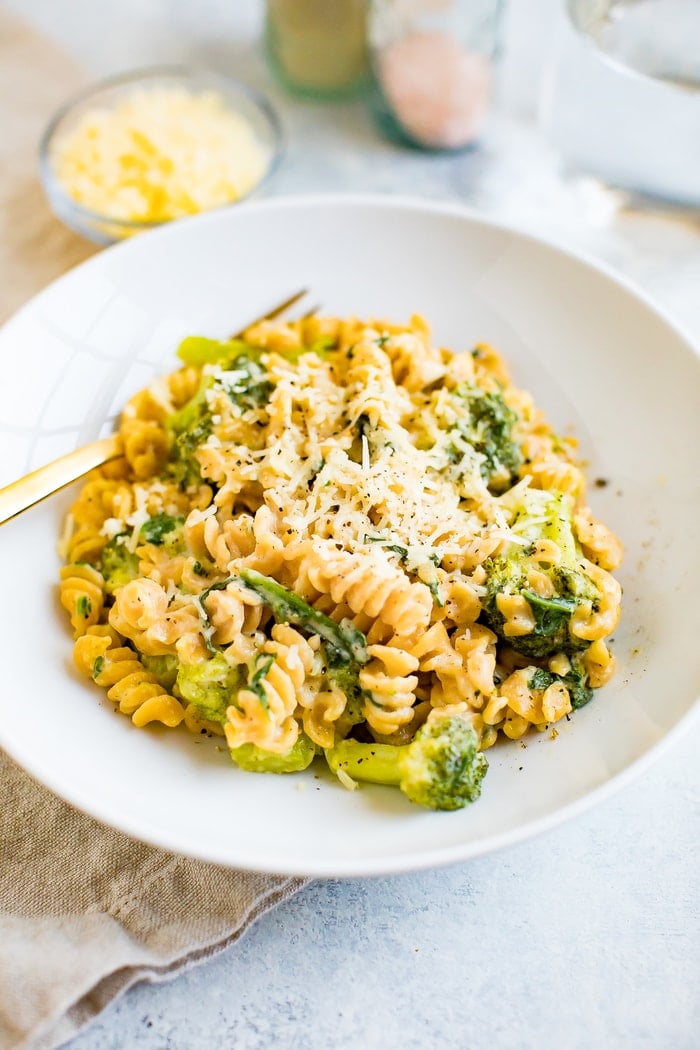 One Pot Creamy Tomato Pasta with Chicken and Spinach cooks in 35 minutes to make weeknight dinner easy. The entire meal cooks in one pot and creates a dish that kids and adults love.
One Pot Creamy Lemon Chicken Pasta with baby kale is an easy chicken skillet dinner that the entire family will love! It's made with chicken, lemon, cheese, pasta and fresh greens.

One Pot Creamy Sun Dried Tomato and Spinach Pasta with Chicken is another pasta dish that combines your favorite flavors!